This article is now UPDATED with Windows 11 ISO Full Offline Installer.
Windows 11, 10 gained popularity in quick time and now the new version that is creators build ISO file is around 4GB in size even if you have a previous version of the Windows 11, 10 build.
By default you can do the update the update from the settings option or you need to download the media creation tool to make the ISO image and then install from this free image file.
UPDATE : Latest Windows 11 Offline Installer 22H2 Official Download Links May 2023 x64 or 64 Bit
ISO or Image download links ( LATEST LINKS WORKING Windows 11 Offline Installer BELOW, English International Versions)
IMG ISO bootable Windows 11 Offline Installer file for your PC and Laptop
Download Link : Download Windows 11 Full Offline ISO Now
ISO file size : 5.18GB
Link Validity : unlimited
Windows 11 Offline Installer English Download Mirror Link
Download Windows 11 Offline Installer 22H2 from Mirror link[Mega encrypted cloud]
Download Link : Download Windows 11 Full Offline ISO Now
UPDATE : Latest Windows 10 22H2 Official Download Links 2023
Untouched ISO from Mircosoft Server
Mirror Link from Archive.org
Mirror Download Windows 10 22H2  Now
ISO or Image download links ( LATEST LINKS WORKING BELOW, Eng US Versions)
ISO file for your PC and Laptop
Download Link : Download Windows 10 21H1 May 2021 Now
ISO file size : 5.73GB
Link Validity : unlimited
Download Windows 10 from Mirror link[Mega encrypted cloud]
Download Link : Download Windows 10 1903/1803 Now
Mega Links are no more working.
Download magnet link torrent one 2004: Torrent: magnet:?xt=urn:btih:0c91e33f8682e92e1918b28b1059a0c97308ee49 Download Win 1903 Now
ISO file size : 4.9GB
Link Validity :  Take your time
These versions are included in the ISO offline installer
Windows 11 Home
Windows 11 Pro
Windows 11 Home N
Windows 11 Home Single Language
Windows 11 Education
Windows 11 Education N
Windows 11 Pro Education
Windows 10 Home
Windows 10 Home N
Windows 10 Home Single Language
Windows 10 Pro
Windows 10 Pro N
Windows 10 Pro for Workstations
Windows 10 Pro for Workstations N
Windows 10 Pro Education
Windows 10 Pro Education N
Windows 10 Education
Windows 10 Education N
Windows 11 offline installer features For PC, Desktop, Surface Pro
Fully revamped UI
Better battery optimization for Surface devices like Windows 11 Surface PRO, Go, Studio
Reduced blue screen of death
Windows 11 Offline installer also minimizes power consumption
Weather widget for Windows 11 is now enabled by default
File manager now have tabbed browsing
What's new in the Windows 10 October 2020 Update
Multicamera support for Windows Hello, allowing users to choose an external camera when using high-end displays with integrated cameras.
Improvements to Windows Defender Application Guard, including optimizing document opening scenario times.
Improvements to Windows Management Instrumentation (WMI) Group Policy Service (GPSVC) updating, to support remote work.
Latest and greatest version of the new Microsoft Edge
Collections to easily save and share content you find online
Improved Start menu to the Taskbar and more
The legacy version of Microsoft Edge is no longer supported after March 9, 2021. For more information, see End of support reminder for Microsoft Edge Legacy.
Official Microsoft Download Links method given below, read till last for getting the official ISO file for 1809 build
ISO file size : 5.73GB
Link Validity : 24 hours after link generation
Fall Creators version 1806, 1803, 1709, Creators and Anniversary ISO no more available from the Microsoft official website, but a new latest version 20H2 is now available.
Here we will tell you on how you can get the full offline ISO installer file for Windows 10 Update 22H2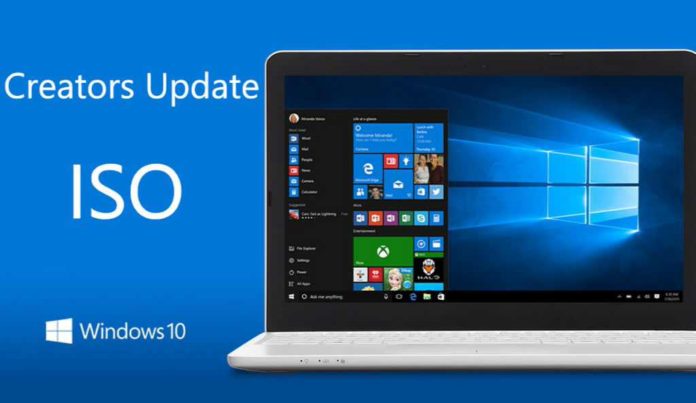 Please make sure that you follow exactly said below, else there may be some issue.
Method One
Open this link https://www.microsoft.com/en-us/software-download/windows10ISO in the mobile default browser or any web browser that you wish.
You will see that desktop version page is entirely different from the mobile page.
Here you can see a drop down menu choose Win10 and hit "Confirm".
Next screen will ask you which version you need that is 64 Bit or 32 Bit, to make sure the Bit version, go to the PC or laptop that you are using and search for "about"
About searching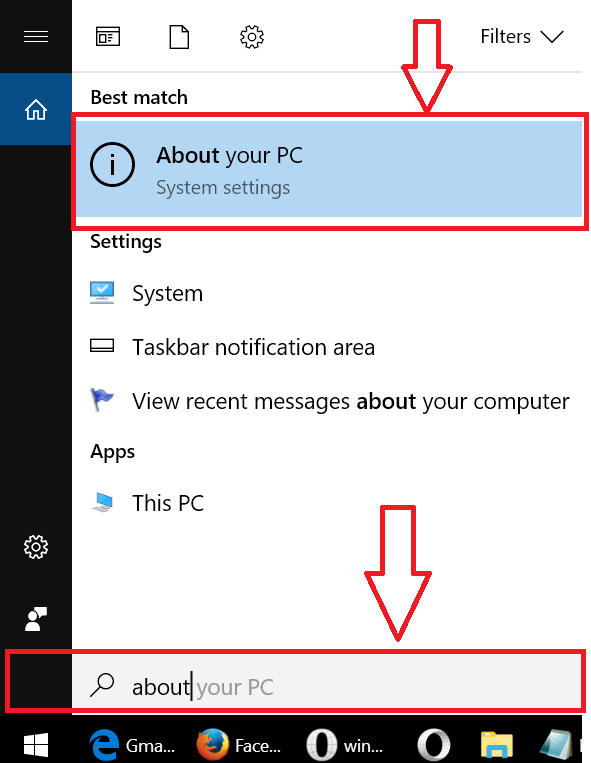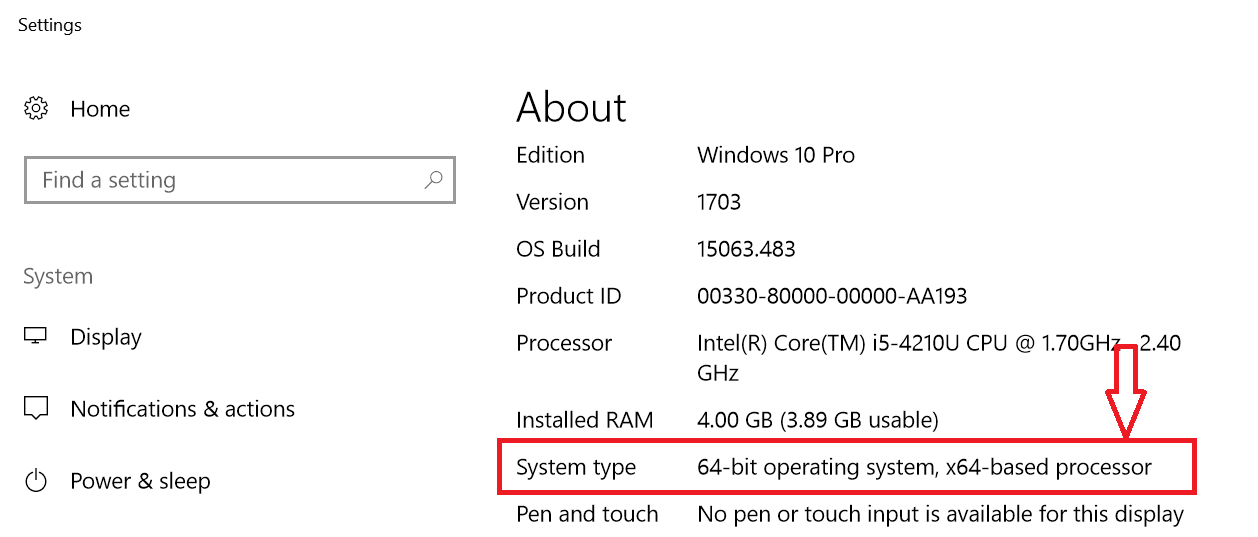 Or if you are running Windows 8.1 or lower versions, just go to the Control Panel > System or just paste this code in the address bar like shown below and it will open up the system info
Control Panel\All Control Panel Items\System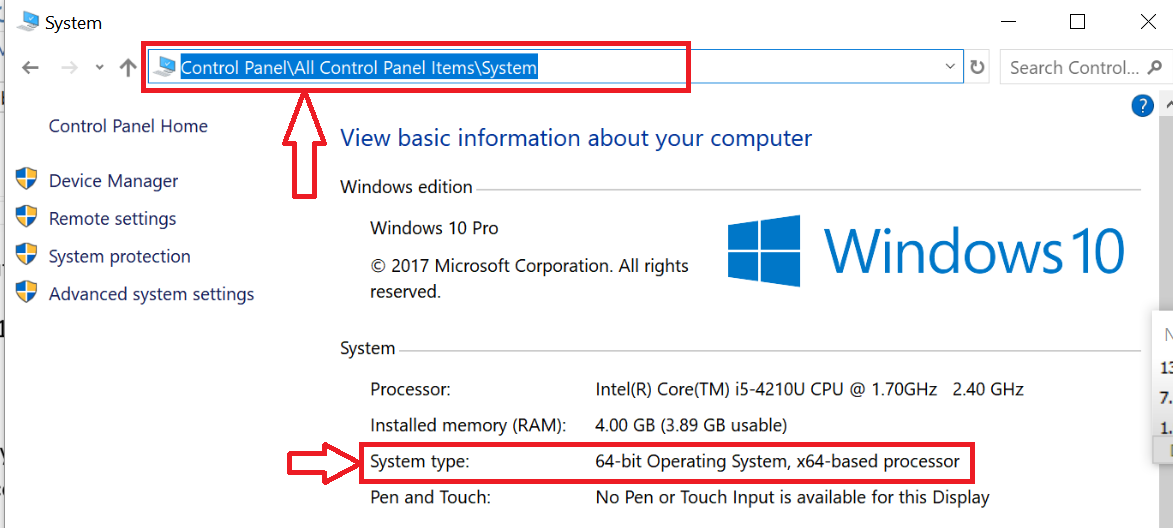 Note : You can't install 64 Bit in a 32 Bit PC or laptop but the 32 Bit can be installed in a 64 Bit version PC or laptops.
How to directly download the ISO file to PC or Laptop with IDM or Internet Download Manager ?
Note : You can also use downloader that comes integrated in all the browsers.
Since Chrome and Microsoft Edge is the popular browsers that users use we will be using both in this guide.
Chrome Guide
Step 1 : Start Google Chrome, then right click and choose "Inspect " or for quick access press Ctrl + Shift + I
Step 2 : Switch to "Toggle Device Toolbar" like shown below and enter this url https://www.microsoft.com/en-us/software-download/windows10ISO in the address bar and choose the creators version or any other version you like to get the offline installer.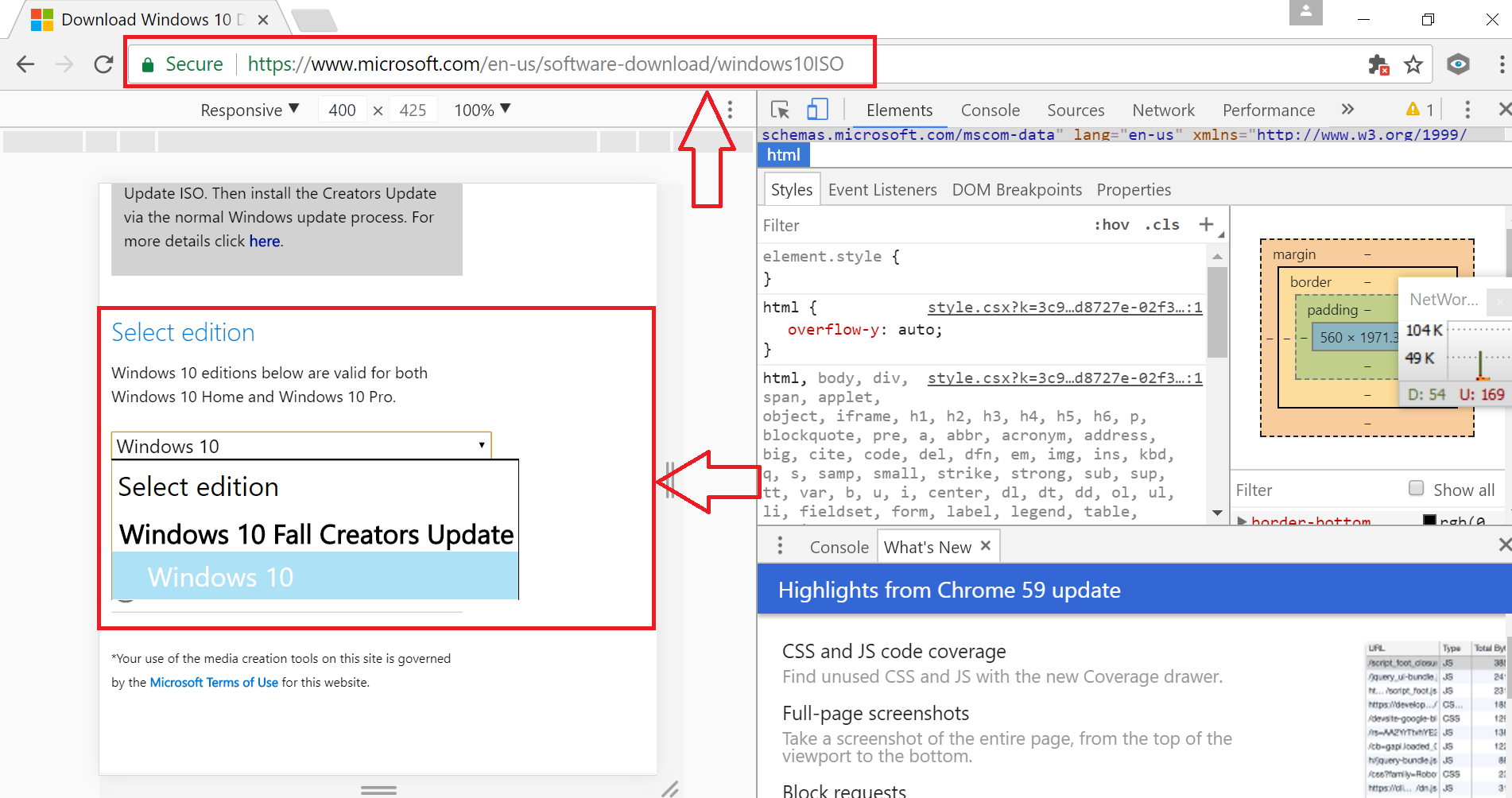 Note : If you directly open that link in chrome it will be redirected to media creation tool.
Step 3 : Hit confirm and you will be asked to choose the region and language, choose it as per your country and hit "Confirm".
Step 4 : Choose between 64 or 32 Bit as per your laptop or PC and it will start to download the ISO file to your system.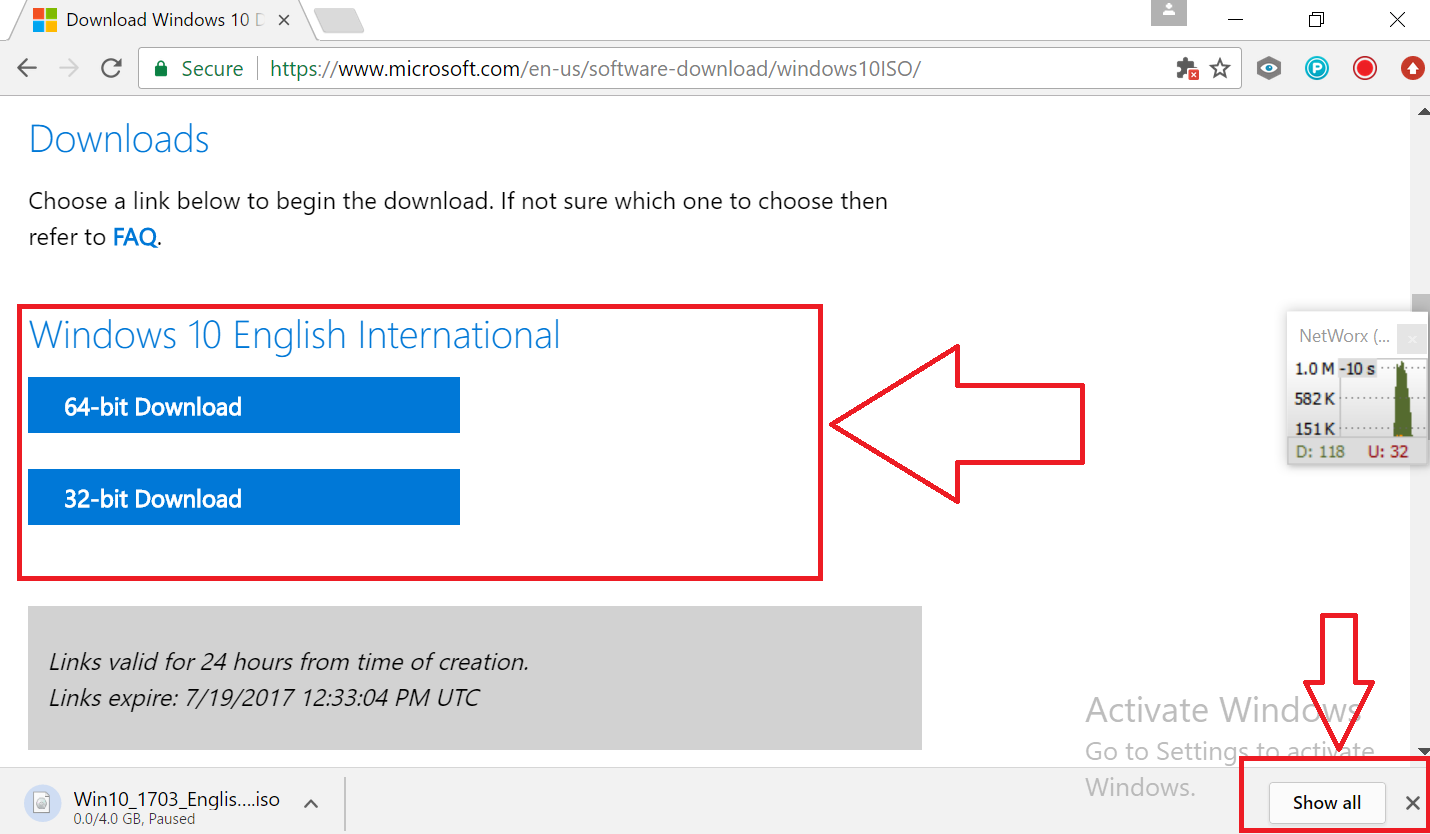 New 1803 links are now generated by Microsoft, see the picture added below for more clarification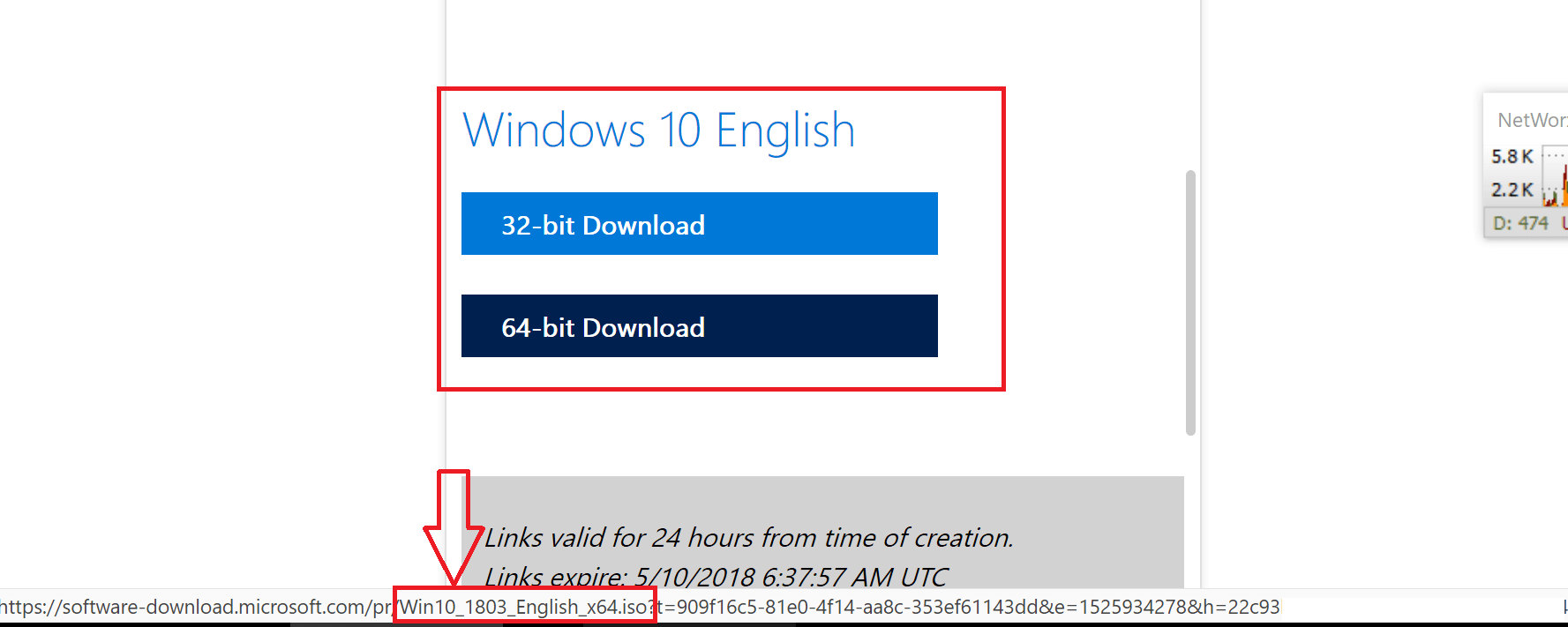 Step 5 : Choose the "Show all" as shown in the pic above and copy the link address.
Step 6 : Paste it to IDM and hit "Start Download" button and wait for IDM to finish the downloads.

Do note that the link address is valid only for 24 hours, so make sure you complete it before that. Or copy it some cloud services like pCloud and then download the file as you wish.
For Microsoft Edge Browser Users
All the steps are same except you need to use Function 12 (F12) to open the Inspect Element and toggle to "Emulation" tab and set the settings like the one shown below, else you will find hard to read whats written in that webpage.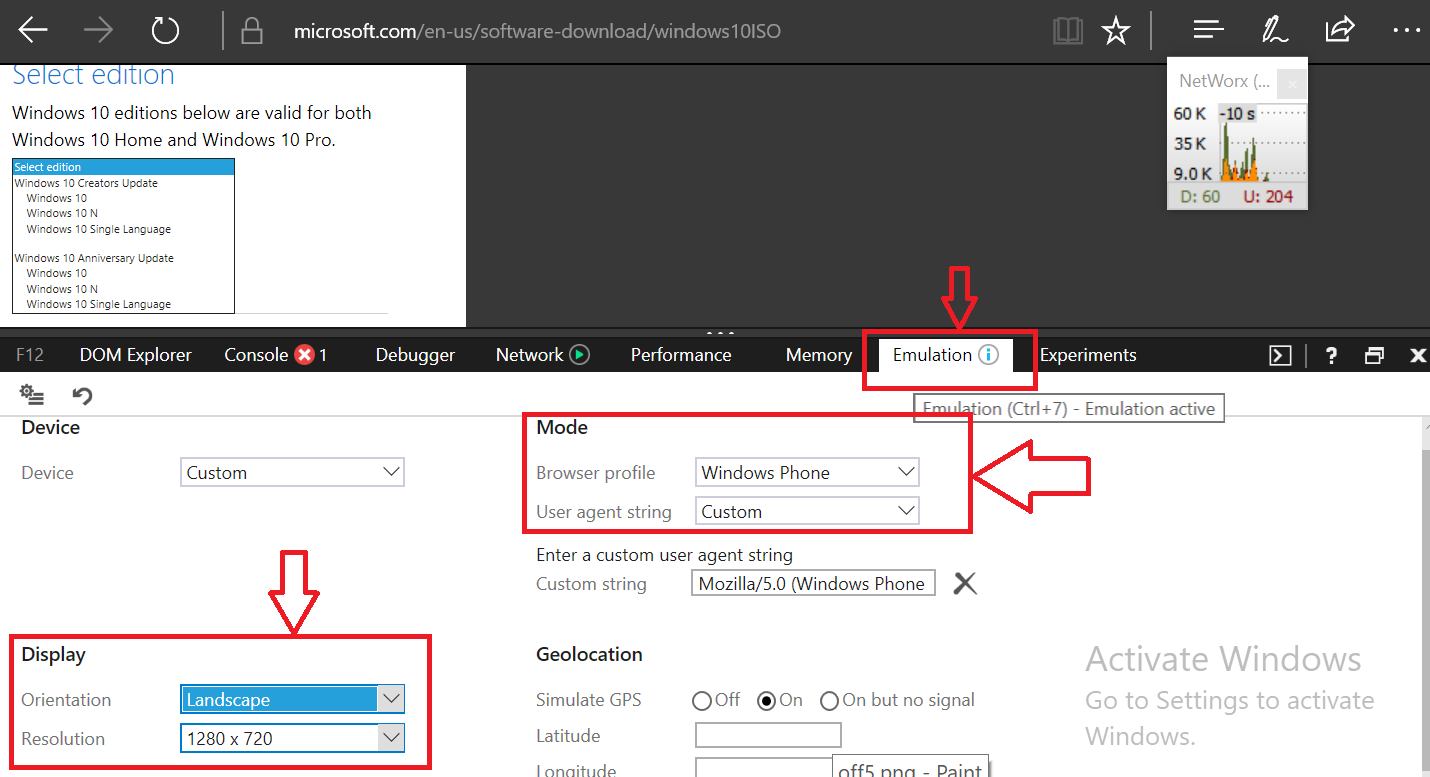 Firefox don't support this type of downloading! So Mozilla users may need to choose either Chrome or Edge browser for getting the ISO file.
So why offline installer is better than default update option ?
Simple, once you download the ISO or image file you can run it any times and transfer it to any other PC or laptops and install it. But in-case of online installer if you pause it several times or if you encounter an error, Windows will again start from the 0.00KB or from start.
We recommend the offline image or ISO if your data plan is not unlimited.
So do you loose any drivers if you are updating from Creators build 1703 to 1709 or 1803 ?
After I updated to latest build audio driver was having some problems, so I installed the driver specific to my laptop.
Do Windows 10 keep older version of OS ?
Yes, its around 21GB and you can delete this file from disk clean-up tool, if you are not thinking of downgrading.
Whats new in 2004 version ?
Faster and easier connections. We're making it easier and faster to pair your Bluetooth devices to your compatible Windows 10 PC. Now you can take care of everything in notifications (instead of Settings) with fewer steps.
Go passwordless. Did you know—for improved security and a simple sign-in experience, you can sign in with your face, fingerprint or PIN? It's easier than ever to enable passwordless sign-in for your Microsoft accounts: just go to Settings > Accounts > Sign-in options on your Windows 10 PC and select 'On' under 'Require Windows Hello sign-in for Microsoft accounts'. Note that this is hardware dependent.
More ლ(╹◡╹ლ). We're bringing the fun by making more kaomoji available directly in the Windows emoji keyboard. To access you can use the shortcut, Windows key + Period key to access (⌐■_■).
Name your desktops. Now instead of "Desktop 1" or "Desktop 2" you can give your Virtual Desktops more descriptive, clever, or amusing names. Using Virtual Desktop in Windows 10 allows you to expand your desktop beyond the physical limitations of the space, organize groups of related tasks, and easily switch between them. Tackling what you want to—when you want to—just got a whole lot easier. Visit this post to learn more on how to access Virtual Desktop in Windows 10.
See gaming in a whole new light. New DirectX 12 Ultimate features provide smoother graphics with increased detail—all without sacrificing framerate*.
Customization and utility at your fingertips. Xbox Game Bar now supports third-party widgets, helping you customize the overlay experience to fit with the way you game.
Stay on top of your numbers. Keep the calculator close by—now you can choose to keep the Calculator app on top of everything.
Notepad newness. The beloved 30-year-old text editor has some small but mighty improvements. There's now wrap around find/replace, quick text zooming, and when you see an asterisk in the title bar you'll know you have unsaved changes
Bringing your smartphone and Windows PC closer together. The May 2020 Update brings the popular Your Phone app's Calls feature to ARM supported PCs from Microsoft and our OEM partners. You will now be able to place, receive, or text reply to your incoming phone calls directly on your PC without having your Android phone right next to your PC. That's not all, with the Your Phone app, you can stay in your flow by sending or receiving texts, checking notifications and getting instant access to your Android phone's photos and apps via your computer's large screen and keyboard.
Narrator news. Narrator sounds have been revamped and are now more functional and responsive. There's also a new command to summarize a webpage, and you'll also hear some table reading improvements. Plus, Narrator will automatically start reading webpages and emails (when they're opened in Outlook and the Mail app).
Find that cursor faster. Windows Magnifier has a new ability to keep the text cursor in the center of the screen, making it easier and smoother to type.
More Eye Control. Drag and drop is now here! We've also made improvements to the pause experience and provided some new opportunities in Settings. Note that a third-party accessory is required to access this experience.
Language learnings. The Global Language Experience team continues to revamp Language Settings, bringing you quick and easy ways to check your settings at a glance. You'll also find improved typing experiences in Chinese, Japanese and Korean.
Windows 10 vs Windows 11
The most recent version of Windows is 11, and it's widely considered to be among the greatest versions of Windows ever made. However, it operates quite similarly to Windows 10 behind the scenes. We took the most useful features of Windows 10 and made them even better to provide a relaxing environment for work and play. The most recent version provides a look that is more similar to that of Apple's Macintosh computers as well as additional capabilities that enhance productivity.
Start Menu of Windows 11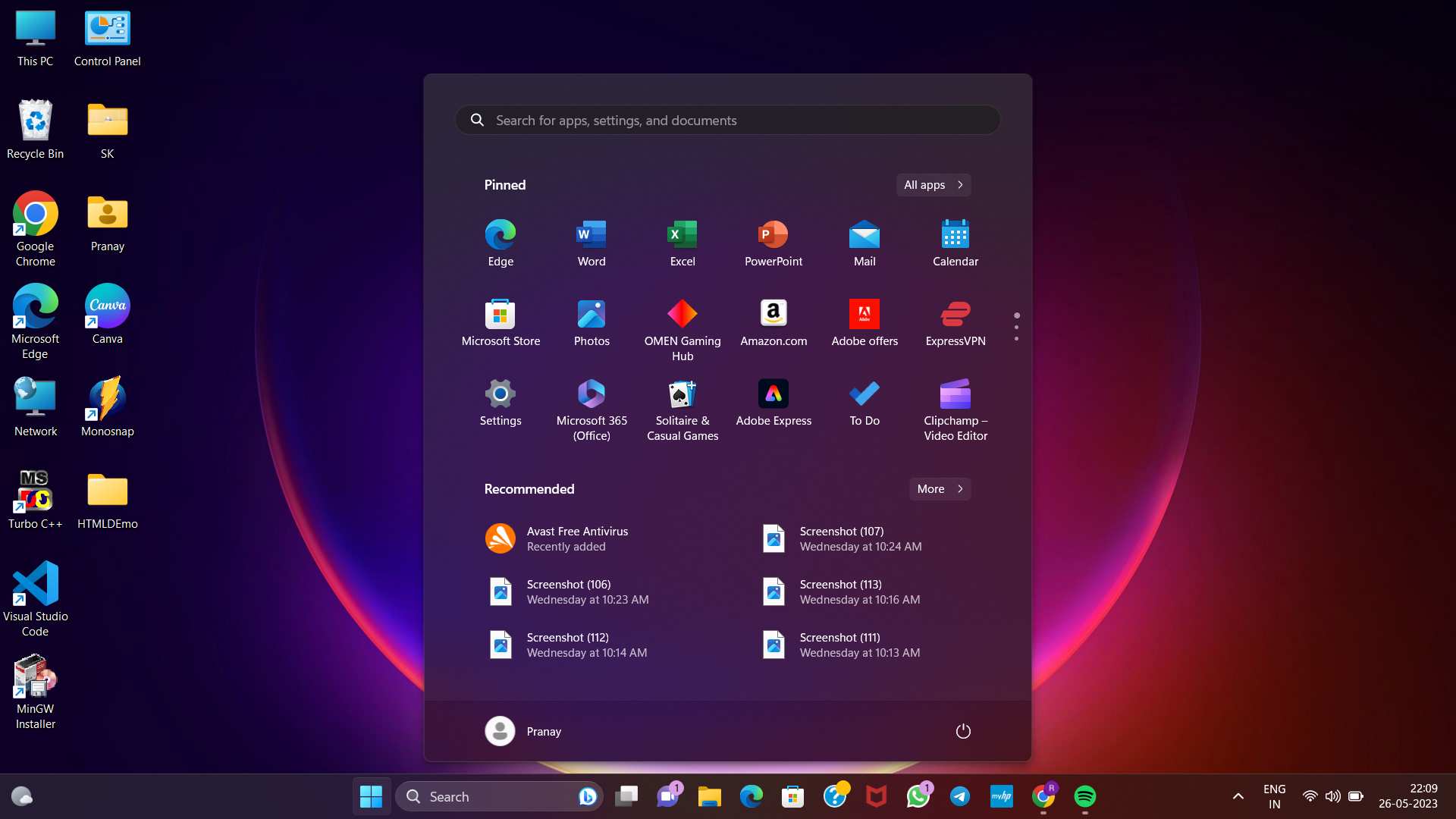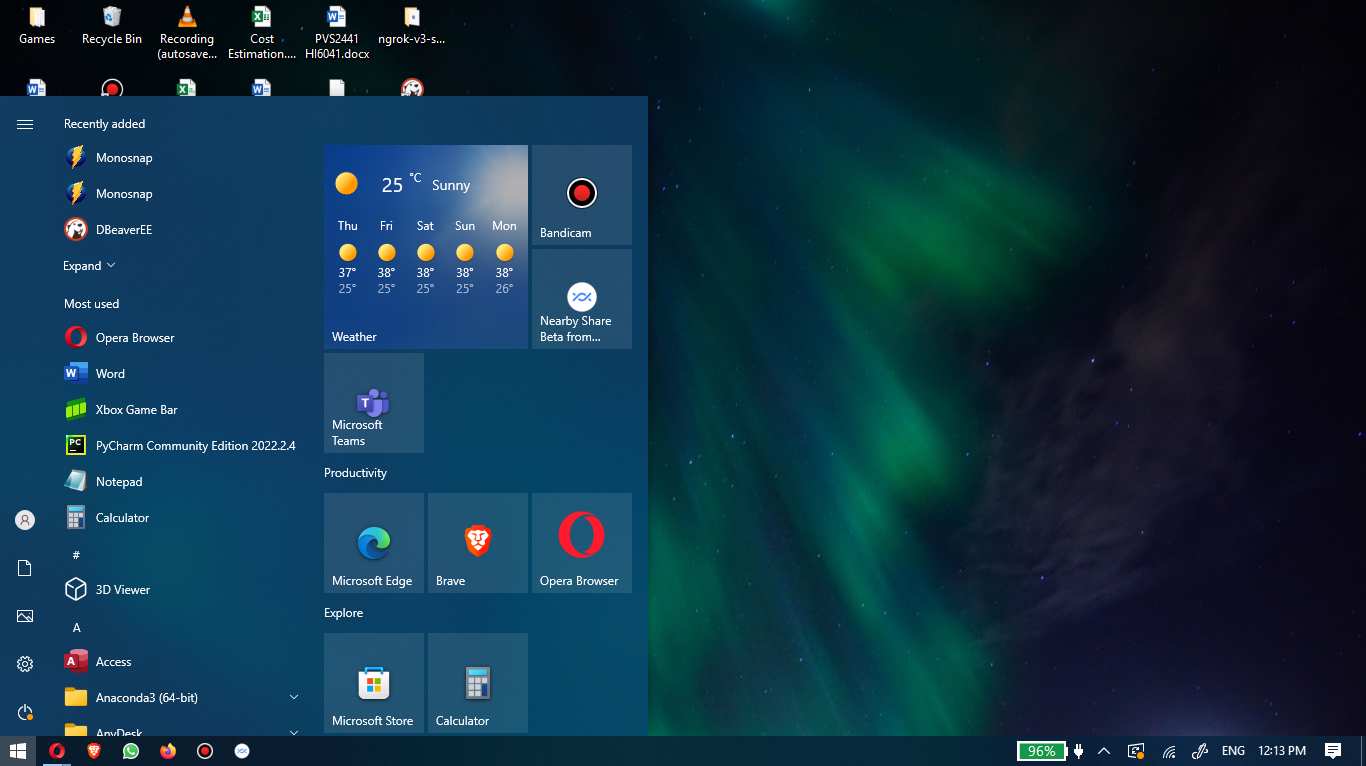 Beginning with the Start menu, Windows 11 has an interface that is noticeably less complicated. You are simply presented with a static list of applications, followed at the bottom by your most often used documents. Importantly, Microsoft removed the Live Tiles in Windows 11, which significantly improved the appearance of the Start menu.
The climate information that is shown in the Taskbar has also been moved to the left side of the screen as part of the other significant update. In Windows 10, this was referred to as News and Interests, but starting with Windows 11, it will be referred to as Widgets (see our overview of the top Windows 11 widgets for more information). You will still be able to view the weather, but in addition to that, you will also be able to see other things such as the news, scores from sports, traffic, and more.
Design and interface
The brand-new Windows 11 operating system has an interface that is more akin to that of Apple's Mac computers. If you would like, though, you may relocate them to the left, which is where they are located in Windows 10.
Android App integration in Windows 11 compared to 10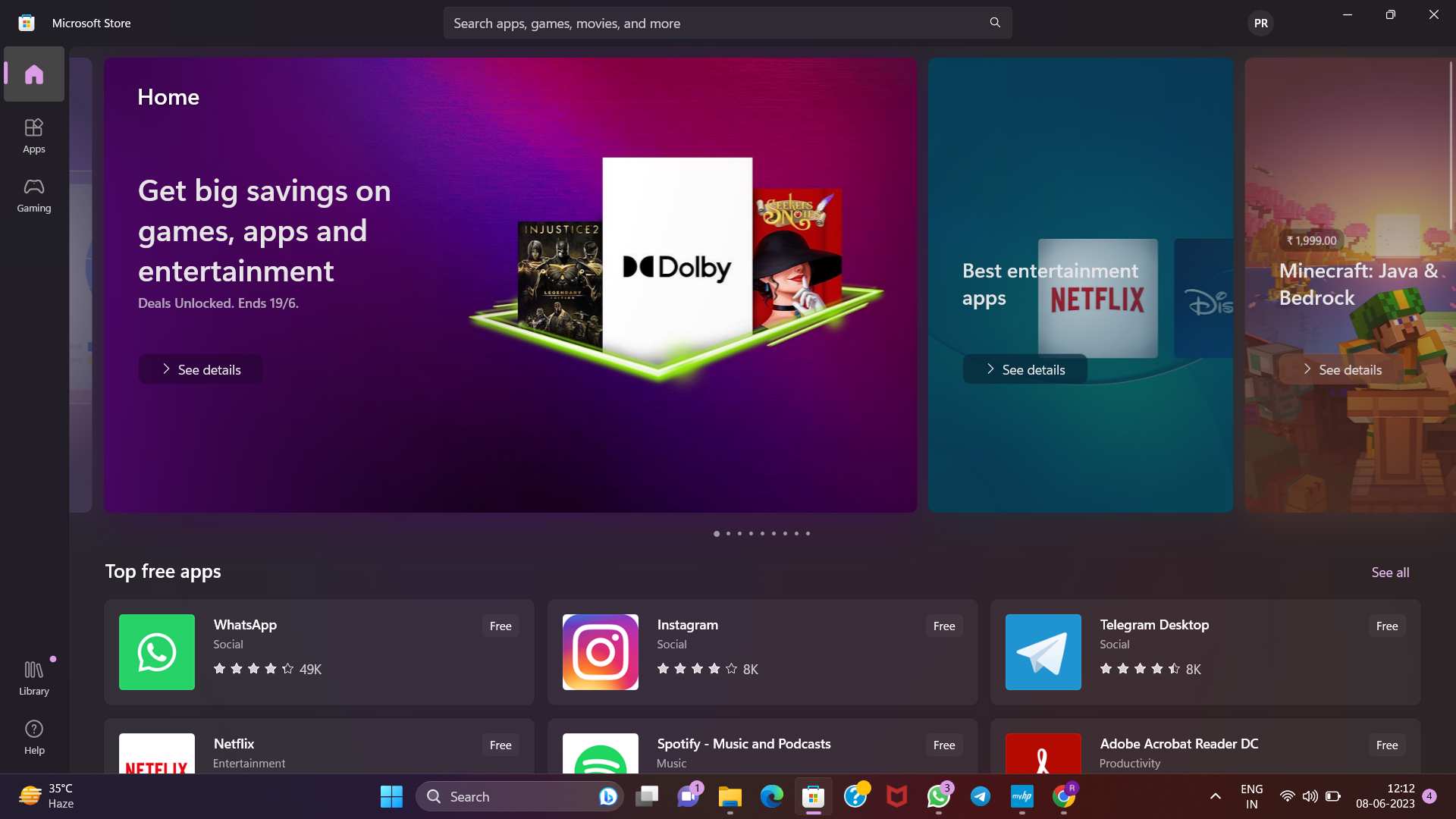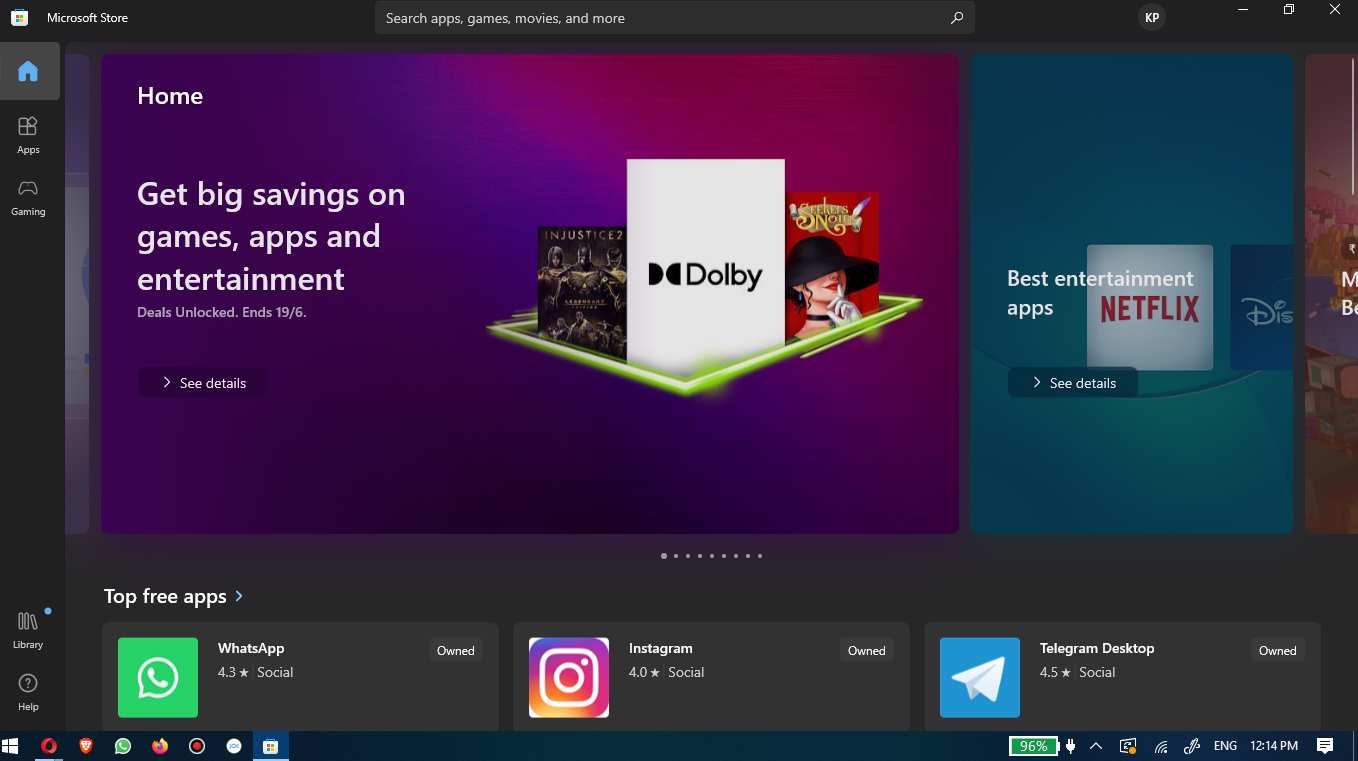 Through the Microsoft Store and the Amazon Appstore, users may now download Android applications that are compatible with Windows 11.
In comparison to Windows 10, Microsoft has included a greater variety of app categories that are not compatible with the Universal Windows Platform (UWP) in Windows 11. You are still able to utilize the Universal Windows Platform, but you are still able to run Win32 programmes today. Some examples of this include Firefox and the Epic Games Store.
Improved and developed Gaming features
DirectStorage is one of these capabilities that is also included in Windows 10, along with a few of the others. Because Microsoft has made it quite apparent that one of the primary focuses of Windows 11 will be gaming, it is currently the superior platform for gamers, particularly now that some of the performance problems have been fixed. It's encouraging to see so many PC gamers making the switch to Windows 11 now that it's available.
Support for Windows 11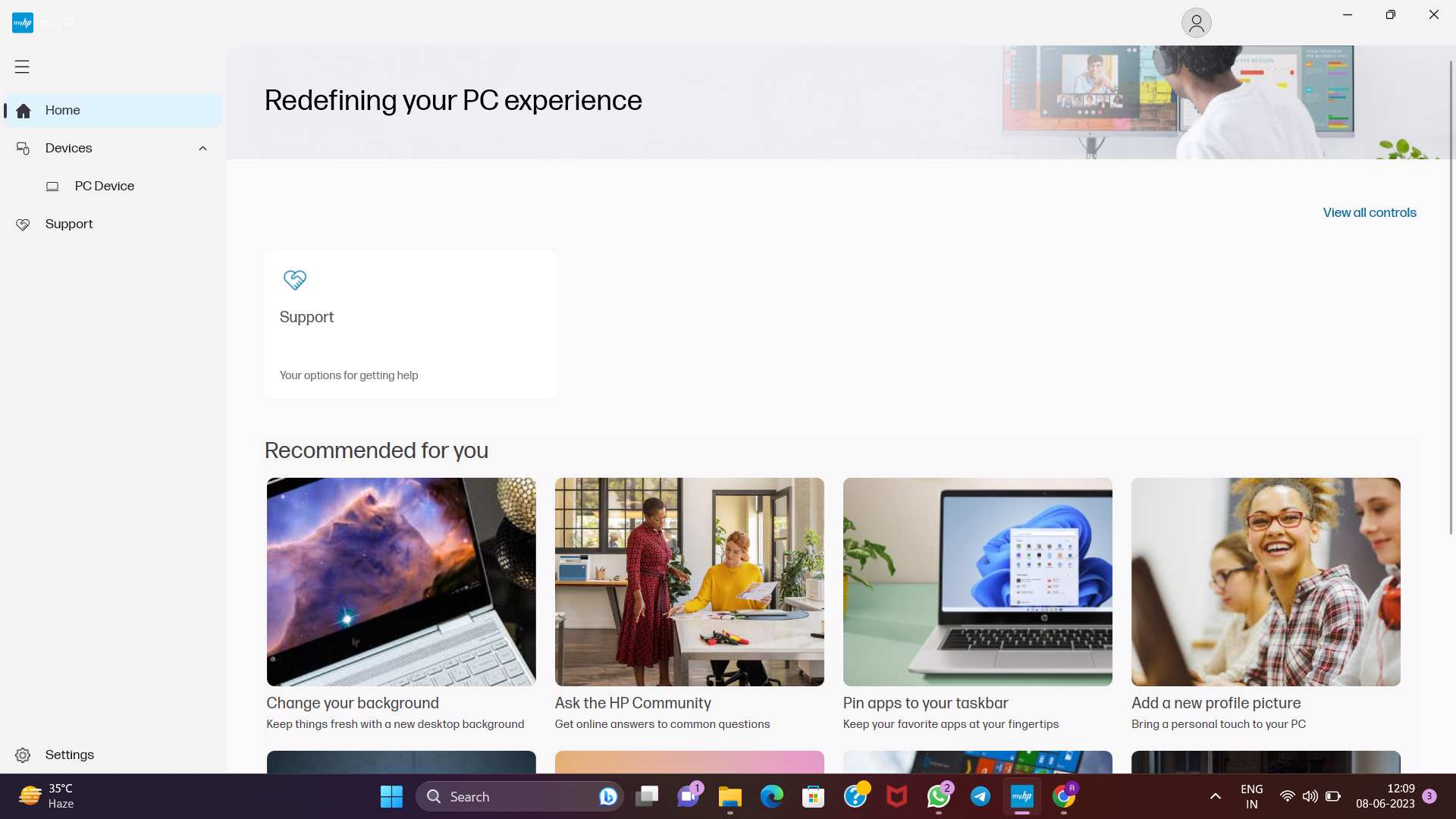 Microsoft has declared that they would no longer provide maintenance for the Windows 10 operating system beginning in October of 2025, which coincided with the release of Windows 11. This implies that after October 2025, Windows 10 will no longer get any upgrades, either for features or for security. This might make machines running that operating system susceptible to hacking and other forms of malicious activity.
Compatibility
When it comes to software applications, Windows 10 is perfectly enough for the typical computer user. The operating system is able to facilitate the installation of applications obtained from both the Microsoft Store app store and applications installed via installation files obtained from DVDs, SD cards CDs, USB sticks, as well as websites. In addition, the operating system is able to facilitate the installation of applications obtained from the Microsoft Store app store. All of these different installation approaches are supported.
Windows 11 supports more app kinds in addition to those that are already supported by Windows 10. Windows 11 also includes updated renditions of well-known applications, such as the latest Windows Media Player and Microsoft Paint, which are incompatible with devices running Windows 10, and so cannot be installed on such devices.
Conclusion
The majority of users should upgrade to Windows 11 since it is beneficial In terms of its features.It is equipped with a wealth of fresh new features, enhancements in functionality, and alterations to the overall design of the product. Microsoft has said that Windows 10 will not get any further features in the near future and has made this announcement public. But if you'd rather stick with Windows 10 for the time being, that option is available to you for at least another two years.
Untouched ISO file for your PC and Laptop, Windows 10 2004 May 2020 version
Download Link : Download Windows 10 1909 Nov 2019 Now
ISO file size : 4.9GB
Link Validity : unlimited
Download magnet link torrent one 2004: Torrent: magnet:?xt=urn:btih:0c91e33f8682e92e1918b28b1059a0c97308ee49 Download Win 1903 Now
ISO file size : 4.9GB
Link Validity :  Take your time
1909 ISO or Image download links ( LATEST LINKS WORKING BELOW)
Download Link : Download Windows 10 1909 Nov 2019 Now
ISO file size : 5.04GB
Link Validity : unlimited
Download link highly encrypted 1903: Download Win 1903 Now
ISO file size : 4.60GB
Link Validity :  Take your time if you are using your PC for downloading
1806 full offline installer download links to iso or image
1806 ISO or Image download links
Untouched ISO file for your PC and Laptop
Download link highly encrypted : https://mega.nz/#!qAxAAIbY!Izvo-jqS1kafYUHcaa-9BxVxbK9We7_iykgAwXYt4zY
ISO file size : 4.47GB
Link Validity :  Take your time if you are using your PC for downloading
Download Link Mirror :  https://nawzil.com/1809/64
ISO file size : 4.72GB
Link Validity : unlimited
Older version 1803 offline full installer download links to iso or image
1803 ISO or Image download links
Download Link : http://nawzil.com/1803/64 (unofficial link)
ISO file size : 4.37GB
Link Validity : Take as much time you need
Untouched ISO file for your PC and Laptop
Download link encrypted : https://mega.nz/#!bRZVmJQK!DO7oLQkVjDckrM3-kzmGBjdPrsEiJGjRaGyEwN1bM5Q
ISO file size : 4.4GB
Link Validity :  Take your time if you are using your PC for downloading
Download Link Mirror :  https://my.pcloud.com/publink/show?code=XZmuJh7ZnHHtXOA4js5r2ks49yyK9BqT9nf7
ISO file size : 4.4GB
Link Validity : 8 hours after link generation