If you are still stuck with your favorite Music, TV Shows, Videos Collections on the DVDs, then here's a better way to keep your important files and moments stored. Did you know you can simply convert your DVD files into digital format to take a backup? With WinX DVD Ripper Platinum, you can actually convert your DVD to MP4 in a few moments. It is also known as the best DVD Ripper for Windows, which is now available for the Mac users as well.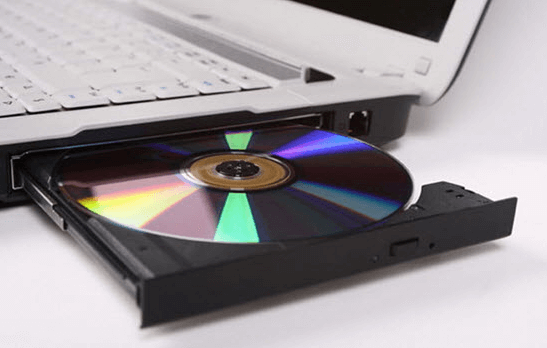 WinX DVD Ripper Platinum – Introduction
There are many reasons why a person wants to purchase a DVD Ripper software. It comes with a lot of benefits, especially it converts almost all of your DVDs into digital format which can be stored and save over the cloud or any other computer or smartphone.
Of course, there are numerous DVD Ripper Software available in the market from which, WinX DVD Ripper Platinum is the best option available for you. Following list of its features will give you the right information about this software. You can check the potential of this software by looking at the list given below.
Key Features
Easy to use interface for everyone
Convert DVDs to digital formats such as MP4, MKV, AVI, MOV, WMV
Convert DVDs for Mobile and Television Playback
Full Disc backup instantly
Clone DVD to ISO image or folder
Capture Audios and Images from DVD
Rip DVD to mobile devices, e.g. iPhone iPad Android
Adjust Audio Volume from the DVD
Crop and Expand the Videos easily
Add subtitles to the videos
Backup DVD main title for better collection
Trim the videos as per your requirements
Decrypt DRM Protected files
Besides this, this software also supports multi-core processing which allows you to create your own high-quality videos. It also offers fast performance and high reliability on the video contents you are working on. Depending upon the processor of your PC, this software manages the conversion process. If you are using a high-performance PC, it will convert the files quickly. It copies a DVD in less than 5 minutes.
It requires a powerful CPU to convert big files stored in the DVD. But what if you do not have an advanced and powerful CPU?
Well, this Software comes loaded with an advanced level-3 hardware acceleration tech which makes DVD Video processing much faster. Besides this, Hardware accelerated DVD ripping opens to more PCs. Moreover, the hardware acceleration quality of the software makes its overall functionality much efficient.
If you are already impressed with the working functionality of this software, and want to know more about converting DVDs into the desired digital formats, then here we have prepared a detailed guide with which you can convert your DVDs easily.
How you can Rip DVD to MP4 using WinX DVD Ripper Platinum Software?
Interestingly, WinX DVD Ripper Platinum Software also converts DRM-Protected DVDs and DRM-Free DVDs without any additional software. The software works perfectly fine for both types of files quickly.
Moreover, the interface of this software is pretty simple. Anyone can start using this software to convert any type of DVD files. All it requires is a little bit knowledge of using it. Since the software is now available for both, Windows and Mac systems, you can test it on both systems.
You can get this software for the respective PC system from Digiarty I.e. the official website of this software. You will see two different versions of this software on the front page from which you need to get the file of the desired PC system from there.
Below are the screenshot of Mac version: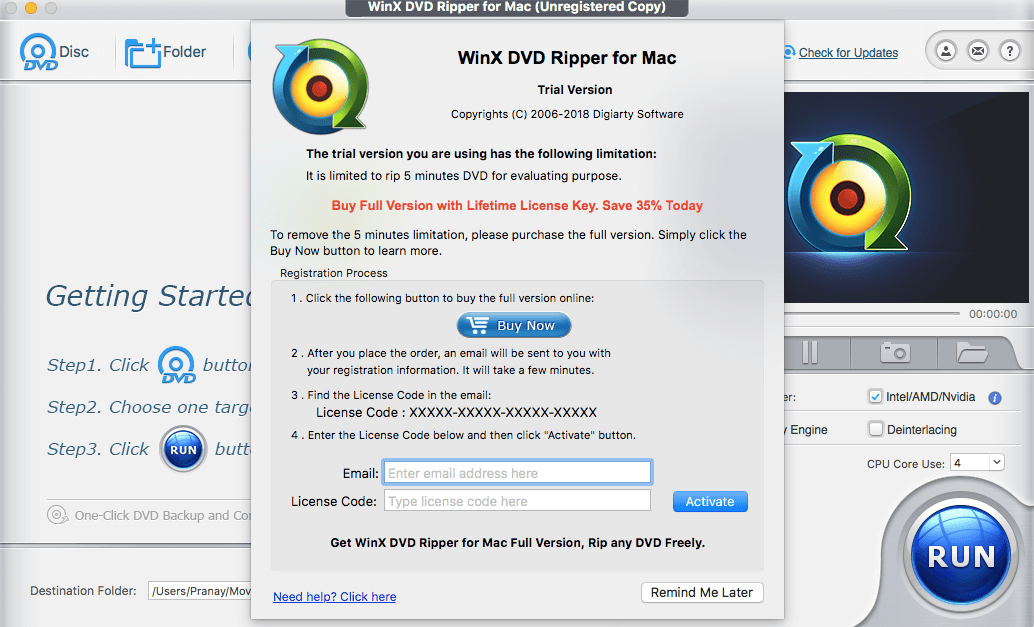 Using this software, you can easily convert any type of DVD to MP3 format. This format is highly preferred and works perfectly fine for all types of digital devices. First, you need to free get a licensed copy of WinX DVD Ripper Platinum for your PC system. Once you get a proper license, you will be able to launch this software on the PC to convert the files.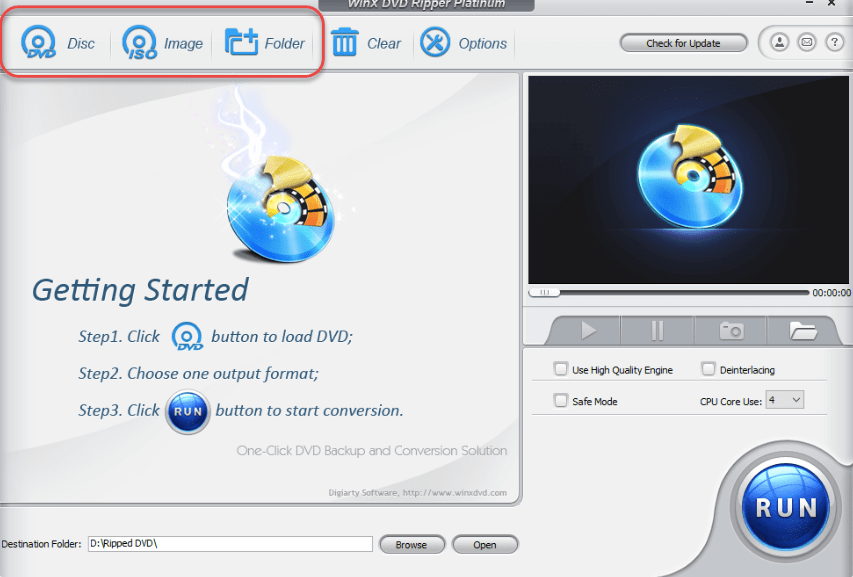 Fortunately, you don't need to change any settings at the beginning. The software has a default setting which can convert the DVD files to MP4 format automatically. However, you can also change its settings as per your requirements. Once you launch the software, you will see the home screen with many useful setting options.
You will also see some guidelines on the front-page. By following these guidelines, you can import the DVD files for the conversion within this software. There will be a big Run button at the bottom-right corner which starts the process. After importing the files and choosing the output format and folder, you can click on to the Run button to start the process.
If you have inserted a DVD, upon selecting Disc option, it will show up the name of that DVD. Select the DVD file by clicking Ok button.
The next step is for the selection of the device. You need to select the destination device where you want to run the converted file. You can select from many devices which are available within the software. Scroll through the options and you will see all the devices.
Upon selecting the destination folder, the next step allows you to change or edit the file as per your requirements. You can trip, cut and edit the files easily from this step. By exploring various options, you can simply change the existing file's settings from here.
Once the conversion process starts, it will show you on the screen with the conversion percentage and destination name, duration and all the details. You have to wait until the process is done, it will take a few minutes to finish the file. The process time depends upon the file size that you are converting.
After the completion of this process, you will see the Converted file into the desired folder. You can simply make transfer this file to your smartphone or any other devices and it will work well for you.