Heights of using technology increases day by day and a lot of internet applications and software's are out everyday. More over internet is a big place of spam, where evils wait for your entry. So while browsing through any some "x" site you should need to know whether the browsing on the respective site is safe or not! Am I right? It's time to throw a torch on the antivirus and internet security otherwise you will be pissed off. There is ton of antivirus and internet security providers and it's really a challenge to choose the best one. It's time to stop your search as here is the best anti-virus that is Bitdefender.Following is the complete review of Bitdefender plus a free genuine license key and get the free edition converted to premium or you can extend free trial.
How you can get free genuine Bitdefender Total Security 2023 key ?
This a German offer, you need any free VPN (if you don't have any VPN pro plan, then you can try this VPN: https://www.urban-vpn.com/locations/germany-vpn/ ) and choose Germany location then its simple, just click on the link here which will automatically takes you to the promo page, enter your details like email address etc in the form and then check your inbox for new emails, viola! You have the free genuine key or license and apply that key in the software and activate to get free 180 days or 6 months of premium version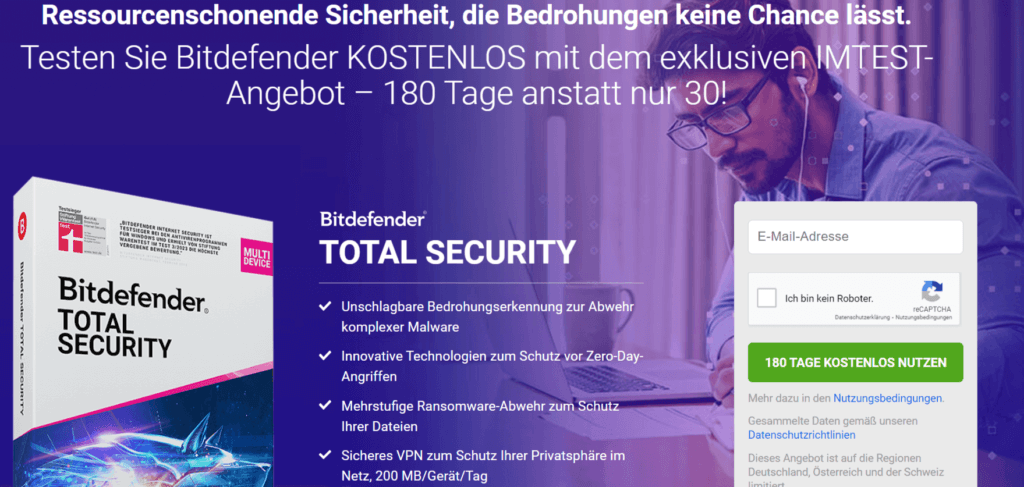 The above one is expired, here is the updated one this one gives you a 120 days /6 months security for free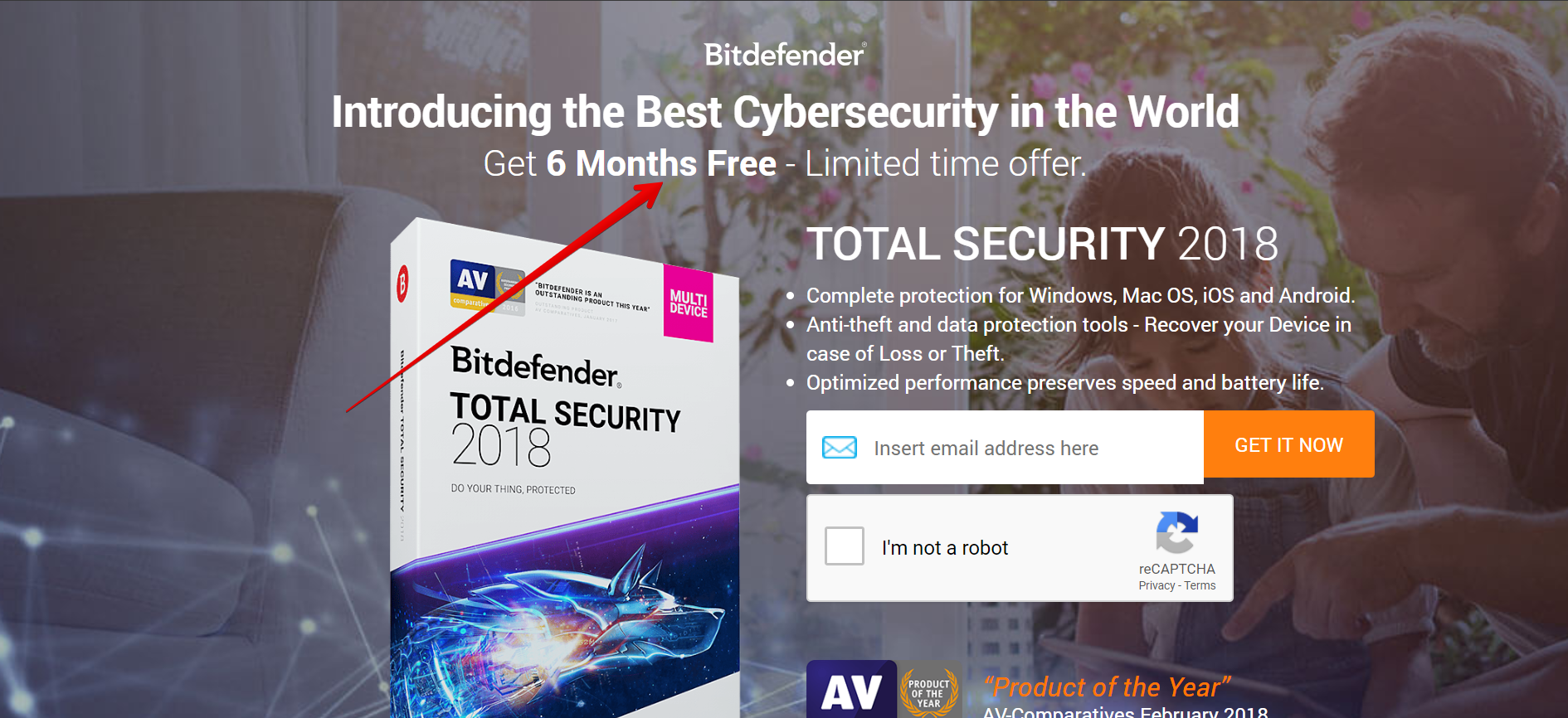 Visit the promo link here and download the preactivated version with 120 days validity after you login to your account. Software can be used in Android, iOS, Mac, Windows 10.
If you think you need another free total security then try Kaspersky Total Security 2016
What is Bitdefender Total Security ?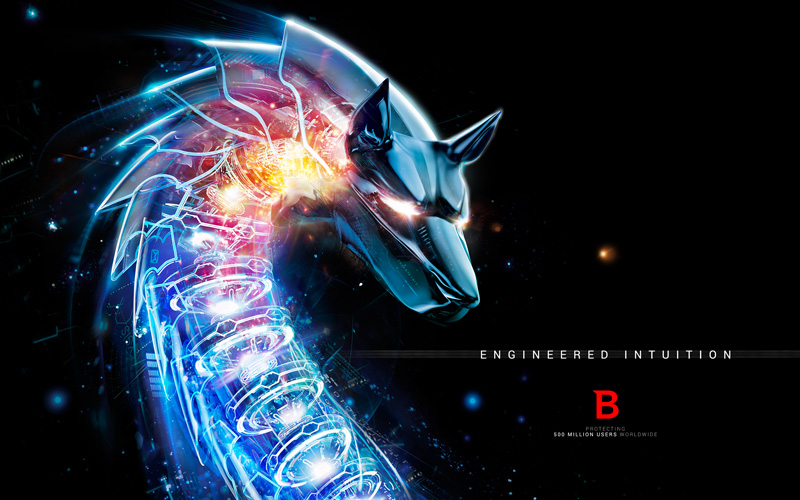 It's a most powerful security now. Its build with machine technology to fight against the cyber and illegal attacks. It automatically decides the safest one for you. It guards at your online banking and other private details as it acts as a spy on your children during browsing. Moreover, its resent doesn't affect your device performance. Select any plan and download it from here(official link).
Features:
https://www.youtube.com/watch?v=va7gN5xdxzg
Here is the first look of the software, have a look.
• It scans the every possible document from your device in the cloud. The best part is it never stores or effects your data while scanning.
• It spy on your every activity, that is it stops the temporary pop ups while playing games, watching online movies. It also pauses the every useless background programs.
• Software boosts the device performance, and speed up the time of managing programs during the boot-up
• It also helps you in identifying the bad applications or software that may open a back door.
• Disk checkup, disk checkup, privacy cleanup are its extra features.
• It completely ensures the trace out about the deleted sensitive files (private and banking files) on your browser.
• Bitdefender developed with a temporarily tweaking system settings help in fast performance, cooling of the system, system updates etc.
• Application can be enabled with enhanced complete data protection, which removes the every type of e-threat, wars, RAT (advanced hacking system) etc. In one word software eliminates the complete insecure third parties form the data. If they are not removed it reboots the systems and cleans up the third party data.
• Behavioral detection technology, it is one more technology included within the Bitdefender. It acts as a secondary protective layer my monitoring the active programs.
• This is the awesome feature which makes me loved, Bitdefender blocks everything which asks access to your personal files. You can select the areas specially which you need to protect.
• Firewall system effectively filters the incoming and outgoing data and the best part is it works filters over the Wi-Fi connection too.
• This most important one, the place you need maximum security. Banking online!!Right? Bitdefender safepay, it's a special feature which looks after your online payments and it automatically fills your banking details in the required areas after a little survey. It fills the details and pays the money if it was safe and trusted one.
• It blocks and sniffs the phishing pages and other password stealing pages and websites and you are pushed with secured browsing which payments and login
• Bitdefender notify you with respective warns when you are ready to browse through money related websites, porn and other unsafely websites.
• USB immunizer looks after the connected USB drives, no need to worry more about connecting USB or any other devices to your system.
• Every search engine is safe until you click on the link, but this security provider even kills the unsafely page after the click too.
• A completely secured password manager is built up in the software to store your passwords, which may be banking or social passwords.
• Bitdefender helps you to makes you to repair the fixes remotely.
• Discreet security widget, one of the part in the software which tracks all your security related tasks through which you can drag the files quickly to have a scan in no time.
• No need to check the software every-time. It works silently in the backdoor against the black hacks and you are intimated with a report from the Bitdefender every week.
Conclusion:
Before concluding, it is better to have a one more look at the above features section. It have a ton of features to save you from unsafe browsing and etc. etc. Right? So i found no wrong in terming it as the powerful Total security for your system running Windows.
Don't forget to share this review about Bitdefender Total Security with your friends or you can just share to Facebook, Twitter for helping your friends to get the deal before its over.