Introduction: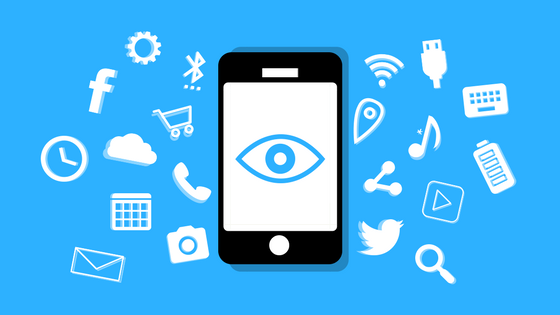 If you are one of those people who has always felt this constant paranoia that someone is always watching, you might not be wrong. There are more people who can watch you all the time than just the NSA and the CIA. Our gadgets and smartphones are as accessible as they are vulnerable. They are very easy to 'hack' into and take advantage of. As we progress towards better developments, there is still going to be the problem of a greater threat always lingering around. But let's discuss some of the apps that might be called into action in order to crack your phone and steal or monitor your data without you even knowing it.
M-Spy Lite:
If you are trying to stay cautious of some of the most malicious apps available on the market, you need to understand what mSpy lite is. Imagine being able to know when and how to read someone's text messages, knowing exactly what they are typing at all times, what sites they are opening and what activities they're engaging in on their device. You can have all the access in the world to a target device as long as you install mSpy on it somehow. The app is designed to provide all the events that take place on the device. This has been aimed at becoming a child monitoring app but we all know that even guns were made to 'protect' us. Just like guns, these can be used against you so watch out for the app that can give access to your phone to someone you might not know.
Highster Mobile:
Android phones are genuinely easy to crack if you can have it long enough to install Highster Mobile. This app is designed to be a safety mechanism that can't be disabled and will always be working to keep your phone bricked and giving away its location and other necessary data to be viewed by whoever has the admin control. This app associates itself with an account that you can access and start tracking the device's activity, location and check various forms of data like call logs, text messages, photos, browsing history etc.
FlexiSPY:
This might be the most dangerous application in the market available since 2006. Unfortunately, for it to be fully functional and operational, the target phone must be rooted or jailbroken. The services and features that FlexiSPY has offered its consumers are exceptional. From live call interception services to recording them. What's more? FlexiSPY has the ability to turn your camera and mic on. Yes, that's right. The target phone's camera can be used to take a picture of the surrounding environment and the mic can be turned on to listen into the conversations happening in the backgrounds. Although this is a very expensive software, it still is accessible to a lot of people and considering the number of people rooting and jailbreaking their phones, it can be no problem to just install this software into their phones and start using the Extreme services or the Premium services offered by FlexiSpy all available for $300.
Hoverwatch:
Compared to the features provided by other companies and apps, Hoverwatch doesn't really stand tall as much as it stands out by offering a little different set of services to all its users. Hoverwatch designates you as the controller of the device and can send you phone call logs, screenshots, and even record calls. Of course, a root might be required but on the other hand, a secure Web Portal is available for the admin or controller to keep watch over the target device.