If you have recently bought a new Mac system, and are searching for a reliable antivirus software to protect the system, then Bitdefender is a great option to look for. Their software for Mac is the most popular protection tool for Mac users as it is designed with the latest security features to protect your system against dangerous malware, ransomware and other malicious files. The software detects and deletes all types of viruses from your system automatically. Let's decode it now!
Bitdefender Antivirus for Mac Full Review
Bitdefender has been providing different types of protection tools not only for Mac systems, but for all the other PC systems as well as smartphone platforms. The developers have redesigned their antivirus solution for Mac systems and now we have the latest 2019 edition of their popular Bitdefender Antivirus for Mac. The software has been upgraded with a number of advanced protection features to block and eliminate unwanted viruses from the system. You can safely surf different websites worry-free.
The new tool from Bitdefender comes with a simple and easy to use interface. You don't need to mess with the features and functions as everything is right on your screen and you can make use of each feature from the front screen of this tool.
The installation process is also easy, as it doesn't ask for anything from you. The company provides a 30-day free trial for Mac users to test out this software and its features before fully committing and buying it. If you are a Mac user, then you should give it a try as it has got everything to safeguard your web experience and your Mac system as well.
Key Features
It serves a set of new and easy to access features for Mac users. You don't need to be a technical person in order to use the advanced features of this system. Just install this tool and you will be able to use all the latest protection features of the tool right from the front-screen.
To make use of its features, the first thing you need to do is go ahead and download it from its official page. You can get it by following the given link.
Note: This software is available for free with its 30-day trial edition. If you don't want to purchase the premium edition, you can get the free edition for 30 days to explore the features and its functionality.
Once you get the file, you will have to install it manually on your Mac system. Do make sure you follow the basic instructions steps and install the software to your system. The software will start downloading itself after completing the basic instructions.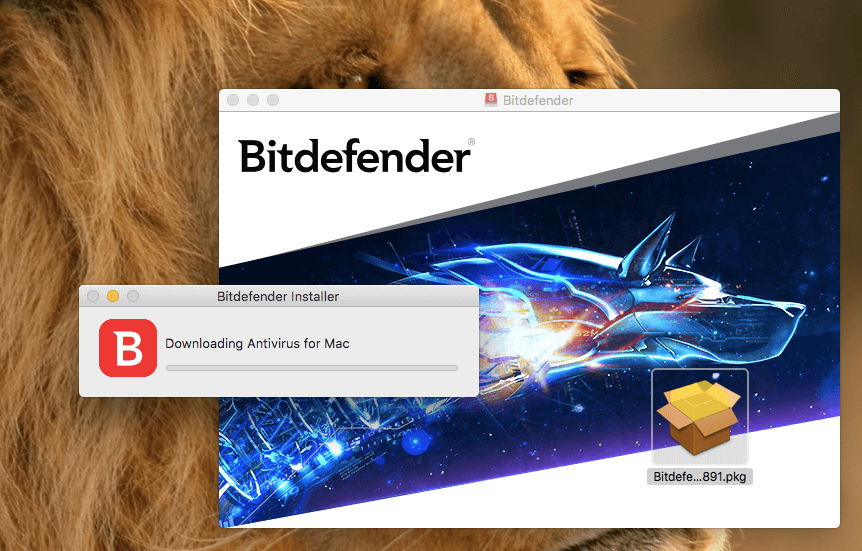 Once the downloading process completes, the main tab of the software will be presented on your screen with the "You are Safe" tag line. This means your system is safe and you can start exploring the features packed in this software.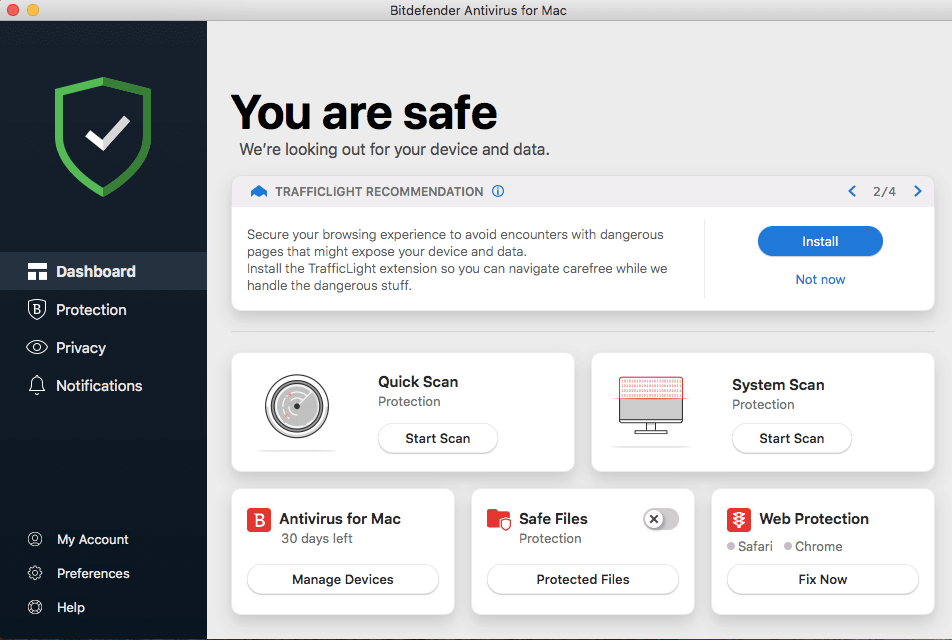 The software has a simple interface with two sections, left and right. On the left sidebar, you will see a number of options such as Dashboard, Protection, Privacy and Notifications. You can explore all these sections by clicking on them.
Just like every other antivirus tools, this antivirus also comes with basic scanning features to scan your system for viruses and other malicious files, which could be very dangerous to your system. On the front-page, you will see different scanning options such as Quick Scan, System Scan, Custom Scan etc.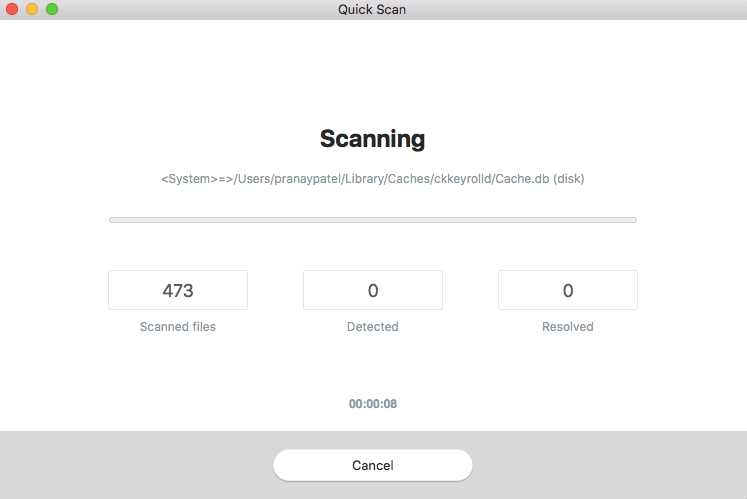 You can select the Protection option from the left sidebar to see different scanning options. Click the Quick Scan option to start scanning the entire system and its files. The system will automatically start the scanning process and detect harmful files if there are any.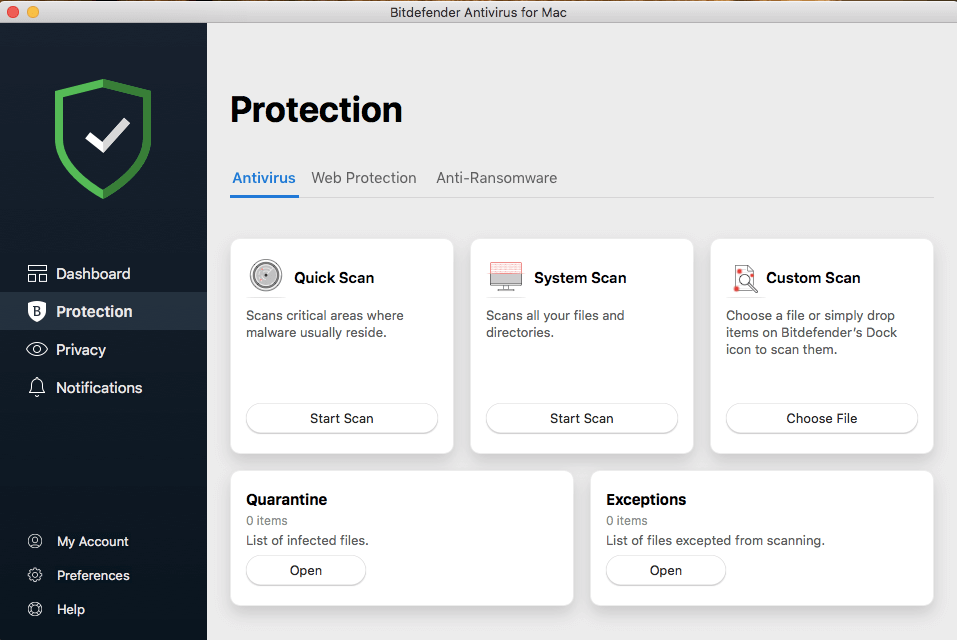 Similarly, you can also scan the entire Mac system by selecting System Scan option. Just click the Scan button under the System Scan option to start scanning your hard drive. On the other hand, there is one more option and i.e. Custom Scan. This option lets you manually select the files and folders to be scanned with this tool. Depending on your basic requirements, you can select the right option to scan for malicious files and viruses of different types.
The developers have introduced a brand-new feature with the latest edition of this antivirus. The new Auto Pilot recommendation is a novel feature you will see in this software. You can enable this option to get regular recommendations for protecting your system. The system will automatically send you reminders, recommendations and suggestions with which you can keep an eye on the system's files. This is a very useful feature which is now available on the new version of the software for Mac.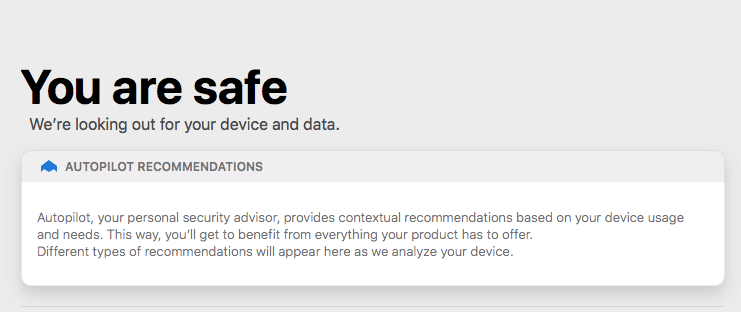 To make your connection private or to hide your IP Address and location, they are now offering a built-in VPN tool. This built-in VPN service allows you to change your current location to a different country for hiding your IP address and location. By using the VPN service, you can avoid online attackers from stealing your system's information and critical files.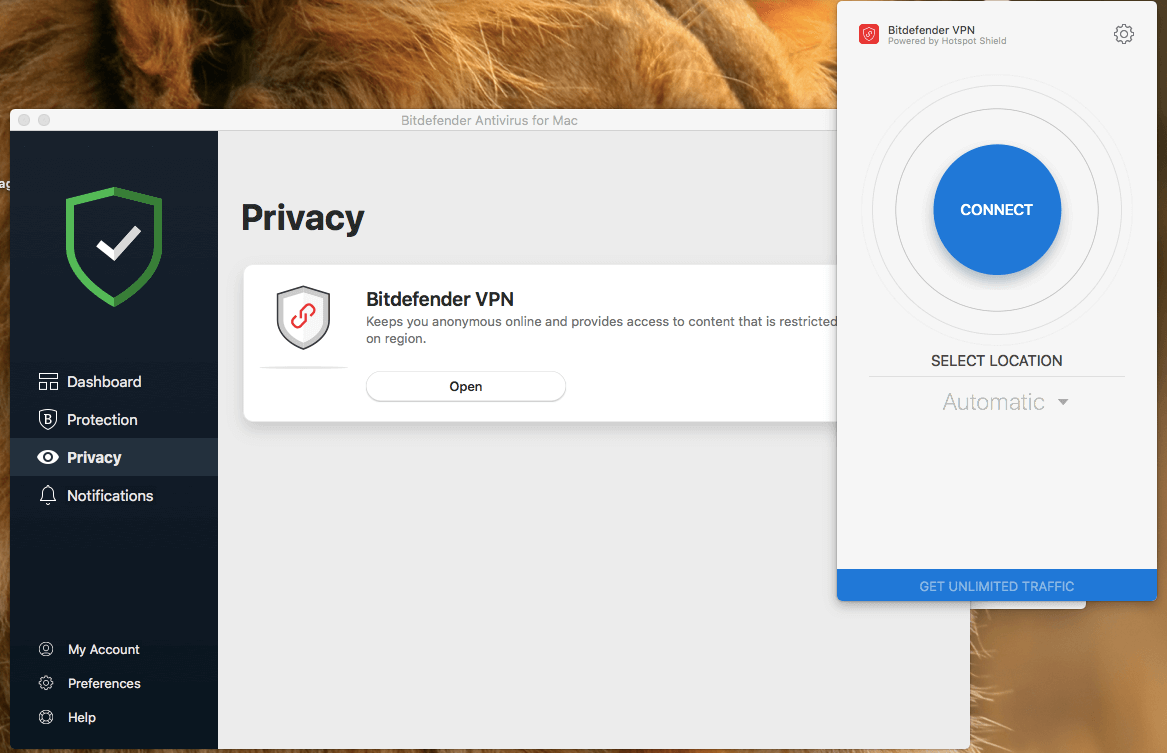 Just go to the Privacy section from the left sidebar and click the open button under Bitdefender VPN. The VPN service will be enabled and you can start using it from the upper bar of your system. You will see an icon on the Bitdefender VPN service at the upper right corner. To make use of this service, just select the icon and click the Connect button. The server's connection will be established and you will be able to use this service.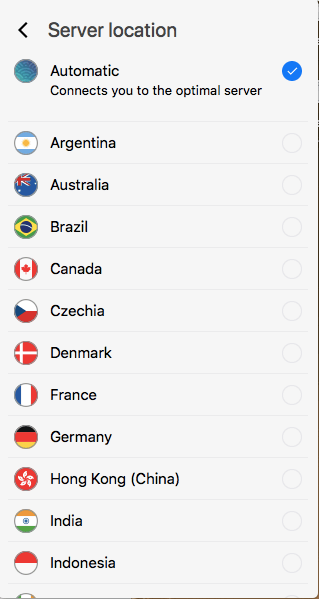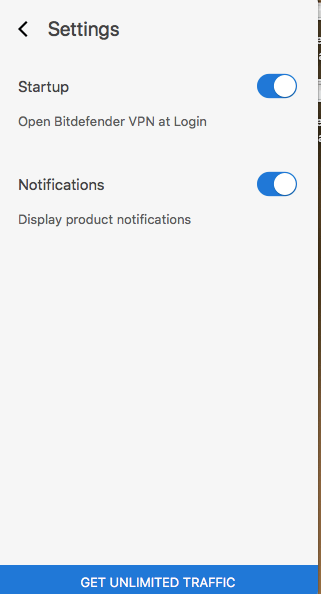 You can change your current location to different countries easily. Select the Server Location and you will be presented with a list of countries, select the country name and the server's connection will establish itself. You can also customize the VPN service by selecting its Settings option. This lets you automatically or manually establish the server connection.
Conclusion:
Bitdefender Antivirus for Mac packs a list of simple and easy-to-use features for everyone. Whether you are tech-savvy or a normal PC user, this software protects your system and helps you to surf the web worry-free. The installation process is pretty simple and the different features are also very easy to use. It provides protection against all the Trojans, Ransomware, Viruses, Malicious files, phishing schemes, rootkits etc. It's an all-in-one Mac Protection tool and a must-have protection tool for all Mac systems.