Virtually every mobile phone's operating system supports text suggestions helping us type quickly and easily without having to type it all out. Auto Correction and Auto Suggestions has been available on Windows' touch keyboard since the launch of Windows 8 on computers and tablets with a touch screen, but however, there was never any text suggestion feature for hardware keyboard in Windows. Luckily for us, since the Windows 10 April 2018 Update (version 1803 called Redstone 4) and later releases, it's now possible to get text suggestions when using a hardware keyboard.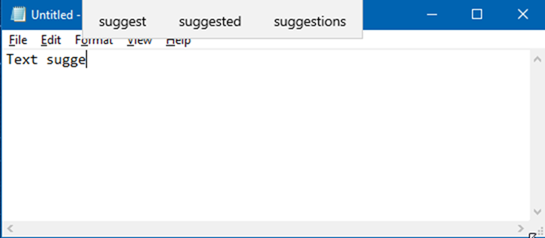 This optional feature allows you to get text suggestions anywhere – whether you're typing a note in WordPad or Notepad, or when you're in your browser typing a long E-mail thus making the tedious process easier and faster. It is also aimed at improving accessibility and education and helping users learning English, while also reducing typos by fixing spelling errors. By default, it is disabled but if you choose to enable it, as you type with a hardware keyboard, you'll see up to three text suggestions that you can select using the mouse or keyboard. It is also possible to enable Text Prediction (Text Suggestions) for a hardware keyboard connected to your device.
The steps below will tell you how to enable text suggestion as you type using a hardware keyboard on Windows 10 and get this amazing feature just like you have it on your smartphone.
To disable or enable Text Suggestion for the hardware keyboard Windows 10, do the following.
Open the settings App.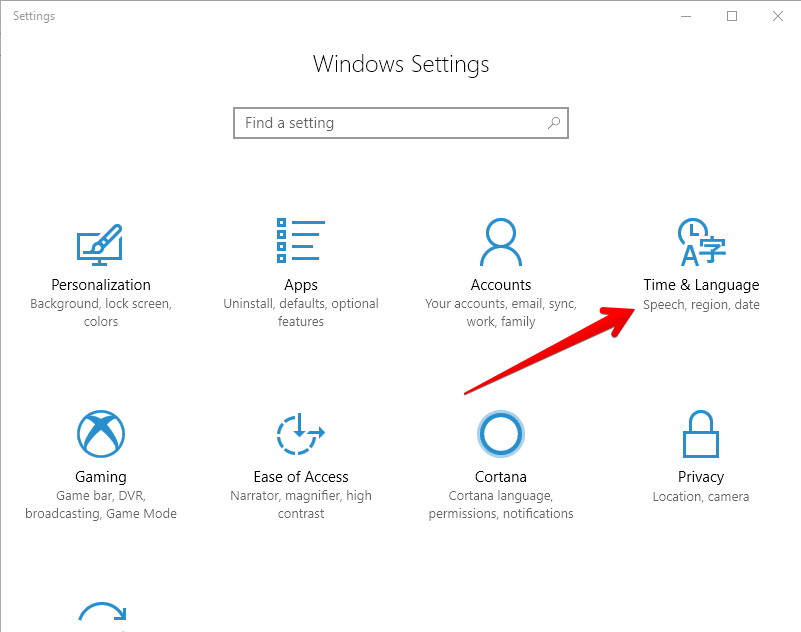 Navigate to Time & language and then select Keyboard on the left.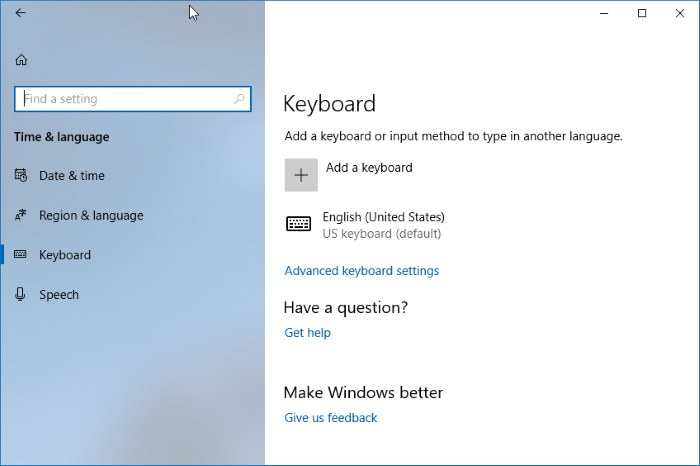 Click on your already selected keyboard input method to see the Options button. Click on this to see advanced settings for your current keyboard input method.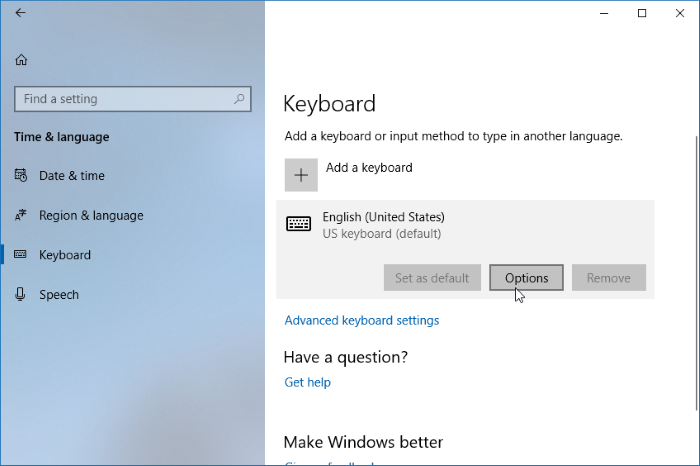 Scroll down to the 'Hardware keyboard' section. Tick the box labelled 'Show text suggestions as I type' option to enable text suggestions for the hardware keyboard. That's all you have to do!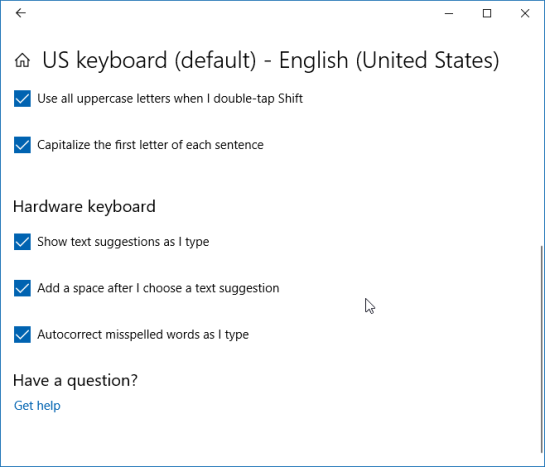 If you already have it enabled, uncheck the box 'Show text suggestions as I type' to disable text prediction.
Another simple way to do this is by applying a change to your registry.
How to Enable Text Suggestions for Hardware Keyboard with Registry Tweak
1. The first step is to open the Registry app on your Win 10 system. To do this, Press Win+R keys on your keyboard which will make the "Run" dialogue will appear. Then type 'regedit' without quotes and press Enter.
2. The Registry Editor App in Windows 10 has an address bar where you should paste the following Registry key:
HKEY_CURRENT_USER\Software\Microsoft\Input\Settings\proc_1\loc_0409\im_1
The loc_0409 portion in the Registry path represents the English keyboard. Change the subkey to match your current input language. For example, loc_0419for Russian.
3. On the right side, right click on the key and hover over 'New' in the menu which will further open up another menu from where you can select 'DWORD Value'. On the right pane, a new DWORD value displays as "NewValue#1." Rename it to a new 32-Bit DWORD value EnableHwkbTextPrediction by right-clicking it and choosing "Rename." Set its value data to 1 and Prediction value data to 0. This step is the same whether you are running 64-bit or 32-bit Windows.
4. Go to Start and sign out of your account sign in back in to apply changes.
How to enable or disable multilingual text prediction
Windows makes it very easy to switch between many language keyboards using its inbuilt keyboard. Now, Microsoft has also enabled multilingual text prediction which works for hardware keyboard as well. So whether you are writing in English or any other language, text suggestions will work once you follow these steps:
Go to Settings and click on Devices
Go to the Keyboard section.
Scroll down and find multilingual text prediction.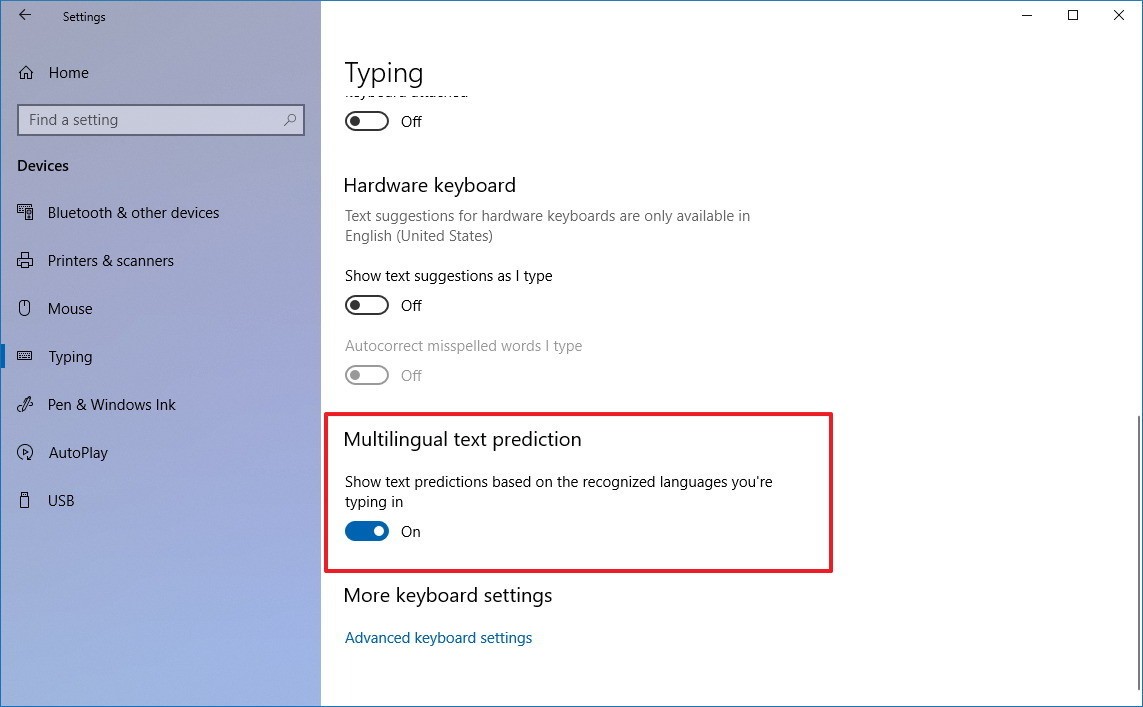 Click to turn on the toggle for "Show text predictions based on the recognized languages you're typing in"or click to turn it off if already enabled.
The new Text Predictor for Windows 10 works like a charm not just when typing in English, but for most other languages as well, including Hindi and other languages supported on the software-based keyboard. Turn on this helpful feature today and become a great speller!