Do you have a number of passwords written on the back of your notebook or on some chit or on a notepad? If yes, then have a look at this.
In the era of increasing online activities, having more than one online account is common. But, memorizing all the passwords is in itself a complex task. A solution that a person can use is to have a same password for all his accounts. But this mistake of a user makes them more vulnerable to hacking and identity thefts. So, it is generally recommended to have a unique password for each account.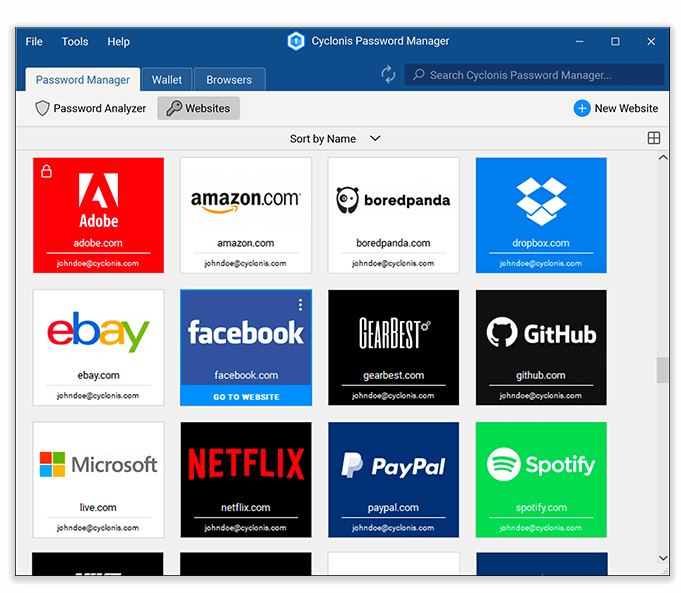 Another thing that a person can do is to use such applications that manages all your passwords and Cyclonis password manager is one of them. But, it's unique and premium features makes it different from other applications. It not only manages your passwords but also you can store your sensitive information to which only you can get access and that too, anytime and anywhere. It is an all in one package providing a number of features that keeps, organizes and manages all your data, information and passwords.
INSTALLING CYCLONIS PASSWORD MANAGER:
Installation of Cyclonis software is absolutely free. Simply install Cyclonis software on to the Windows or Mac and sign up to use unbeatable features of the the software. After signing up, password manager asks to create a master password .Create that master password which you have not used anywhere and also while creating the master password keep in mind that it should be hard to guess by anyone.
SYSTEM REQUIREMENTS: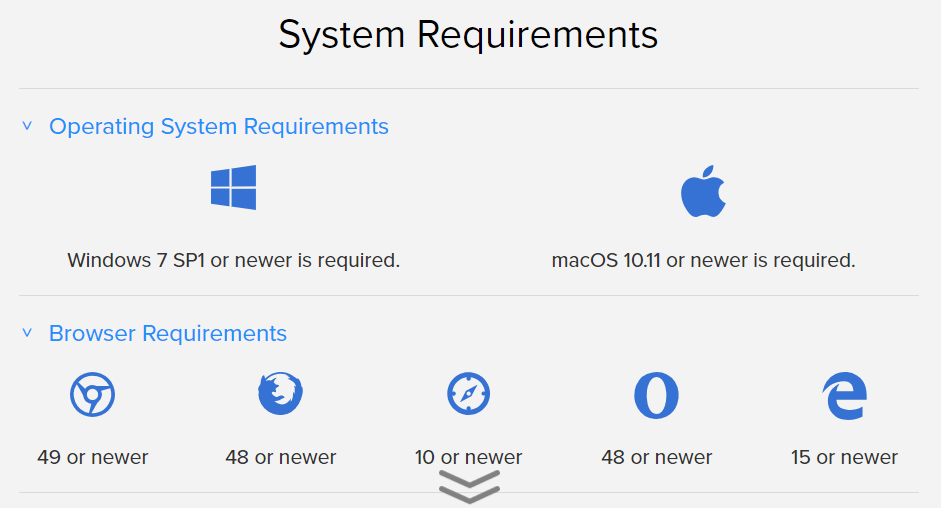 Operating system requirements: Mac OS 10.11 or newer or Windows 7 SP1 or newer
Browser Requirements: Chrome 49 or newer, Mozilla Firefox 48 or newer, Safari 10 or newer, Opera 48 or newer, Internet Explorer 15 or newer.
PASSWORD ANALYZER:
https://youtu.be/E9pCimf88n4
If you use easy-to-crack passwords and want to know the strength of your different passwords, go to the password manager section of the Cyclonis application and know the strength score. The software analyses the strength and complexity of your password. Cyclonis application has an in-built tool that determines and shows the total strength score by taking into account various parameters. Those passwords which are old, reused or weak are brought to the attention of the user and complex passwords for those accounts are generated using password generator.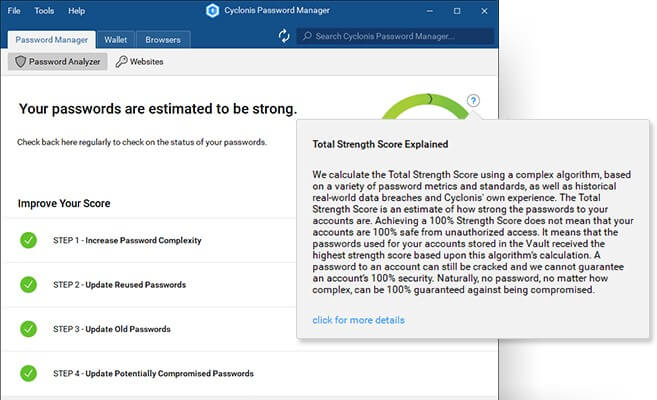 PASSWORD GENERATOR:
It helps to generate random complex passwords. It suggests the user the passwords which are so complex that it becomes difficult for the hacker to steal it. There's no need for you to remember them. You only need to remember your master password which is customized according to your convenience.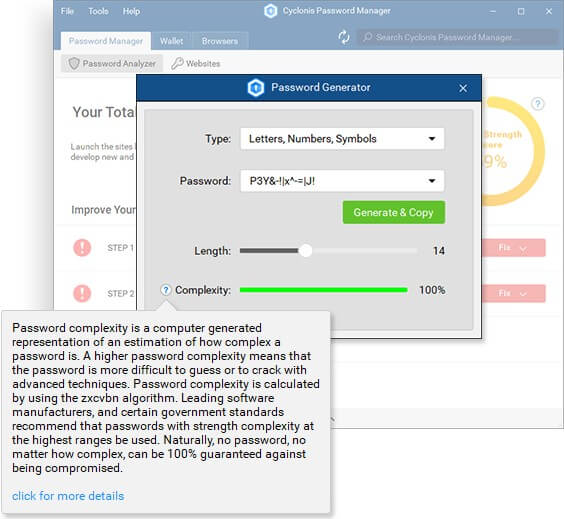 PERSONAL VAULT:
Personal Vault is a very powerful feature of Cyclonis password manager. The Cyclonis software creates for the user a personal vault where all the data can stored by the user. The data stored is encrypted, and it can only be decrypted by using the master password which only you can access.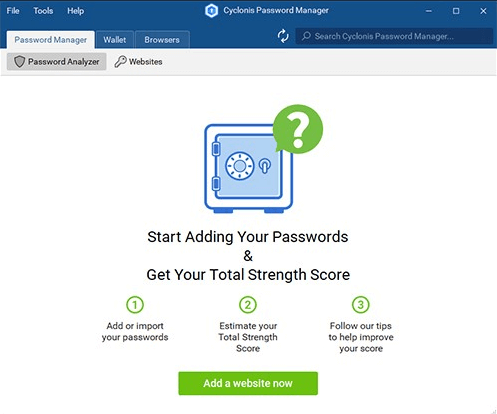 SYNCHRONIZATION OF PASSWORDS:
Want to access your account on other devices? Simply sync your application to a cloud server storage like Dropbox, Google Drive, iCloud & OneDrive and enjoy a better online experience.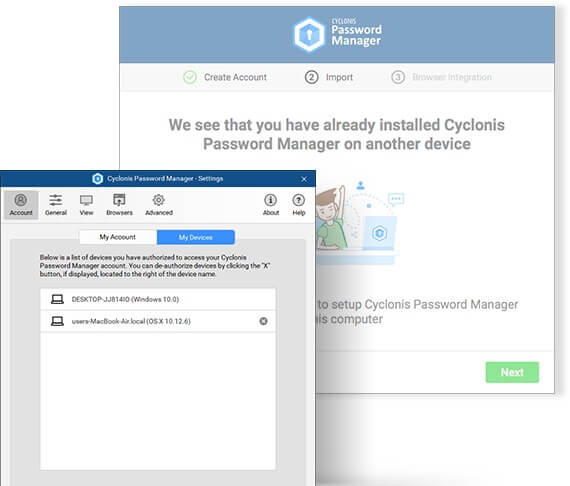 In simple language, the data can be stored either on a local storage, or on cloud servers like Google Drive, DropBox. If data is stored on local storage, you won't be able get access to your data. But if data is stored on cloud server, you can enjoy the advantage of accessing usernames and passwords on multiple devices from multiple locations.
PERSONAL WALLET:
It provides a very unique facility of a personal wallet. The wallet holds the data almost similar to the ones found in physical wallet. Cyclonis wallet can store the data like details of your bank card, phone numbers, Identification documents, E-mails, multiple profiles, PayPal details etc. If you have your payment data saved, you can make online purchases in few seconds. Similarly, stored personal information helps you to fill out the form in few clicks as you don't need to again enter the complete details.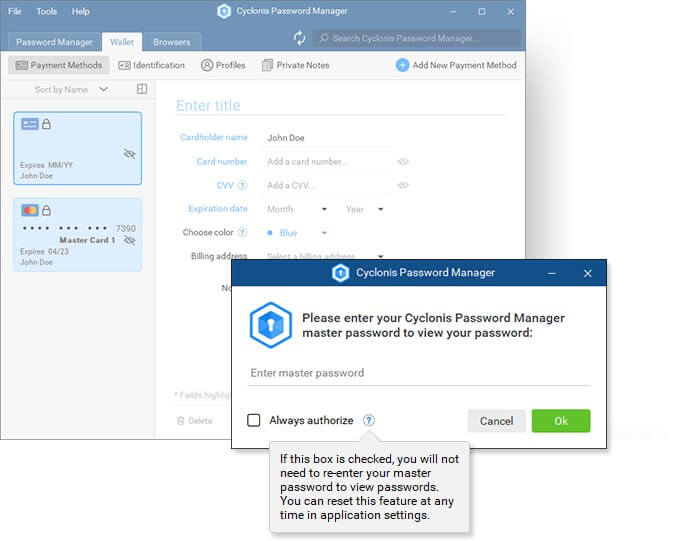 Credit cards cannot be added to this wallet, only its details like name of the cardholder, expiration date, security number etc. can be stored.
TWO-FACTOR AUTHENTICATION:
For doubling up the security, Cyclonis has a two-step authentication option which can be activated and requires checking of email for further verification.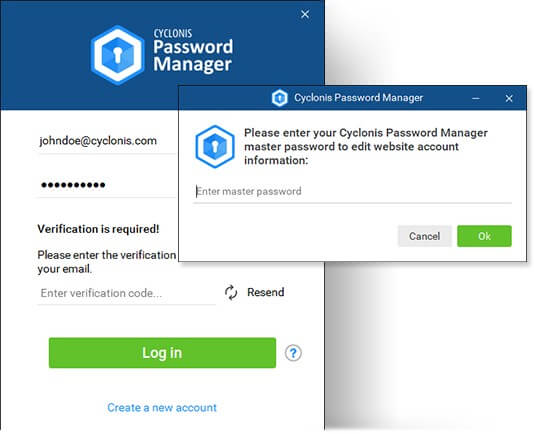 FINAL VERDICT
This software is unique in itself as it provides multiple facilities in a single software and selection of own trusted cloud storage server .What else a user needs. The premium level security features of Cyclonis password manager and that too free of cost makes it undoubtedly the best password manager for Windows 10 and Mac OS.