Mozilla Firefox is a web browser developed with the Mozilla Foundation and its subsidiary. It is a free and open source software community. It is the third most popular web browser. Mozilla Firefox is a fast, reliable and secure browser. Apart from browsing it provides a lot of different features. There are many different software and online services which allow anonymous surfing and Firefox is one of them. We can do anonymous surfing by adding plugins on the browser.
Dedicated VPN Browser Add-ons
It is meant to extend a private network across a public network. The users can send and receive data across shared or public networks as if they are directly connected to the private network. It ensures the functionality, security and management of the applications running over the private network.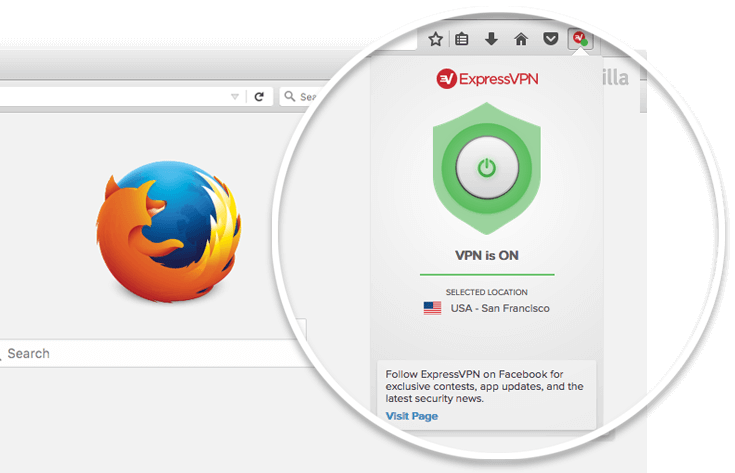 There are some of the top VPN providers who cater specifically to your needs. They offer dedicated add-ons for the Firefox browser that come in handy in certain situations. Through the use of VPN you can encrypt your online traffic and channelize it to the location of your choice. This is done through an intermediary server which masks your IP address with the one from your chosen location. Now no one will be able to see your activity. You also get few extra benefits like accessing geo-locked content.
The browser add-on, also called as an extension doesn't give the same security as a full VPN. They only provide a lightweight option to mask your IP address. That's why they are not ideal for use all the time and VPN providers include them as part of a complete package. VPNs are not so expensive and easier to set-up. It's better to sign up for a full VPN service so that you get access to apps and add-ons. There's a great deal of variation in the offerings and price of service from different providers.
Some add-ons that provides highly anonymous surfing are as follows:
1). FoxyProxy
https://addons.mozilla.org/en-US/firefox/addon/foxyproxy-standard/
It is a very famous and widely used extension that provides highly anonymous surfing. It has completely replaced the Firefox's limited proxying capabilities. It offers reliable, high-bandwidth proxy servers in 24 different countries. Foxyproxy automatically switches an internet connection across one or more proxy servers based on URL patterns i.e., it automates the manual process of editing Firefox's Connection Settings dialog. It is used to bypass content filtering in your work place. The switching to the proxy server occurs based on the loading URL and the switching rules you define.

https://addons.mozilla.org/en-US/firefox/addon/tortm-browser-button/
It is the component in Tor browser which is responsible for application level security and privacy concerns in Firefox. Torbutton disables different types of active content in order to keep you safe. Torbutton manages Tor browsing to prevent IP address leakage, cookie leakage, and general privacy attacks. The Tor Browser now includes a patched version of Firefox. The toggle model is no longer supported. The users use Tor browser but can't install Torbutton themselves.

3). ExpressVPN
https://addons.mozilla.org/en-US/firefox/addon/expressvpn/
It is the best all round VPN which offers more than 2,000 servers across 148 locations in 94 countries. It is a very simple and basic Firefox extension which performs very well over long distance connections without losing speed. However, it is a bit expensive than most of the other VPNs. Your privacy remains intact since it doesn't gather or log traffic data or browsing activity.

4). Hotspot Shield
https://addons.mozilla.org/en-US/firefox/addon/hotspot-shield-free-vpn-proxy-/
It is completely free with unlimited bandwidth. The extension is not ad-supported and the firm claims 'no logging' meaning it doesn't track your online activities. Upgrading to the Elite version of Hotspot Shield gives access to all virtual locations along with the benefit of cloud-based malware protection, and more.

5). ZenMate
https://addons.mozilla.org/en-US/firefox/addon/zenmate-vpn/
This add-on is free only for four locations and you have to subscribe to a paid plan that offers full access to all servers. It is very easy-to-use extension and allows for a simple connect/disconnect and change of location.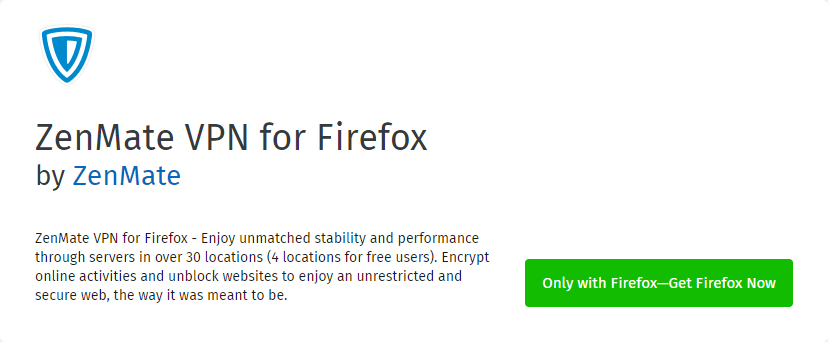 6). Windscribe
https://addons.mozilla.org/en-US/firefox/addon/windscribe/
It offers unlimited device connections (but most providers limit you to five devices or indeed fewer). Browsing with Windscribe allows for some interesting options including different connection modes, a secure link generator, and the ability to remove all social media buttons and block tracking. The extension is regularly updated and there is no logging of historical sessions, or records of incoming or outgoing IP addresses or individual activities.

Final Words
While choosing a VPN with Firefox consider the performance and functionality of both the browser add-ons and the full VPN applications. You also need to consider the speed, reliability, security, and ability to unblock streaming services. The extensions should be light and unobtrusive, with a solid mix of options for both basic and tech savvy users.