Virtual Private Network (VPN) is the very first thing that comes to mind if someone thinks of online safety. VPN works by connecting host to Internet server through it's private server instead of directly connection host with the Internet, by combining it with it's server it creates a tunnel that helps the user to surf the web without any restrictions because by connecting through the VPN real-time IP address of user gets changed so he/she can also view the contents that are restricted by the government of their country and even the materials that are blocked in their geographical location.
In this article two very popular VPN's are going to be compared TunnelBear VPN and Hide.me VPN.
Features:-
TunnelBear VPN:-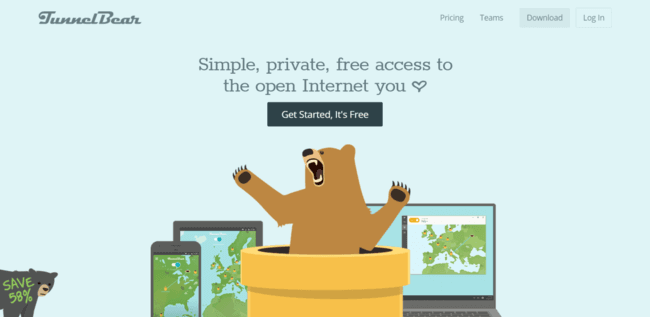 TunnelBear is Canadian company it offers a number of significant feature like under Privacy it provides Vigilant Mode that blocks any traffic if your connection gets disrupted, Closet Tunnel only secure connection through more speed, Always On mode that launch the VPN as the device bootsup, Online tackers blocker and No Logging feature, but it stores Name on Card, last four digits of card and day of transaction when user will make any online transaction for Fraud protection.It will not save any tansaction details if the transaction is made by 3rd party payment collecting agency like Paypal.It is also awarded for the ligtning fast speed service, it also makes it user get secured from public wifi and other untrusted networks.
For help and support, it has the most asked questions on its website and a dedicated staff that is always available to help.
TunnelBear has it's fastest servers in 20+ countries.It also offers Strong Encryption of AES 256-bit encryption by default and even a GhostBear mode through which VPN will remain hidden from governments, businesses, and ISPs.
Hide.me VPN:-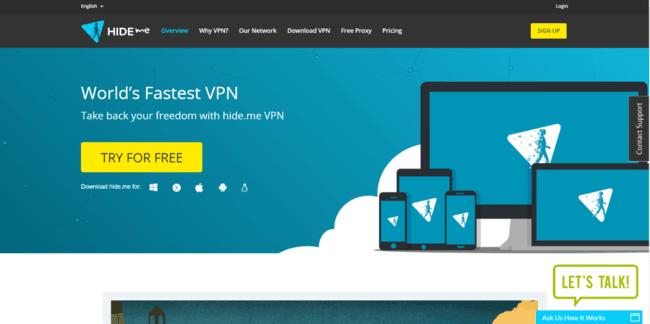 Hide.me VPN has lack of features, but it still provides an excellent VPN service.
Hide.me is Malaysian company it is capable of giving an Anonymous IP it can help to Bypass internet censorship in many countries Social media like Facebook, Whatsapp. Twitter, Instagram is banned but using Hide.me user can access these features.
It also offers WiFi security through which no one can know your real identity on the Internet including government, ISP and Hide.me company itself. With Hide.me user can also stream on online streaming sites like BBC, Youtube, Vimeo many other.
Hide.me VPN offers an enormous amount of protocols it uses latest VPN protocols like IKEv2, IKEv1, SSTP, OpenVPN, PPTP. L2TP/IPsec, SoftEther all of these protocols can support AES 256-bit encryption that is used by Hiding.me VPN.
Hide.me VPN also provides No logging, all stored data deleted each two-three hour of connection termination.
Pricing:-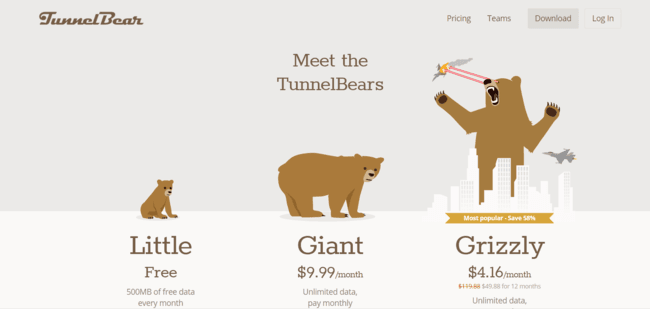 TunnelBear provides 500MB of monthly data on the free account where Hide.me offers 2GB of data on the free account.
TunnelBear costs $9.99 for unlimited use per month and $119.88 for a year, but it is now available for discount you can purchase 1-year subscription at $49.88
Where Hide.Me VPN provides $4.99 per month usage with a limit of 75GB data usage and Unlimited speed with 30+ locations; it also has $9.99 per month for Premium account with that user can avail 75GB per month data usage. 30+ location, Unlimited speed, and even access to SOCKS proxy/Dynamic Post Forwarding/Fixed IP Address.
The price of both VPN's is similar.
Platforms:-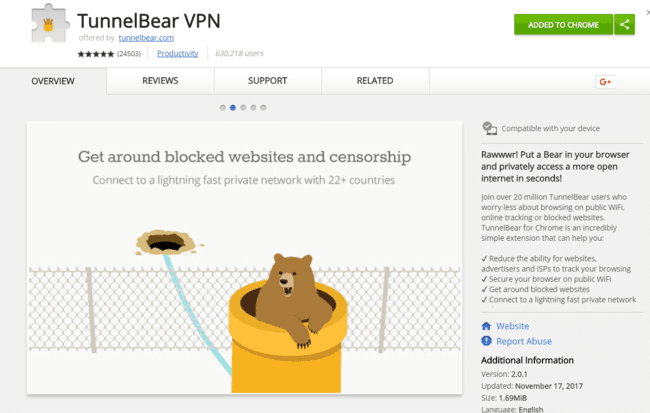 TunnelBear VPN is available for Windows, Mac, iPhone, Android, Windows Phone. It also offers Chrome and Firefox browser's extensions that help the user to connect to VPN in no time easily.
Hide.me is available for Windows, Linux, Mac. iPhone, Android, Windows Phone and Routers.It doesn't provide any web browser extension.
Support:-
TunnelBear VPN has 24/7 Phone Support, Email support, Ticket System .
Where Hide.me VPN has Email support, Live chat, Ticket System.
Other security measures:-
TunnelBear provides 1st Party DNS Servers, Kill Switch, WiFi-Protection, No logs Policy, AES 256-bit encryption.
Hide.me provides Kill Switch, WiFi-Protection, No log policy and AES 256-bit encryption.
Final Words:-
According to me the TunnelBear VPN and Hide.me VPN both are great Virtual Network providers, but TunnelBear got my attention it provides a lot of features that we need from a VPN and it is also available at the same price at the Hide.me VPN. So according to me, the winner is TunnelBear VPN.