The gaming industry has grown a lot after Battle Royale games hit the scene, and the demand for gameplay recording and streaming has increased rapidly. There are a handful of screen recorders available in the web market that allows the desktop-class consumers to capture excellent 60fps gameplay. Today, I will introduce you to free/paid solutions that can change your perception of recording.
OBS Studio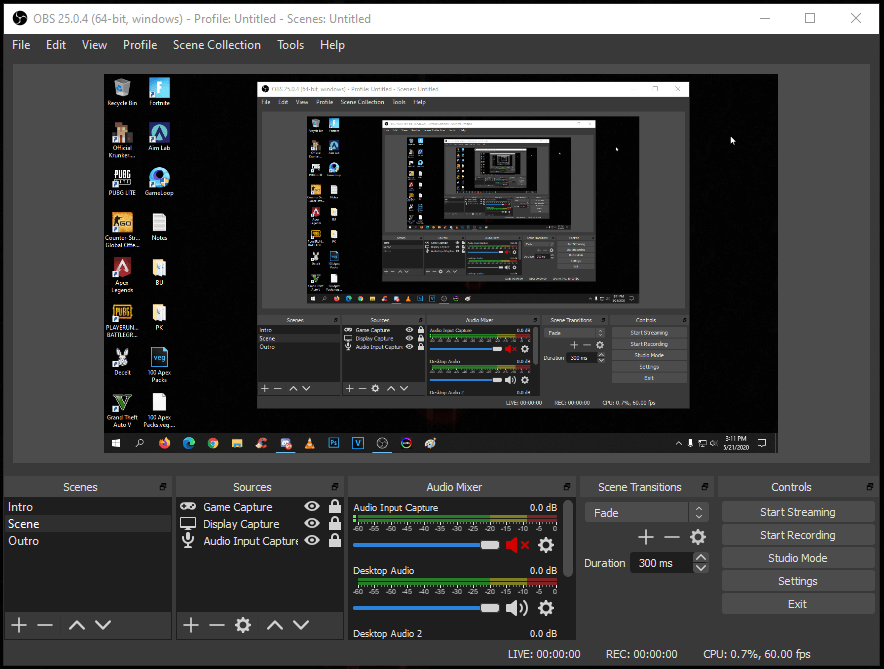 I use OBS Studio for recording gameplay without sacrificing CPU or GPU resources. What I love about OBS is that it records the gameplay in the highest quality possible and it supports AMD and Nvidia GPU inbuilt codec. The auto-configuration wizard goes through the hardware capabilities and recommends minimal settings. You can record gameplay in 30fps/60fps in 1080p or whatever is your monitor resolution. I have spent many days to understand and master the controls, but you can find plenty of YouTube tutorials to master the functions.
Note: Avoid StreamElements OBS because it consumes plenty of CPU resources.
Price: Free
Nvidia ShadowPlay
I have to applaud Nvidia for designing a card and coupled with highly-optimized software, which outperforms the current competition. I owned GTX 1050, which comes under entry-level gaming graphics card for today's standards that recorded Apex Legends without compromising CPU + GPU resources. I have never seen such video output in other solutions including OBS Studio. The ShadowPlay is an inbuilt feature of GeForce Experience software, so you don't have to download additional packages. Press Alt + Z together to open ShadowPlay options, and explore "Settings" to navigate it, and it hardly takes 5 minutes for beginners to figure out all options.
Price: Free
AMD ReLive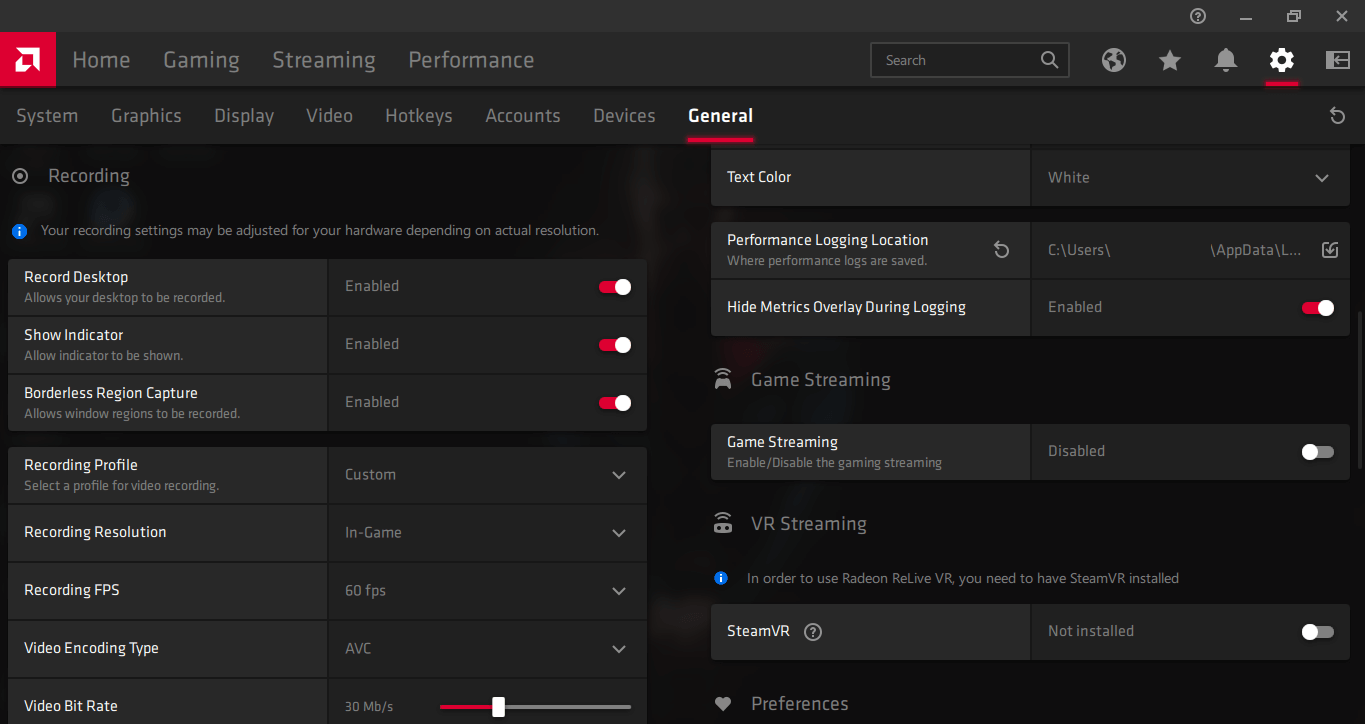 In an attempt to compete with Nvidia's ShadowPlay, AMD came up with ReLive, which is an inbuilt screen recorder. The feature is available in APUs and dedicated GPUs, and I have my review to write down. The ReLive recorder mimics the rival company solution, and I have to point out that it does a good job, if you have good hardware. I have tested the ReLive in RX 570 (4GB) and it captures the gameplay in monitor resolution at 60fps. Unfortunately, AMD Control Panel is not optimized and I frequently face lags and shutters in the video output. Meanwhile, I assumed that RX 570 doesn't have enough juice, but that wasn't the case, and it was indeed AMD Software, which is not capable enough to deliver excellent video output.
Price: Free
Bandicam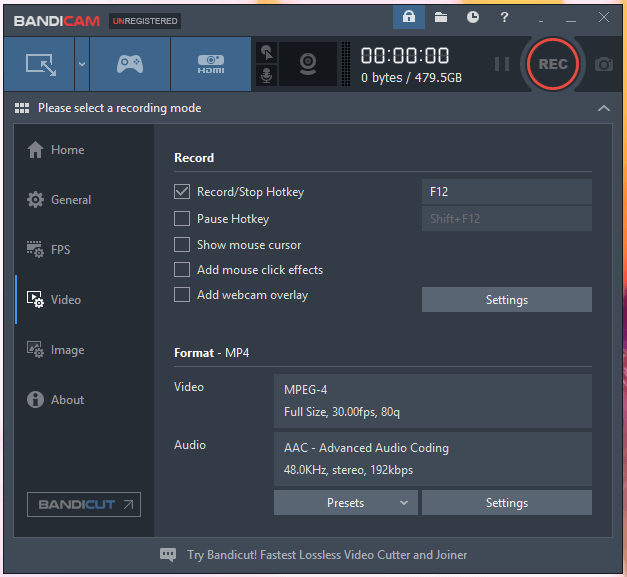 Bandicam is a premium solution that offers screen recording and gameplay recording capabilities. I have used Bandicam on my low-end computer, and it worked smoothly, and I was surprised by the optimization. For beginners, I consider Bandicam a viable solution because of the developers designed to capture gameplay at 1080@60fps and work comfortably on mid-range computers. The program automatically scans your hardware during installation and applies appropriate settings for smooth recording.
Price: Free with limited features and starts from $39/1 PC.
Xbox Game DVR

Microsoft introduced Xbox Game DVR in Windows 10 operating system that is equipped with important features. Open Game DVR by pressing Windows key + G and click on the record button to capture the gameplay. Do not minimize the game or the Game DVR will stop recording automatically. You can capture 1080p@60fps gameplay in the highest quality possible, and quality rivals OBS Studio as well. Overall, it is Microsoft bundled good software in the form of Xbox Game DVR. I was satisfied by the Game DVR performance and it consumed minimal to nothing CPU or GPU resources.
Price: Free
Check out Setting > Gaming > Game DVR
XSplit Gamecaster
XSplit Gamecaster is a premium solution that thousands of creators utilize it for streaming and recording. XSplit gameplay recorder detects your hardware and applies appropriate settings for legless output. The Gamecaster is popular among creators because it eliminates manual work, and has advanced features for professional recording and streaming.
Unlike OBS Studio and other solutions, you don't have to work hard on adding elements like transitions, opening, ending, and intervals. The Gamecaster bundled with free elements that are customizable and useful for beginners. However, I was not satisfied with the outcome and the video output was somewhat good. I think, you need a high-end gaming desktop for excellent video quality output.
Price: Free (it was not free in the past)
Bottom Line
Millions of gamers are looking for recording software and I would choose OBS Studio (RX 570) and Nvidia's ShadowPlay (GTX 1050) because they don't consume CPU + GPU more than 3% – 4%. Make sure to have a decent cooling system in the desktop to avoid frequent lags and eliminate unused background running apps.