Apps can do wonderful things. The technology we have today produces a number of solutions for many of life's daily problems. Everything is more accessible and faster now. There's some service provider or the other for everything that we require at any point. Let's imagine you want to share a USB device (like your scanner) with your friend halfway across the country. You would think it wasn't possible without going through a lot of trouble, but there actually is an application designed to do just that and it's called Eltima USB Network Gate.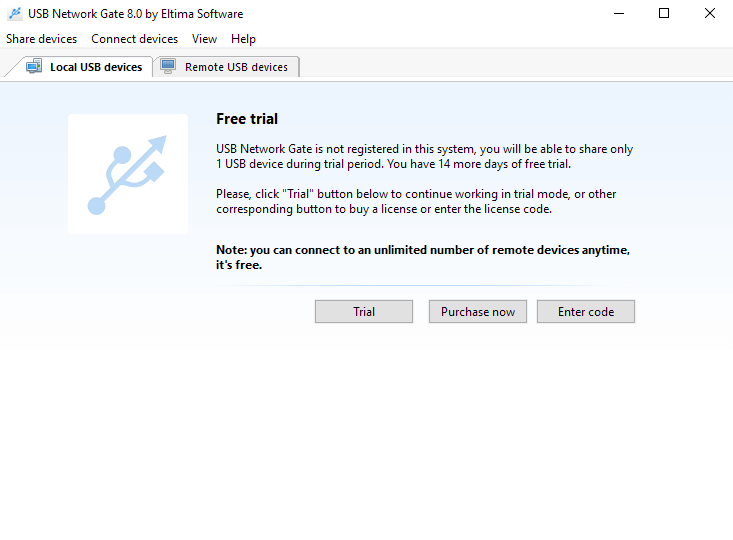 Formerly known as USB over Ethernet Connector, Eltima USB Network Gate allows you to connect one or many Universal Serial Bus devices to your device remotely and make it work as if the USB device was actually connected with your own. This is done over Network (WAN, LAN or Internet) so it doesn't matter if the device is right next door or in another country, you can still use the USB dongle, modem, webcam, printer or scanner like it was plugged into your PC, laptop or phone. Best of all, it has apps for Windows, Mac OS, Linux as well as Android so all you need to do to get started is download from their official website.
System Requirements
Windows Server 2016
Windows Server 2012
Windows (32 and 64 bit): XP, 2003, 2008, Vista, 7, 8 or 10.
MacOS 10.9 to 10.13, 3.8 MB free space
Android 4.0 above, 2.9 MB free space
USB Network Gate Features
1. Very handy application that can be used anywhere on any device.
2. Plugging a Universal Serial Bus device in to one computer will make it available on all linked remote devices and give them all access to the webcam, printer, scanner or any other USB device immediately.
3. Eltima USB Network Gate has two parts, a Client-side and a Server-side. The client side allows you to link to a main system and use its Universal Serial Bus devices, while the Server side makes you the main system to which you connect the USB devices. So for effective use, all systems including the main system must install the application to share USB devices.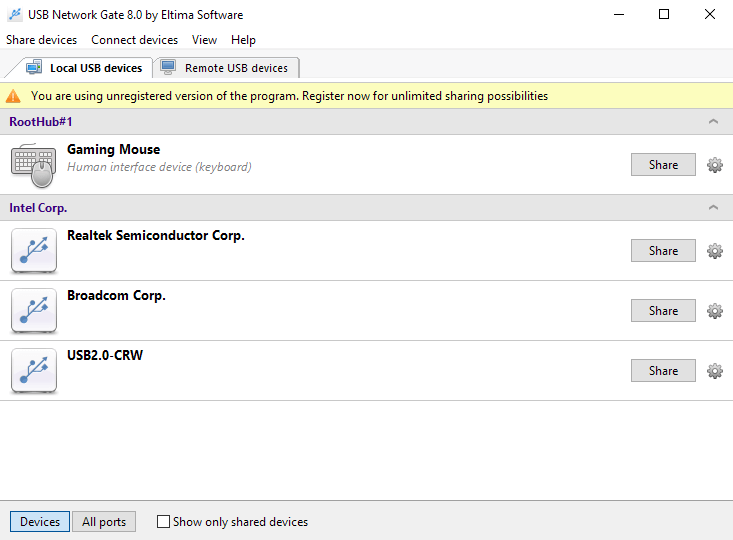 4. A number of Universal Serial Bus devices are supported, including:
Data Output or Input: USB Wi-Fi Adapters, headsets, Graphic Adapters, network interfaces, Depth Sensors, Credit Card readers and more.

Communication: Universal remote control, Hard drives, DVD drives, Mouse devices, Keyboards, iPods, iPads, iPhones, Graphic tablets, Gamepads etc.
Equipment: Smart card readers, wireless presenter, monitors, Barcode scanners, scales, Scanners, printers, Modems, Fingerprint readers, webcams, cameras, 3D printers and various others.

5. The 'Share local USB device' tab allows you to see all available free ports and Universal Serial Bus devices on the server computer.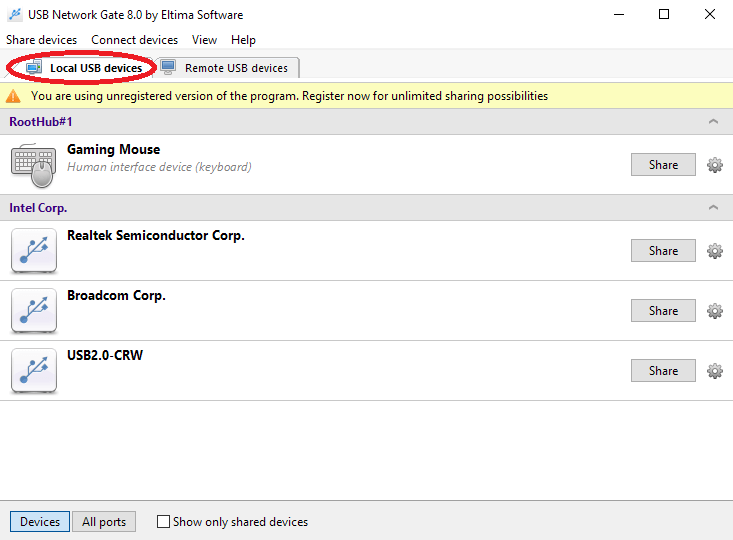 6. You can custom select what you would like to share and with whom. The app allows you to configure TCP; create an authorization password; encrypt connection; compress traffic by speed or size and other many security options.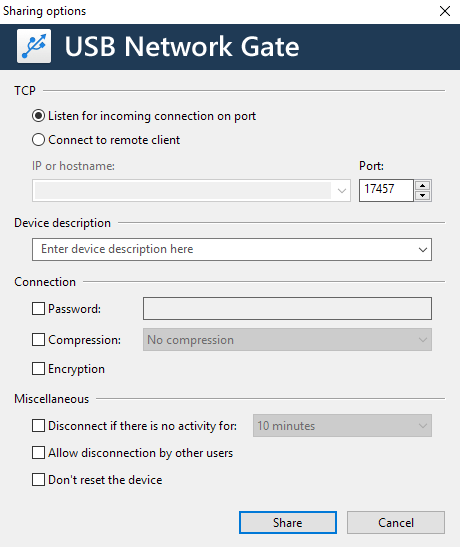 7. The app lets you see and save share history with detailed information about ports, shared devices, sharing time and more.
8. It has a 14 day free trial version which you can use to share up to 1 USB device. You can buy the full version for this cost for unlimited devices be it Windows, Linux or MacOS:
| | |
| --- | --- |
| 1  shared port | $159.95 |
| 2 shared ports | $299.95 |
| 10 shared ports | $699.95 |
| Unlimited shared ports | $1199.95 |
USB Network Gate Pros
Free trial version
Share any USB device through the network
Connection options can be customized according to the user – you can add devices, servers, passwords, auto-connect, and disconnect.
It is flexible. You can see only shared ports or all ports or just devices.
Configure once on one PC and use them on all networked devices.
Very easy to use interface.
Cons
Other than the performance of the application, there is no disadvantage in this application.
Conclusion
Eltima USB Network Gate is a very useful application to share, manage and access a number of USB devices over the network to any another device located anywhere in the world. While it is probably not necessary for a home user, it makes the life of professionals and network administrators very easy.