Today, we will tell you how to solve the "USB composite device can't work properly with USB 3.0″ errors that you can find in Windows when you connect a USB device to your PC. This error is very common, so here are some easy solutions. So if you are facing this error, don't worry. We have many methods through which you will easily solve this error. So, try each method, and hopefully, you will find the solution that works for you.
Method 1
First, let us tell you how to Uninstall and Reinstall the USB controller because sometimes it solves the problem.
Right-click on This PC and then go to computer management. After that, go to Device Manager and go to Universal Serial Bus Controller. After that, right-click on All of them and then uninstall. Once you Uninstalled that, restart your PC, and after the restart, plug in the device and hopefully, the error will be gone.
This will hopefully remove the error. Otherwise, move on to the next method.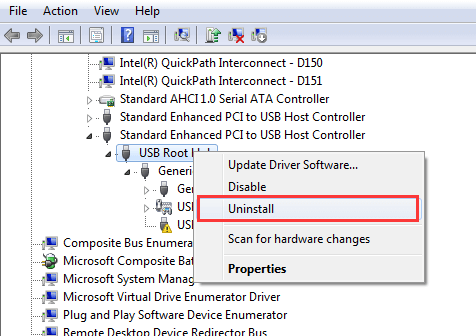 Method 2
The second solution that we will tell you is to update the USB composite device drivers. This is very easy to perform. This is done by installing a program called Driver Updater. You need to install this software, and the program will tell you if your Drivers need updating. And if they do, you can easily update all the Drivers. Hopefully, this will solve the error.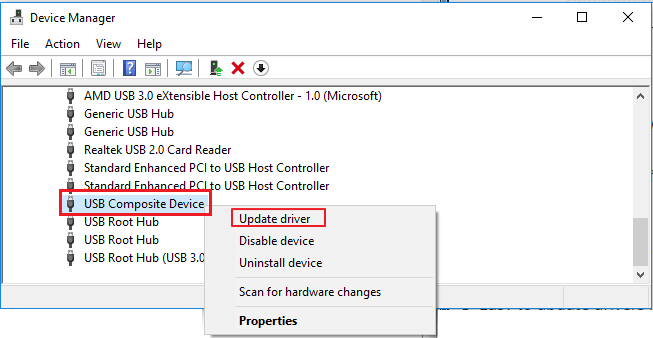 Method 3
The third method is to run hardware and USB Troubleshooters. To use the Troubleshooter, click on the Start button and select Settings. Select Updates and Security. After that, click on Troubleshoot. Select the Hardware and Devices and run it. Restart the system once you are done.
Hopefully, this will solve the error.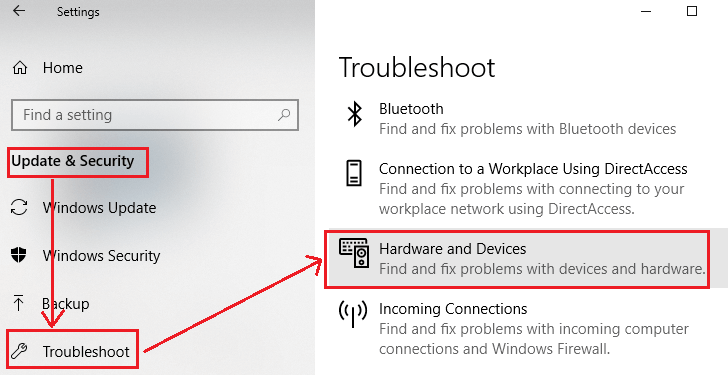 Method 4
Downloading USB drivers from your PC support page can also resolve the error. This could be a little trivial because not all laptops have USB drivers on the manufacturer's support page, obviously because the USB drivers should install when you install Windows or at least when you run Windows Updates. However, some PCs may require you to manually download and install one or two USB drivers, especially USB 3.0 controllers. So you can check and see if the faulty USB ports are the 3.0 version.
An easy way to find out is by looking at the mark beside or on the top of the USB port. If you see a normal USB sign, it's a USB 2.0 version, but If you see a USB sign with double S, which stands for Superspeed, it's a 3.0 version. Some manufacturers even colour code the USB 3.0 version to blue, but others still leave it black, but with a double S sign. So if you have a 3.0 version, you may need to download and install the drivers manually.
This will surely solve the error; otherwise, move on to the next method.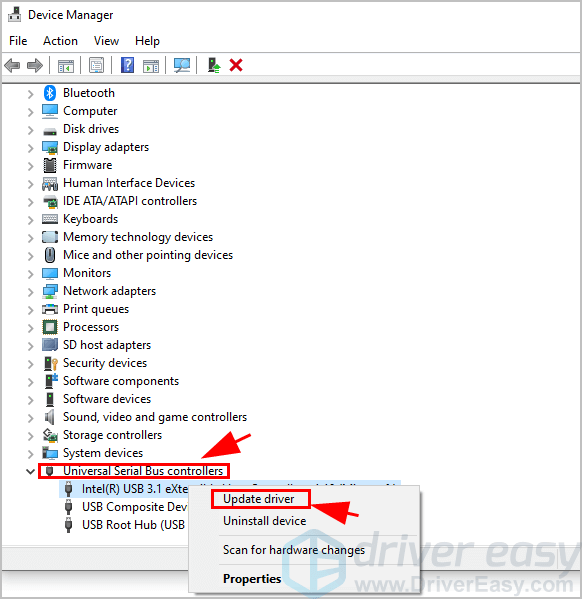 Method 5
If you face the error just after installing the windows, be it Windows 7, windows8 or windows 10. Then you have to start by running a simple Windows Update with your PC connected to the internet. To do that, you have to go to your search and type "Check for Updates". Then click on check for updates from the search results. After that, a new window will pop up. Here you click on check for updates and all the objects to run.
This simple process not only updates your USB Drivers, which could eventually fix your USB problems but also is an easy way to download, install and update other device drivers on your PC. It can be a graphic card, sound card, wireless card, HDMI or any other device you may have on your PC. Depending on how many updates your PC needs to install, the updates could take a while. If you are prompted to authorize the installation of the updates, simply click accept and install. After that, hit the install button to begin the update installation.
Usually, the first installation after installing Windows could take quite some time, depending on your internet connection speed, so you might need to wait a bit. Hopefully, this will solve the error.
These are some methods on how to fix USB composite devices that can't read properly with USB 3.0.