You can fix the problem of ejecting the USB Mass Storage Device on Windows 10 PC and previous editions by following simple solutions. We will deal with the complex problems as we proceed to advanced solutions. Everyone has external devices like USB Drives, External HDD, External SSD, SD Card, and other drives. Our solutions are prepared to keep the file system and external hardware in mind, so you don't have to worry about specific drive type.
Close File Explorer

Close all file explorers running in the background because they do interfere with the ejecting process. You don't have to struggle with the ejecting process as long as you close the file explorers that have external drive files opened. Of course, Windows does not require the external devices to close the file explorer, but it does become a problem. Close all opened file explorers, which takes less than a few seconds.
Close Programs

Almost all external storage devices have documents, media, and other files in them, and if you have opened it and then you will have to eject USB Mass Storage Device on Windows 10 PC problem. Find out which program is using the external storage device content and close it. You have to spend time to find out which program is using the external device data, and that's when you can save a lot of time. If you don't want to spend time looking for it and then close all programs including the browser.
End Programs from the Taskbar
You can find a lot of programs that close, but they remain active in the taskbar. You can close them instantly, but they work in the background, and you have to close them from the taskbar options. We are going to take Discord for example, which does not close until or unless you exit it from the hidden icons.
Step 1: Click on the drop-up icon to reveal hidden icons.
Step 2: Find that program and Discord are in our case.
Step 3: Hover your mouse on the program and then right-mouse to reveal the options and then choose "Quit" to remove it.

That's it, you have successfully closed the program that is causing the error, and you can safely remove the removable device.
Close Programs using Task Manager
Many programs runs in background, even after we close the program formally. Many developers use quick shortcut feature that allows the users to open and use the file faster. We have used Adobe Cloud Service for reference and you can close it from the Task Manager as quit button is not showing up on the hidden icon bar.
Step 1: Press Ctrl +Alt + Del button and Choose Task Manager to open it.
Step 2: Find that program in the list and Adobe Update Service and rest of the Adobe services are the one in our case.
Step 3: Click to select the program and then click on "End Task" to close the program.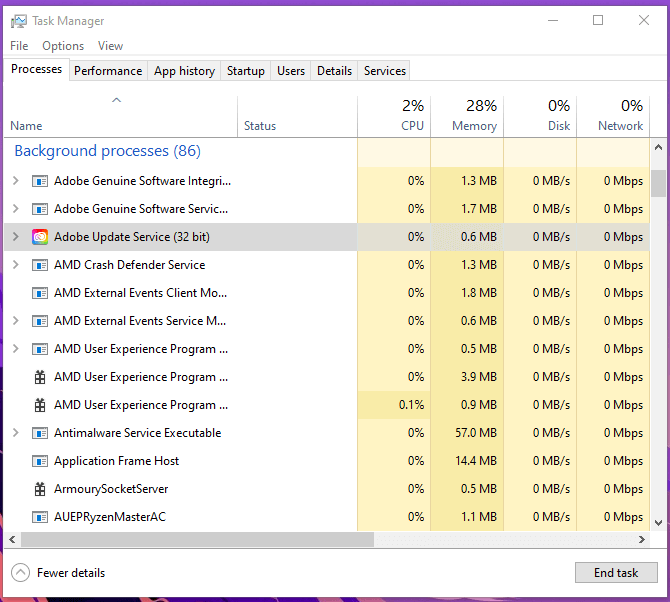 You have to do it manually in the Task Manager and it will force the programs to shut down. You can remove the removable storage device from Windows PC and repeat the same process with other similar programs.
Windows Threats
Microsoft is not able to solve the biggest problem in the system and that is called threats. Right now, Windows & macOS have highest number of attacks in the form of virus, malware, adware, spyware, and other forms of threats. We have third-party security programs but they cannot protect the user all the time. Your removable device might be infected with a threat and you have to remove it to solve the issue.
You can use Malwarebytes (Free) or Avast (Free) to get rid of it.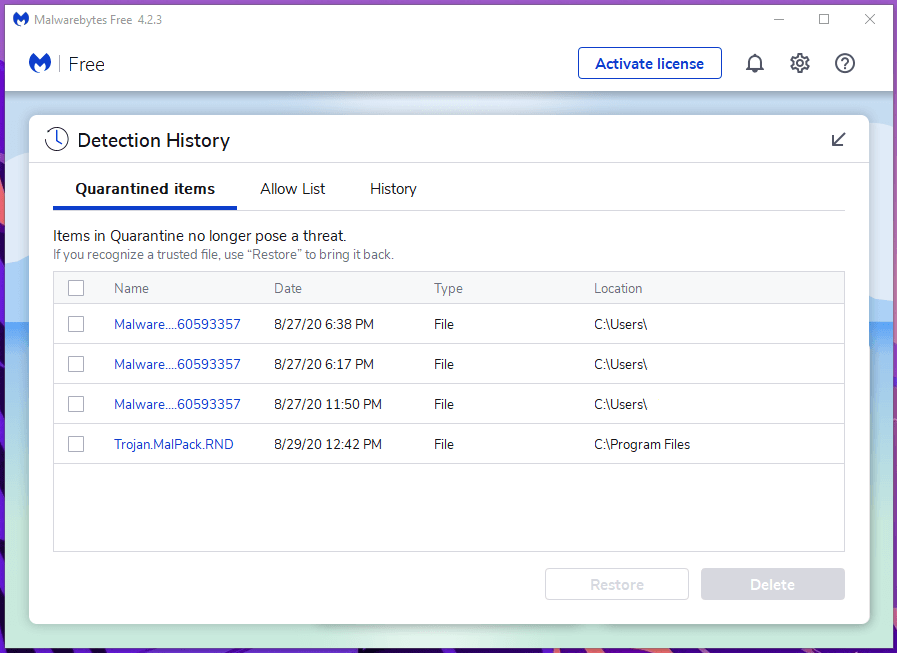 Conduct full system scan because the threat might have spread to other drives.
B) Format the removable drive using Diskpart command line because it could be infected by the malware at root level.
You should not take the chance as it could be the source of the threat and you cannot solve it without formatting the entire storage device.
Bottom Line
Follow the simple solutions to fix ejecting USB Mass Storage Device on Windows 10 PC. Remember, your Windows copy might have corrupted file system due of long term usage. If none of the solutions are working then you can leave a comment below or seek assistance from official Microsoft forum. Let us know which solution fixed ejecting USB Mass Storage Device on Windows 10/8.1 Pro/7/Vista/XP PC.