If you are a professional Internet marketer or just an online business owner, you must be equipped with some powerful tools to take your business to the next level. Snov.io's Email Drip Campaigns is an advanced tool for marketers, offering many innovative features to help easily build complex campaigns and monitor campaign data in real-time.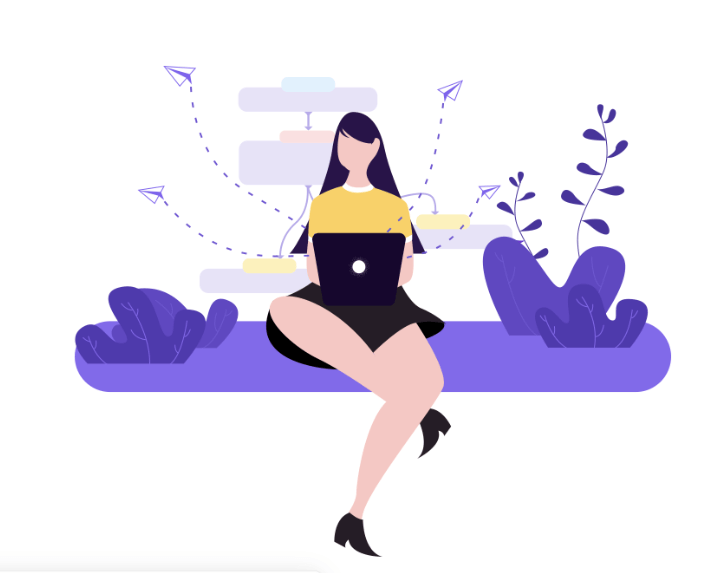 Here we will show you how email drip campaigns tool works and how you can make use of all of its features to grow your business and skyrocket sales. The following guide will show you how you can collect emails and send emails with just one combination of tools.
Before we jump to the detailed guidelines, you need to understand a few elements present in this tool. There are five elements Start, Email, Trigger, Delay and Goal. All these elements are important for the campaign and help create complex email sequences and receive real-time data when monitoring the campaign. You will understand more of these elements once you build and launch your first campaign on this platform.
How does Snov.io's Email Drip Campaigns tool work?
First, you need to Sign up for Snov.io by visiting the official page of the Email Drip Campaigns tool. You can also use your Gmail account to sign-up.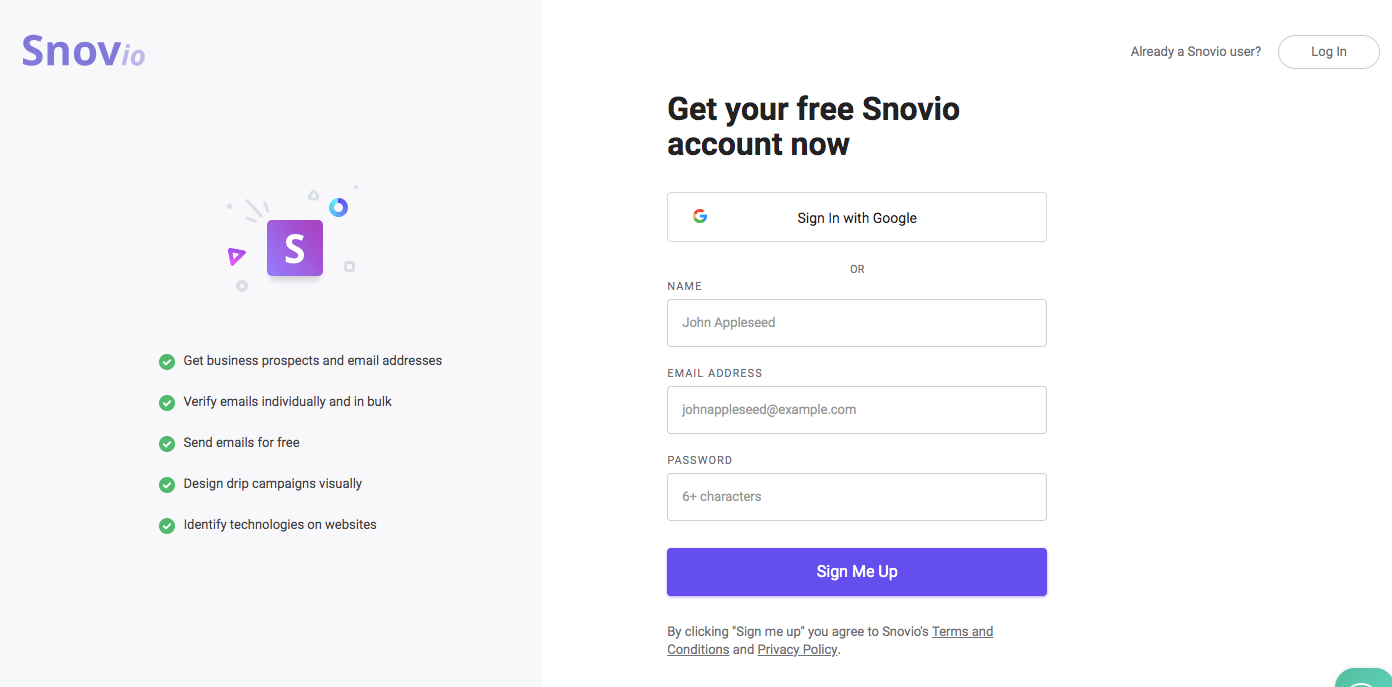 Once you log in, you will see a simple interface with a lot of useful options available for all your email marketing needs. You have to create your first email list to start the campaign. To do so, click the "+Add list" button in the upper left corner. Once you enter the list name, click "Add List" button and your first list for the сampaign will be created.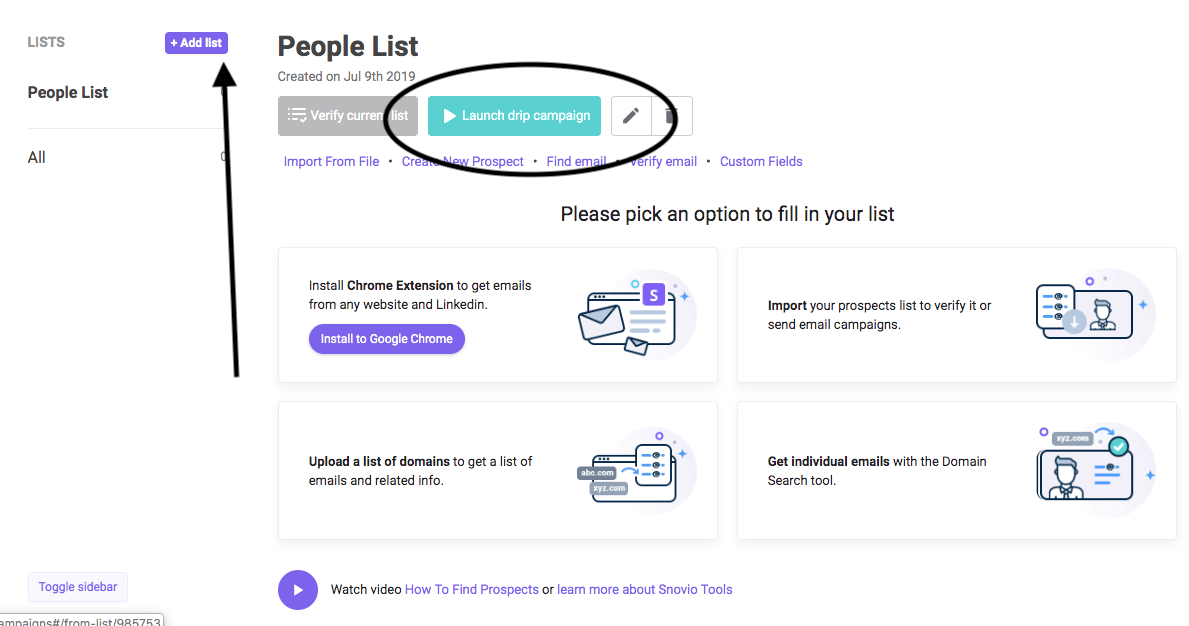 Now, to add the list of emails, you can either import a file from your system or can collect a list of related marketers, bloggers, and other leads from various online platforms.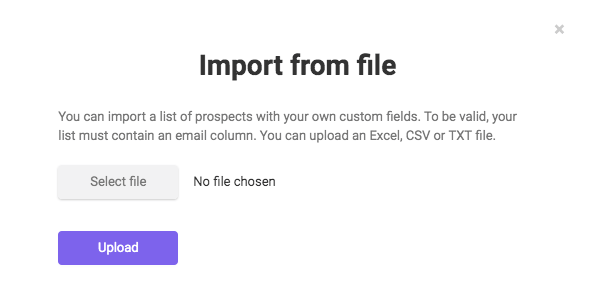 If you don't have a list of leads to upload, collecting and building one with Snov.io is very easy. We'll explain how to do this below, or you can skip to the campaign building if you have already uploaded your list.
Building an email list with Snov.io Email Finder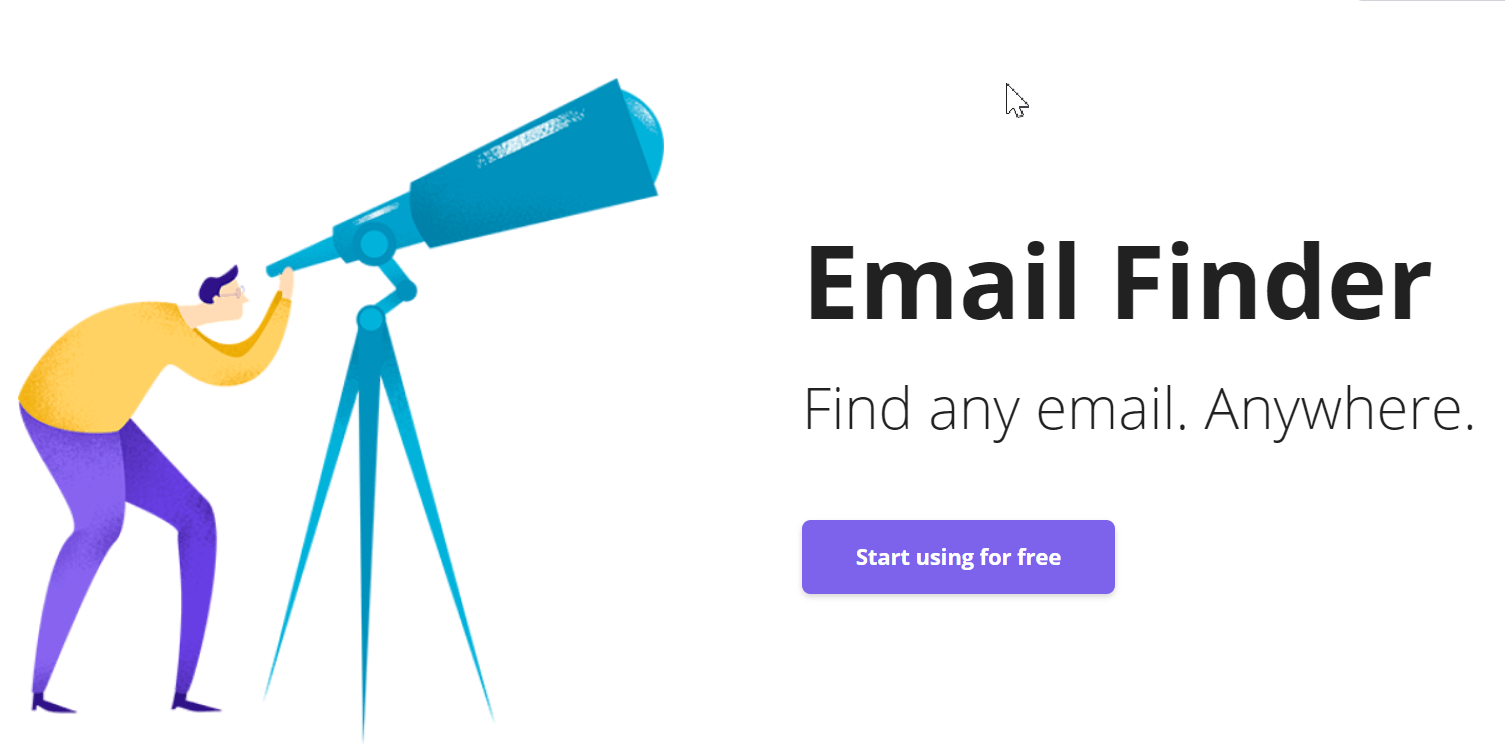 With this tool you can find emails from company websites, LinkedIn, social profiles and more. Simply use their Chrome extension: visit the website that you need to find the email addresses on, click on the Snov.io extension icon, wait for the extension to fetch all the email addresses associated with that domain name or Linkedin profile, and choose the list to save the emails to. Here is a screenshot of how Snov.io's Email Finder works on Linkedin.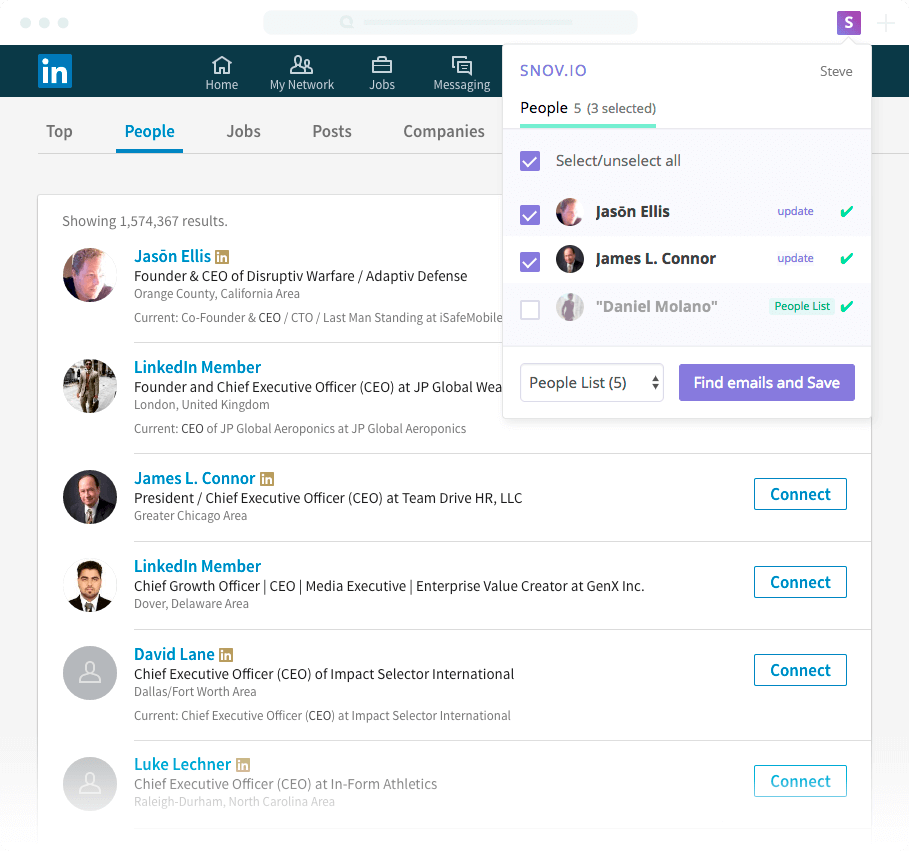 Launching a drip campaign with Snov.io Drip Campaigns
After you've prepared your prospect list, you can add a Signature to your sender email to make it look more professional. Since you are using it for work, it should look like a professional card to let people know all the info they'll need to contact you.
Now let's create a new email drip campaign! Once you click "New drip campaign" you'll be taken to the campaign building page where you can select which email to send your campaign from and other options to improve campaign deliverability.
Additionally, there is an option that lets you schedule your email campaign. You can select the time and day to kickstart the campaign and it will work only between the hours you choose. All campaign-related emails will be sent accordingly once you set-up the schedule for the campaign. It is a very useful feature that lets your campaign stay organized even if you are not actually at work.
Now, you have to make use of the Drip Campaign elements we've mentioned before. You can add an email list to send the campaign by clicking the Start element. The Email element represents actual emails of your campaign, and it's where you can write your email copy and add personalization for the campaign. Trigger elements will divide the recipients based on their behavior and send follow-up emails depending on their interest.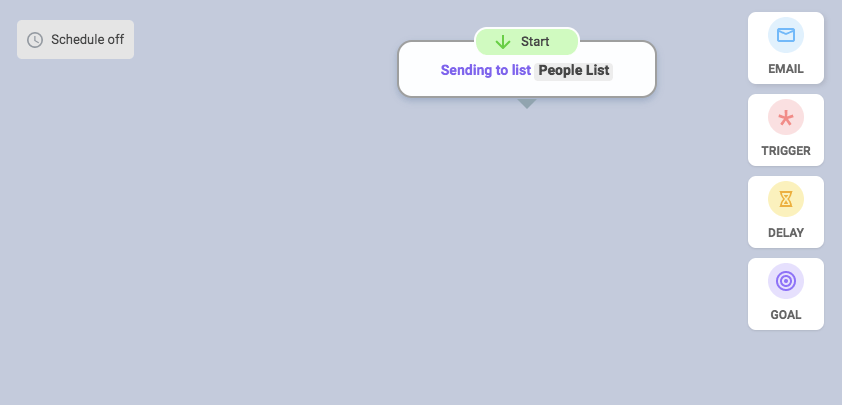 Delay element lets you add a pause between two emails so that it will look more natural, professional and not automated to the customers and recipients. At last, you can set up your campaign Goal to better track your progress. Once done, you will see your campaign as a visual chart on your screen.
When you're happy with the campaign you've built, you can launch it by clicking the "Save and Start" button in the left sidebar. This will launch your email drip campaign. From the Campaigns list, you can check the Statistics for each of your campaigns. You will also see whether your campaign is active or not.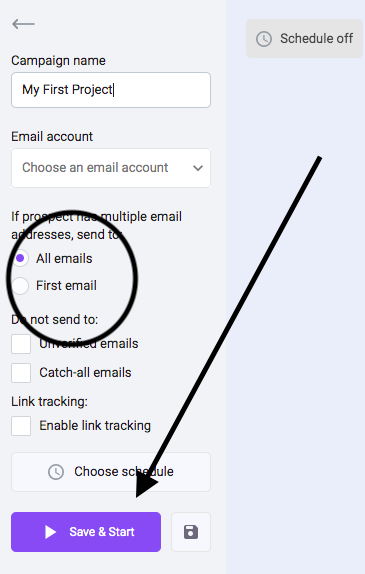 If something goes wrong or you ever want to edit your campaign, you can always do it even after it's been launched by clicking Pause in the campaigns list. You can resume your campaign once you've fixed it.
Final Words:
Snov.io is the simplest and the most efficient way to start an email drip campaign for any businesses. This platform is highly useful to professional Internet marketers and business owners. For testing purposes, you can register and receive a free trial. For professional use, there are multiple Pro versions available on their website. Elevate your email marketing today.