LinkedIn is a platform where you can find the leads and grow your network manifolds. It has different tools which are available for free and can be used to achieve your business aims such as: building a long list of leads, growing the network, content publishing, sending personalized messages and so on. You might be thinking that it must be taking a lot of time to do all these things. It could have, but thanks to the extension LinkedIn Helper the LinkedIn automation software which automates the various tasks.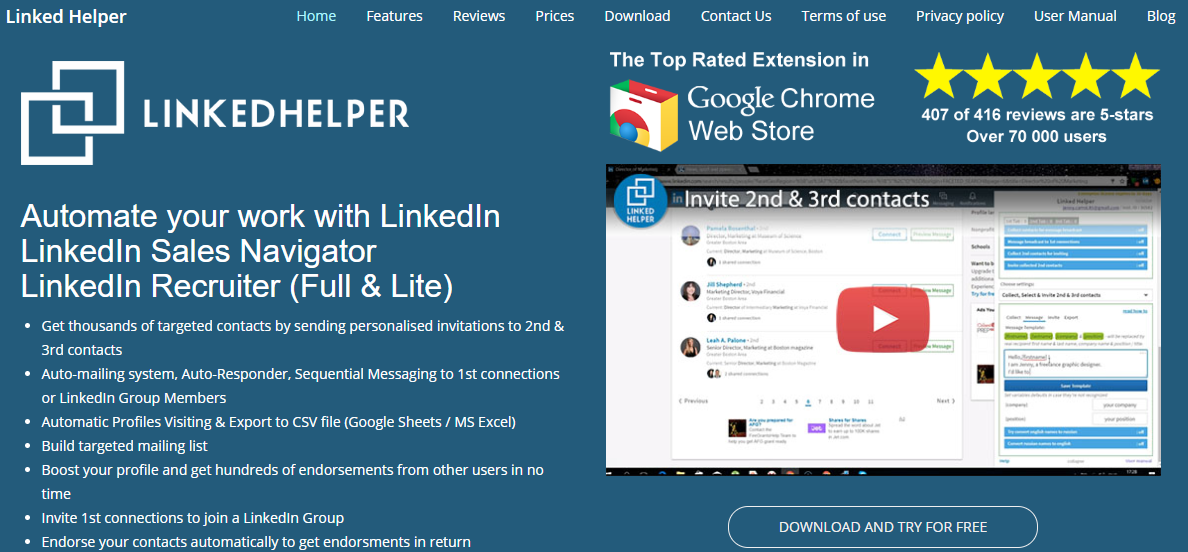 You must be wondering what does the automation for LinkedIn means. Automation means finding a free service or a paid one and setting up automation on it for the LinkedIn account. The various automation tools do the following:
Connecting to the people through search
Endorsing the connections and also asking for endorsements
Generating Leads
Helps to build an email list
There are many more benefits to using a LinkedIn automation tool.
What is LinkedIn Helper?
LinkedIn Helper is a chrome extension and desktop application which enables different LinkedIn tasks like inviting people to connect, sending personalized emails, sending messages to the new connections and the group members, inviting your connections to join groups, etc.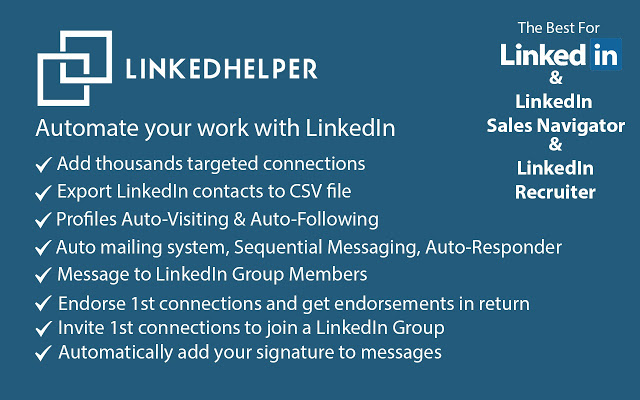 What does LinkedIn Helper offer?
1). Profiles Auto-visitor: Auto view profiles based on the search string. Better to use this feature if you are a premium member.
2). Auto Connecting: Helps you connect to an unlimited number of profiles.
3). Inmail Signature: Include your signature in the message footer while connecting and auto-sending a message. This way you can not only communicate your contact information easily.
4). Automates the Inmails: Automatically send out pre-created emails to your 1st connections.
5). Autorespond to New Connections: Create an introductory message for the newly added connections and send to all of them. You will have a very nice impression on your leads right away.
6). Send Group Messages: Find your niche and create an email targeting them to grab the attention of your group members.
7). Send Group Invites to join the LinkedIn Group. Build your niche easily by creating a network community group.
8). Build a List very easily by exporting the LinkedIn contacts to CSV file. There you can build the targeted emailing list.
9). Automating Endorsements: Boost your LinkedIn profile and get hundreds of endorsements from other users. You can automatically send endorsements to all your contacts. The endorsement keywords will also help boost your profile in search results.
This Linked Helper Tool is very much famous in Google Chrome Web Store. You can easily find this by just searching "LinkedIn" keyword in the web store.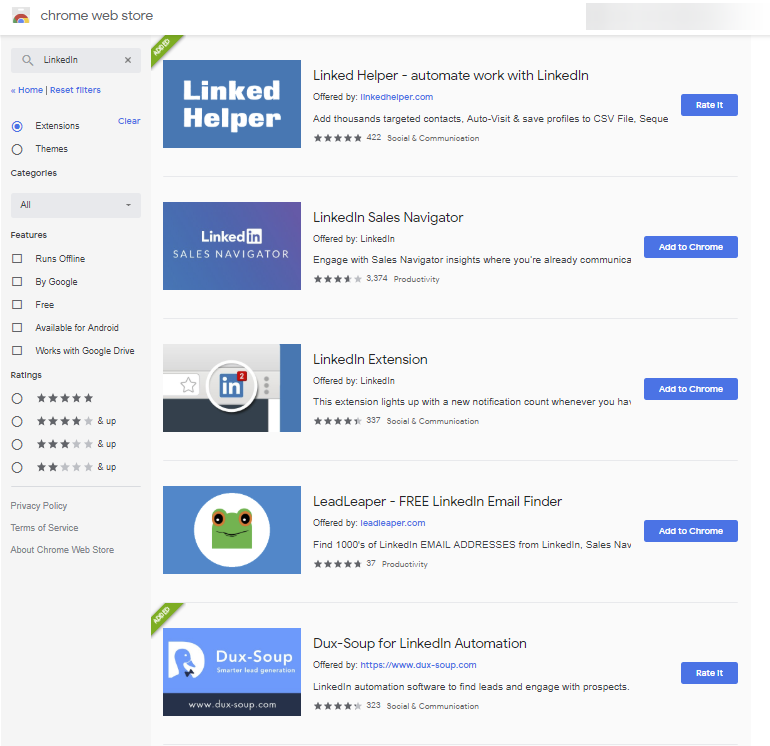 In the first result, you can find this plugin. As you can see below, this tool is the most used LinkedIn automation tool in the market.

How To Use Linked Helper Tool?
Click on the link available in the linkedhelper.com to download the file. All you need to do is add the Linked Helper extension to your Chrome browser. If in case if you don't know how to do it, then watch the below video to know about the same:
Once after activating that extension in your Chrome browser, when you open your LinkedIn profile, you can see the below window: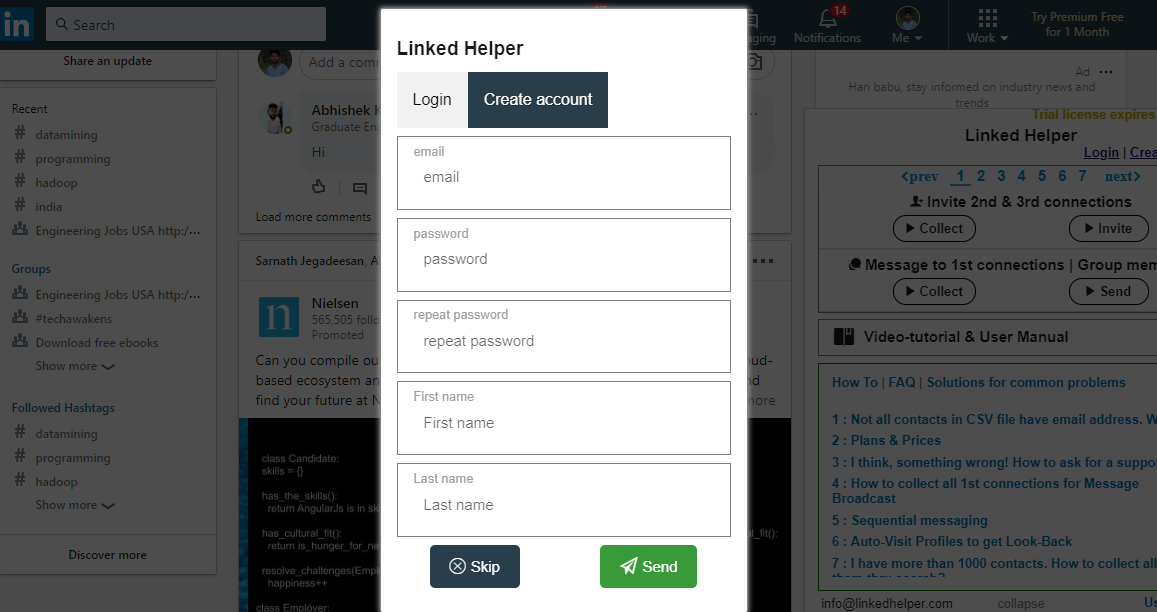 You can sign up and create your account. After that, you will be redirected to the below window:

The page will display all the license related information for your reference. As you can see above, the trial period start from the time you started using it. After that, you can see the plugin tool in the right bottom as shown below: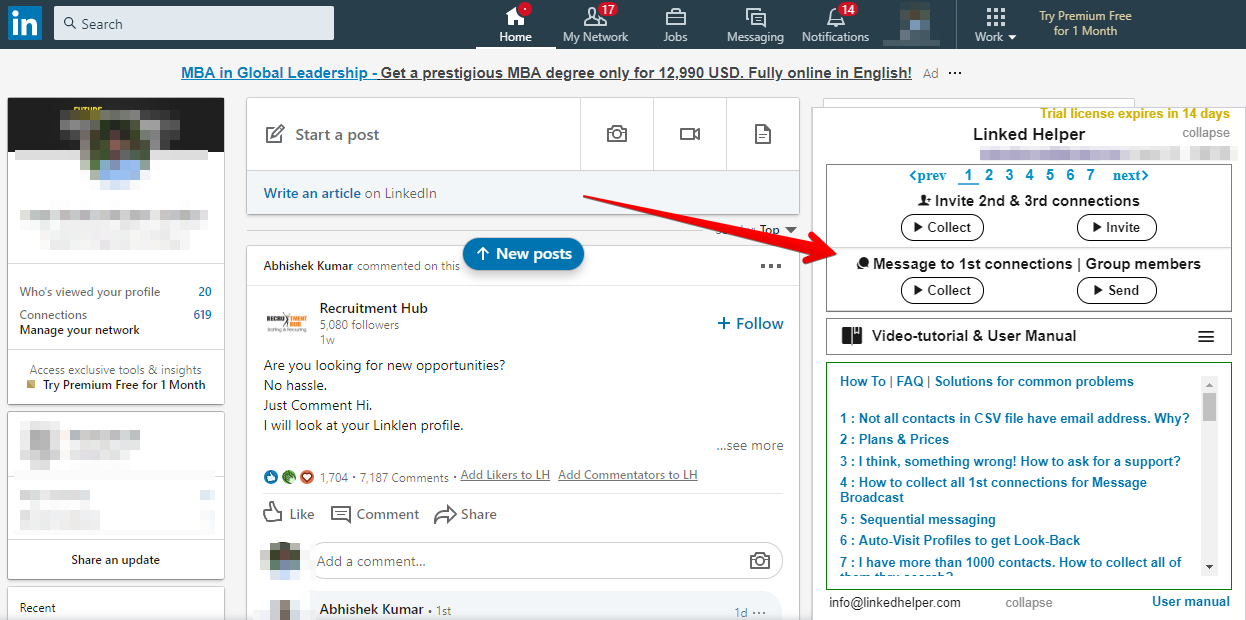 Let's see how to use this tool for inviting your 2nd and 3rd connections. Just click on the "Collect" button under the Invite 2nd & 3rd connections and you will see the below popup window: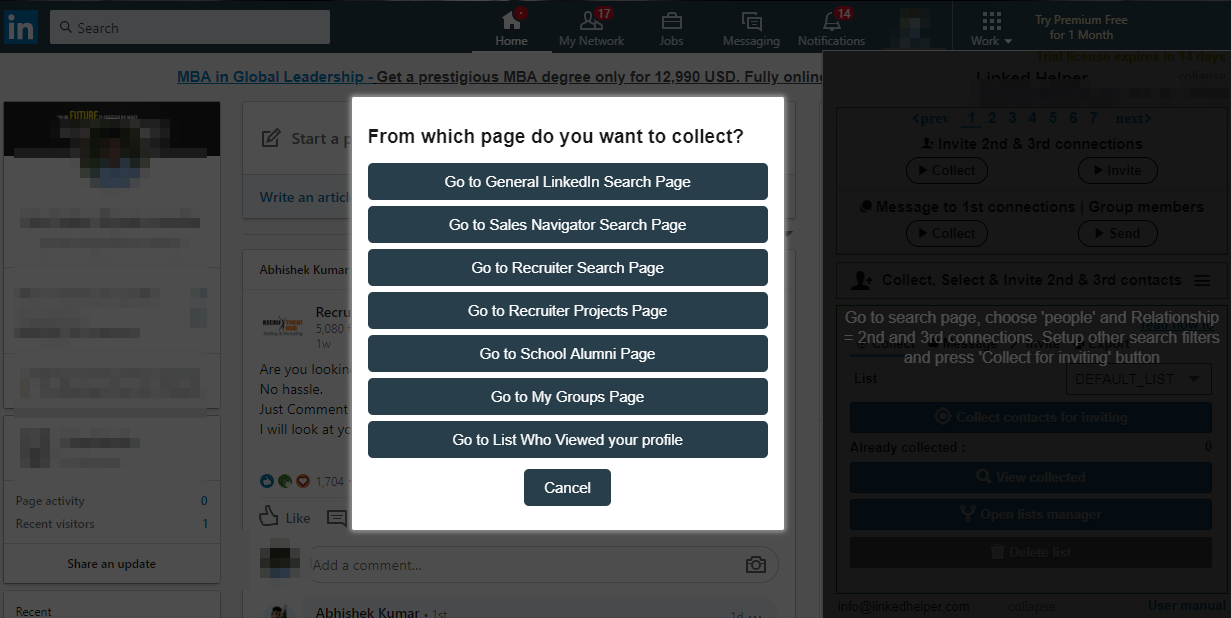 You need to chose the appropriate one. You will be taken to that page: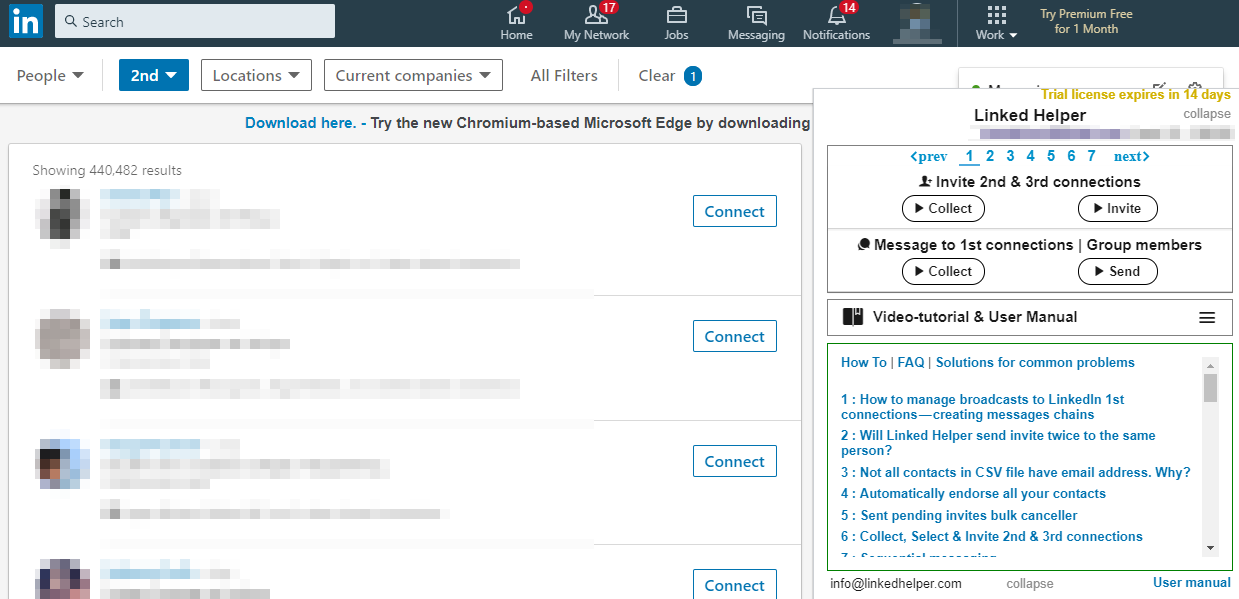 That's it. You can start connecting to the connections. Similarly you can do many more things with this Linked Helper Automation Tool.
Pricing
A free 2-week trial is offered after which Linked Helper will cost around $15 per month. Seeing its vast features we can say it's fairly cheap. Given are the prices for single (one browser) installation:
$15 per month (1-month payment $15)
$13.33 per month (3 months payment $40)
$10 per month (6 months payment $60)
$8.25 per month (12 months payment $99)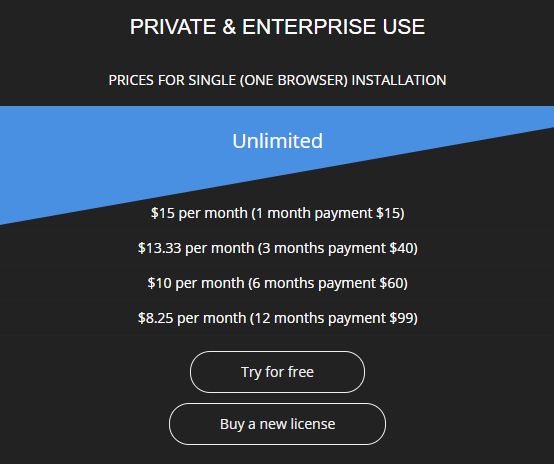 Is the Linked Helper Extension Safe?
Linked Helper offers a number of ways to automate even the difficult tasks on LinkedIn. It's always recommended to do more research on the tools that you use with LinkedIn. Do not visit hundreds of profiles every day if you want to stay out of LinkedIn jail. But if you have a Sales Navigator or Recruiter account then it's completely fine to do so. The premium account holders also don't face such a problem.
Final Verdict
With Linked Helper extension you can multi-task throughout your day. You can grow your account and build the connections using the extension. So it is recommended that it's worth signing up for a free demo trial.