In todays world VPN (Virtual Private Network) are famous for providing Anonymity among the world wide web. You can surf internet without thinking of privacy issues with Virtual Private Network services provided by companies in the market. There are lots of VPN's are available on Internet to choose from. We are going to compare two most searched VPN's on the internet Windscribe and Cyberghost.
These VPN's are in market from a long time because they provide a lot of features that is very much beneficial for the users who subscribe to Virtual Private Network.
We are going to compare the price and features of CyberGhost and Windscribe
1. WINDSCRIBE VPN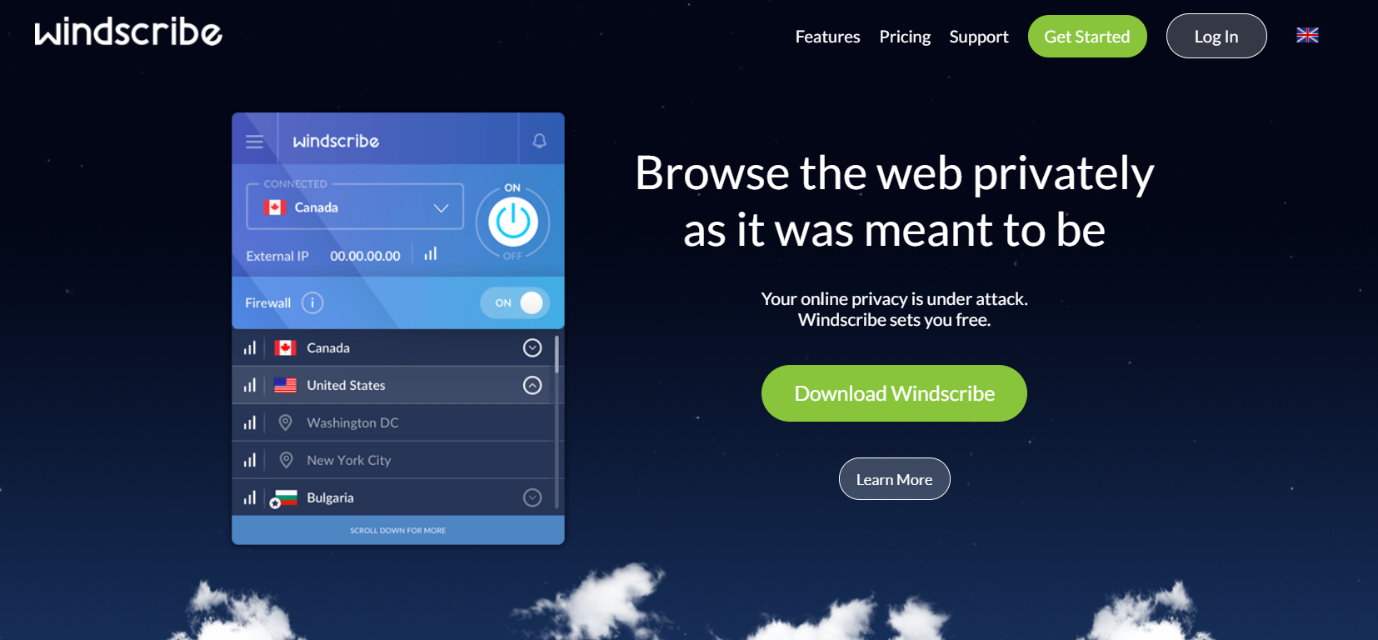 It is made by a Canadian based Country. Windscribe provides a tons of features with it super fast servers around the world. Windscribe claims to have physical servers in the countries, not like other Virtual Private Networks that has the most of the servers in US and Europe. It has implemented its servers in 55 countries and 100 cities. This thing matters because speed of VPN depend upon the locality of the servers. If it is close to your location then basically you are going to have fastest speed rather than other locations.
In Encryption Windsribe uses (Advanced Encryption Standard) AES-256 cipher with SHA512 auth and a 4096-bit RSA keys. All these encrypting terms make it more impossible to get cracked by the Hackers. It can also generate OpenVPN, IKEv2 and SOCKS configs for all of its supported platforms.
Windscribe supports MacOS, Windows, Chrome, Firefox, iPhone, Linux, Amazon FireTV, Nvidia Shield and KODI. It also supports Routers like DD-WRT, Tomato. If you want to use Virtual Private Network without installing full software then Windscribe also helps you with its Browser extensions which is supported by the following browsers: Chrome, Firefox and Opera.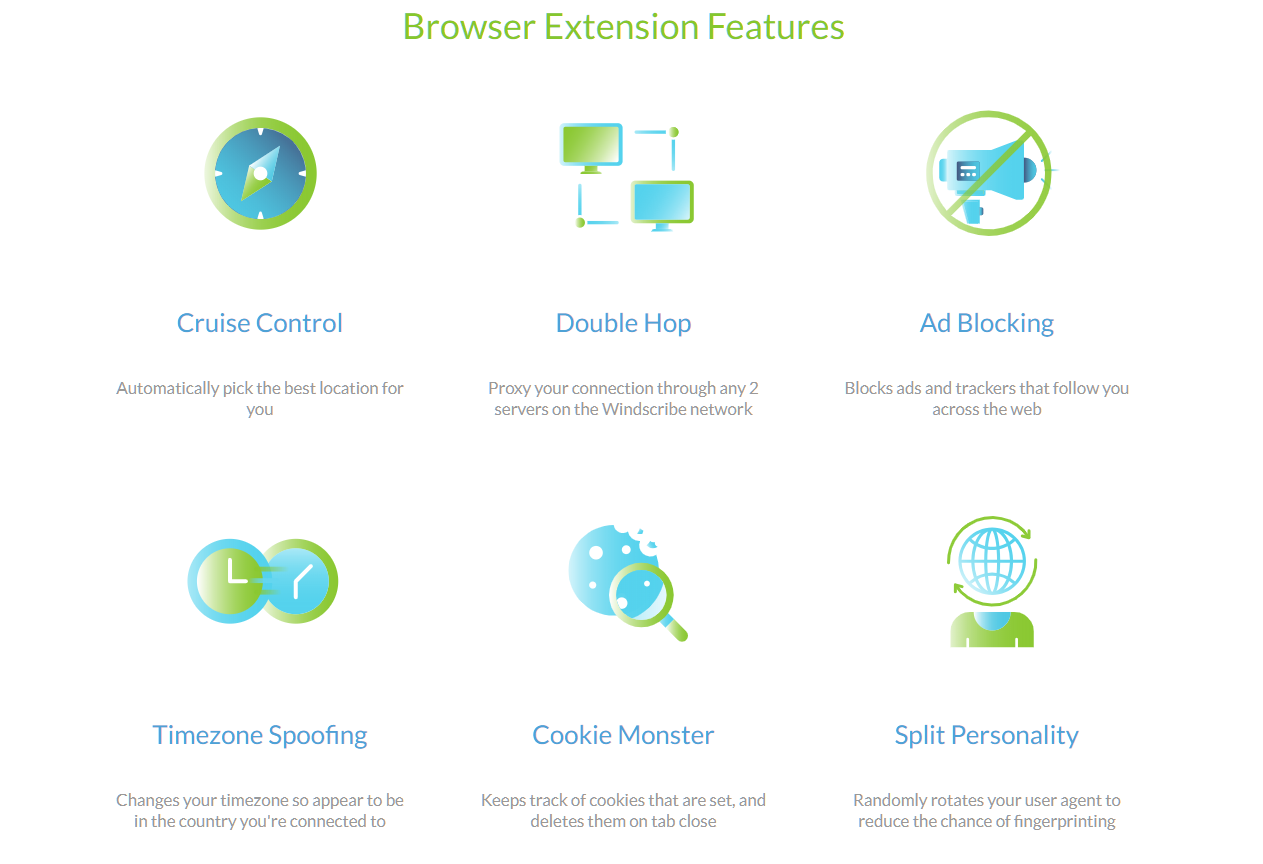 The main feature about any VPN is loglessness. If a Virtual Private Network is keeping the logs of your browsing history than it is not for you. Windcribe it total log-less VPN it will clean all your records when you disconnect from it.
One of the main feature of Windscribe is Windflix that makes it possible to allow the users to access Netflix contents that are restricted to a region.
It also supports torrenting which means you are able to use torrent services like uTorrent, Deluge, qBittorrent, VUZE.
And more important thing is that it is also available with Free Plans for those who are on tight budgets.
Pricing:
Windscribe comes with 3 different pricing: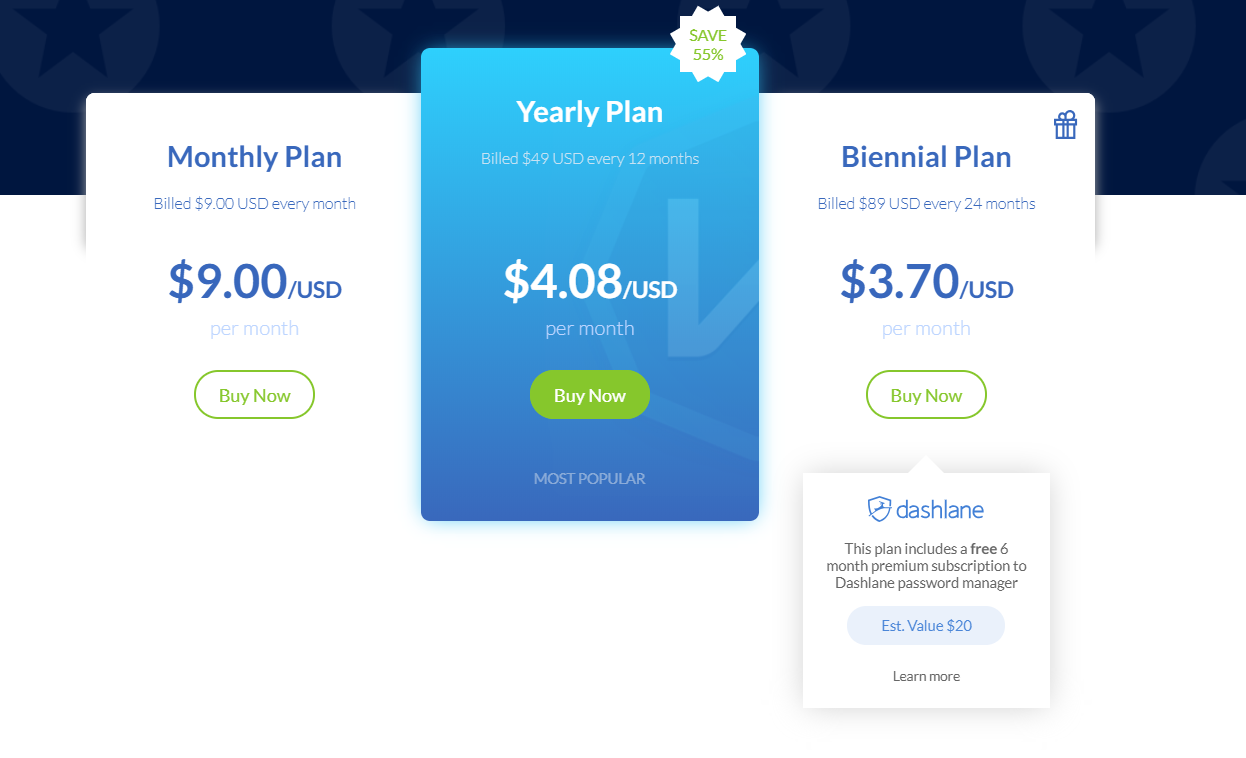 Monthly Plan – It will cost $9.00 per month.
Yearly Plan – This plan is on offer if you purchase it today than it will cost you $49 that is equal to $4.08 per month.
Biennial Plan – It costs $89 for 24 months that will be $3.70 per month and it also comes with Dashlane Password Manager's 6 month premium subscription.
Cons
No way to connect to LG or samsung tvs running webos and tizen
Servers limit p2p in some countries
No sstp protocol support
2. CyberGhost VPN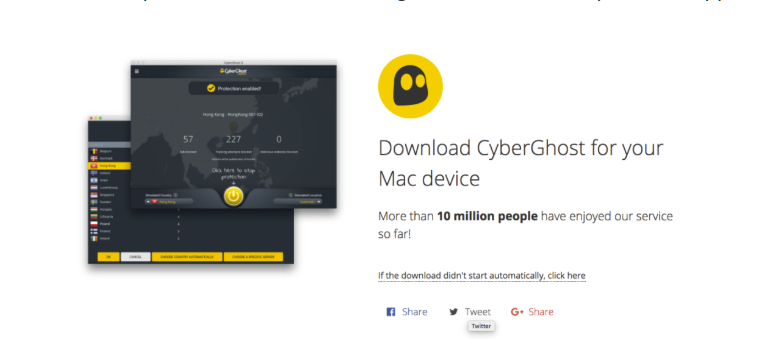 CyberGhostVPN is Virtual Private Network provider from Romania (As per the EV SSL, but they are owned by Israeli). It is one of the popular VPN on the internet. It offers high speed servers from 2700 servers across 60 countries. It supports Linux, Windows, Mac, iOS and Android. With a single license you can access the protection of CyberGhost upto 7 devices at one time.
In privacy it uses AES 256-BIT Encryption with a 2048-BIT RSA Kay and MD5 for authentication. It doesn't support SHA-2 authentication. Tracking users on website is very popular these days, you may have found in a situation where you see ads of something repeatedly. CyberGhost can help you in this situation because it blocks all tracking codes.
It is capable of removing restrictions to the region restricted websites and data on internet. It means you can enjoy your movies on the public WI-FI that comes with restriction and limitations. CyberGhost also claims to be a log-less VPN but they log everything if you happen to visit their website once or use their chat app which will get the exact location 🙁 .
Pricing

CyberGhost comes with 3 different price range:
1 Month – It costs $11.99 per month.
18 Month – This comes with an offer of 77% and it costs $49.50.
6 Month – It will cost $4.99 per month.
All these purchases comes with 30 day of money back guarantee.
Cons
All the servers are too slow to stream 4k content in dolby vision or HDR10+
Apps are pretty bad compared to windscribe VPN
No dedicated apps for LG WebOS, Samsung Tizen for TV
Which one Is the best
Windscribe and CyberGhost program have decent amount of features and their own uniqueness. But when it comes to the factor of deciding we can see that Windscribe is offering more at less price. The thing that we didn't like about the CyberGhost is that its user interface is too good but it lacks a lot of features ad also the logging. Windscibe has simple interface and the main feature is that you can connect unlimited devices with one single account. Windflix feature is also the unbeatable feature of Windscribe it guarantees to access the NETFLIX contents easily from anywhere around the world.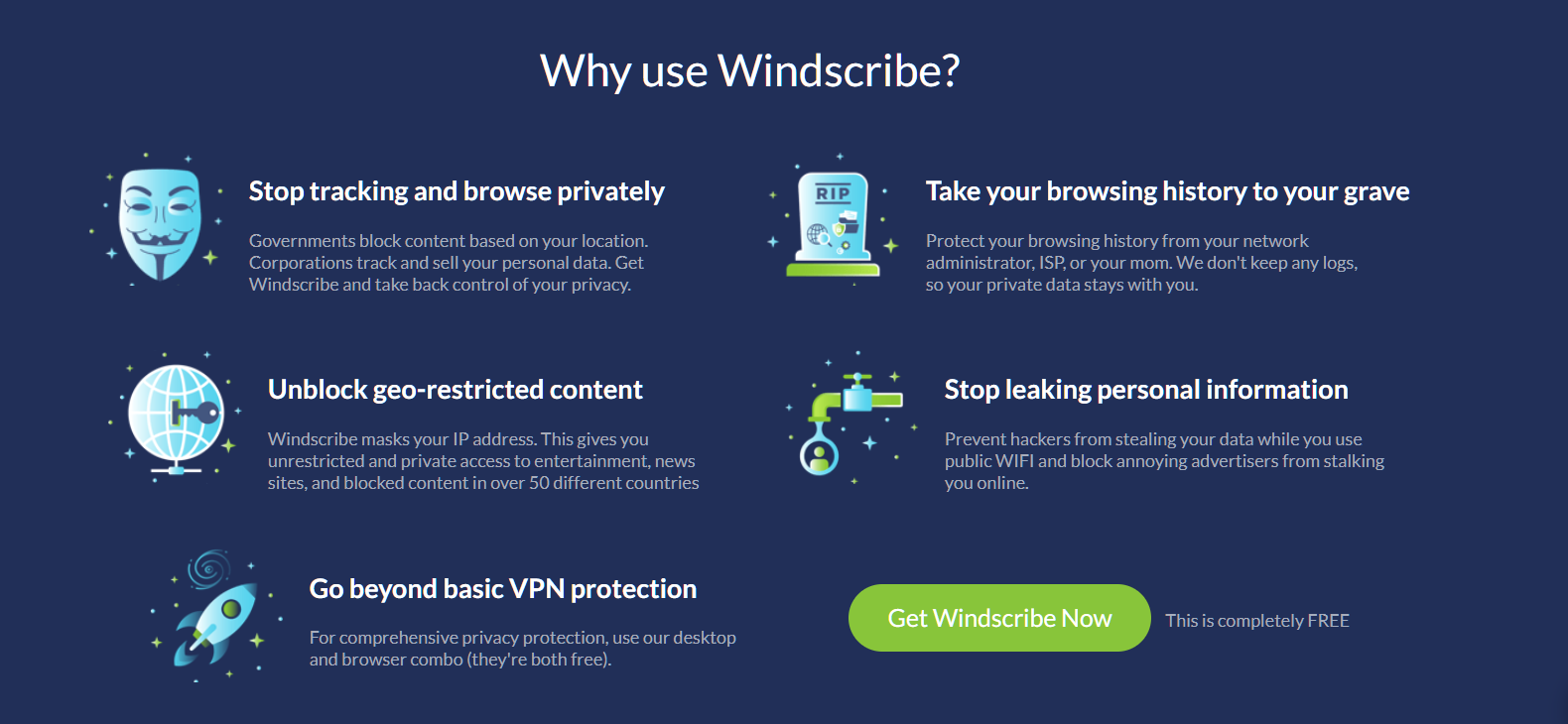 If you are looking for a simple and powerful VPN service than Windscribe ( https://windscribe.com/ ) worth a look.