Everyone could benefit from being a bit more productive, but it's especially important for entrepreneurs. It takes a lot of work to be an entrepreneur and manage your own business, after all.
Creative entrepreneurs have it worst of all. They can't afford any slips in concentration and motivation. They can't let their mind wander. Technology can be a real help on that front. The right tech gadget saves time, reduces stress, and helps us to stay focused and creative.
Some people pass gadgets off as little toys that don't do much, but the reality is they can be a real help. But we are not just talking about printers, scanners and portable projectors. We are talking about gadgets that not everyone thinks of right away.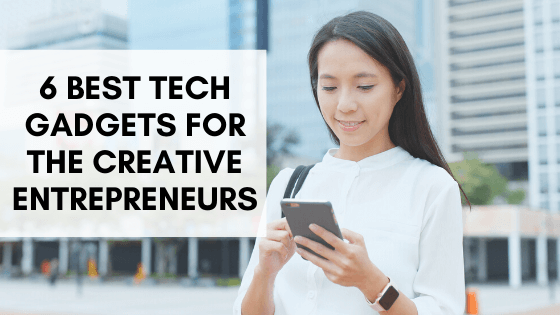 So with that in mind, here are the 6 best tech gadgets for the creative entrepreneur.
Are you after a great multi-purpose gadget that also adds a touch of color and life to your desk? If that sounds like you, then you should get the Xech Grow Station. It's more than just a little plant for your desk. It also works as a lap, a fan, and a pen stand as well as a plant potter to make your work space more livable.
The package comes with a seed, foam, fertilizer, and instructions on how to grow your new little plant. All you have to do is power the station up through USB – such as with a phone charger – and you're good to go. You can choose the brightness level for the lamp, which puts out a UV light that is good for humans and plants alike.
Don't feel like growing a plant? The potter can be removed and used for extra storage space if you need it. There's also a small space for checking the current water level for the plant. Make sure your plant gets the water it needs and it should bloom within the week. Add a touch of color to your dull workspace and see what it does for your creativity.
Creatives work best when they can get a real "hands-on" feel and experience from things. The Wcom One is a creative tablet that adds a touch of the physical world to digital artwork. The company are known for their excellent professional tools. They come particularly recommended for their creative and graphical gadgets like the Wacom One.
The Wacom One comes with a pressure sensitive pad and a pen that lets you design, illustrate, and edit pictures and photos as you see fit. Connect the device to your computer and create the perfect image as you see it in your head.
Even if you don't have a full creative tablet like the Wacom One, every creative entrepreneur – if not every entrepreneur in general – should have some kind of smart pen on their side. They work like regular pens of course, but they also do so much more.
A good smart pen is able to keep track of notes and save them to another device such as your computer. A smart pen also has a microphone built in for verbal notes. You can take notes to track what you were doing or thinking as you drew something or made a written note.
Smart pens are great gadgets for entrepreneurs that aren't able to keep notebooks and files with them and need a way to jot things down on the go.
Part of being an entrepreneur is making your space work for you. Having the right work environment does wonders for productivity and creativity. Ergonomics also help to keep health problems such as carpel tunnel syndrome and aches and pains away, letting you work harder for longer.
One of the best investments any entrepreneur can make would be investing in a great quality ergonomic chair. You're going to be sat at a desk for a long time so you might as well be comfortable. The HAG Capisco chair is comfortable as it can get and is designed to work at different heights. No matter how tall you – or your desk – is the chair can be set to work for you.
If you're looking for a good creative tablet then you need the reMarkable. It's a perfect fit for those who like to take notes by hand but need a way to keep them organized. The tablet helps you to focus and organize your creative thoughts without the need for paper. It will create digital copies of any notes you write and store them ready to put them wherever you need them. It's a good way to focus on creativity and thoughts without being distracted because it's not like you can access social media from it, like you can with your phone.
This one isn't exactly related to creativity, but it's still important for creative entrepreneurs. Being an entrepreneur means that you have to stay healthy. Having a healthy body means having a healthy mind which means you can stay creative and achieve your goals.
The Amazfit Blip Lite lasts for up to 45 days with a single charge which is what makes it unique among smart watches. It's got one of the longest life spans on the market. It also comes equipped with a PPG heart rate sensor that keeps track of fitness and activities.
It also helps with productivity to a degree by sending alerts about messages and calls. You can choose which apps to receive notifications from. As an added touch, it's also swim-proof because it's water-resistant up to 30 meters.