Cacoo is a professional web application designed for creative people to draw diagrams. Designing a diagram on a computer is not an easy task without assistance of a web program specifically made for it. The official developers of https://cacoo.com/ Cacoo designed the diagram program for multiple professions and anyone can master it short time.
Who should use Cacoo?
There is a popular saying "there are barriers for creativity" and it applies to diagram web application as well. The need & requirement will start creating opportunities for the searchers to seek assistance from a solution. Cacoo developers designed it for everyone and keeping millions of people in mind. Fortunately, the UI does not create confusions & create new complications, and start working on from day one. A few hours of practice can turn a newbie into a professional and that is how Cacoo developers crafted it.
Professional Diagram Tool Features:
I am going to list down the number of features of the professional diagram tool for beginners.
Web Application (Premium):
Millions of people did not upgrade the PC or Laptop from older generation processors to modern ones in 2019. The official developers realize that millions of people cannot run a specific program due to low specification on the paper. Low-end machines can run web browsers such as Mozilla and Chrome smoothly, so Cacoo released in the market as a web application. In short, you do not need a beast PC to design a diagram on Windows, Linux and Mac OS X PC.
14-days Trial Period:
I would never spend a single penny on a product that I am not sure about it. Cacoo management understands the pain points of the customers & designs, you got 14-days trial period at disposal. There are no limitations added to the account, so do not worry about limited featured account.
UI & Synchronization:
The developers did not create a complicated user-interface because the web application meant for students, newbie's, and slow learners. The web application never designed for specific profession, so additional knowledge in a specific skill is not need in this case. After crafting a master piece, you can share it on social media pages or profiles without issues.
Beautiful Presets Visuals:
Creating a new diagram from scratch seems a bit hiccup, so the professional designers added a few presets for the masses. The paid customers or free customers can utilize the presets to start working on a project right away. The presets save a lot of time in creating base layouts and touch ups because nothing can beat professionally designed presets are unbeatable.
Advanced Functions:
Diagrams are prepared for school or college projects, but it does not mean that the customers cannot add a hyperlink. In Cacoo, the developers added SVG, PDF, more formats and the business people can utilize it for presentation as well. Create a new file and start editing it, and then save it as "view only."
I make mistakes everyday and I come back to the drawing room and start fixing them. In Cacoo, you got an option called Revision History, which saves a lot of time and start editing where you left last time. Let us assume that your boss sent a PDF presentation file and then the employee has to work on it. You can import data to the web application and then start adding charts to it.
More than 2,500,000 professionals and beginners are constructing diagrams with Cacoo today.
How to use Cacoo Web Application?
I inform the new customers that the web application compatible with modern browsers such as Mozilla, Chrome, and others. On the homepage, you can find the hyperlink to 14-days trial version and start using the freemium functions.
Step 1: Go to the https://cacoo.com/ official site of Cacoo homepage and create a new account and provide valid email address for traditional verification purpose.

Step 2: The dashboard opens up on your screen and then click on the "Create Diagram" button to craft first-ever diagram.

Step 3: I would prefer the newbies to go with templates or presets because it provides basic layout and saves a lot of time.

Step 4: A pop-up shows with several options at disposal, but scroll down for more categories. You can try the search bar to select a template of your choice by entering first word of the project.

Step 5: In my case, I have entered "SALES" and we have a preset available that fits our requirement.

Step 6: Double-click on element to start editing it and then you got many options available at top-menu and bottom-menu.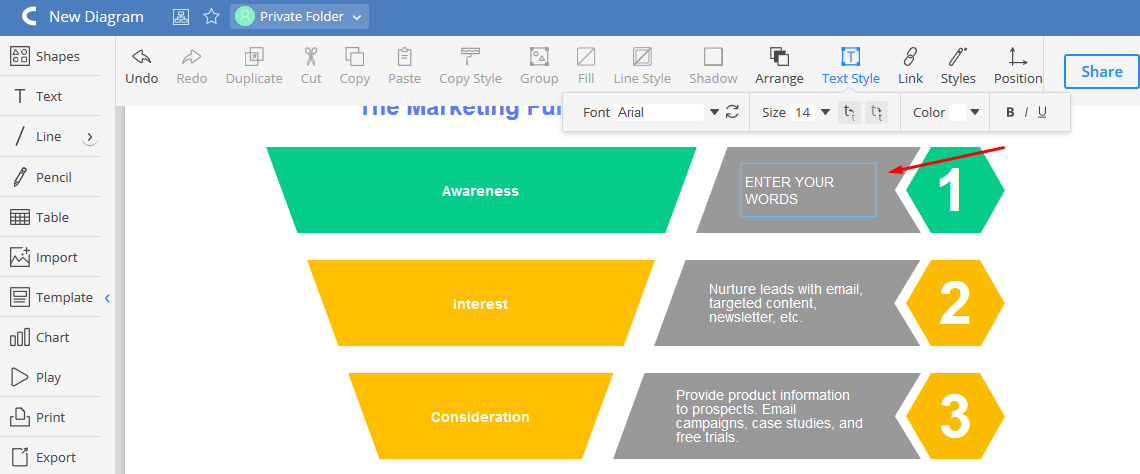 Step 7: At left sidebar, you have an option called "EXPORT" to save a diagram locally.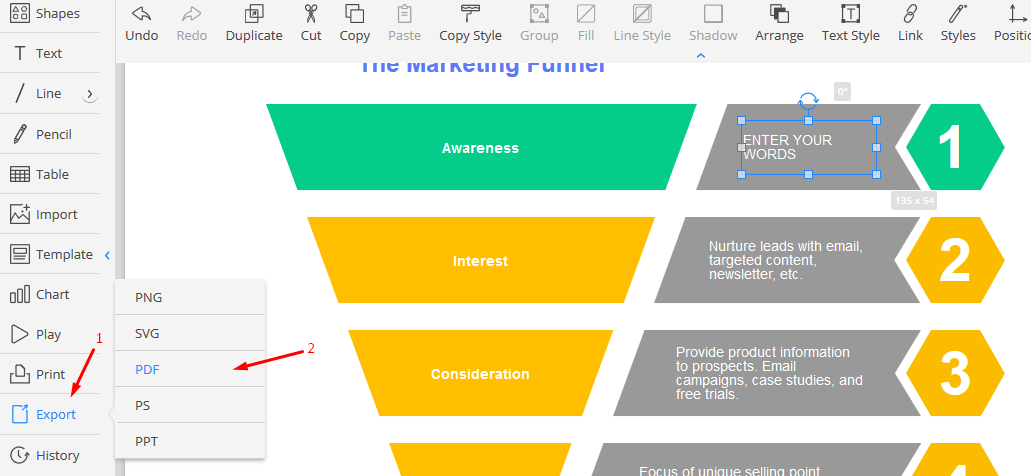 Fortunately, you have multiple file formats such as PNG, PDF, PS, PPT, SVG and more.
Bottom Line
I recall mentioning about the premium service and Cacoo does not provide free services at all. By spending $5 per month on yearly package, three users can start working on the projects. The entry-level package does not hurt the new customer's bank vault, and you can select monthly payment as well for $6 for three users. Let us know what do you think about Cacoo in the comment section below.