International travelers always carry a SIM card that helps them surf the web while they are in a different country. With innovations in the technology market, we have the power of eSims. Well, eSIMs are a more affordable and convenient way to keep your mobile phone active while traveling to a different country.
If you live in Canada and plan to travel to the USA, then the Best eSIM for Travel to the USA from Canada list will help you choose the right eSIM for your needs. The list includes the best eSIMs and their plans for a hassle-free travel experience to the USA from Canada.
What is an eSim?
Gone are the days when we have to insert a physician's SIM card into a mobile phone. We have the latest eSIMs to fulfill our needs. eSIM is nothing but a SIM card in digital form. The eSIM comes embedded in a smartphone and requires no insertion of it.
There are the latest mobile phones in the market that lets you use eSIM cards on them. Compatible mobile phone users have to use the appropriate hardware and software that links them with the operator and start the eSIM on a respective smartphone.
With appropriate hardware and software provided by the operator, the eSIM acts like a traditional SIM card. It will get connected to a network and gives you the same interface as the SIM card.
Best eSIM for Travel to the US from Canada
1. Holafly eSIM
Holafly is one of the most trusted eSIM operators that offer eSIM services to over 160 destinations including Canada. Yes, Canadians can choose a suitable data plan from their website before they plan their US trip.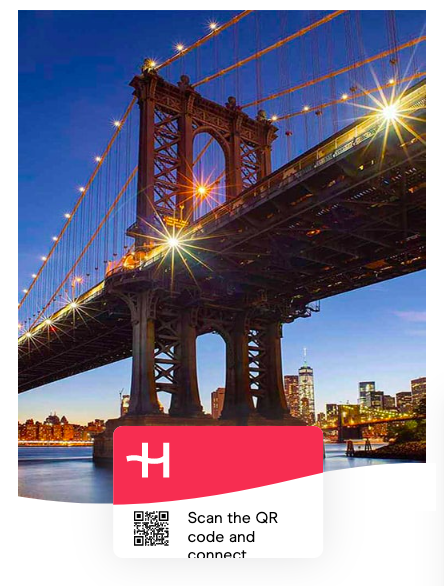 About Holafly:
Holafly is a leading eSIM provider to tourists. The company has become the most trusted eSIM provider in the world with over 4.5 to 5.0 ratings out of 5. The ratings themselves say it is all about the operator. It is the trusted name for people who plan to visit the US.
Key Advantages:
Users can choose from a variety of data plans. They can choose the right plan that suits their basic requirements of using the Internet and other services. The unlimited data plan is also available for tourists through their eSIM or embedded SIM.
Instant delivery of embedded SIM in just two minutes of its order. Once you make the online payment, the embedded SIM will be sent to you at a registered email address.
No need for activation, the embedded SIM comes activated once you fulfill their requirements.
They offer 24/7 customer care service to resolve network-related issues.
There is no need for registration while using the eSIM. You need not present or submit your ID while purchasing the eSIM.
For more information about their data plans, the validity, and other information, visit Holafly eSIM Website
2. Truphone
Truphone is a leading network provider in the globe that offers regional, country, and global data packages to its customers. The company offers great customer service and its plans are also affordable. Truphone's eSIM cards are designed to work in over 188 countries of the world.

About Truphone:
Truphone is a UK-based company that is recognized as a pioneer in the embedded SIM industry. The company first introduced eSIM for iPads, Apple Watch, and other Google devices that support this service. The company has been partnered with Apple since 2016 and provides embedded SIM to global Apple users and tourists.
Advantages of Truphone
The eSIM cards of Truphone are quick to purchase. You can purchase it online and install the eSIM to your mobile phone's Truphone app instantly.
The company offers eSIMs that work in over 188 countries.
The varied data packages offered by the company are available for regional, country, and global users and tourists.
24/7 customer care service to resolve the issues of their customers.
They have different data plans for different devices which you can choose as per your requirements.
To know more about the available data plans, and other related information, visit their official Website.
3. SIMOptions
SIMOptions is one of the largest eSIM marketplaces in the global platform. It is not just an operator or provider, but the whole marketplace that helps users choose their operator, data plans, and the country where they are going to travel.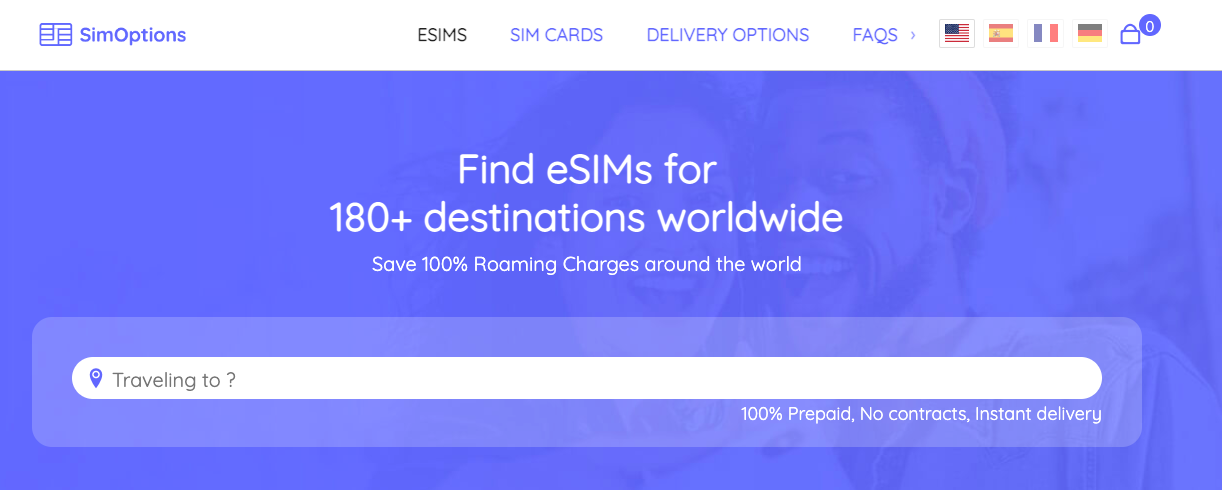 About SIMOptions:
SIMOptions gives international travelers to choose their best data plans and save 100% of roaming charges from their native providers. The company offers a variety of plans for each country. Currently, they are providing their eSIM/embedded SIM services to over 160 countries around the globe.
Advantages of SIMOptions:
SIMOptions Marketplace offers a user-friendly interface to choose the country, data type, and other things right from their website.
The embedded SIM purchase procedure is quite easy. Anyone can buy an embedded SIM card online with instant delivery and installation of the card. The embedded SIM will be delivered via email which can be installed on the device.
The embedded SIMs offered by SIMOptions work in over 180+ different countries.
They offer satisfactory customer service to their customers. Users can get their issues resolved in no time with the help of highly skillful customer care executives.
Canadian citizens have multiple options for choosing their preferred data packages to the USA from their official website.
4. Airalo
Airalo is known as the cheapest embedded SIM provider with affordable data plans for tourists from different countries. Airalo's eSIMs offer uninterrupted web surfing at no extra cost.

About Airalo:
Airalo is the cheapest embedded SIM operator based in Singapore. Their plans are quite impressive as users can choose from different plans to suit their data requirements. With limited data to unlimited data choices, they offer all types of data plans to tourists.
Advantages of Airalo:
Airalo offers all types of data packages to international tourists based on regional, country, and global platforms.
The embedded SIMs offered by Airalo are easy to purchase. The embedded-SIM gets delivered to email in just two minutes after its purchase online.
Airalo's embedded SIM is easy to install. You can install and activate the embedded SIM in no time after you receive it in your email.
They provide embedded-SIMs at the cheapest rates compared to other providers.
The company provides embedded-SIMs to over 190 countries across the globe including tourists from Canada to the US.
For more information about their data packages, and the list of the countries where their services are available, visit their official website now!
5. Keepgo- Solaris
If you are planning to stay at least 30 days in the US while visiting the country, then Keepgo's Solaris embedded-SIM is the best option for you. The company offers many attractive data plans which you can select before you plan your trip.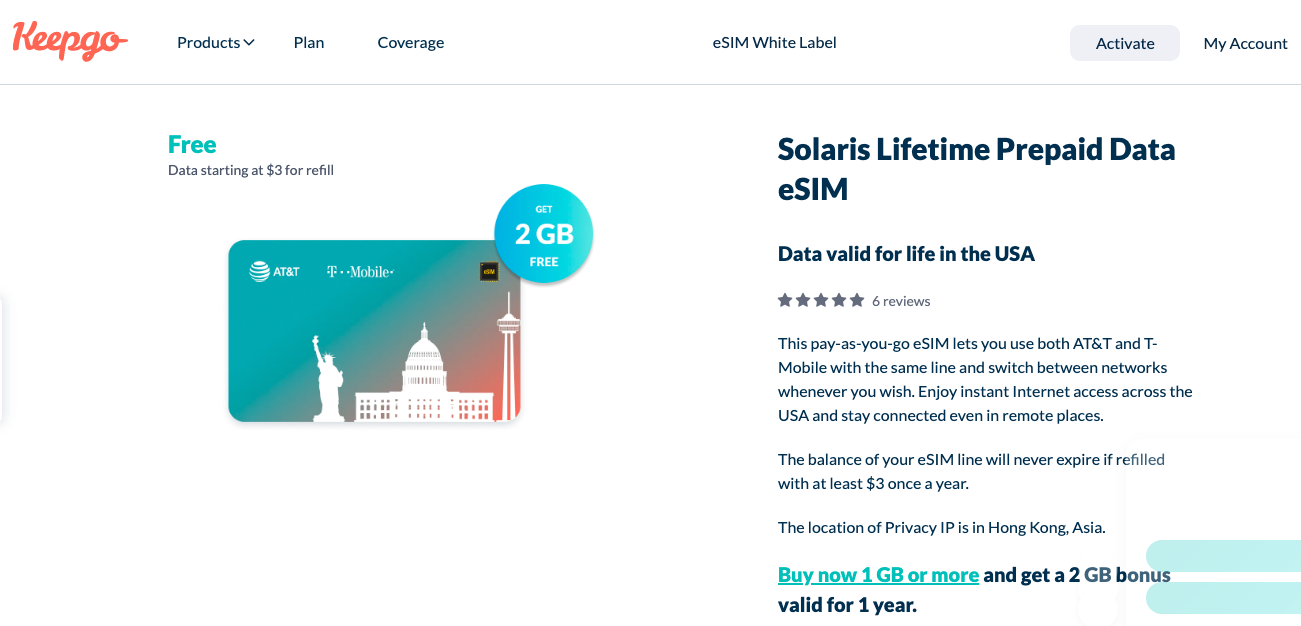 About Keepgo
Keepgo is an Israel-based company that provides embedded-SIMs at affordable rates that can last up to 365 days i.e. the full year. One can get a quick 25GB data package plan that can last for a year with no additional charges. The company has partnered with AT&T and T-mobile for providing their services to tourists in the US.
Advantages of KeepGo:
Instant delivery of the embedded-SIM via email in just two minutes of its online purchase.
Quick installation of the embedded-SIM with instant activation by a compatible mobile phone using its app.
The attractive 25GB data plan for a year-long validity is the best choice for tourists with more than 30 days of stay in the US.
24/7 customer care service with instant help to resolve the issues of the customers.
For more information about the availability of the embedded-SIM for other countries, and the other data plans for the US from Canada, visit their official website now!
FAQ
1. Which eSIM is best for travel to USA?
We have listed 5 in this article and you can choose the one you like after reading this article.
2. Can I use an eSIM to travel to the USA?
Yes you can and you can also use your current sim with the plan if you find it difficult to find such a service before you travel to US.
3. Is eSIM worth it for travel?
Yes, by this way you can save a lot of your money instead of paying for the roaming charges that your normal provider will add to your bill if you are using a postpaid mobile connection.
4. What are disadvantages of eSIM?
Only thing we found is that it won't be easy to swap if you are from India, Sri Lanka, Bangladesh.
Conclusion:
These are the best eSIM for Traveling to the USA from Canada offered by the industry leaders. The above-listed operators provide eSIM and its services not only in the US or Canada but in over 188 different countries. You can buy an eSIM that works only in the US, in the Continent, or across the globe from the operator, it is all up to you to decide!