In the growing world of technology, everything connected with the world through our smartphones, PCs, and other gadgets. This kind of technology which connects us with the world is beneficial for us, but it also opens the door for hackers and trackers.
What is VPN?
VPN stands for Virtual Private Network that helps the users to send or receive data from a public network with encryption. It connects the device through the private network to the Internet through the servers of the different country. This encryption is beneficial to the Internet user because they can be safe against the unwanted tracking and also they will be able to access the contents, websites that are not available for their country.
What is TunnelBear?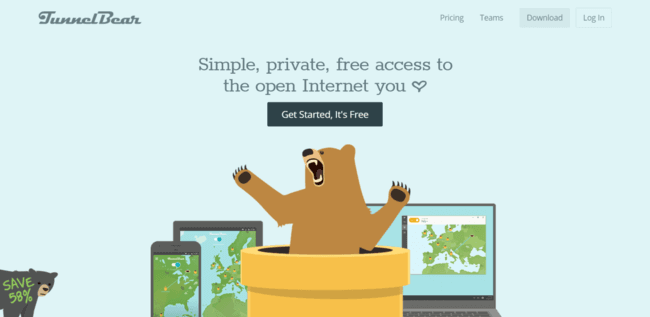 TunnelBear is a VPN service that gives free VPN service of 500MB for a month if you want to use more than 500MB than you have to purchase the premium version of the Tunnel Bear VPN that will help you to access the internet.
Is It Safe
The Software is not malicious, and about the service, it connects you to the Internet through its different servers across the world. It means it encrypts any data bleeding between the connection of device and Internet server, according to their policy they don't collect, store the user's data information. But if you use TunnelBear during the transaction with the credit card then it will save the Name of person on the card, Date of card use and last four digits of the card but only to prevent the user from Fraud. If you use the third party payment process, they will not store the information like on PayPal.
VPN Pricing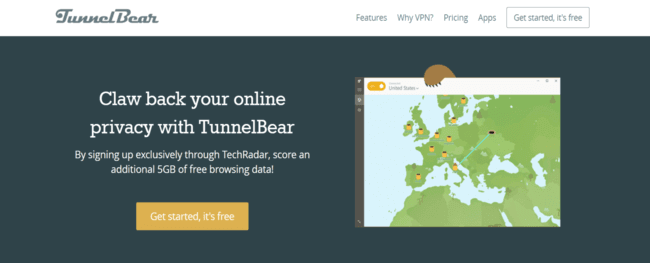 TunnelBear is available in 3 different sizes first one is "Small" version that is Free 500MB for a month, the second one is "Giant" version in which you have to pay $9.99 per month for unlimited use and the last one is "Grizzly" version that is on sale of $49.88 for 12 months its original price is $119.88.
Free 5GB Recurring Data
TunnelBear is giving 5GB of free data if you signup through TechRadar :Promo Link : https://www.tunnelbear.com/b/tunnelbeartrpromo/ that is 10 times more data that you will get if you sign from elsewhere.
Window 10 Version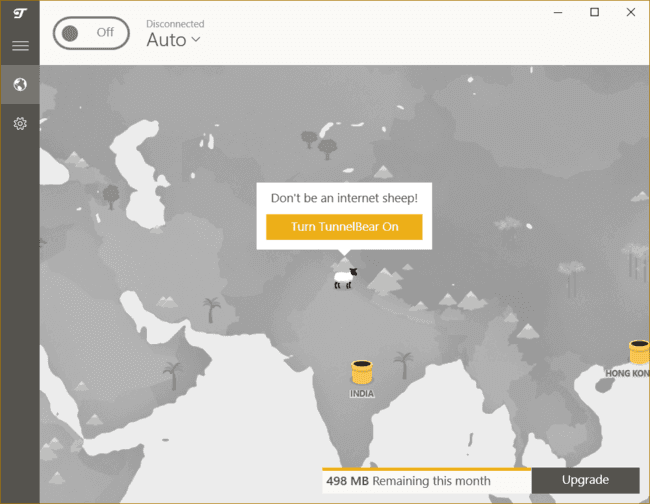 It is free and easy to install without having to reboot PC just install, log in and start to use TunnelBear's VPN service. After installation, you will be granted with the Login screen just enter the email id and password associated with your account and click signup now you just have to turn on switch given on top left corner to connect with the VPN service.
On the left side menu, there are two options one is Map which was opened during startup of the app and the second one is setting under which you have many options like turning notifications on/off, launching TunnelBear on Startup, VigilantBear (Block all traffic with TunnelBear), GhostBear (Makes encrypted data looks like regular).
It is a simple application and it is very easy to understand.
How To Use TunnelBear
It is free to signup you have to go to https://www.tunnelbear.com/ and click on Get Started to use the Service.
After clicking on "Get Started" it will open the link to create account just Enter your Email and Password for your account
TunnelBear will send a verification to your email address just click on the given link in the mail, and you will get 500MB of free use.
To use the service, you have to download its software it is available for iOS, Android, Windows, Mac.
TunnelBear Free Download
Users can download software for free from the official website:  https://www.tunnelbear.com/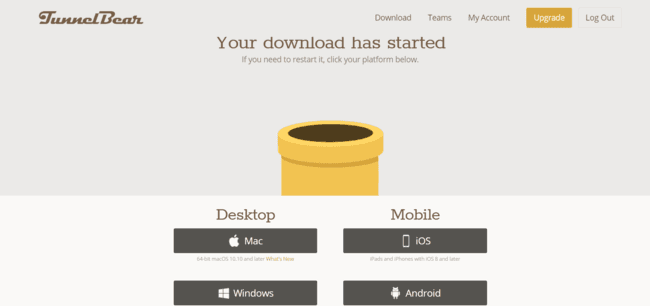 Steps:
Go to their Official website and click Download button present at the top menu.
It will ask you to create an Account just enter your Email address and Enter a new Password for the your account.
If you already created account clicking on existing account to login.
The setup of the service will automatically start to download.
TunnelBear Chrome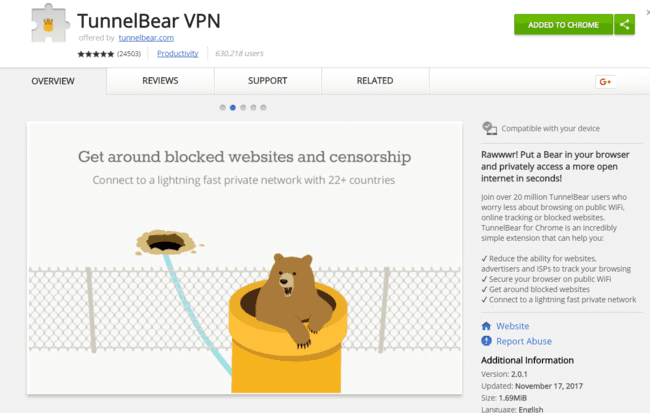 This one is also available as the extension in the Chrome that will help you connect through VPN in seconds across the servers of 20 countries including United States, Canada, Japan, Spain, Italy, Sweden, Australia, Brazil, Denmark, Mexico, United Kingdom, Germany, France, Ireland, Netherlands, Switzerland, Singapore, Hong Kong, Norway, and India. It is also small in size, with the VPN like capabilities, it will encrypt the web browser data.
To download the extension for chrome just go to https://chrome.google.com/webstore/detail/tunnelbear-vpn/
Steps:
Download chrome extension by going to the link giving up and click "Add to Chrome."It will automatically download and install the Extension.
After installing it will open the TunnelBear page if you have account then signup with that account and you will get 500MB of VPN service for month, and you can also avail 1GB more by tweeting on the tweeter: https://www.tunnelbear.com/account#/twitter
TunnelBear Firefox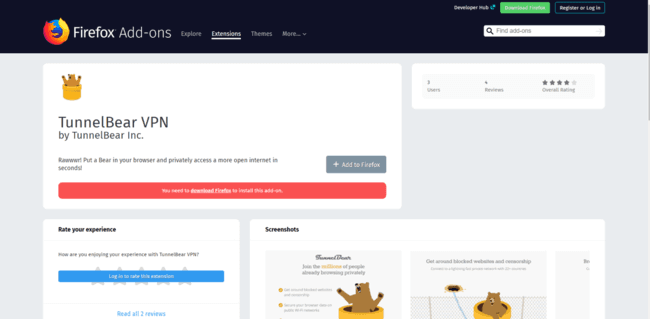 It is available for Firebox also has the same amount of features as on Chrome.
You can download the addon for Firefox by merely going to https://addons.mozilla.org/en-US/firefox/addon/tunnelbear-vpn-proxy/  and clicking on "Add to Firefox button."
TunnelBear Netflix
Netflix started new service that detects the VPN or any change in proxy and gives the error, most of the VPN's are not able to access the Netflix. Unfortunately, if you use TunnelBear to use Netflix, it will give the error.
TunnelBear apk: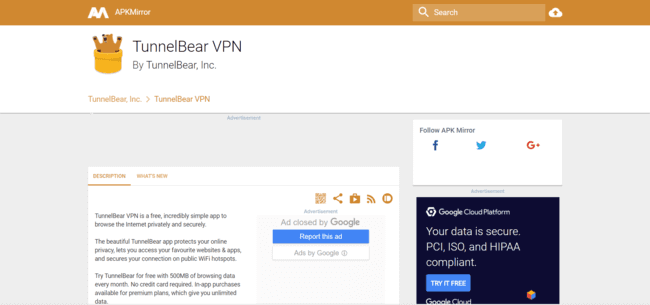 TunnelBear is available for Android users directly in the play store for free. If you are not able to download it from Play store, you can visit https://www.apkmirror.com/apk/tunnelbear-inc/tunnelbear-vpn/ to download the apk version of TunnelBear for Android device.