Are you a webmaster, blogger, designer who likes to make a purchase from international websites say hostgator for hosting or Google PlayStore for purchasing some productive apps or games or Themeforest packages for some WordPress goodies but sadly you can't make purchase with your current international debit card from Visa or Mastercard.
So why?
The major reason for this we think is the verified by Visa or Mastercard which sets up a 3D secure password that you may have come across during your first digital purchase on websites like Flipkart, freecharge etc.
But some of private players out there don't require any such things and allows you to do the international transactions, but requires Rs 5000 or Rs 10,000 as the minimum account balance or for starting an account.
Here is list of accepted Public and Private banks for PayPal and others
Update : All bank cards seems to be working now and you can successfully add any cards to PayPal. But when it comes to payment or service payment most of them won't work. We don't know why is it like that!
Update : Dena Bank Visa based cards also seem to work with PayPal, other sites we are not having any clue!
SBI also start to support PayPal ans here is the link to the Official statement
Vikram Narayan, Managing Director and Country Manager (India), PayPal said, "It is an honor for PayPal to partner with the State Bank of India (SBI) which is India's largest bank. We foresee exciting times ahead as the economy is poised to pick up and support Indian citizens and, businesses to evolve through global transactions. We understand the Government's focus on the MSME and believe PayPal has a strong role to play in the 'Make in India' initiative.Collaborating with us gives SBI's customers global access to businesses and consumers alike."
But they didn't said which type of debit card either VISA or MasterCard will be working globally
Do you think you need to have an account with those for just purchasing $1 android app?
We hear it's a big no. Update :  You can now use UPI to purchase anything from the app stores by using Google Pay, Paytm, PhonePe, AmazonPay etc
So does this method works for Casino payments?
So what's the solution out there?
Simple and easiest one is just borrow the card from the one in your family or from friends who already have an account with those private sector banks.
Here is how you can move your WordPress website to SSL/HTTPS tutorial without breaking
Alternate way
We took a EMV Master card (chip based) world debit card from Indian Bank and it seems to be working fine with Google PlayStore wallet.
So what's the procedure in taking such a card?
Simple just go to any Indian bank branch and start an ordinary SB ( savings bank) that requires only Rs 100, but put some more money in your account and when they ask whether you need ATM /debit card just tell them that you need a Master card world, stress this name or they will issue some other ones say maestro or visa that don't work with international websites.
If they ask why you need such one?
Tell them that you are going abroad or for use in international websites.
Approximately after 23 days depending on your region you will get the card.
Now go to any ATM and activate your card. Since this one is internationally activated so no need of further activation by sending SMS or calling to customer support service for international use.
Does this EMV one support PayPal?
Yes, PayPal accepts this card and you can add it your account by navigating Profile >> Link/Edit Credit Card
As soon as your card is added PayPal will prompt you to verify the card by charging around $2 (Rs 122). A four digit secret code will be sent but we didn't received any such thing instead we received some six digit ATM sequence number. Even we are confused whether we should verify it or not, just look at the URL here officially supported ones  No info whether we should verify our credit/debit card in that page.
Update : How to verify the card Indian Bank Card ( EMV chip based one) ?
Just add your card as usual, instead of 120inr withdrawl 2 INR will be deducted from your account and an OTP page will be shown. Enter the OTP code you received from your mobile and your Indian Bank EMV card will be verified.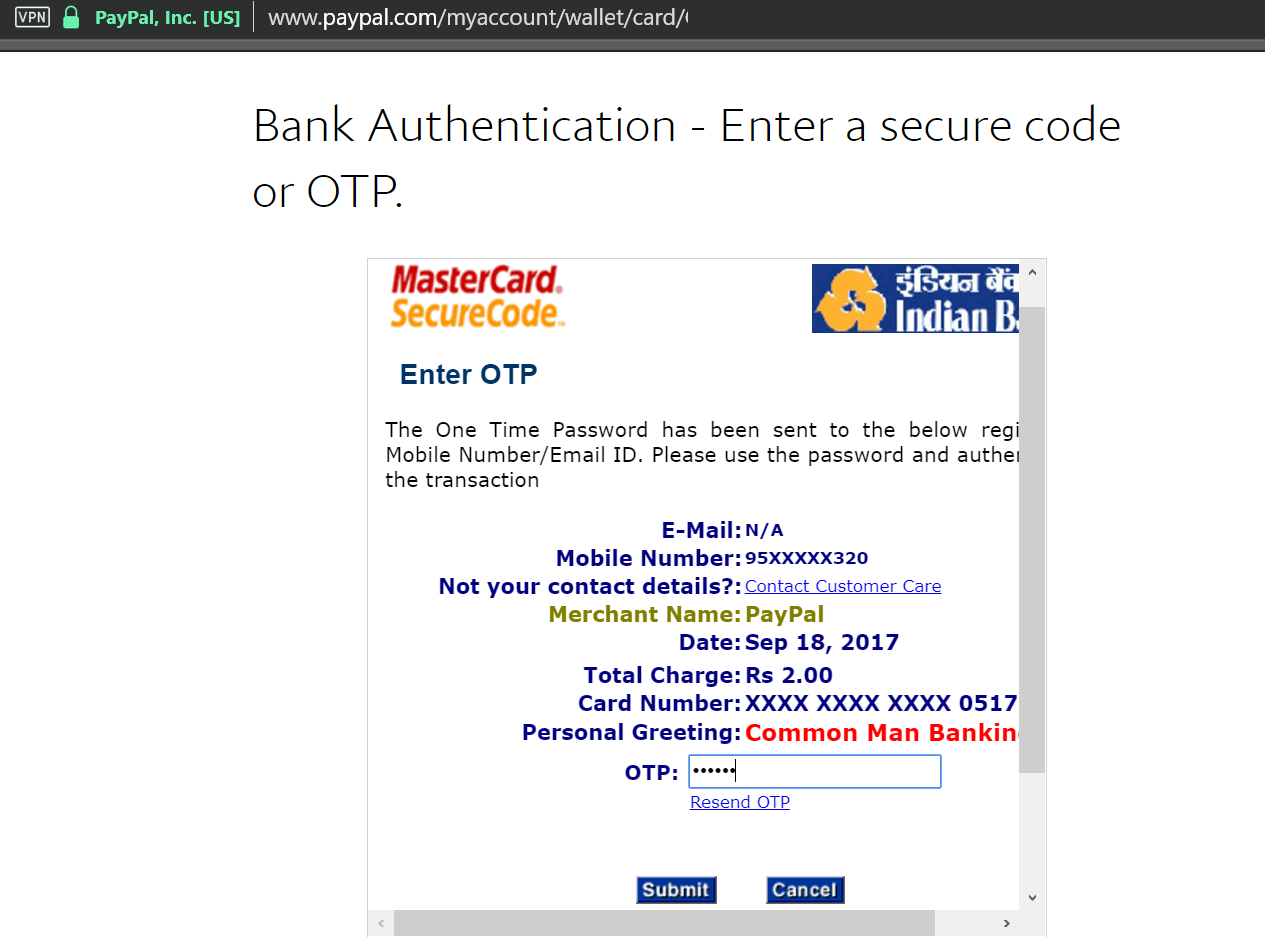 Does this mean that you can't use it?
even our card is not verified its verified now. But there was no problem in purchasing digital products with a non verified card in PayPal that belonged to us.
Are there are any transaction or service charge?
Stroked words no more apply to this card and the pic also.
Yes there is, we are always charged with a service tax of $0.5 its hiked to $1.5 for every purchase with this banks card. Here is the screenshot of the rates from their website for international cash withdrawal from ATM.
Note : other than one above we were charged some $ more but that exact was credited back to our account after few minutes, so maintain some bucks while purchasing else purchase will be failed.
UPDATE : Now they are charging 53INR – 61INR, don't know on how they calculate these charges as two times we were charged with two different rates as shown in the pics below


Does this Indian bank support Skrill, Stripe etc?
Yeah everything is supported, for payments using stripe you are not even charged the service tax of $0.5.
Will it work in iTunes/Apple related products ?
Yes, confirmed by one of the user "I'm so happy just got my Indian bank EMV chip world master Debit card and further when I tested it in App Store to purchase paid app , transaction was successful and it was working fine with iTunes!!" . Please visit this link for proof: https://www.techwibe.com/paypal-indian-bank-debit-cards-solved-support/#comment-6980
Can we use it on services that only accepts credit cards ?
Recently we tried to pay for WES (World Education Services) and it worked even though they accept only credit cards and this one is a debit card. WES is required if you are thinking of migrating to any English speaking country from a non English speaking country.
Will my card be automatically charged?
Yes, unless you unsubscribe from the service that you are using.
Can I get a refund/disputed money from a PayPal invoice which was debited from my EMV card back to my EMV card ?
Yes, I have received a refund to my EMV Master Card or bank account and it took around 5 working days to complete the process. And in a case PayPal sent the money but it was not credited in my bank account even after 30 days so I called the PayPal toll free number and they gave me a long sequence number. I handed over that number over to Indian Bank people and after 8 days, money got credited to my account.
Is it possible to get refund when you cancel a service that has been purchased with Stripe/any from any other type ?
No, the company with you have canceled the service issue refund but it won't be credited back to your EMV card.
Can I transfer funds to other PayPal account?
Yes if user is not from India.
Can I add funds?
No, it's not currently supported.
What are the maintenance charge per year for this one (EMV Card) ?
Its was around 176 INR from 2017 to 2018 and its auto withdrawn from your account.
Private banks
For every type of card issued by these banks require some activation procedures
ICICI
This one have more success with international payments from India.
Card type : Visa / Mastercard
Procedure
Send a SMS in the form INTL <space> last four digit of your debit card number to 5676766 to enable international transactions. Wait for 24 hours. If you didn't receive any confirmation after few days manually call to the customer service 022-33-66-77-77 and ask them to do it for you.
Update : ICICI now replaces its debit cards with chiped ones to its customers for free and here is one that we received.
Other resources that you can count on
Happy online shopping!