VPN's plays a vital role in protecting the data theft and protecting your activities on the Internet by changing your IP Address and location and connecting the device with the servers of other countries that are called Tunneling. The VPN's protect our data from Internet servers but there are many VPN's which store the data to their own server, some do this for security purposes but we cannot trust anyone if we need full protection if we are doing any sensitive activity on internet like Online Banking, Fund transfer, and many other tasks so here comes the need of Logless VPN's that do not store users information and help them connect securely.
Best Free VPN For US, Canada And United Kingdom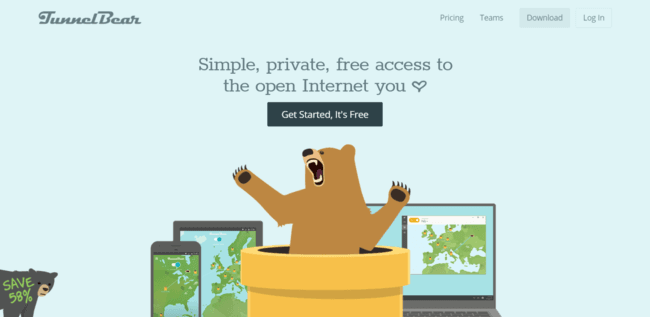 TunnelBear is a Free VPN service that gives 500MB of data usage for a month to help you to connect securely to the internet. The Tunnel Bear is coming for Windows as an Application, Extension for Browser and also for Android devices so basically it is a multi-device program. Tunnel Bear claims it doesn't contain any information that leads to any damage to their user, but still, they collect some information like last four digits of card and Name on Card debit/credit card for the transaction to protect the user from any Fraud related issues. But when any third party Payment gateways are used like PayPal then the TunnelBear doesn't contain any data. Pricing of TunnelBear is also not so high it comes in 3 different packs Small which is free, and it gives you 500MB of data usage for a month, Giant that costs $ for a month and provides unlimited data usage and Grizzly that costs $119.88 but it is on SALE you can avail it with $49.88 for a year, and it also offers unlimited data usage.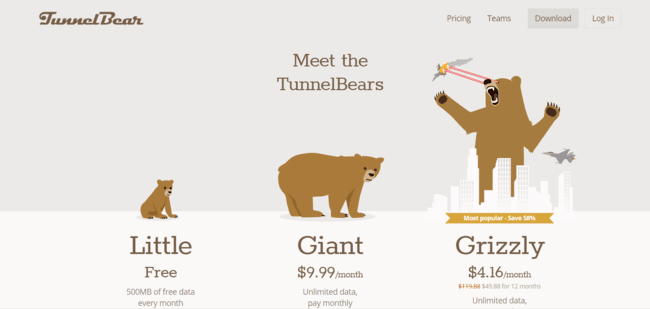 It is also considered as Best VPN of 2017.
To download TunnelBear go here, download and create the account to start using it.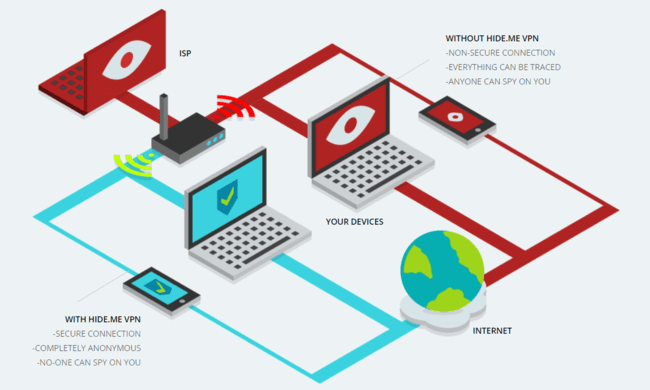 Hide me VPN is another Free/Paid service provided by a Malaysian based company. It offered services at gigabit speed by it some high-speed servers provided in many countries. Hide me comes in the form of Application for Windows. The company claims they don't store any data that id transmitted from user to the server all personal details and payment details are outsourced to the payment collection agencies. That gives it the tag of the Logless VPN. The Pricing of the VPN is also good it comes in 3 packs: FREE, PLUS AND PREMIUM ACCOUNT.
With Free account users will get 2GB of Monthly data with 3Mbps of speed, 3 locations and connection on only one device, with Plus account that costs $4.99 per month, users will get 75GB of Monthly data usage, Unlimited speed and 30+ location and full protocol support and with Premium account that costs $9.99 per month, users will be able to enjoy 75GB Monthly data usage, Unlimited speed, all available locations and support of SOCKS proxy/ Dynamic Post Forwarding/ Fixed IP Address, with connections on 5 different devices.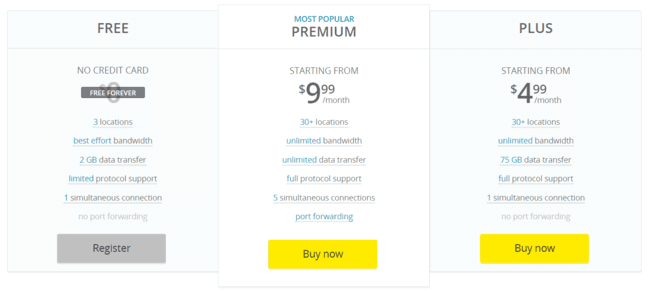 To create the account and download go here.
Hotspot Shield VPN:-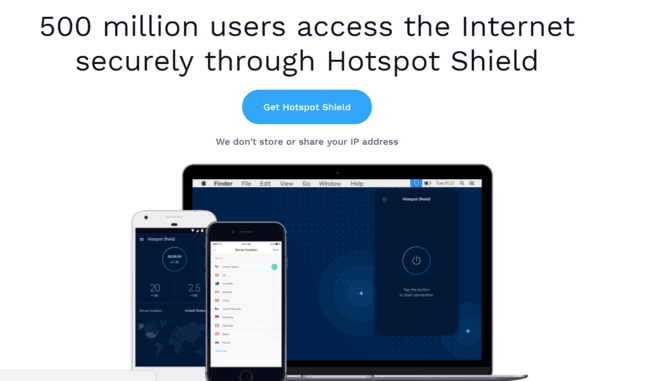 Hotspot Shield VPN's patented VPN protocol is integrated with 70% of the worlds largest security companies, and it also has passed a numerous amount of tests. The company claims to be #1 in performance with thousands of servers worldwide. It encrypts all outgoing data from the device to the target server. It is also Top 50 most popular VPN across Android and IOS users, top 10 apps on Windows and Mac. The company even claim that they don't store users interaction on the internet and they also don't share the users IP address. The Hotspot Shield VPN is available for all kind of devices including Android, IOS, Microsoft, Mac. There are overall 500,000,000 downloads of this VPN.
To access Multi-device support, Ad-Free browsing experience, customer support, and all locations that user have to purchase the plan. The subscription plans are as follow SALE $71.88 for a year, SALE $53.94 for six months, $12.99 for one month and $119.99 for the lifetime.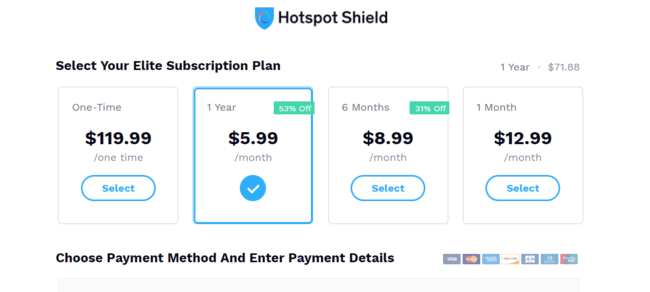 To download this VPN or more information go here.
All VPN's are FREE to use, but with data limit to apply the VPN service with any restriction than the Subscription plan needs to be purchased.