Are you looking for a modern event calendar plugin for WordPress? Modern Events Calendar by Webnus is one of the best WP plugins that lets you create an awesome looking event displays along with advanced features like ticketing and custom event display builder. If you want more design flexibility, you can integrate it with Elementor. To get more ticketing/payment flexibility, it can be integrated with WooCommerce. Let's have a close-knit review to learn more about this plugin.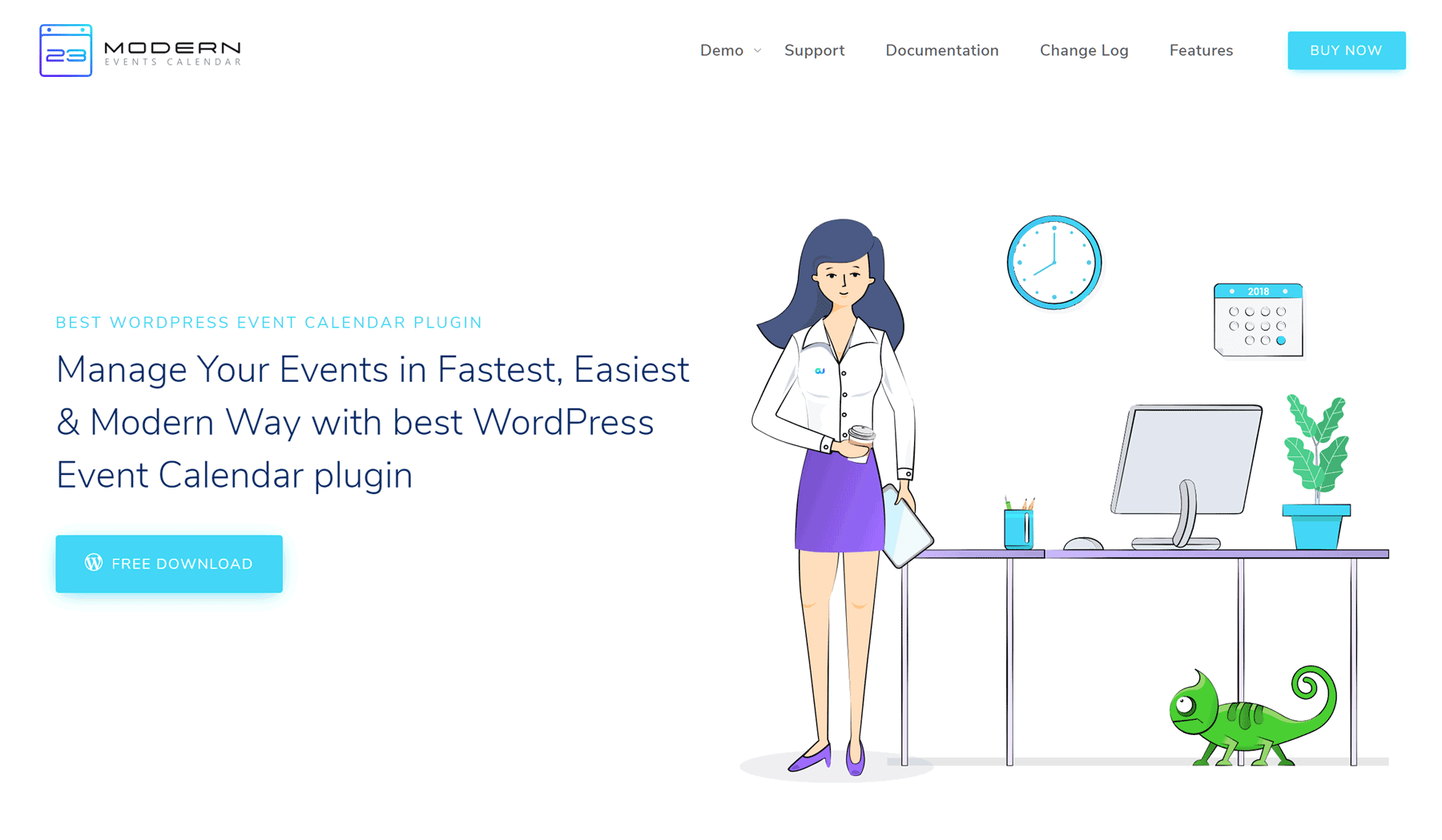 More about the Plugin
It is one of the greatest WP event calendar plugins that has been created keeping modern and trending aesthetics in mind. It comes with all features you ever desire like advanced booking system and many useful options that are practical in the real world. If you are using event-on or event calendar plugin and wish to migrate to this plugin then you don't have to worry about transferring your current content. Just a few clicks and your current events will be imported automatically with all the details in few seconds.
Moreover, the developer of this plugin – Webnus is elite and trusted author having a high percentage of satisfied users. In case you have any issue, you can contact their support team and get your queries solved at the earliest. They are good at their job.
Creating an Event
Once you have installed the plugin on your WordPress website and activated it, you are ready to go.
Click on 'Add New Event'. It comes with 'Event Details' meta box where you can fill in all the event-specific options. In addition to images, categories and tags, you can also add color and labels helping you to organize your events. The color option makes it super easy to quickly gaze on different events on the calendar.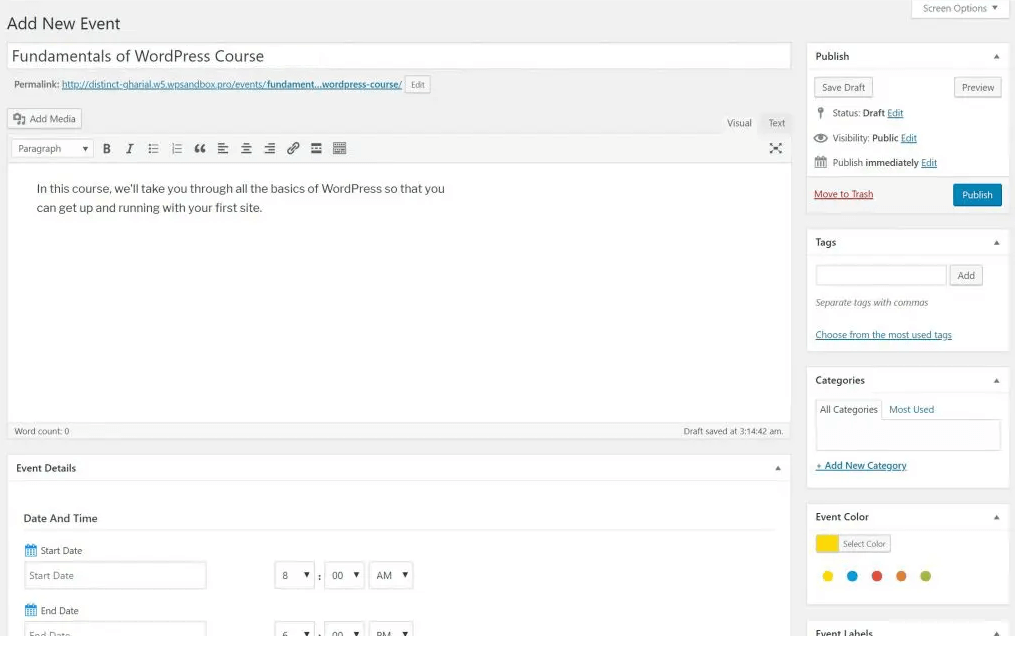 Now, you can fill in the 'Event Details' meta box by setting up date and time and other details like location, main organizer etc.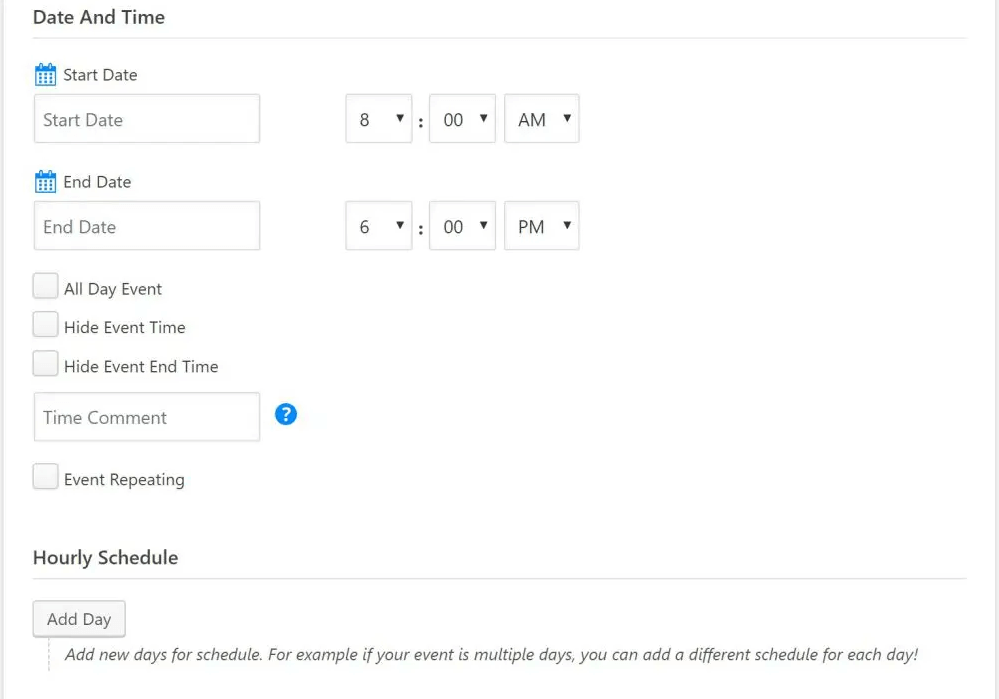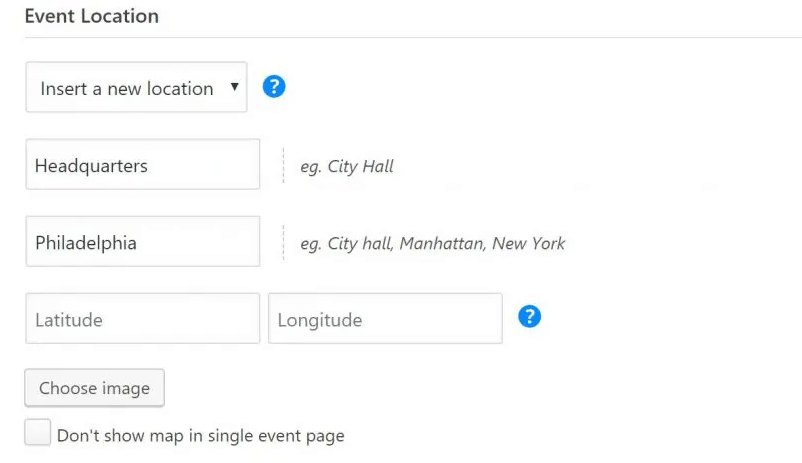 One you have configured all the major details you can make it live and publish it along any other piece of WP content.
It even supports different styles of displaying the calendar – classic, clean, modern, novel and simple.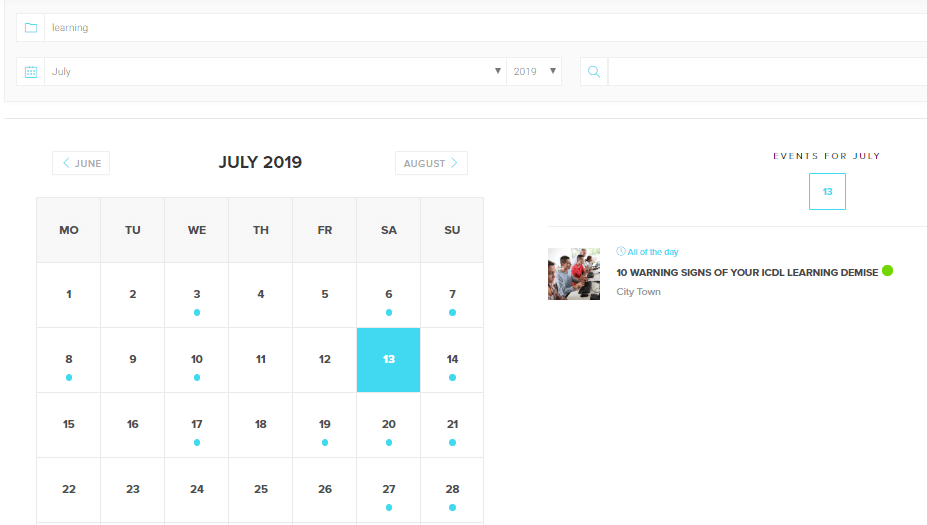 Displaying your Events
The ME Calendar plugin offers you different styles to display your events. As of now, the pro version includes 20 pre-built layouts.
Full calendar
Slider view
List View
Grid View
Yearly View
Slider View
Countdown View
Carousel View
Modal Single Event
Cover View
Widget View
Map View
Daily View
Weekly View
Monthly View
Agenda View
Available Spot
Timetable View
Masonry View
Event Single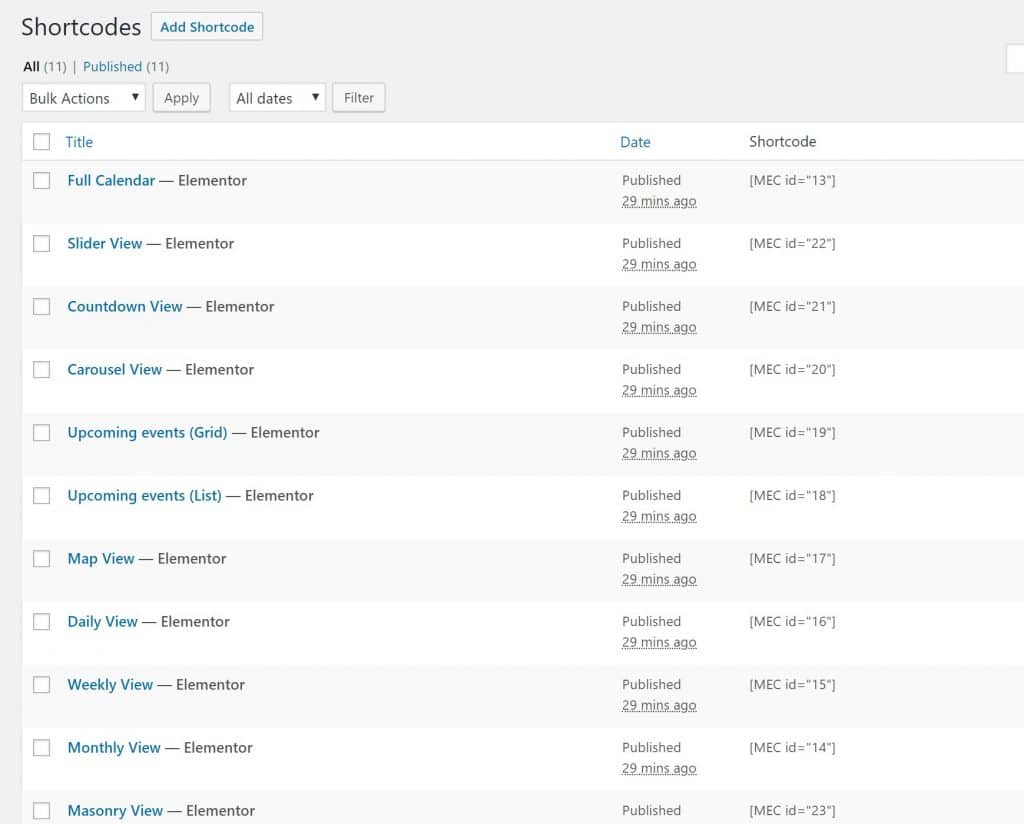 It is up to you how you wish the calendar to be displayed on your website. You can choose between list view, grid view, yearly view and many other styles available with this awesome plugin.
List View – Standard Style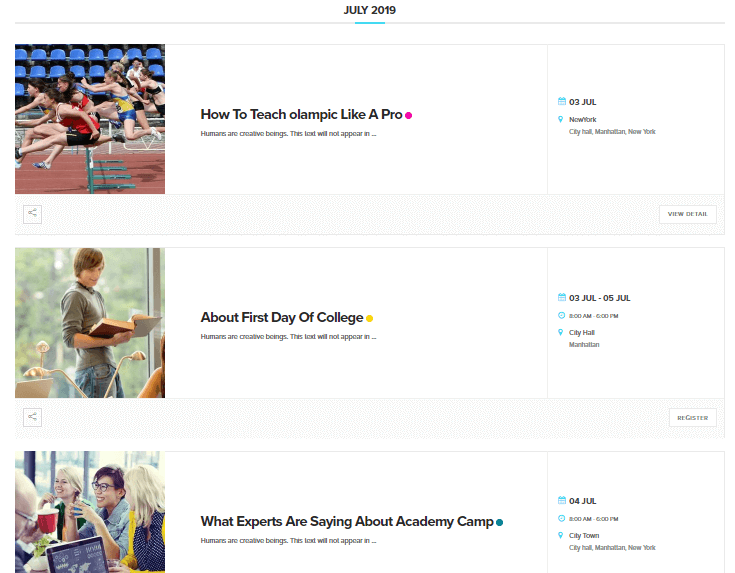 Grid View – Colorful Style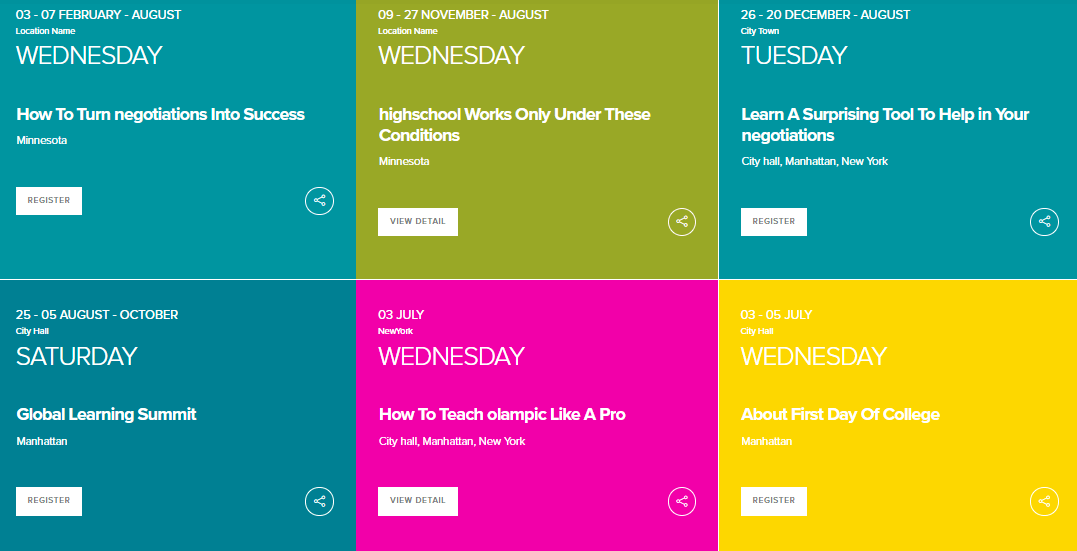 Countdown View – Type 2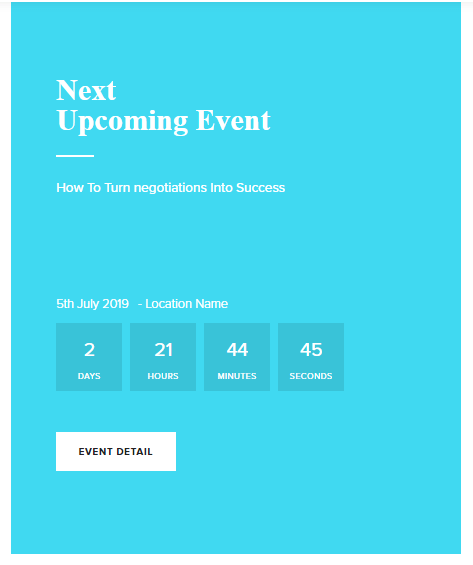 Full Calendar View – Modal Style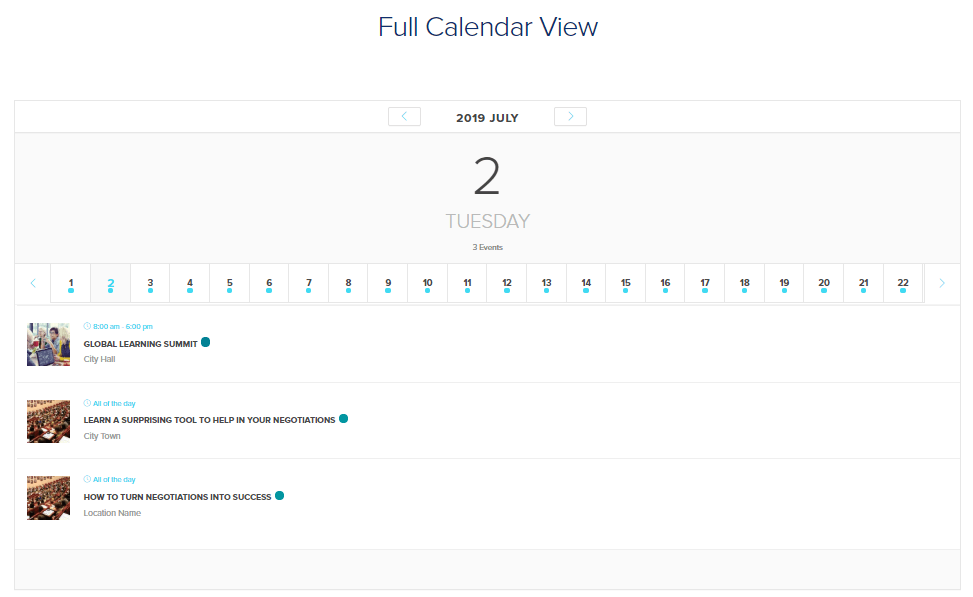 Timetable View – Clean Style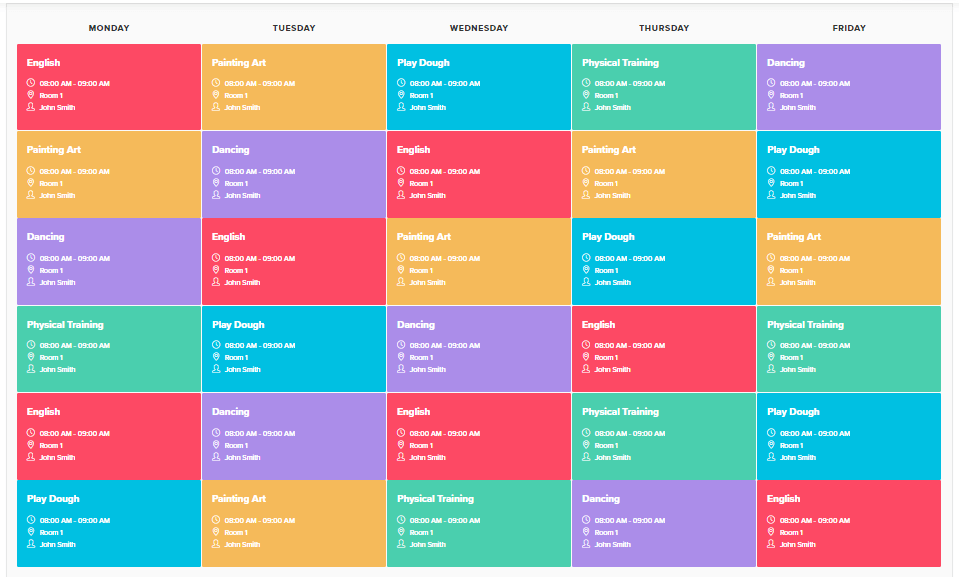 Enabling the Ticket Functionality
To enable the ticketing functionality, go to plugin settings area and enable 'Ticket Options'. After enabling it, you will get a new 'Booking' meta box to set up different ticket options.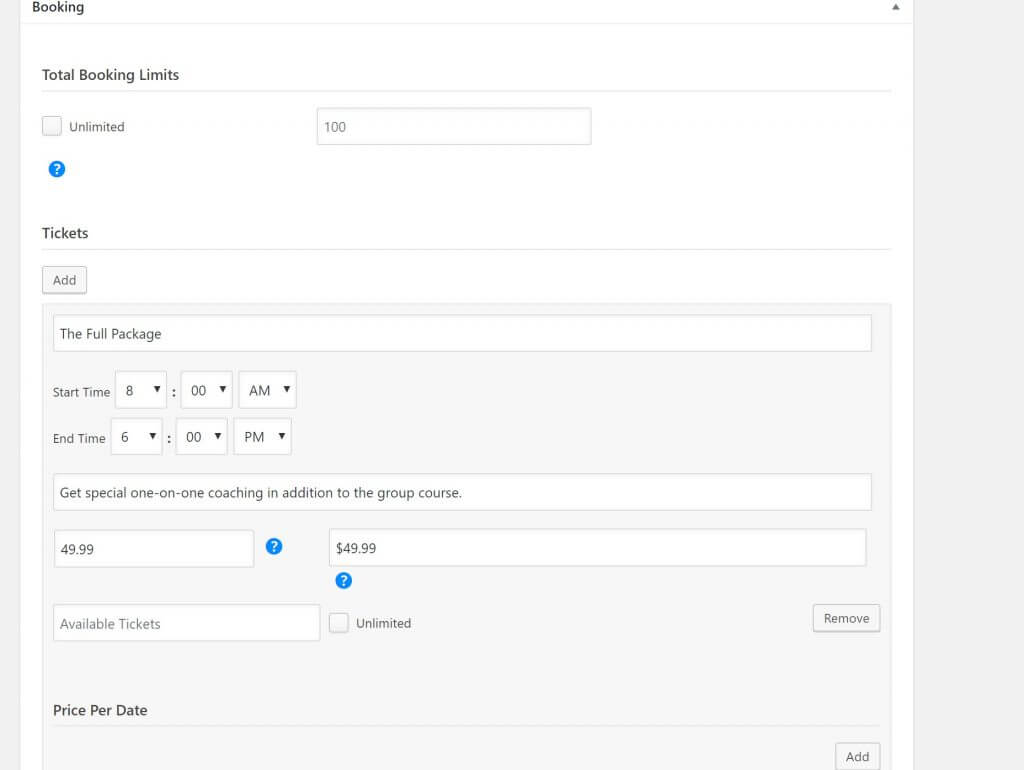 Configure the necessary setting and create your first booking with this plugin.
Playing around General Settings of the Plugin
It is up to you what modules you enable or disable in the plugin. Choose them wisely according to your requirement. Once you have enabled settings, you will have additional areas. For example – If you have enabled tickets, you will find new 'Payment Gateways' area from where you can choose the payment methods.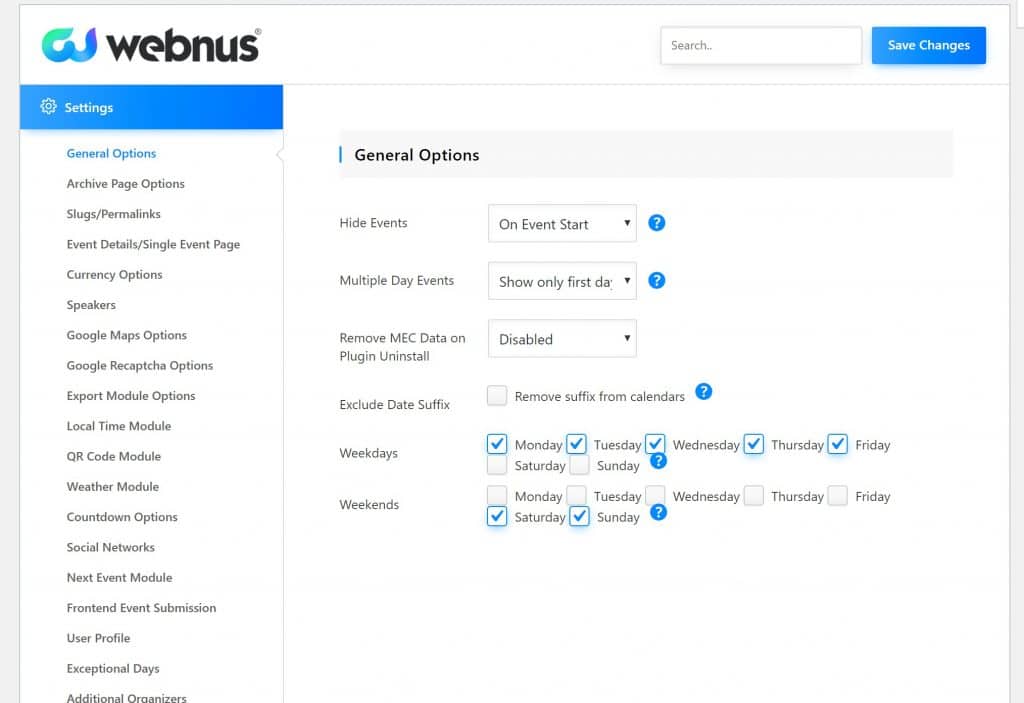 Pricing
It is up to you how you want to go with the licensing. A single license will cost you $55 for lifetime. It will include lifetime free upgrades and 1-year premium support.

You can buy additional modules at some cost if you want to add more functionality to this plugin.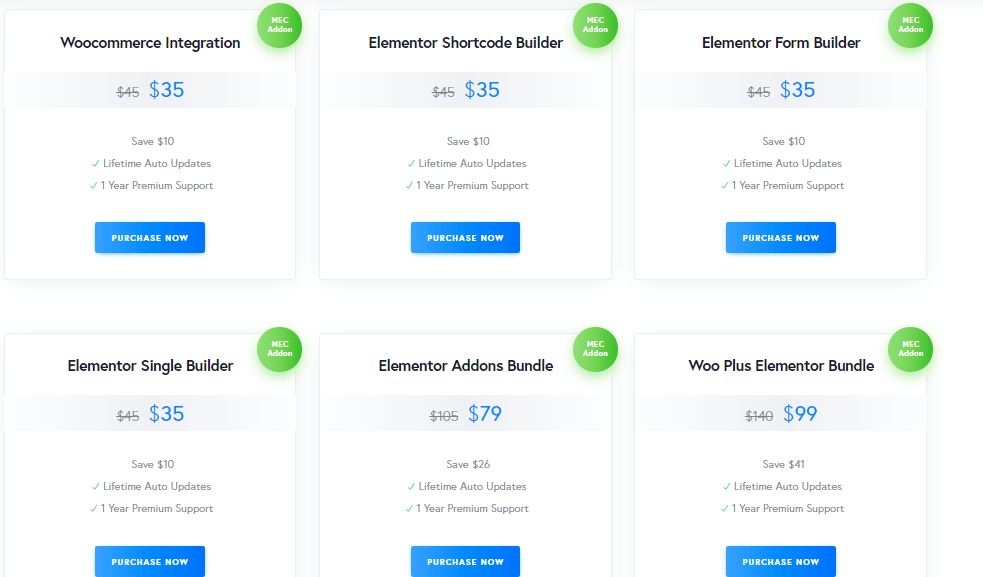 The Bottom Line
Modern Event Calendar is one of the best plugins to have if you want to manage a lot of events on your website. It provides you with a wide range of functionalities and different views to choose from. If you haven't tried such a plugin before, it's the time now.