When it comes to classic gaming consoles, what does the first come to your mind? Obviously, you think about "GameBoy Color," "GameBoy Advance," or Nintendo's gaming consoles. Nowadays, there are a lot of classic gaming consoles, which are available on the market. Surely, PlayStation Portable is one of them. It is known as PSP and developed by Sony Computer Entertainment. The PSP was the first serious competitor of Nintendo DS thanks to high-end graphics.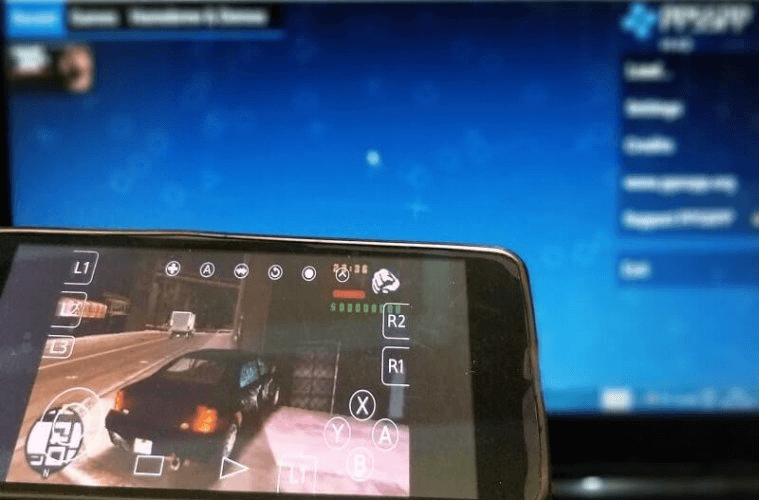 However, it is not a smart idea to buy the PlayStation Portable console now. It was a wise decision in 2004, but not in 2019. Nowadays, everyone can psp roms download, which are available on such websites as Killerroms or Google Play Store. You can play your favorite PSP Games, even on Android devices or PC. You can find an emulator among tons of options to play the PSP games.
What is an emulator?
If you want to play PSP games on Android devices, you will need a robust and reliable emulator. It is software that is used to make your Android device behave like the PSP console. Emulators enable you to run PSP Games that are designed for consoles.
Is it safe and legal to use emulators?
There is no sense to install the emulator if you do not have ROM files. Using emulators is legal. However, we recommend you download legal and safe PSP ROM files before starting to emulate them on Android devices. There is no risk to run PSP Emulators. If you use reliable emulators, you will not get malware risks or will not be bothered with advertisements.
Below, you will find the list of trustworthy PSP Emulator for Android devices:
Note: you should download ROMs in ISO format.
RetroArch
The RetroArch emulator is available for all platforms. It is an open-source project which you can use for emulating old-school gaming console. You should download the core file of the desired emulator according to your device. Currently, RetroArch is available for Android and other platforms. You can run it directly from your web browsers like Chrome or Mozilla Firefox. It allows you to remap the main controls and load cheats in retro PSP games.
How to use RetroArch to play PSP Games on Android?
Start with download RetroArch on your Android device. Open it and press "Load Core" > "Download Core." In order to download PSP Emulator, you must scroll down a bit and tap on PSP.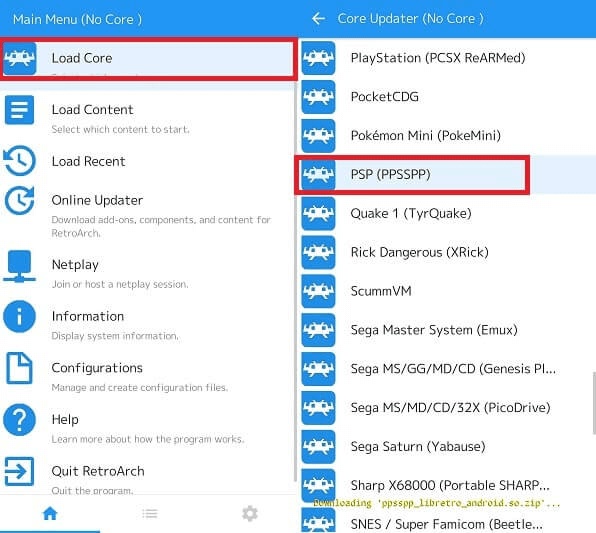 Once you have downloaded the PSP emulator, you must come back to the home screen. Press "Load Content" > and browse to the title directory. As we have noted before, you need files in ISO format.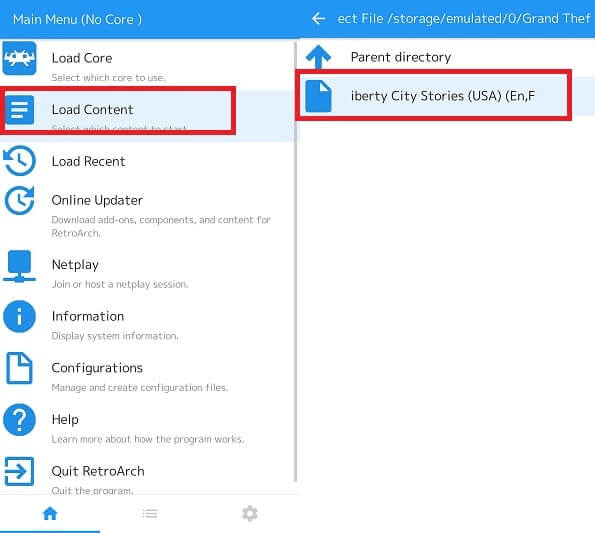 You just need to tap on the ISO file to make the game running. We advise you to turn on the screen rotation option from the settings in order to enjoy the play on the full screen.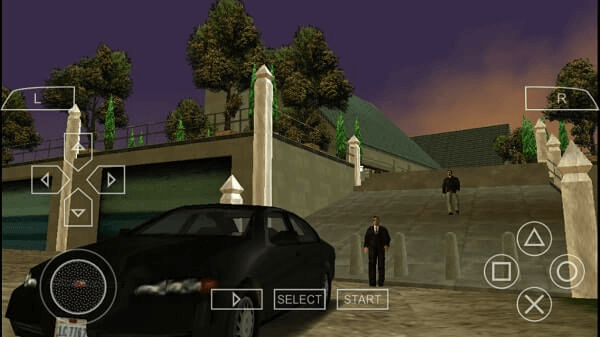 According to our tests, it is one of the best PSP Emulators which you can find for Android.
PPSSPP Emulator
There is another excellent emulator for PSP games called PPSSPP. It runs PSP Games flawlessly. At the moment, the PPSSPP emulator is available for Android and other major platforms like Windows, Linux, iOS, Mac, or blackberry. You will appreciate the simplicity of the user interface, which is the same for all platforms. Note that this emulator supports ISO/CSO files format. PPSSPP is powerful, but it required a powerful device processor and RAM. Note that PPSSPP does not come with preloaded games but has a Homebrew store with 16 Games, which you can try free of charge. You can get access to such advanced features like Control Mapping, Networking options, Graphics control for old devices, etc.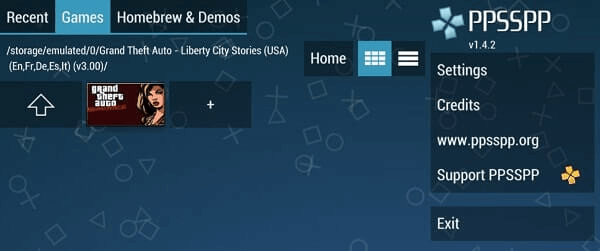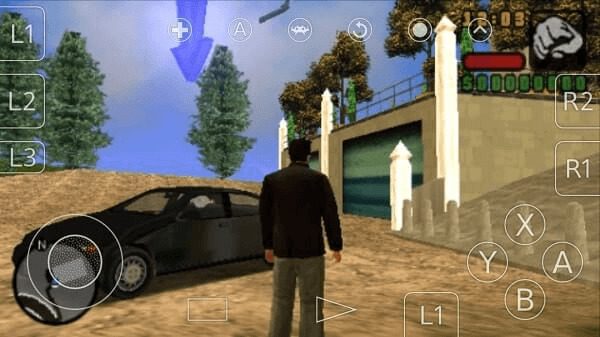 How to use PPSSPP on Android devices?
Gamers who have ISO/CSO files must open the PPSSPP emulator and tap on the desired game. Go to the game directory and tap on the game file to run the game smoothly. Users who do not have PSP ROMs but still want to try the emulator should tap on "Homebrew & Demos" > "Download" from the Homebrew Store. Choose the game and then tap on the "Install" button.
What PSP games should you try first?
The best thing about the PlayStation Portable console is tons of available games. If you find it hard to choose which game to start playing, read our list of the top PSP Games that you can play on Android devices.
God Of War
Dragon Ball Z
Grand Theft Auto
Naruto Shippuden
Grand Theft Auto – Liberty City
Monster Hunter Freedom Unite
Assassin's Creed – Bloodlines
Tekken 6
Conclusion
So, do not lose time and download the most suitable emulator to run your favorite PSP games on your Android tablet or smartphone. If you know any other reliable emulators, then feel free to comment below.