Although Apple products come with long-lasting and high-quality batteries, we need to keep an eye on the battery's health. If you are using a Mac, you might have noticed that your Mac has started consuming a lot of battery than usual. It is because of some unnecessary background tasks and apps that consume high battery. Here we have compiled a list of the Best 7 Battery Saver Apps for Mac systems.
Of course, there are many tricks and tips which you can try to save your Mac's battery. However, when you have a battery monitor app, you can have a better picture of what apps and tasks consume more battery. It will give you clear insights into battery consumption. Hence, the below-listed battery-saving apps are crucial for every Mac user. Let's get on to the list now!
Best 7 Battery Saver Apps for Mac
1. Coconut Battery
Coconut Battery is highly recommended by the experts who have been using it for monitoring their Mac's battery. The app looks quite an ordinary one but it does give you accurate information about the battery backup of your system.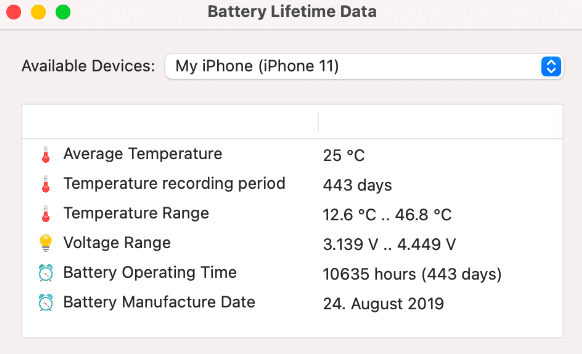 If we talk about the main screen, the app's screen shows you the total battery percentage that your Mac's battery has. It shows you the capacity of the battery that lets you use the system accordingly.
Moreover, you can save the log of the battery usage during the time intervals for a better picture of the usage. You can record the entire battery status as you need by simply customizing it from the app's settings.
The Coconut Battery app is free-to-use with limited functionality. However, you can get a premium version of the app with premium functionality from AppStore.
2. Battery Monitor
If you are looking for a free-to-use app just to monitor your MacBook's battery health, then Battery Monitor is the perfect app for you. It is completely free of cost and gives you the best information about the battery life of your Mac system including the cycles.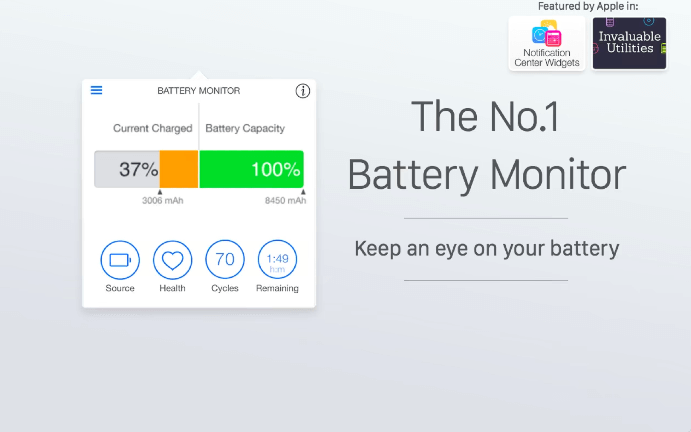 Once you install this app, it will be placed in the main menu of your Macbook i.e. on the upper right side. Once you click its icon, it will show you the details of your MacBook's battery in brief. You can check the battery percentage, source of the battery, health, cycles, and more.
As noted above, the app is free and you can download it for your Mac system from the AppStore.
3. Battery Health 2
Battery Health 2 is a successor edition to the original Battery Health app. The app comes with plenty of features to track your MacBook's battery health. What we liked the most about this app is its interface. The clear user interface lets you have a clear insight into the battery.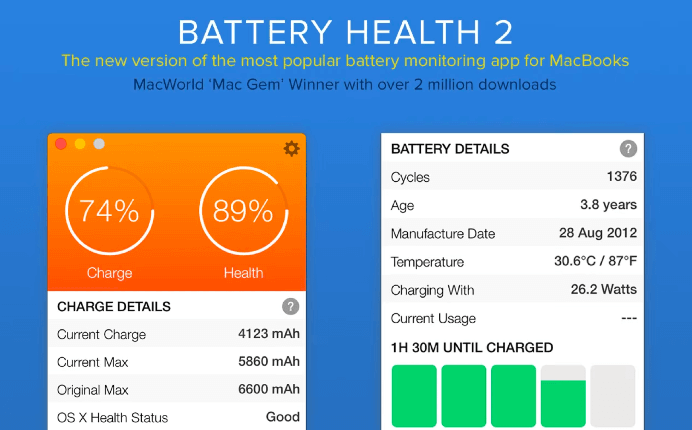 You can see the current charge source, macOS health status, battery cycles, MacBook's age, Amperage, Power Usage, and more while using this app. The same app is available for other Apple devices which you can download from the respective store.
Battery Health 2 is a free-to-use app. However, it comes with in-app purchases which you can purchase as per your requirements. Get it now from AppStore.
4. Better Battery 2
Better Battery 2 is yet another popular Macbook Battery Monitoring app available for Macbook users. The app provides in-depth information about your MacBook's battery health with a clear user interface.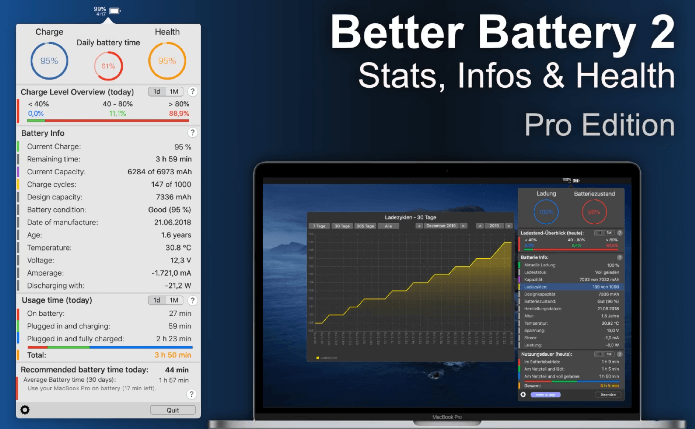 The app is being used by millions of Apple users daily to check the health of their MacBook's battery. You can check your MacBook's Battery, current charge level, power source, battery capacity, time remaining, cycles of charging, and much more.
The Better Battery 2 app is available for free with limited functionality. To get a full list of its features, you have to go for the in-app purchases. You can purchase and subscribe for the required features right from the in-app purchases section. Get it now from AppStore.
5. Endurance
Endurance is a great app for professional users as the app comes with useful features which not only show you the battery health but also let you save more battery in your system.
It is not just an app but a bundled app that comes with multiple tools to save your MacBook's battery. The app slows down the processor for unnecessary battery consumption, it also monitors the apps that consume more battery.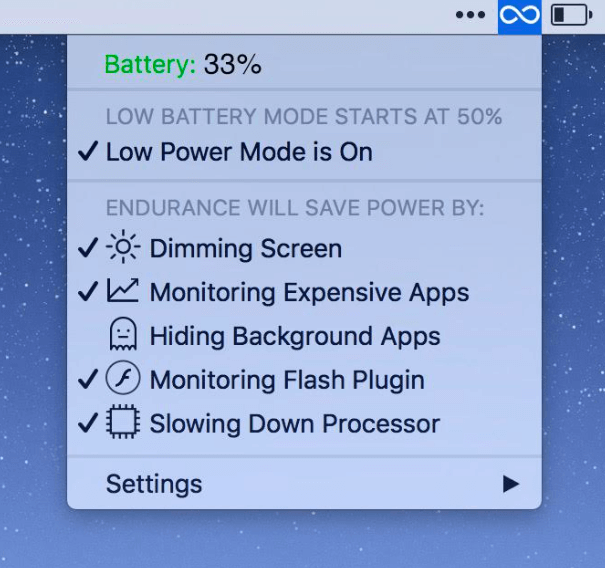 To save the extra battery for the system, the app put all the background apps to sleep. You are not able to see which apps are running in the background. But with this tool, you can easily put all such apps to sleep which consumes less energy.
Endurance is a third-party app. You can download it from its official website now!
6. iStat Menus
iStat Menus is a great tool consisting of multiple mini tools to keep your Macbook well-organized and timely monitored. The app comes with a set of useful tools to check weather reports, CPU usage, battery health, networks, disk, sensors, time, and more.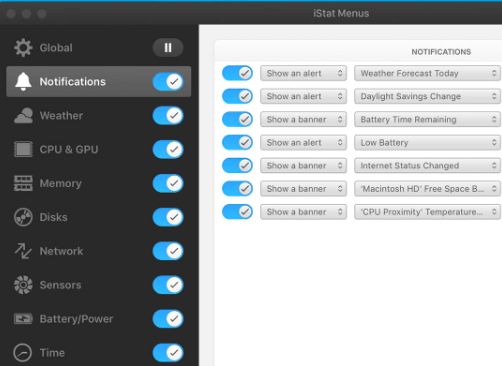 To check the detailed battery health of your system, you just need to select the Battery/ Power option from the left sidebar. This will show you detailed information about your Mac's battery with active connected devices, the percentage of the battery, etc.
Download iStat Menus for your Macbook from its official provider now!
7. AI Dente
AI Dente is a utility tool offered by independent developers to save your MacBook's battery. This tool aims to prevent the system from overcharging your battery. If the battery keeps on getting overcharged, its efficiency will go down and it will be dead sooner.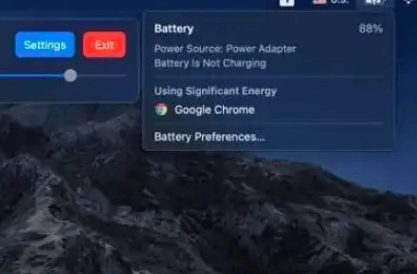 The app is compatible with macOS Catalina and above versions, you can get it from the GitHub's link now!
Final Words:
These are the best and most highly useful Macbooks Battery Saver apps for your Mac systems. The apps listed above are free to use. Some of the apps come with in-app purchase options which you can purchase for extra features and functions. However, for normal users, the free versions of the apps are good to go with!