This passage discusses the "nearby sharing" feature available in Windows 11, which enables users to share files with other nearby Windows PCs that are compatible. The feature was first introduced in 2018 with Windows 10 version 1803, and it offers a convenient way to exchange files between two nearby Windows computers.
To put it another way, this passage provides information on how to utilize nearby sharing on a Windows 11 device, as well as an explanation of what the feature is and when it was first introduced. It emphasizes using nearby sharing to transfer files between two compatible PCs quickly.
What Is Nearby Sharing on Windows 11?
Nearby sharing is a functionality that enables sharing files, photos, website links, and other content with nearby Windows devices over Bluetooth or Wi-Fi. This feature is compatible with Windows PCs that have Bluetooth version 4.0 or higher with Low Energy (LE) support.
Nearby sharing can be utilized on Windows 10 and Windows 11 PCs. However, it is currently impossible to share files with smartphones or tablets using this feature.
The following steps can be taken to enable and utilize nearby sharing on your Windows 11 PC.
How to Enable Nearby Sharing on Windows 11
Before being able to exchange files using Nearby sharing, it is necessary to activate the feature on both Windows devices. The following steps can guide you on how to do so.
Step.1 To initiate the process, open the Settings app by pressing Win + I.
Stel.2 Navigate to the System tab and locate the Nearby sharing option.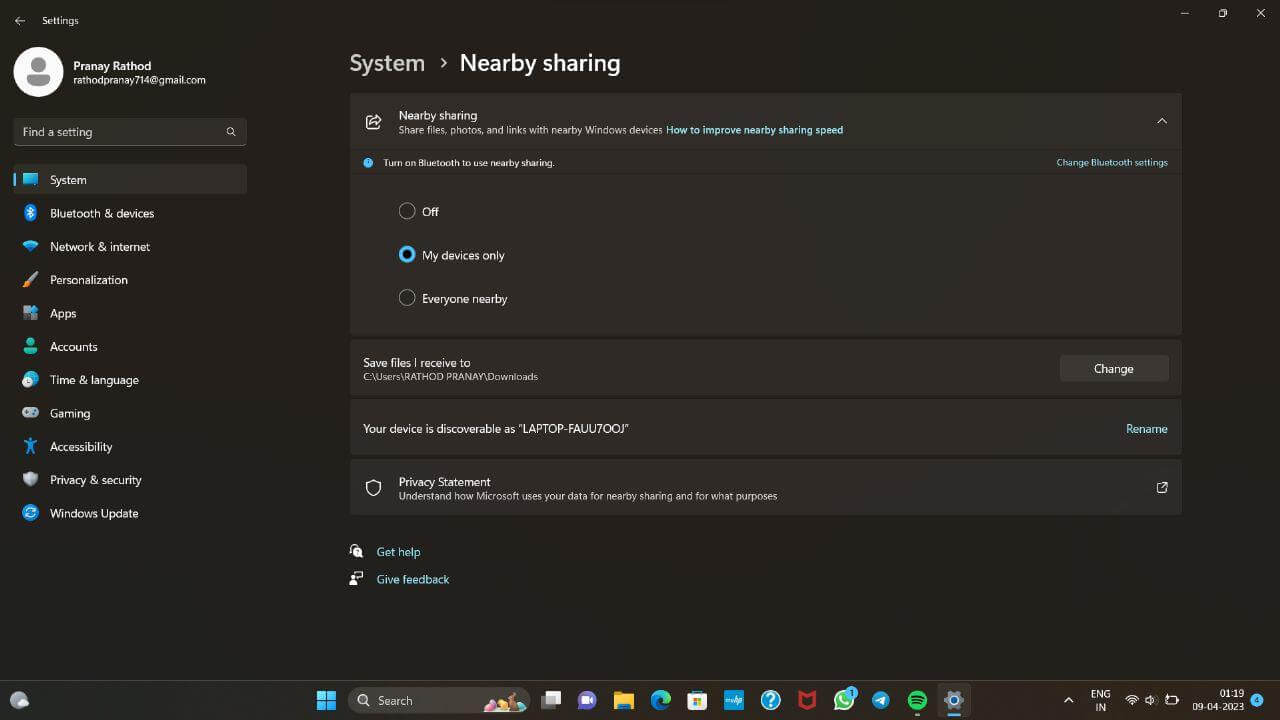 Step.3 Choose between My devices only or Everyone Nearby to enable the Nearby sharing feature. If you select My devices only, it will allow file sharing exclusively between PCs that share the same Microsoft account. On the other hand, selecting Everybody Nearby will enable file sharing with any Windows devices located nearby.
Windows automatically saves any received files in the Downloads folder by default. However, if you prefer to store them in a different location, click the Change button next to the option titled "Save files I receive to".
Easily Send or Receive Files With Nearby Sharing on Windows 11
After successfully enabling Nearby sharing on both Windows PCs, you can exchange files. Follow these steps to do so:
Step.1 Launch File Explorer on your PC and locate the file, document, or photo you wish to share.
Step.2 Right-click on the file and click on the Share button.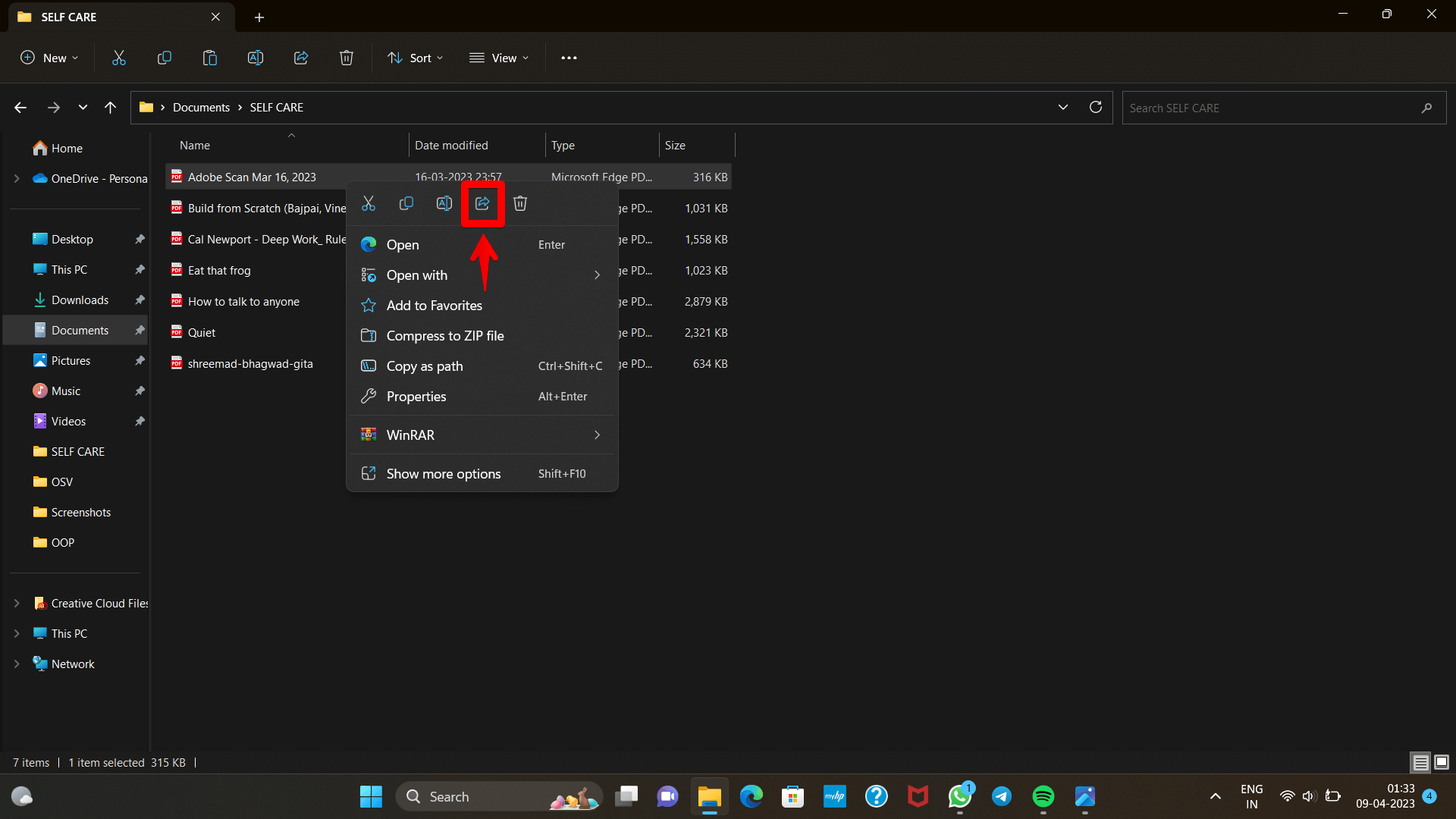 Step.3 Look for the Nearby sharing section and select the name of the device that you want to share the file with.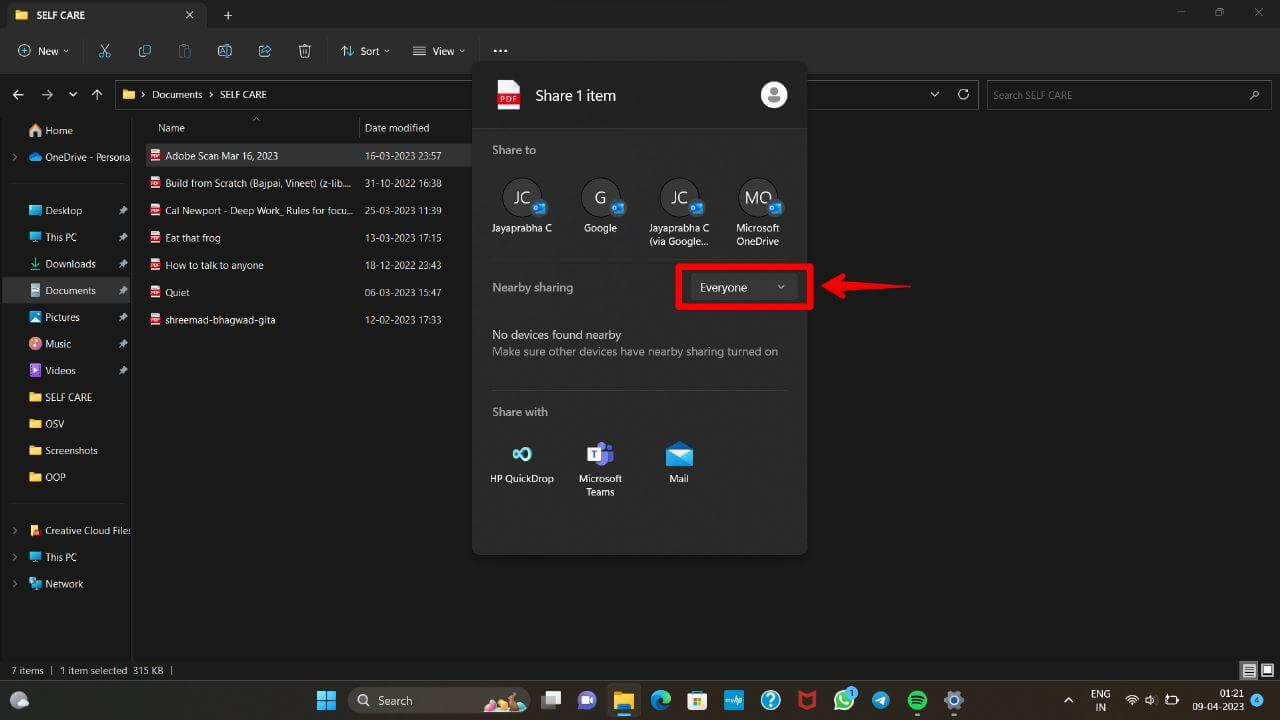 Step.4 When a notification appears on the receiving device, you can choose Save & open or Save the file.
Step.5 Upon completion of the file transfer, a notification will appear on the receiving device, which includes the option to open the received file.
Easily Send or Receive a Link to a Website Using Nearby Sharing on Windows 11
Here's how to share a website link using nearby sharing:
Step.1 Launch Microsoft Edge on your PC.
Step.2 Browse the web page that you want to share.
Step.3 Click on the menu icon (represented by three dots) at the window's top right corner, and select Share.
Step.4 From the available options, click on "Windows share."
Step.5 Find the Nearby sharing section and select the device name you want to share the link with.
Adding Nearby Sharing Button to Quick Settings in Windows 11
To turn on or off the nearby sharing feature on Windows 11, you can customize the Quick Settings panel by adding the nearby sharing button. This can be done easily by following the steps outlined below.
Step.1 To add the nearby sharing button to the Quick Settings panel on Windows 11, first, you need to open the panel by pressing the Win + A keys.
Step2. Then, locate and click the pencil icon located in the lower-right corner of the panel.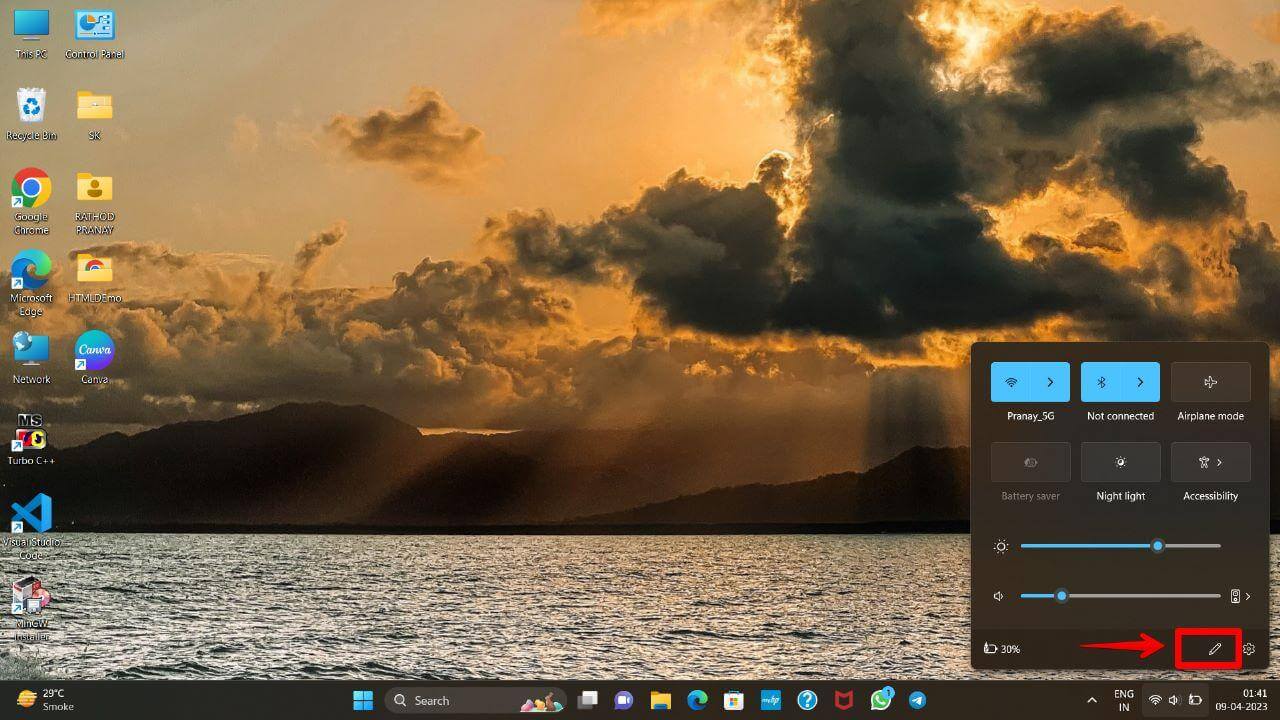 Step 3. After that, select "Nearby sharing" from the menu that appears when you click on "Add."
Step.4 Finally, click "Done" to save the changes you made to the Quick Settings panel.
Conclusion
Nearby sharing is a useful feature that simplifies sharing files between nearby Windows computers without the need for complex methods. However, if you wish to transfer data to a mobile device, you must use an alternative method.