Microsoft Windows 10 is really popular now as it brings a plenty of features to the users. Indeed, it provides you the options to reset the lock screen password when you login your Microsoft account. What if I forgot the password? How can I unlock my Asus laptop in Windows 10 system? Don't worry if you come across such situation. Here we will discuss two effective solutions for you.
Solution 1: Go to Microsoft's password reset website
Microsoft offers the professional password reset way for the situation that you are unable to access your account. You can go to this official site with another computer: https://account.live.com/password/reset and choose the first choice "I forgot my password". Then you should provide your information which can help you recover your Asus Microsoft account password.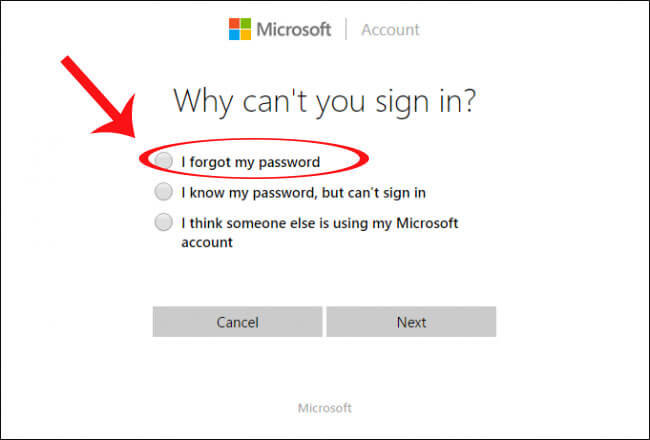 Solution 2: Remove or reset Windows 10 password
Forgot password? How to unlock Asus laptop? If Microsoft official website failed to recover your password, it is time to resort to Windows 10 password recovery tool to remove or reset your account password. There are a great number of such tools online. Here we recommend you iSunshare Windows 10 Password Genius.
iSunshare is an reliable brand which owns a series of professional password recovery tools. iSunshare Windows 10 Password Genius is used by millions of people on the world. It is safe with the high recovery speed. The most important thing is that iSunshare Windows 10 Password Genius values your data and will never damage your data.
Here you will learn how to use iSunshare Windows 10 Password Genius to remove or reset Windows 10 password.
Steps 1: Download iSunshare Windows 10 Password Genius
Yes, you need to find another available computer to download iSunshare Windows 10 Password Genius from the official website: https://www.isunshare.com.
Steps 2: Install the software and burn the reset disk
You need to run iSunshare Windows 10 Password Genius and follow its guide to burn a reset disk with USB or CD/DVD.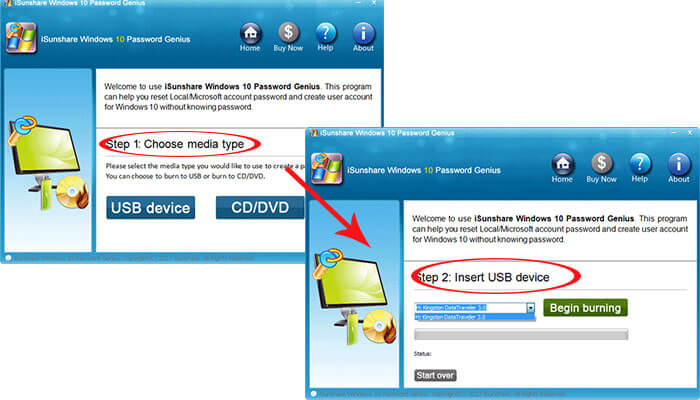 Steps 3: Boot your Asus laptop with reset disk
It is better to connect the reset disk with your Asus laptop. And restart your Asus laptop; boot it with the USB/CD/DVD.
Steps 4: Remove or reset Windows 10 password
After you launched your Asus laptop with the reset disk, you will see the following using interface. Check the selections and make sure you choose your Microsoft account. Click Reset Password to remove the password or reset the password. If you want to remove the password, just set your password to be blank. If you want to reset the password, just enter your password. Isn't it easy?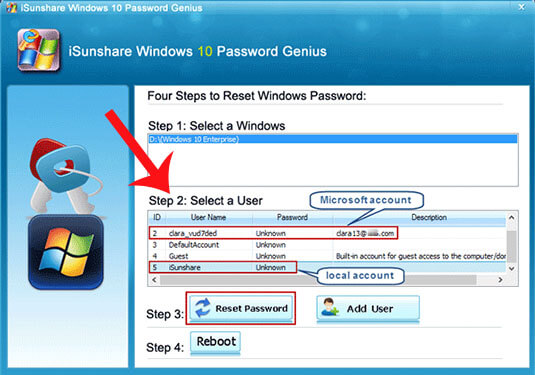 Steps 5: Reboot your Asus laptop
Click the Reboot button and you will see the changes you make. At last, you can unlock your Asus laptop and do anything you like.
Summary:
Now, we are living in a modern life with great pressure. It is normal to forget the password. When it happens, just be calm and believe there will be a way to help you out of the trouble. Of course, wherever you are, iSunshare deserves your trust and would be your great helper in dealing with the password forgotten issues, not only in Windows 10 password, but also in other document passwords. Just free download to have a try now.