Microsoft OS error "APC INDEX MISMATCH BSOD" in Windows 10. Millions of computers face bluescreen of death at least once in a lifetime. While Microsoft forum threads & experts claim that it occurs because of the outdated software. Experts also claim that it happens after a Windows update, which should be fixed in the next software updates.
What is "APC INDEX MISMATCH BSOD" Error?
The Windows error "APC INDEX MISMATCH BSOD" is a common bluescreen PC crash. Similar to existing problems, where the PC is forced to crash after operating system failed to communicate with the hardware. The problem might seem one specific issue, but there are too many factors involving the problem. Let us explore the problems and start working on fixing it.
1. Disable Virtualization in BIOS
Intel-V and AMD Hyper-V can cause the problem in the machine and you can disable it from motherboard BIOS settings. I can show how you can disable the virtualization in the motherboard but it differs from manufacturer to manufacturer. The BIOS settings might not have a similar interface and you ended up in the confusion state.
Step 1: In MSI motherboard, enter into BIOS by clicking DEL or F1 or F2 button.
Step 2: Click on "settings" option located in the left-side
Step 3: At the bottom of the menu, you can find "CPU features" and click on it to view more options.
Step 4: Find "SVM Mode" and click to disable it.
Usually, Intel-V or AMD Hyper-V doesn't come enabled by default. I recommend the readers to turn off, only when it is enabled manually. Of course, it doesn't affect Windows OS whatsoever, so the performance shouldn't be an issue. You cannot run emulators or simulators smoothly.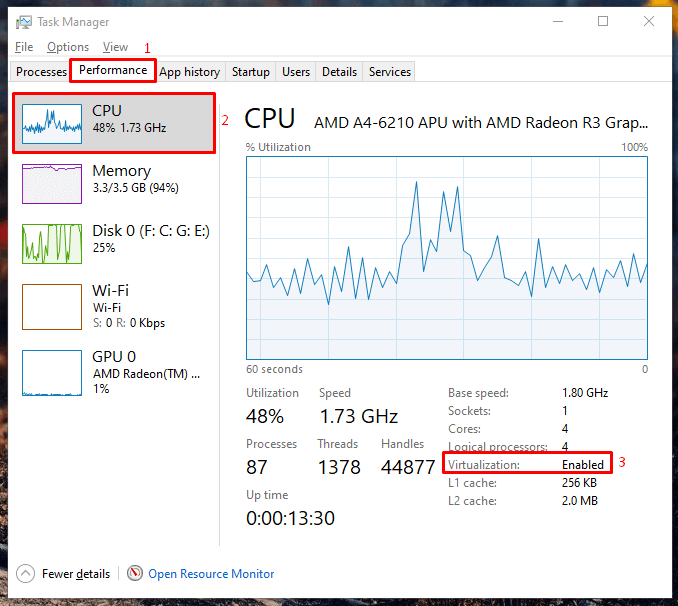 You can confirm its absence by going into the Task Manager > Performance > CPU > Virtualization. I provided a snapshot, which will display the location of the option, and confirm whether it is on or off.
2. Faulty Hardware
I mentioned above that the error caused by the software failing to communicate with the hardware. By dragging hardware into the matter, I clearly stated that some of the components are either dying or they are faulty. I recommend approaching the brand if your machine is under warranty. The components could be HDD, SSD, Touchpad, Chipset, and others.
3. Update Drivers
Millions of people around the world utilizing old machines on a daily basis. It could be Windows 7 PC or assembled rig from 2010 or even older. I mean, I got Intel Pentium E2160 + 2GB DDR2 RAM and 80GB HDD. I haven't updated the drivers to this date for Windows 7 operating system and it could mean "APC INDEX MISMATCH BSOD."
Step 1: Click on settings in Windows 10.
Step 2: Select the "Update and Security" section.

Step 3: Click on "check for updates."

Those, who are using Windows 10 on a decade-old machine, I recommend uninstalling old drivers and depend on the Microsoft basic modules. The basic drivers can create compatibility, but they cannot bring the utmost power of the hardware.
4. Find & Remove Programs
On average consumer Windows machine, I can find at least five or six programs that they don't recognize. From unused programs to unrecognizable programs, I recommend the administrators to maintain a cleaner computer. I always keep a list of the programs installed, and no longer using them.
Step 1: Press the Windows key + S and then open the control panel. Make sure to select uninstall programs because we are going to look for unused applications and remove them immediately.

Step 2: Currently, I'm removing Apple iTunes because I no longer need it.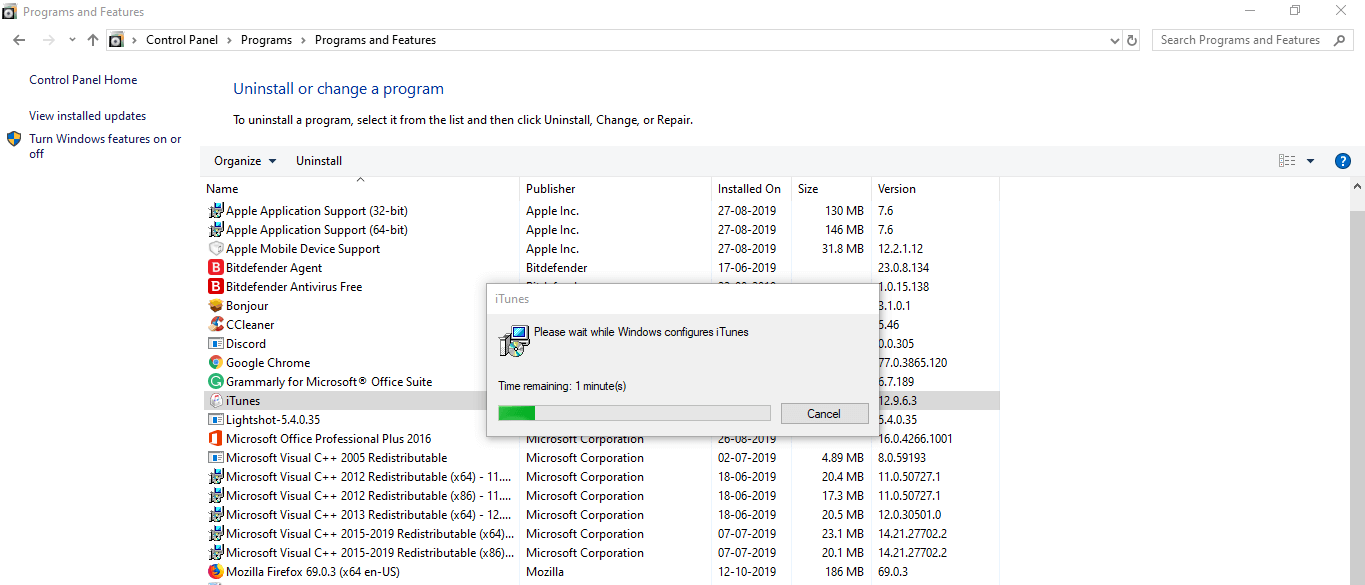 By keeping the cleaner PC, you are eliminating colliding programs and functions.
5. Disable HD Audio Manager
The audio manager always running in the background, and it can create a ruckus for the PC right under our nose. I recommend turning it off from the startup menu, and it will keep the Windows 10 from errors.
Step 1: Open task manager by pressing (CTRL + ALT + DEL) button, and then select "start-up" in the menu.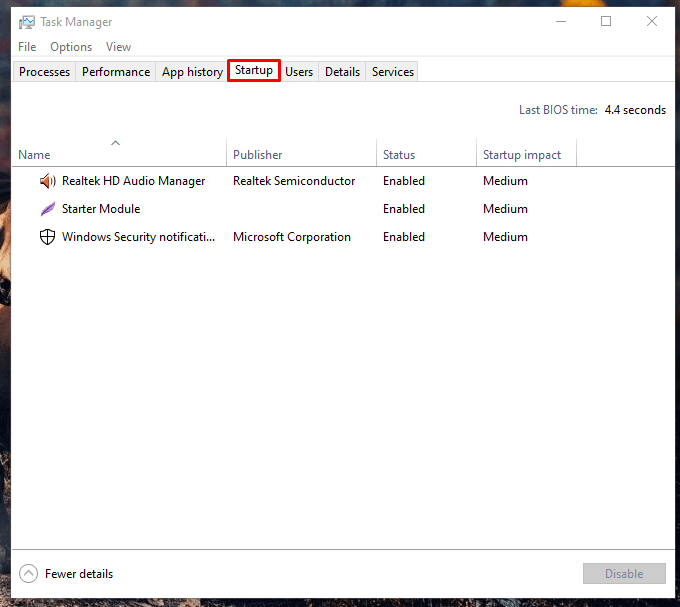 Step 2: Click to select "Realtek HD Audio" and then click on the disable button.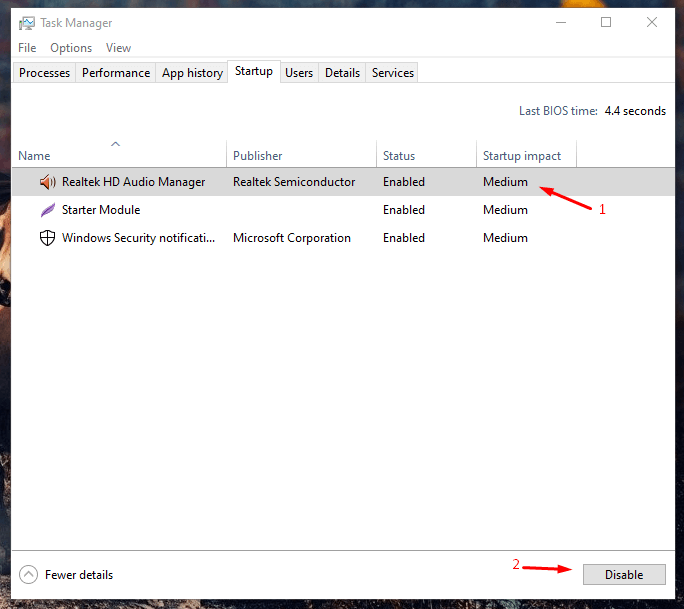 Restart the computer to confirm, whether it resolves the problem or not.
Bottom Line
There are OS-based programs that I could not solve, and I always prefer reinstalling Windows OS or resetting it. I recommend the readers to approach authorized engineer if the laptop or PC is under warranty to resolve "APC INDEX MISMATCH BSOD" in Windows 10.