The hard disk drives have become history now. They are replaced by the very fast solid state drives. Solid state drives (SSDs) are a better alternative which offers excellent performance. However, they cost higher in comparison to their counterparts. Also with time, their performance decreases drastically, especially when the stored data level reaches about 70% of the total capacity.
The SSD health monitoring and optimization tools help in coping with this performance slowdown. The Solid State Drive manufacturers, Samsung, Intel, and Toshiba's OCZ provide free tools to keep it in good working condition. Also, there are a few additional SSD tools available from other manufacturers.
Take a look at some of the best top SSD health tools.
1. Samsung Magician
[ https://www.samsung.com/semiconductor/minisite/ssd/product/consumer/magician/ ]– it works with Samsung 950, 850, 840, 830, and 470 Series SSDs and provides access to many of the Solid State Drive's internal features. It provides the following information: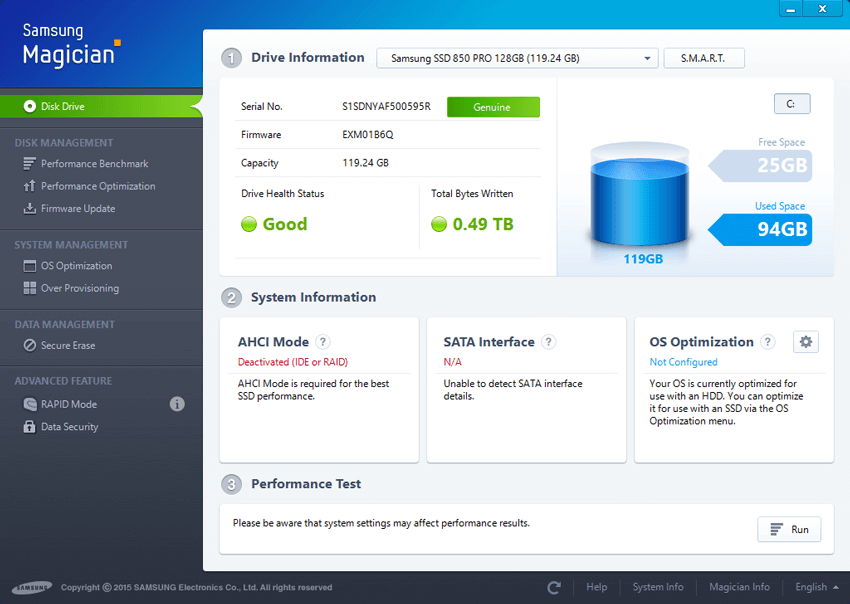 Notification regarding update and installation
Benchmarks the performance
The health of the drive and Total Bytes Written count
"rapid mode" access offering a 2X speed boost
Over-provisioning control
Secure erase facility
2. Kingston Manager
[ https://www.kingston.com/en/support/technical/ssdmanager ] – works with any Kingston Technology SSD.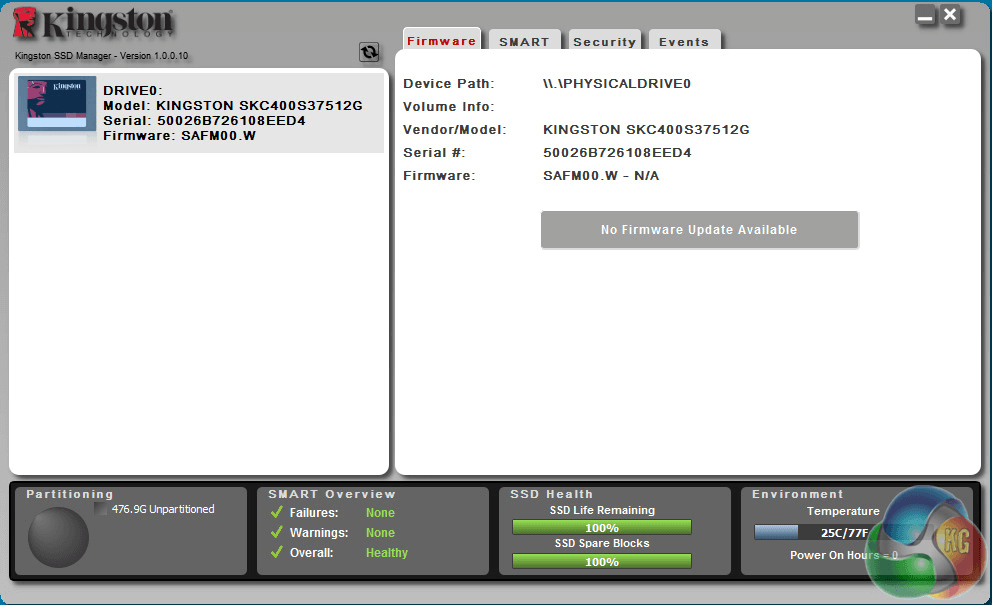 Monitors the drive health, status, and disk usage
Can see the drive identification data including model name, serial number, firmware version, and other relevant information
Can see and export detailed drive health and status reports
Updates drive firmware
Provides secure erase
Over-provisioning control with Host Protected Area (HPA) (DC400 series only)
3. OCZ Utility
[ https://ssd.toshiba-memory.com/en-apac/download/ssd-utility ] – works with many OCZ Solid State Drives but all features are not available for all products.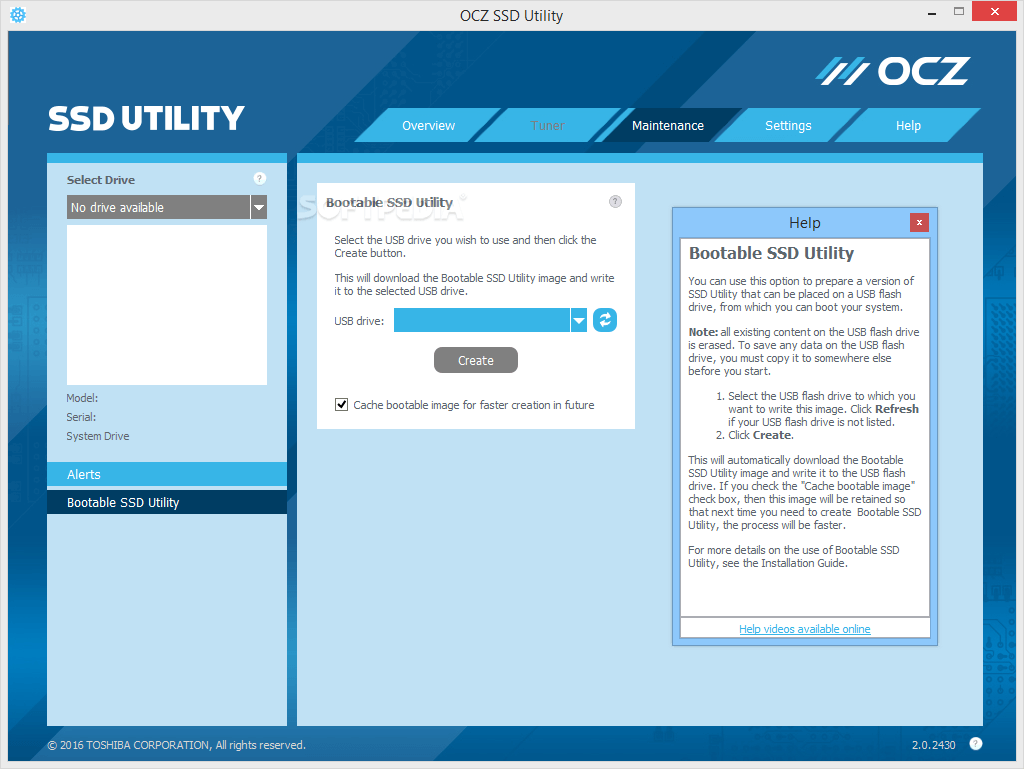 Tuning available with three modes: reliability, performance, or capacity
Operating system tuner
Control over device activity LEDs
Manages Namespace for NVM Express products
Monitors health
Updates the firmware
Over-provisioning control
4. Intel Toolbox
[ https://downloadcenter.intel.com/download/28447/Intel-Solid-State-Drive-Toolbox?product=80096 ]– works with a wide range of Intel SSDs, Intel Optane SSDs, data center, and enthusiast and consumer products. It provides the following information: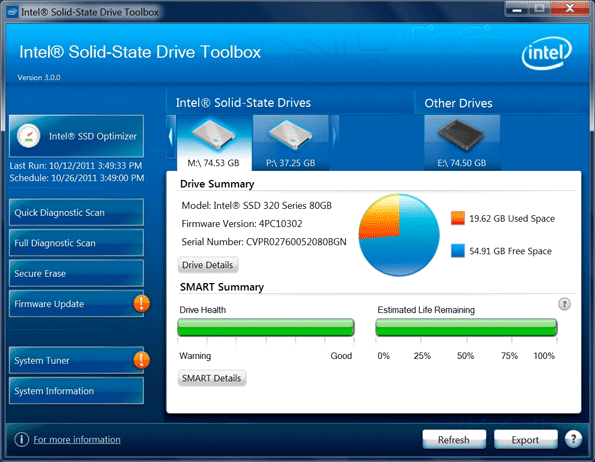 Provides Model number, capacity, and firmware version
The health of the drive
Remaining drive life
Tells about SMART attributes (available for hard disk drives and non-Intel Solid State Drives also)
Identifies the device information (for hard disk drives and non-Intel SSDs also)
Optimizes performance
Optimizes performance in RAID 0
Updates firmware on supported  SSDs
Very fast diagnostic scans to test R & W functionality
Tunes system settings for optimal performance, power efficiency, and endurance
Turns off Drive Password Protection
Secure Erase
5. Crucial Storage Executive
[ https://www.crucial.com/usa/en/support-storage-executive ]– the software monitors and manages Crucial MX-series, BX-series, M550, and M500 SSDs.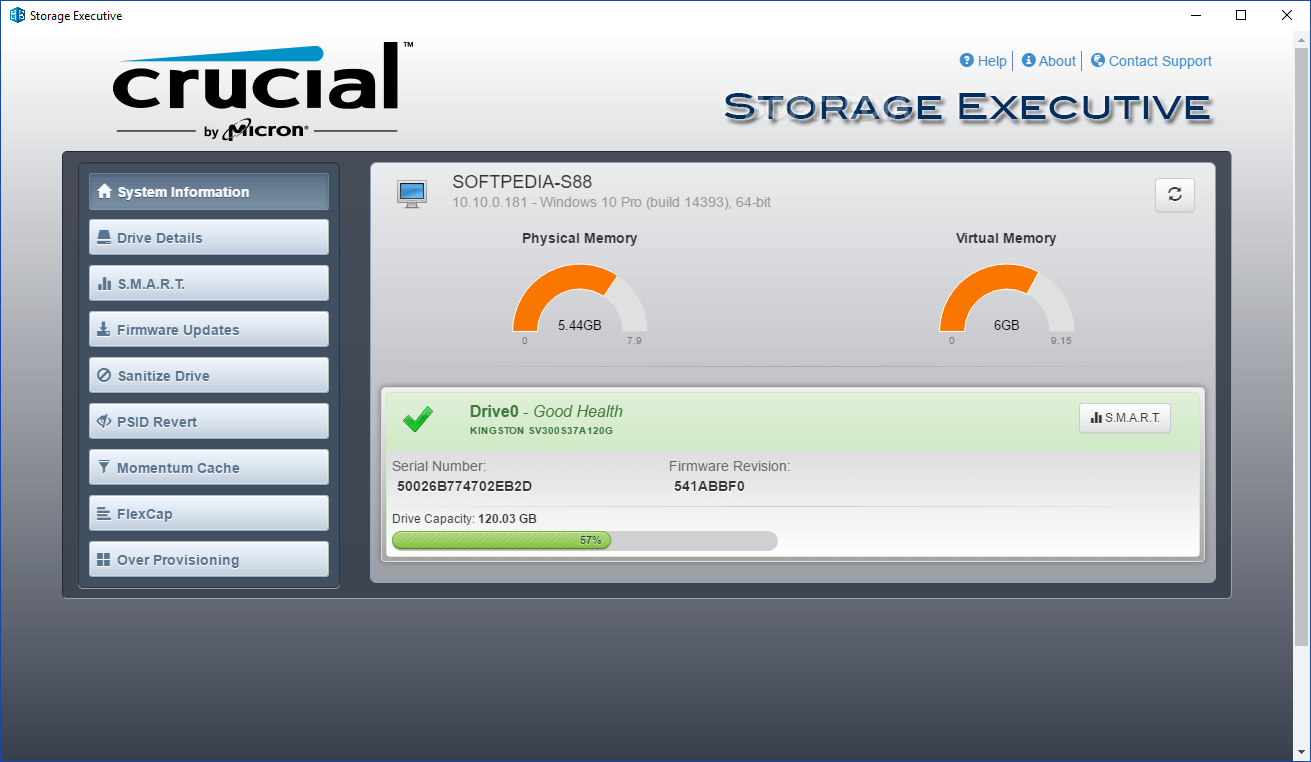 Updates to the latest firmware
Monitors usage
Monitors operating temperature and overall health
Resets the drive's encryption password
Clears all data stored on the drive
6. SSD Life and Ready –
[ http://ssd-life.com/index.html ]
[ https://www.ssdready.com/ ]
These tools work with Solid State Drives made by most manufacturers. They monitor the Solid State Drive read and write patterns and analyze error rates and other parameters. This data is then used by them to predict when the SSD is likely to reach its wear limit and will require replacement. This feature is particularly helpful if you install a used SSD into a machine to ensure that it is not already on the point of failure.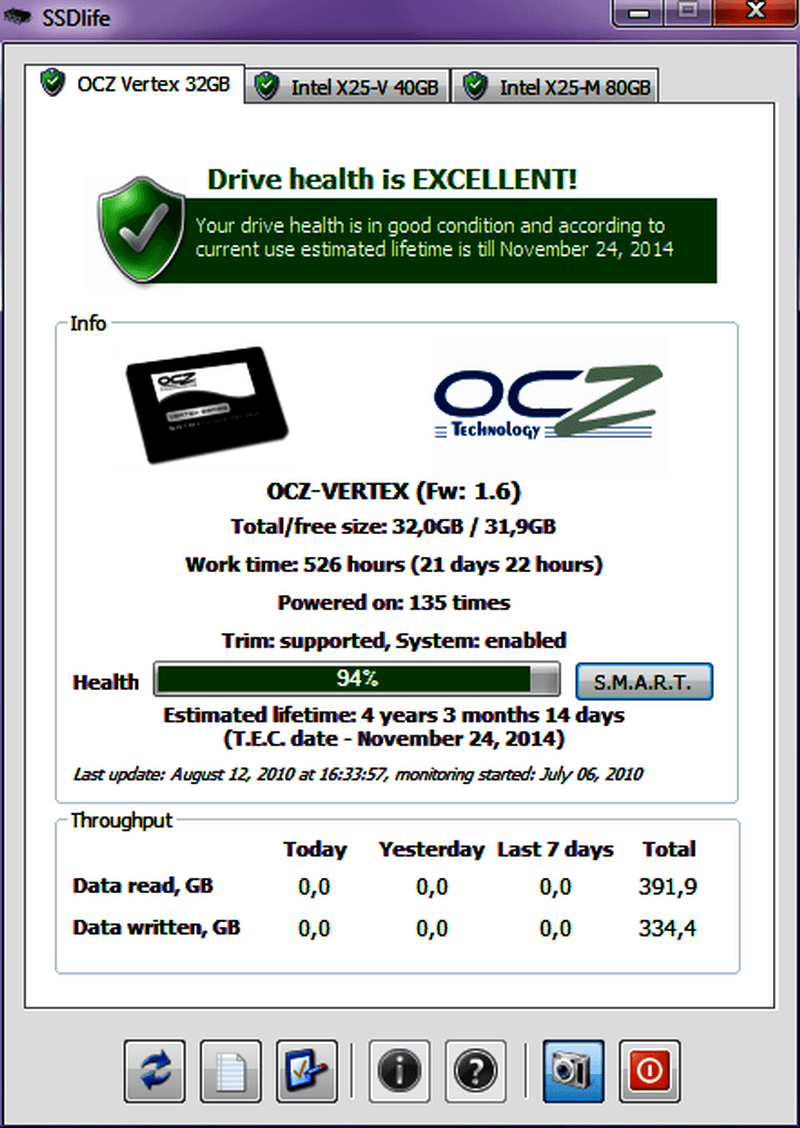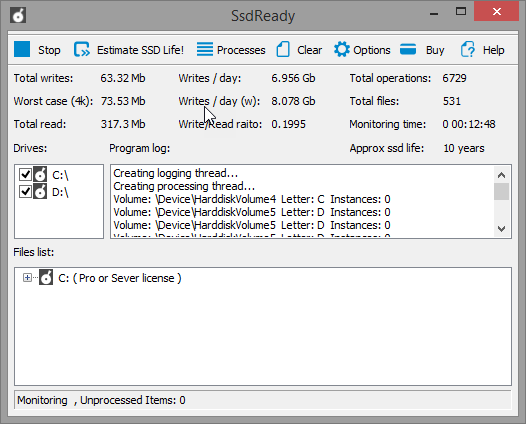 7. CrystalDiskMark
[ http://crystalmark.info/en/software/crystaldiskmark/ ]– They are the benchmarking tool that provides a record of SSD's performance under differing conditions. The record is helpful for monitoring the SSD's performance over time so that you can decide when to do optimization to restore the performance to previous levels.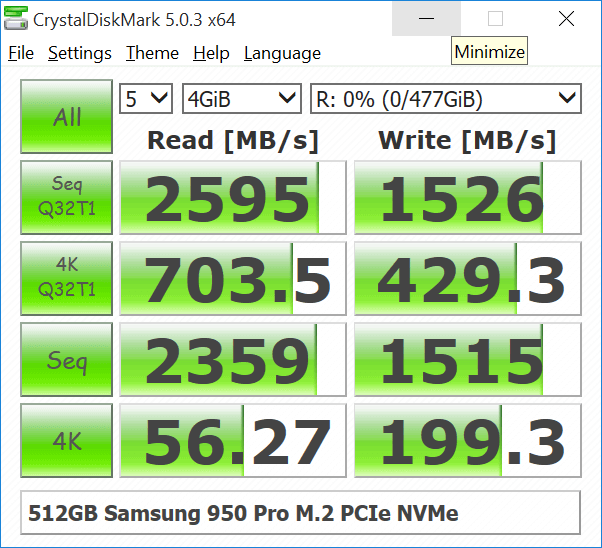 8. CrystalDiskInfo
[ https://crystalmark.info/en/software/crystaldiskinfo/ ]– monitors the SSD's health, gives notification regarding firmware updates and can predict when exactly your drive is likely to fail.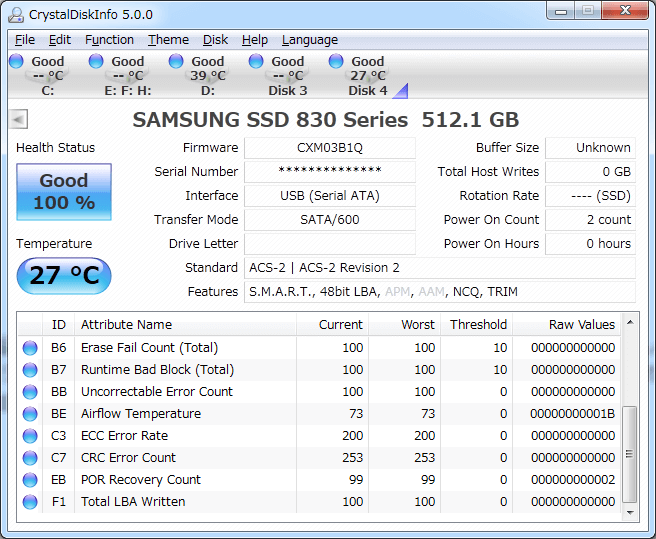 9. Tweak-SSD
[ http://www.totalidea.com/products/tweak-ssd/index.php ]– it's a commercial SSD tool with a free version and works with most SSDs.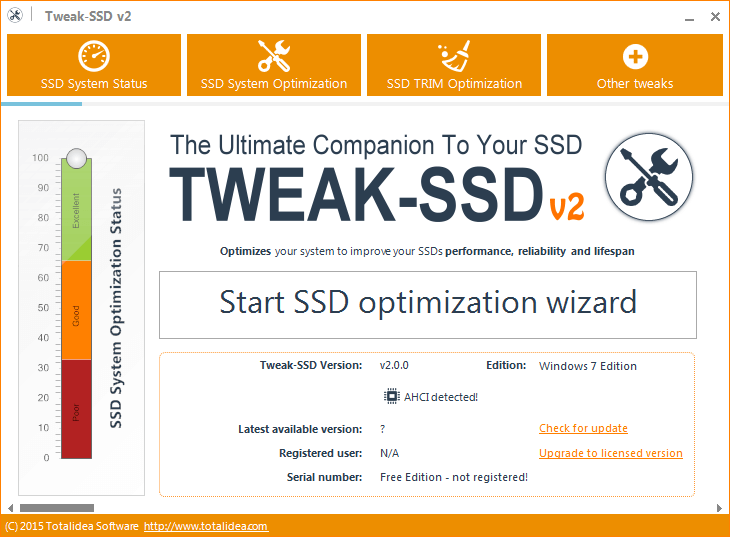 Optimizes and tweak s Windows 7, Windows 8 and Windows 10 for better performance of the SSD drive.
Optimizes Solid State Drive to increase performance.
Reduces read and writes access through caching.
Optimizes the TRIM performance (TRIM is a function of the OS which tells the Solid State Drive regarding storage blocks which are no longer in use and can, therefore, be erased to improve performance).
Every SSD health check tool doesn't have all the features included. So before buying, read the software's description carefully.