They never told you the truth!
Most think you need to be a graphic editing geek to create a beautiful video clip. But no! You don't have to be an expert.
You may also think that only premium PC video editors can only render impressive results. Again wrong!
Today, you are going to learn how to create spellbinding video clips on the go using Magisto mobile video editor.
Magisto Video Editor For Android Review
Magisto is a renowned quick video creation app available for both iOS and Android. Unlike all other apps, it has a fully featured web version too.
In this review, you are going to find out how to use the Magisto app on Android.
Installation and Initial Setup
You can get this app on Android Play Store. Search for Magisto and, there you go!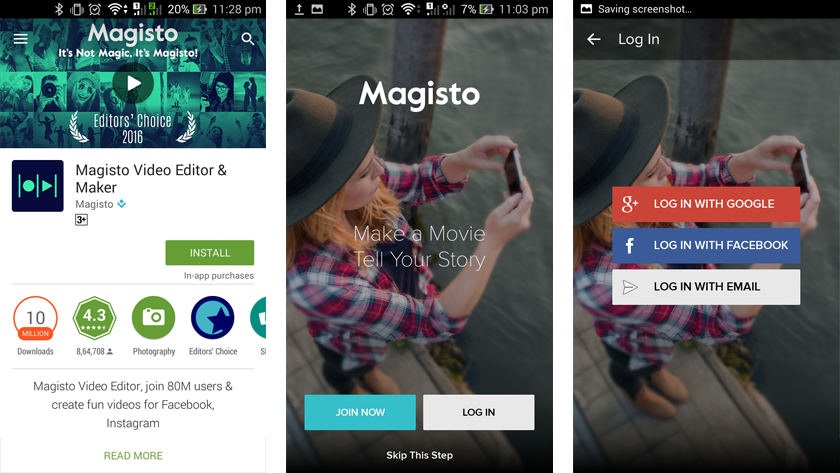 After the installation, you will be asked to log in. If you don't want to give your details to a new app, you can skip the step and remain as a guest.
Understanding the Interface
A guest screen will welcome. If you choose to sign in, you'll see your Avatar and details.
The app screen is divided into four tabs. The first one is the home screen where you see popular movies created using the app. you can follow video creators and receive notifications when new videos are uploaded. The second tab gives you featured channels and collections. The third one displays your albums and the fourth is your profile.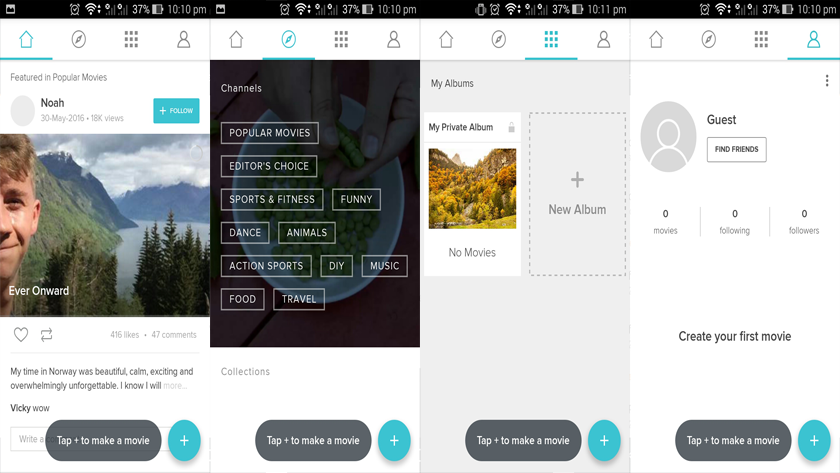 On the guest tab, you'll can see a "Find Friends" button – this will connect you to your Facebook friends who use Magisto.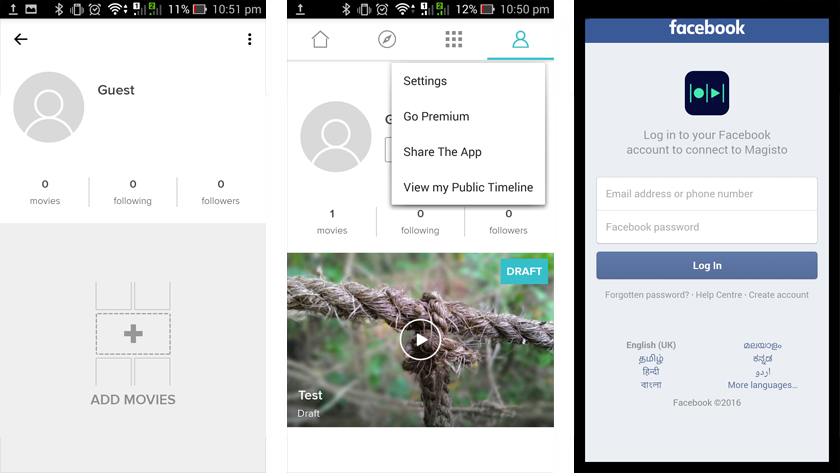 Taking Hold of the Settings Panel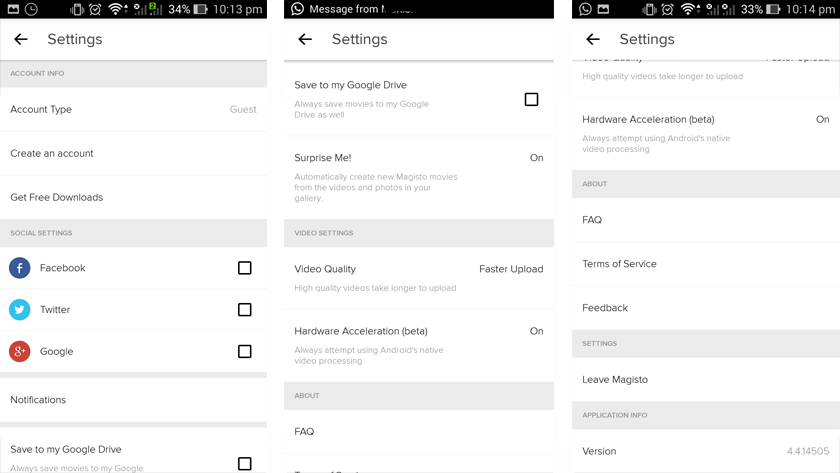 Every option on the Settings panel is easy to navigate and understand.
The options are divided into different categories: Account Info, Social Settings, Notifications (limited in free version), Video Settings, About, Settings and Application Info.
Apart from the usual video editing stuff, I found Save to Google Drive, Guest Mode, and Surprise Me features to be interesting. If you enable the latter, you will be surprised by the automatic video creation of Magisto using the photos and videos available in your gallery.
Creating Your First Movie
Follow the steps below to make your first video and woo your spectators.
Step 1: You'll find a '+' icon on each tab of the app. Tapping it to begin creating a video.
Step 2: Then, you will be asked to choose the photos and videos you want to see in your video. A video icon is available on the top-right part of the screen to open camera to easily capturing media.
Alternatively, you can import pictures and videos from Google Drive as well.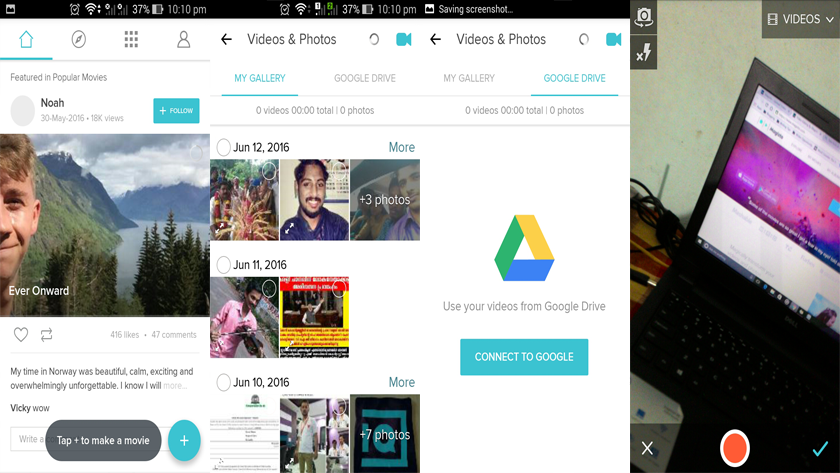 Step 3: The next step is selecting the Editing Style or theme. They have an excellent set of free styles.
Step 4: Selecting an Editing Style brings you to Soundtrack screen. They have some royalty free music to give life to your video. You can purchase commercial tracks too, simply scroll to the bottom of the music selection list (available with free subscription).
Step 5: Enter title and set the length of your video.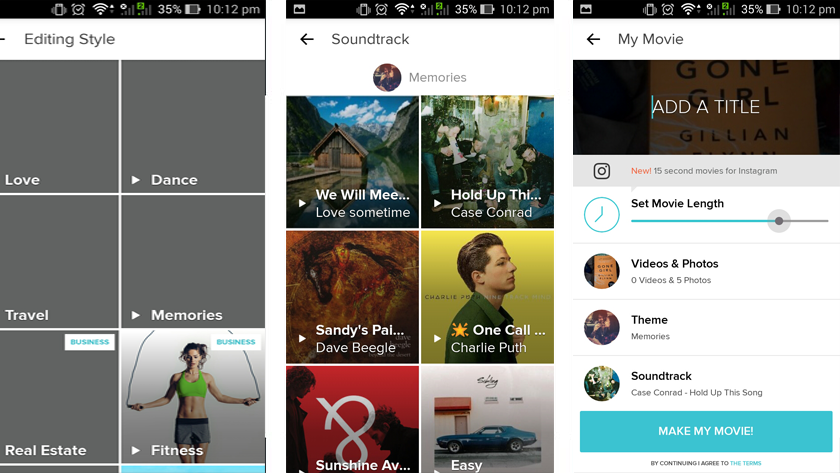 If you are Instagram buff, you need to tap on the New notice. Then, you can choose between three duration presets.
Step 6: Finally, tap Make My Movie. It may take some time in case you have a several media files. The notification center will assist you in figuring out the completion of the process.
Once done, you will be asked to share the story using hashtags which you can skip. Movies can be downloaded (with a free subscription) if you refer a friend or purchase a one-time download.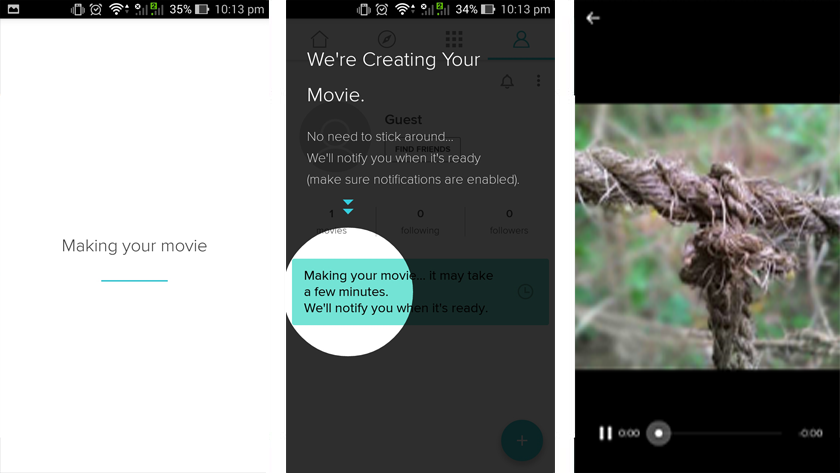 Using the Web Version
Unlike any other mobile video editor, Magisto has a web version where you can carry out the same (if not more advanced) tasks like a cakewalk.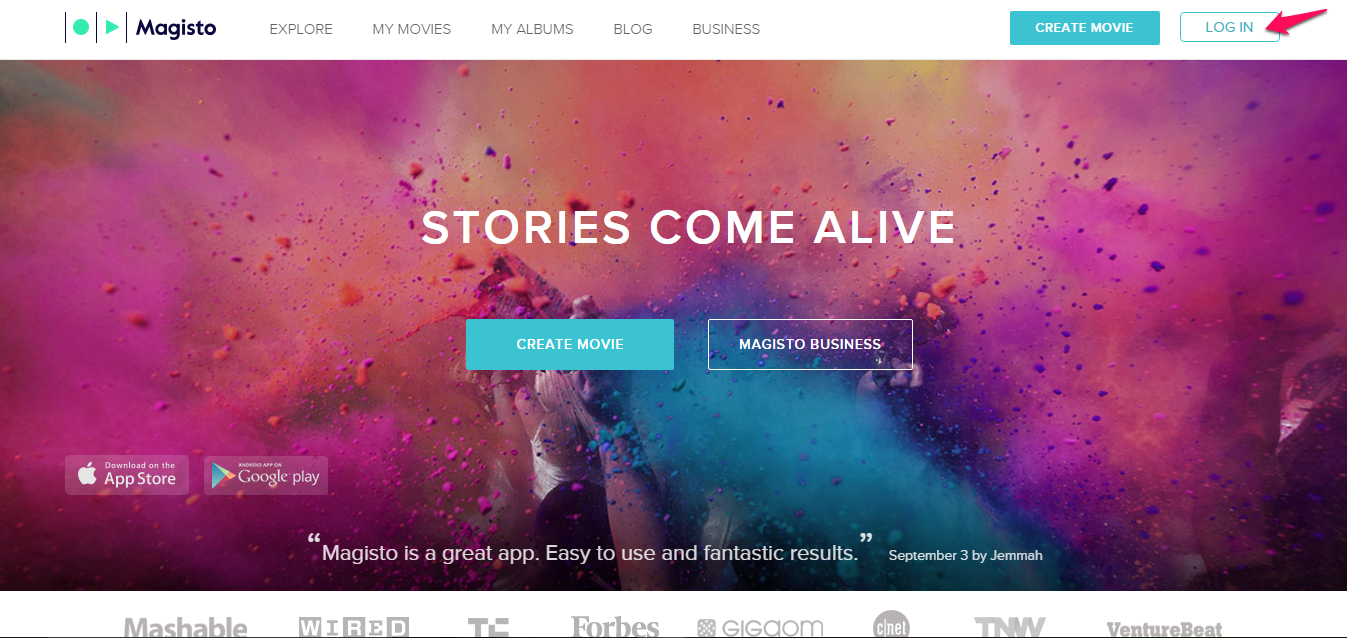 Visit magisto.com and you will see a login button. All the tasks can be done after the login. No guest mode is available for the web version, though!
Soon after you log in, every link will become usable, and you can use it as the Android application.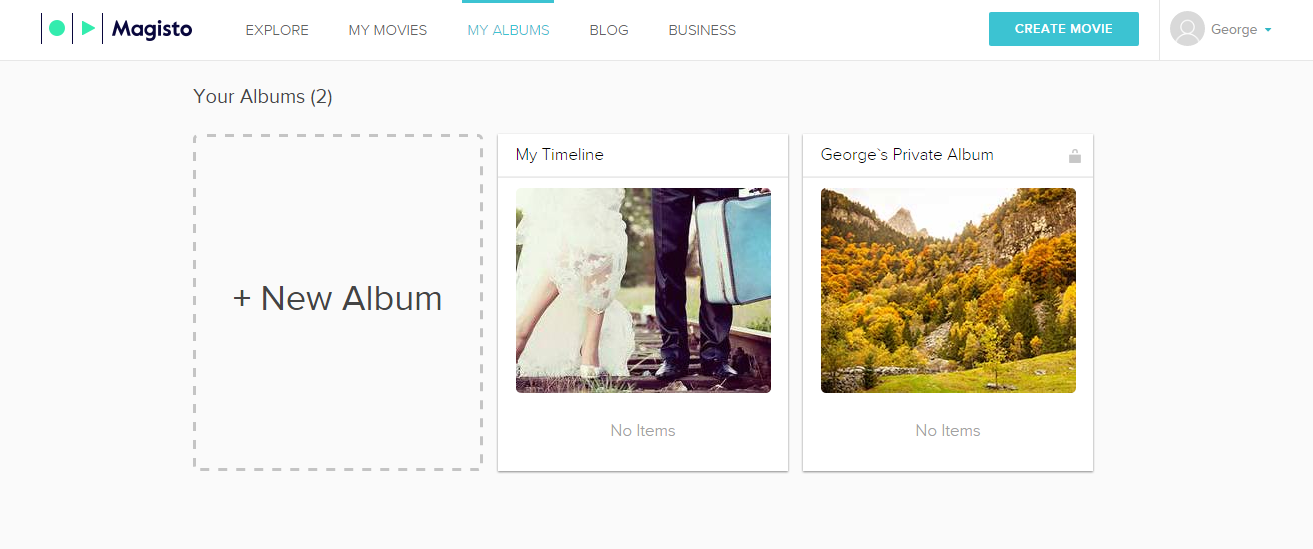 If you are pro video editor looking for more features, check out the Magisto for Business app, an affordable way to create high-quality marketing videos.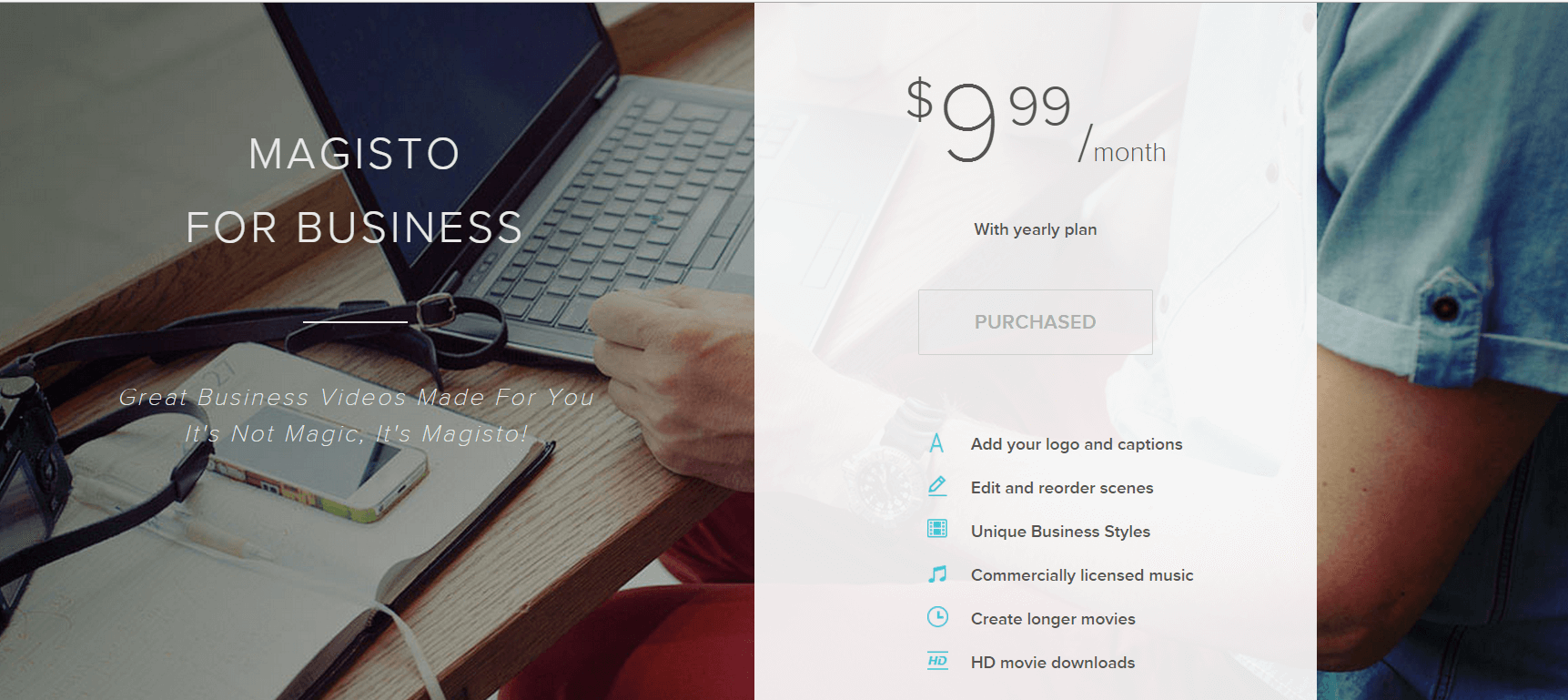 Support
Just shoot your questions to them and they will have an answer for you within a day.
Concern
The only one we found is that there is no live chat support offered for business clients
Wrapping Up
I have shared an excellent video editor with you. Magisto is more of a video sharing platform than an editor. You must share your makings with the world and know what they think about it.
With over 80 million users, Magisto is the best in the market.