Dark themes have become popular in a world of digital devices and technologies. It not only eases eye strain during late-night surfing sessions but also preserves the battery life of devices with OLED panels. You'll be happy to know that setting up a dark theme for your Firefox browser is simple if you use Windows 10. In this article, we'll discuss the advantages of adopting a dark theme on Windows 10 and show you how to activate it in Firefox.
Dark Theme for Firefox
Dark Theme for Firefox provides a seamless surfing experience with a sleek and well-designed web browser theme. It is distinguished as one of the greatest dark themes for Firefox users because of its clarity and cohesion. This theme gives your browser a stunning and fashionable black skin, resulting in an immersive experience for your web activities.
This dark theme has a different strategy than themes that employ a shiny, gleaming black backdrop, adopting a muted 80% black tone. This option not only looks elegant but also reduces glare and reflections.
In short, the "Dark Theme for Firefox" provides users with an aesthetically pleasing and useful option for individuals who enjoy surfing in dimly lit environments. It is a fantastic option for people looking for both aesthetics and utility in their online surfing experience due to its smart design and compatibility with a well-liked browser extension.
Benefits of using dark theme on Windows 10 Browsers
While some only enjoy the look of seeing a dark and muted display of their browser, some may use it for their other benefits. Here are the advantages that you get when using dark themes on Windows 10 browsers.
Reduced Eye Strain
Reduced eye strain is one of the biggest benefits of adopting a dark theme on your Windows 10 browser. Light lettering on dark backgrounds is easier on the eyes, especially when it's dark outside. This can make late-night surfing more relaxing and less taxing so you can browse for extended periods of time without getting tired.
Helps in focusing
Dark themes might assist you in maintaining your attention on the online duties or the information you're reading. Your attention is focused on the center of the screen as distractions are reduced, which boosts productivity and creates a more engaging browsing experience.
Battery Efficient
A dark theme may considerably increase the battery life of an OLED-screen gadget. OLED displays, in contrast to conventional LCD panels, have the ability to switch off specific pixels while showing black, thereby saving electricity. Longer browsing sessions and less dependency on your charger may result from this.
Pleasing to the eye
Many people just like the dark theme for its clean and contemporary appearance. Your browser looks more classy with it, and browsing becomes more aesthetically appealing as a result.
How to enable dark theme on Firefox Windows 10
Firefox browser has it dedicated theme section where users can download and apply new themes. It is also the best way to enable a dark theme that gives your Firefox browser a new look. Here's how you do it.
Open the Firefox browser on your computer or laptop.
Click on the three-lines icon at the top right corner of the browser.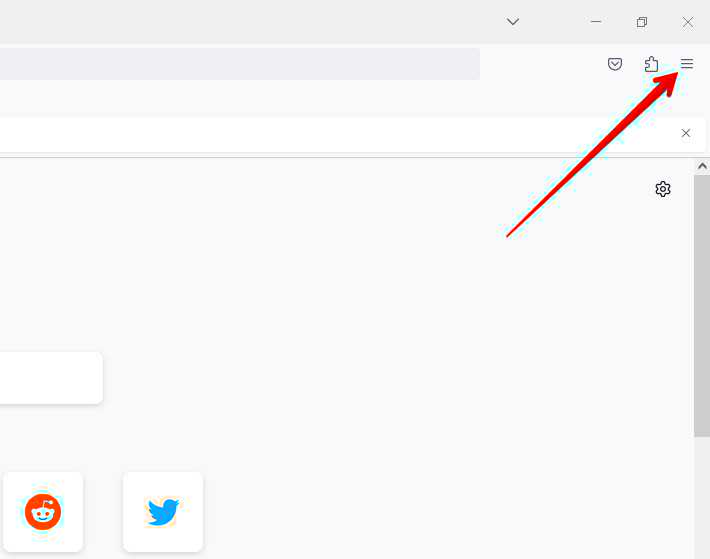 The list of new options will show up and you have to click on "Add-ons and themes". This option is located in the lower section of the list.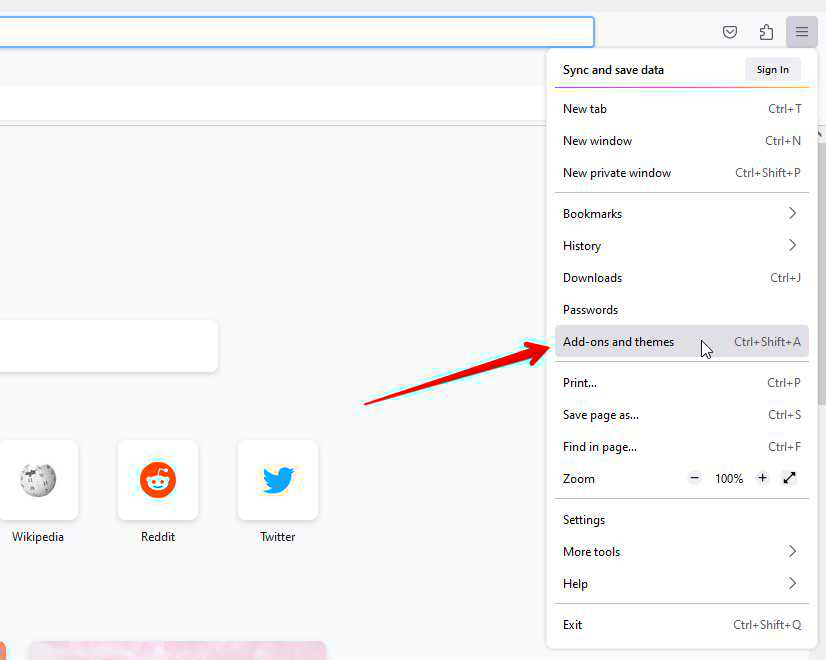 After you open up the theme page, you have to click on "Themes" on the left side of the pane.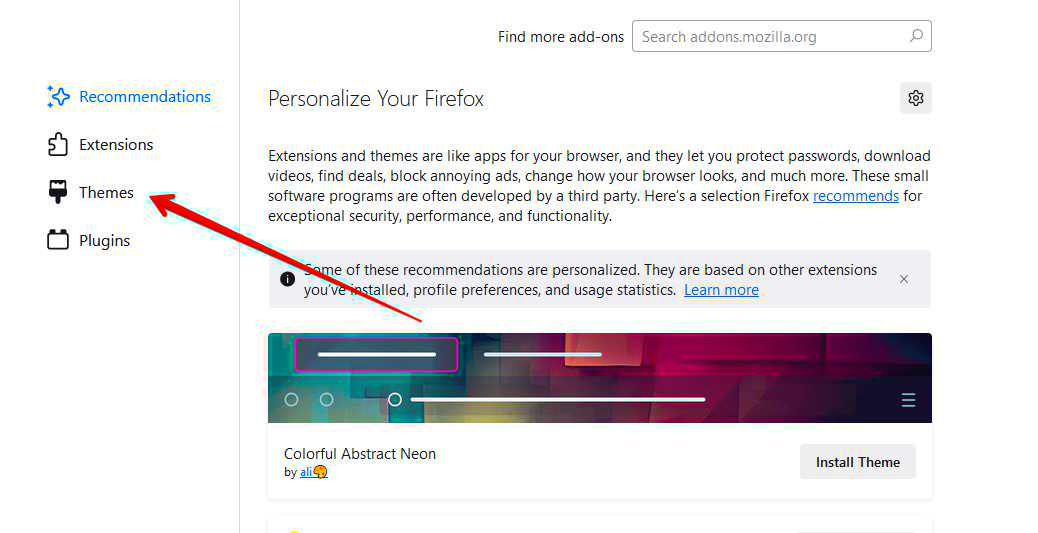 All the available themes will show up on the screen. Simply do a left click on the "Enable" option of the Dark theme.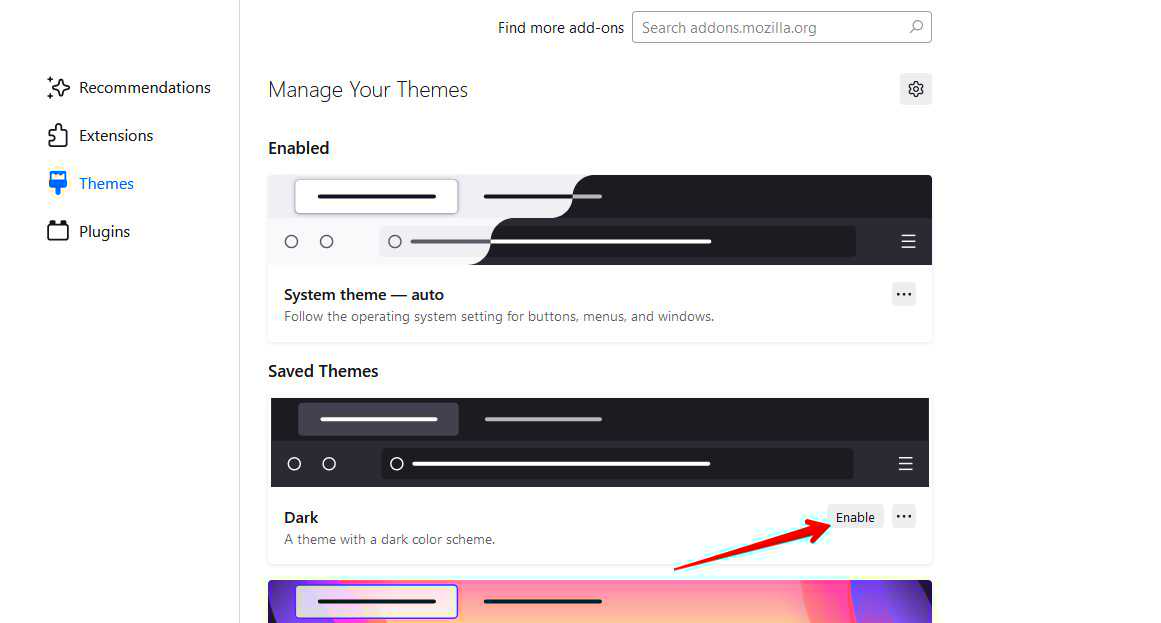 After hitting on the enable theme, your Firefox browser will get the dark mode. All the title bars, side pane, and display where information is shown will become dark.

Conclusion
The preinstalled themes of Firefox already have the dark theme along with the system default and light themes. You can also go to Firefox add-ons and get new themes. If you do not like the original dark theme of Firefox then you can also go through many other dark themes on the add-ons page. You can also enable Firefox sync so that other computers where your Firefox account is signed in will automatically enable the dark theme in the browser.