There are times when you need to bypass Windows password or bypass Mac password. You may have forgotten your password, you may have lost it or perhaps you are running your own IT service and your client simply forgot to provide you his login password. Such situations happen all the time. In this blog post we will provide you a simple guide on how to bypass your Windows password or Mac password. Depending on what system you use.
SOLUTION 1: HOW TO BYPASS WINDOWS 10 PASSWORD MICROSOFT WEBSITE
Live.com website is the official password recovery service provided by Microsoft (operating system author) for users to reset Windows 10 password. This service is one of the easiest ways to bypass Windows 10 password. This method is perfect when you have access to a recovery email address or a cell phone that was registered with that account.
Open a browser and visit Microsoft password reset page from here ( https://account.live.com/password/reset ).
Enter your email address registered with that Microsoft account.
After that, you need to enter a recovery email address or phone number to get the confirmation code. Provide the same and then click on the Next button.
Note down the verification code sent by Microsoft.
Move to the recovery page of Microsoft and type your verification code from the previous step, afterwards click on the Verify button.
If the verification succeeded , then you can set a new password for future login.
This process works only when you login to a Windows 10 computer via Microsoft account. If it was a local account this method will not work. Sometimes the Microsoft code verification fails, this is just something to consider.
SOLUTION 2: USE KON-BOOT TOOL – BEST METHOD
Kon-Boot is a unique tool that can bypass Windows passwords or Mac passwords. Typically you install it to a USB pendrive or CD and you boot your target computer with it. Kon-Boot can bypass your passwords in a matter of seconds.
When you boot your locked machine with it, KON-BOOT will inject itself and hide in the BIOS memory. From this point it will virtually modify the operating system memory and patch the kernel authorization routines. Leading to Windows / Mac accepting any user password as the correct one. It is worth noticing that all changes introduced by KON-BOOT to the system are only temporary and done in virtual memory. Meaning they disappear automatically after system reboots.
In short, it is completely safe and secure software to reset or bypass Windows 10 admin password (including local and live accounts). You can also use this software to add a new administrator account for login.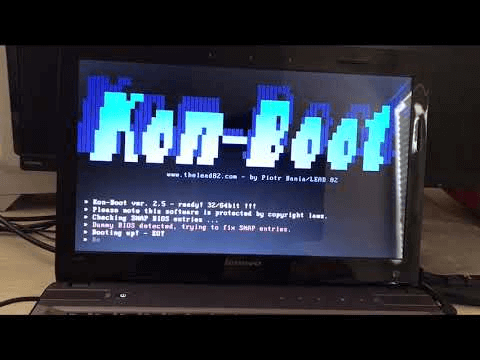 HOW TO INSTALL AND USE IT?
In order to install KON-BOOT to USB follow these steps:
Unplug all unnecessary USB devices
Plug in the target USB pendrive (16GB is proffered but not necessary – some older BIOS have problems with seeing the larger ones)
Run Kon-Boot installer, insert your credentials and pick the target USB device from the list
Click "Install to Usb"
Wait for installation to finish
You have now created KON-BOOT USB
Now when you have KON-BOOT USB you can use it:
Plug the USB to the locked Windows / Mac computer
Boot your target computer (in case of Windows machine make sure you have set up the BIOS to boot from USB. In case of Mac hold the option key during boot)
You should see KON-BOOT menu on the screen
Follow the instructions displayed on the screen
Wait for the operating system to load
Pick target account, put any password and press enter
You are logged in and Kon-Boot bypassed your Windows password or Mac password
SOLUTION 3: BYPASS WINDOWS 10 ADMIN PASSWORD USING RESET DISK
Password Reset Disk is a built-in tool included in Windows 10 that helps users to reset Windows password. However, in order to use it you need to create it before you forget your Windows password. After that, you can use it to bypass Windows 10 password. Following steps show how to your Windows password reset disk:
Insert Windows Password Reset Disk media on your computer.
Restart your computer and wait for the Login screen.
Click on the Reset Password button
Click on the Next button.
Window will open, click on the drop-down list to select the drive that contains Windows Password Reset Disk
Click on the Next button.
Now type a new password and re-enter the same and remember to confirm it. Also make sure to provide the password hint.
Close the window. Remove the CD and restart your computer.
Now you can log in to Windows with your new password.
Windows Password Reset Disk is a fast approach to bypass Windows 10 password, but possible only when password reset disk was created before the Windows password was forgotten.
If you have not created it in time, then you won't be able to use this reset disk. In this case please use KON-BOOT (Solution #2).
Entire product is also presented on the video below:
CONCLUSION
We hope you were able to bypass Windows 10 forgotten password using anf of the presented methods. If you had accessed Windows 10 through Microsoft account, then you can use Live.com, but if you have problems with this, you should use KON-BOOT to safely bypass Windows 10 password in seconds. Command Prompt trick is useful only when you have a Windows 10 installation disk.