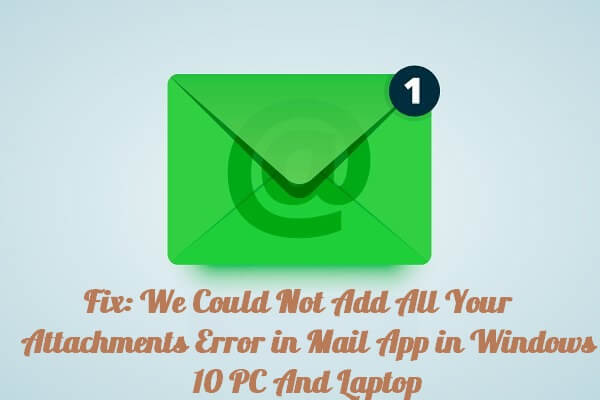 Once upon a time, we all used offline mailing system where we write the information to be shared with your friend or family or business in a post card and send it via post office. As days passed, Internet came into picture and the online mailing system got introduced in the form of Electronic mail (E-mail). Many companies provided it as a free web service like Gmail, Hotmail, Yahoo mail, Rediffmail etc. As this service started to grow, the traditional mailing system lost many of its users. When we turn back and compare today, almost all the users migrated to the online mailing system. These days every one of us is having their own Laptop or personal computer with them. And moreover every hour you can see several emails pouring in to your mail box. With web email application, it is really tough to open it every time and check. That's why the email app is developed as a software in Windows operating system itself as "MAIL" application which you can use to check your emails in your PC itself. The advantage of this app is you can even check your old emails in offline mode and very fast access comparing to web app.
The "Mail" app in Windows OS will look like the window as shown below once after setting up your email with the app: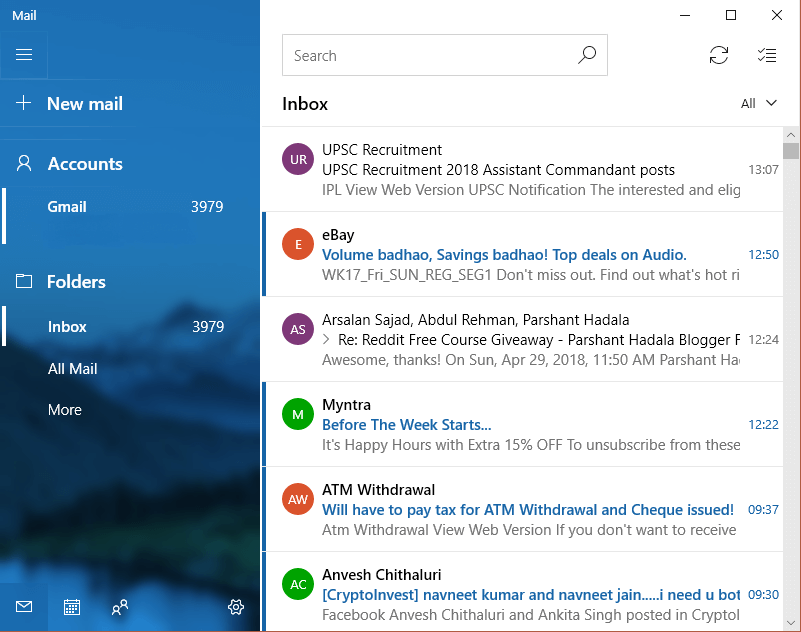 If you are a regular user of this app and have come across this error
"We couldn't add all your attachments. Please try again."
Then you are at the right place to get some best solutions to fix this issue in Mail app.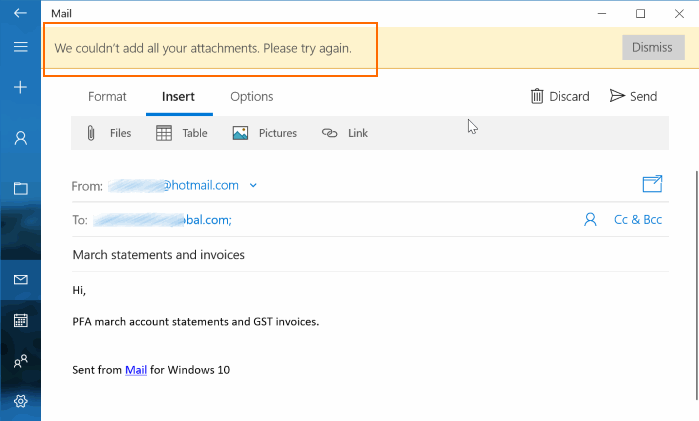 Recently our viewers reported us that they faced this particular error in their Mail app and asked for a proper solution. That's the reason we are covering this for you guys. As you can see in the above picture, this error particularly happens when we try to attach files to our email. Okay let's get into the resolutions to fix this error.
We brainstormed and found four different resolutions which you can try to get it fixed which are as follows:
Don't Select Files from the Quick Access option
Don't try to upload files with huge size
Resetting the Mail Application
Reinstalling the Mail Application
Let's see one by one in detail for fixing this issue
1). Don't Select Files from the Quick Access option
Sometimes when you try to attach files from Quick Access path (Recently used files will be available over here for easy use), this error is shown.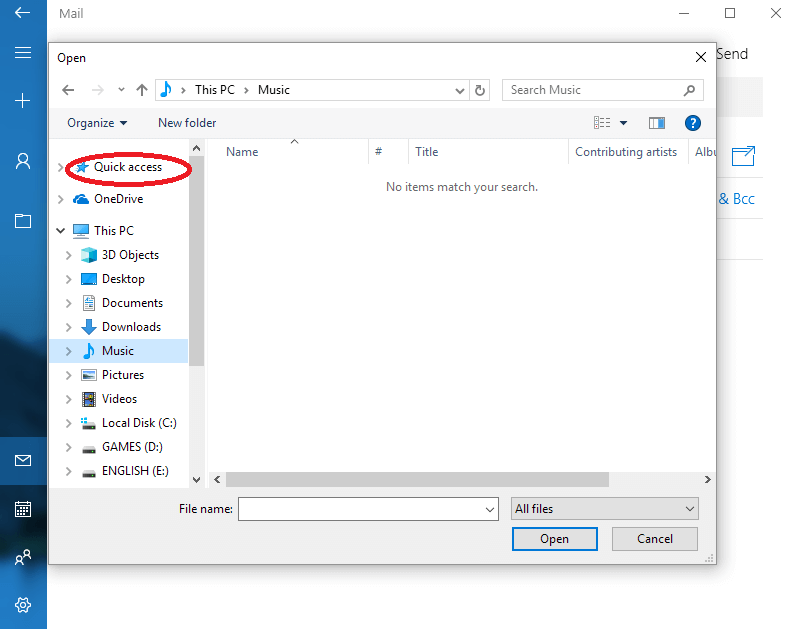 We are not sure why this thing is happening with the Quick Access option. So it's better to try attaching your file from the original file location rather than the Quick Access option.
2). Don't try to upload files with huge size
Before uploading the files, check the file sizes once. Depending upon your webmail service, the file size upload limit will vary accordingly. For example, in Gmail webmail you can upload file with maximum size of 33 MB. So the point here is that don't try to upload files with big size. If you want to send files with such size then you can try compressing it or you can even split it and send them separately.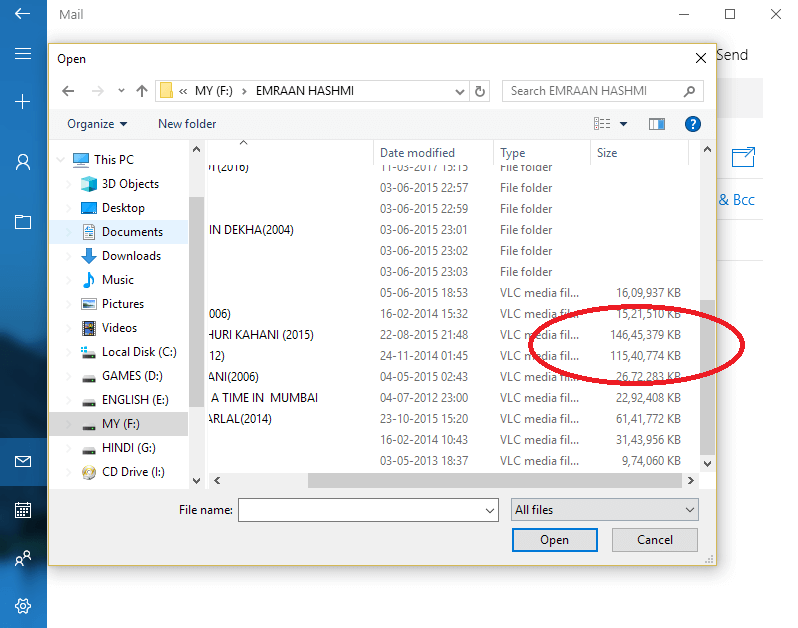 3). Resetting the Mail App
If you are getting that error again and again even after following any of the above methods, then you can try resetting the Mail app. For resetting, go to Settings and search for "Apps & Features". There you can find "Mail and Calendar" app. Click on that and go to the "Advanced options" as shown in the below image.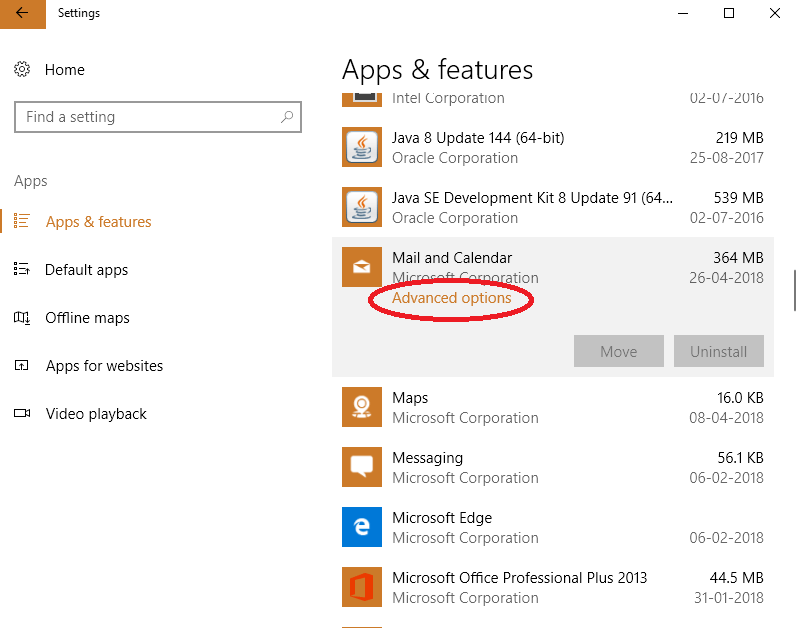 Then click the "Reset" option as shown in the below image to reset your Mail app.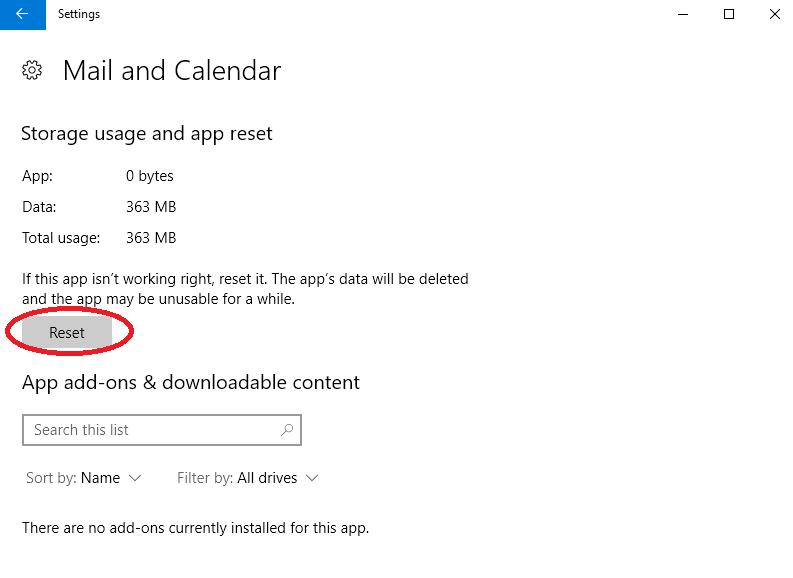 Resetting the app will not remove our login credentials from the app.
4). Reinstalling the Mail App
The last and only solution is reinstalling your Mail app itself which will remove everything right from the login information from the app. This means you have to enter the login credentials once again after reinstalling. You can do this by using third party tools like CCleaner and then can install it again by searching in the Windows App store.
If none of the above methods do drop us an email from our contact us page or drop your errors with screenshot url in the comment section and we will see if we can help you with Windows 10 Mail app problem.