Flud Torrent Downloader PC is a popular choice among the Torrent content consumers and they are using it as a primary Torrent client to save media files in local storage. Originally, Flud Torrent Downloader is a mobile application available on the Android app but you can use the application on Windows 10 PC.
Why Flud Torrent Downloader for PC is popular?
There are plenty of contributing reasons why consumers prefer to use Flud on Windows 10 PC. I want to highlight the feature µTP which is the µTorrent Transport Protocol that is universal in this category. The client doesn't have limitations in download speed and upload speed and is capable enough to push the servers to maximum capacity.
As I have mentioned earlier that Flud supports multiple interesting features that allowed the application to exist on Google Play Store. You cannot add suspicious applications on the Play Store because Google policies are strict and prohibit illegal activities.
How to install Flud Torrent Downloader on Windows 10 PC?
The traditional method is Android emulator because the application is available on the Android mobile platform only. In this case, I want to provide alternatives for readers because you got other options apart from Bluestacks. I don't use Bluestacks because it consumes higher CPU & RAM resources, and I want to keep it to a minimum.
Android emulator system requirements: You can choose any brand or manufacturer in this case, and there are no restrictions.
Processor: Dual-core 1.8GHz or above.
RAM: 4GB minimum. The Android emulator consumes up to 2GB RAM and you need an additional 2GB RAM for Windows 10 to function normally.
HDD or SSD: Minimum 10GB free after emulator installation.
Graphics Card: You can use any dedicated GPU and integrated GPU that has a minimum of 512MB video memory.
Virtualization: Only a handful of old processors support Intel Virtualization Technology (Intel VT or IVT) & AMD Hyper-V. All Intel's Core i3, i5, i7, and i9 processors support Virtualization Technology, and you have to enable it manually from BIOS. You have to watch videos on YouTube or read dedicated tutorials on how to enable Intel VT or AMD Hyper-V. I recommend the readers to check compatibility first on the official website and then make your move.
Android Emulators: Bluestacks, MEmu, and LD Player. I am using MEmu Play for the demonstration. The installation guide is not necessary as it follows the traditional Windows Installation Wizard method.
Step 1: Click on the "Play Store" icon to open, and log in to Google account or create a new account.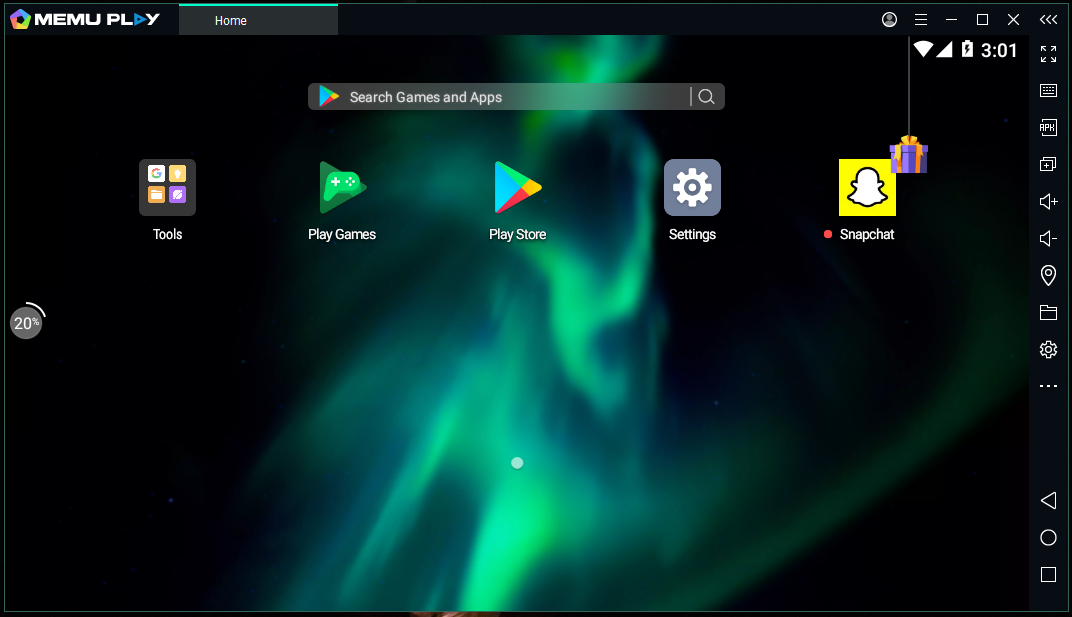 Step 2: Now, type "Flud Torrent Downloader" in the search bar, and then click on it to continue.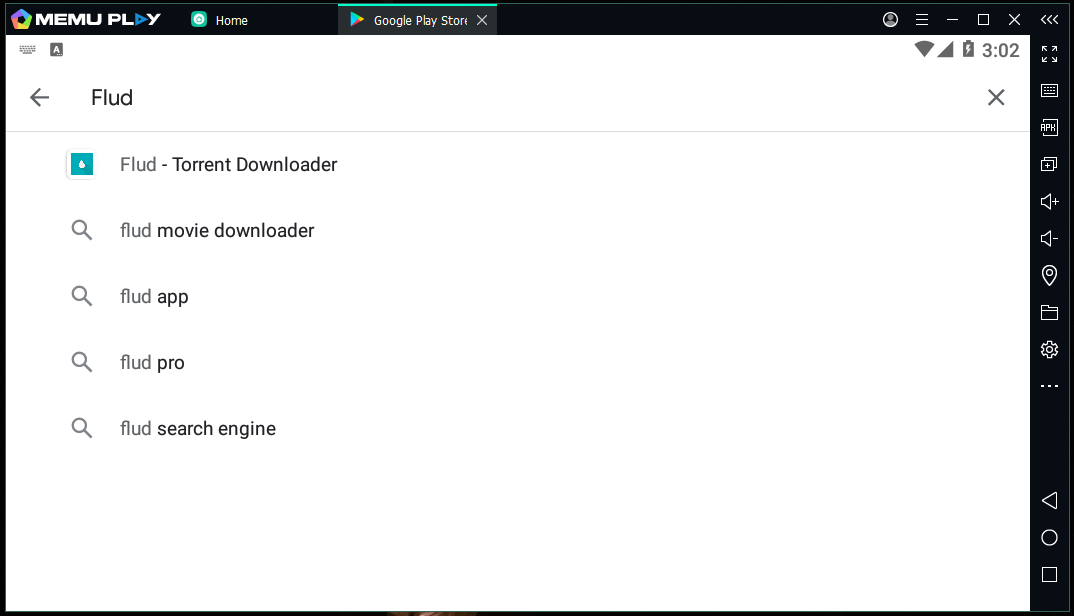 Step 3: Click on "Install" and let the download finish.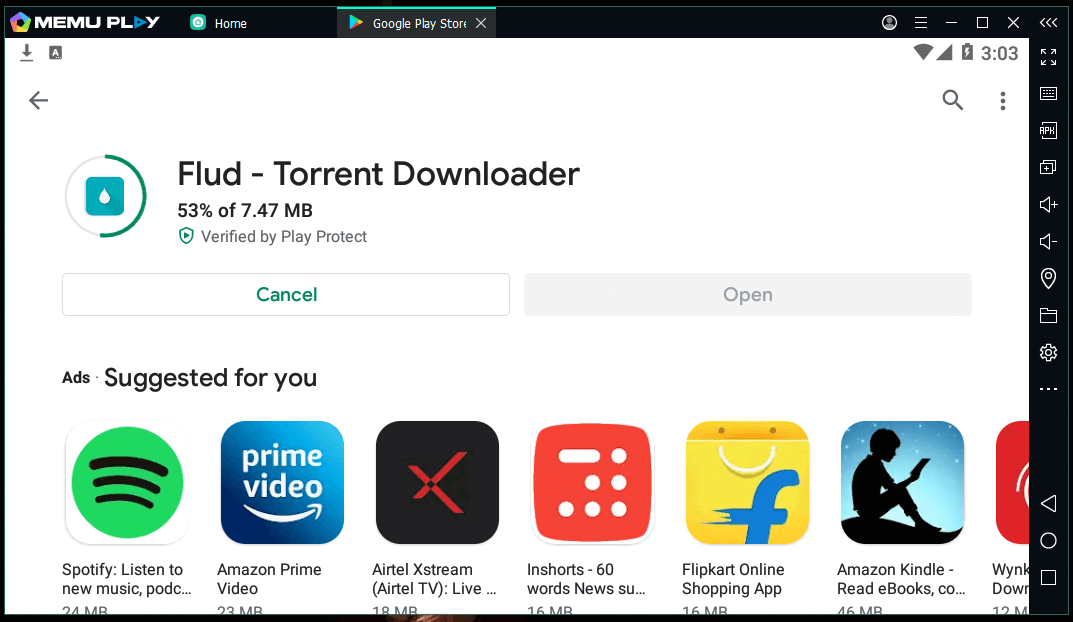 Step 4: Open the installed application from the Google Play Store, and then allow "Storage" permission, and continue by clicking on the "OK" button on the screen.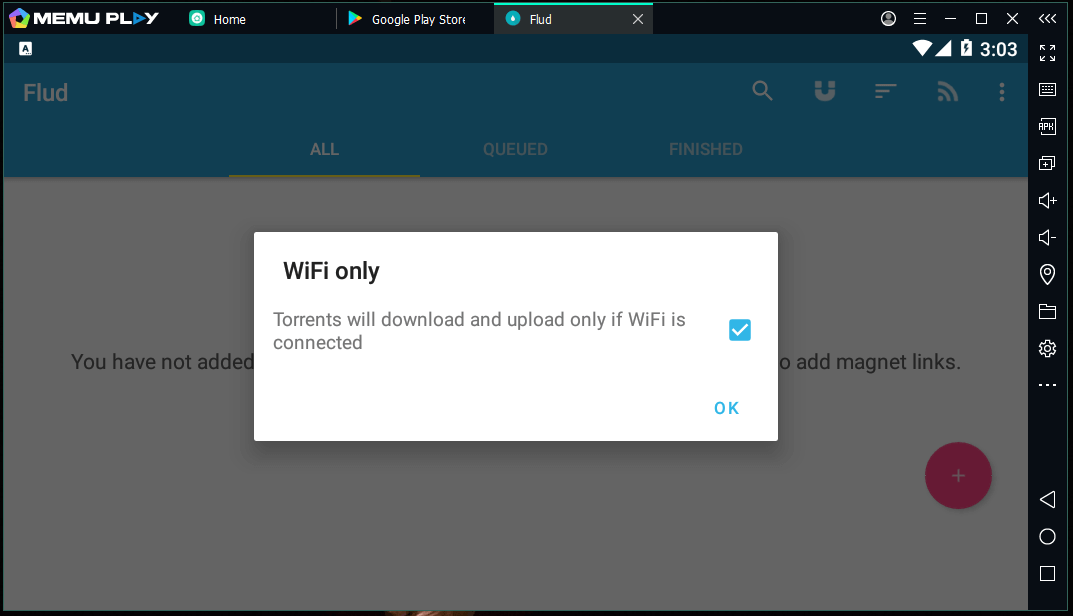 You need an active Google account to download applications from Play Store, and you cannot skip this part. If you prefer avoiding the Google account then APK Pure can come in handy. You can install the APK file on an emulator and MEmu automatically recognizes the app, and one-click away from installing the application.
How to use Flud Torrent Downloader?
Most of the tutorials don't show you how to use the application on an emulator. I don't want the readers to scratch their heads figuring out, how to use it properly without any hassles. In this tutorial, I will show you how to use Flud Torrent Downloader on the Android emulator in Windows 10 PC.
Step 1: Open the Torrent website and find what you are looking for and then copy the "Magnet Download" button. Highlight the cursor on the "Magnet Download" and then click right-mouse to copy the link.
Step 2: Go to the Flud application and then click on the "Add Magnet Link" button located at the top right and the icon is in U shape.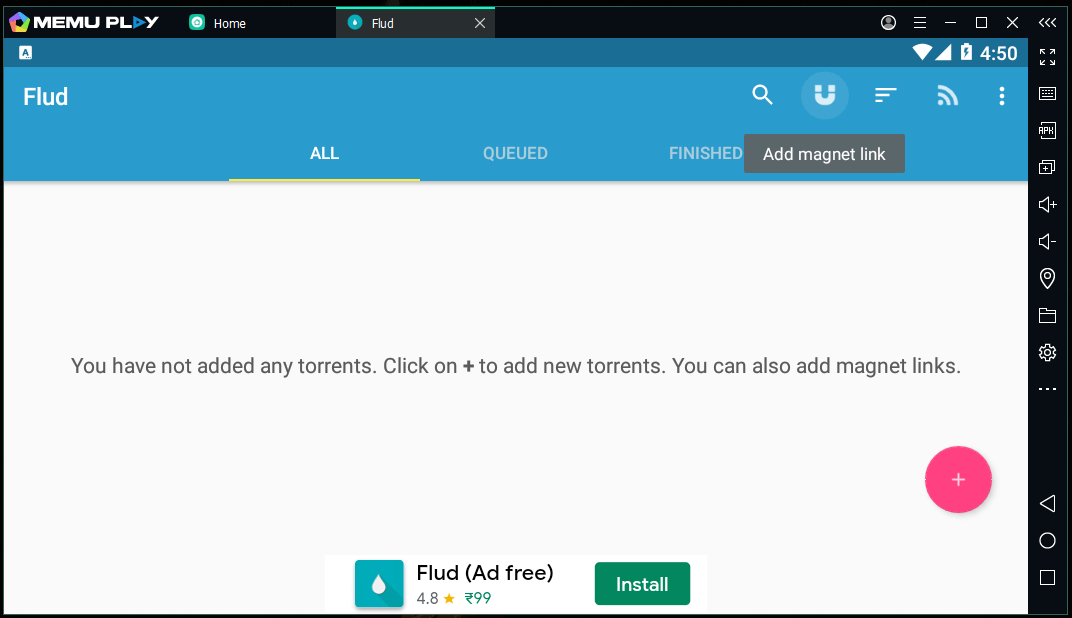 Step 3: Paste the copied link in the empty field, and then click on the "OK" button to continue.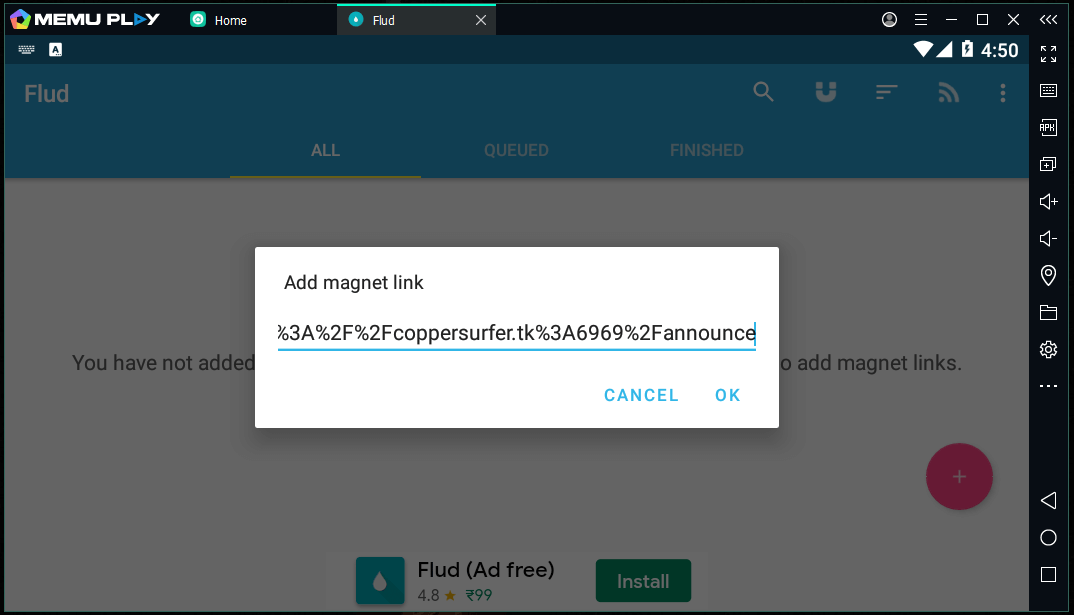 Step 4: Flud will load the information and then click on "Add Torrent" to continue.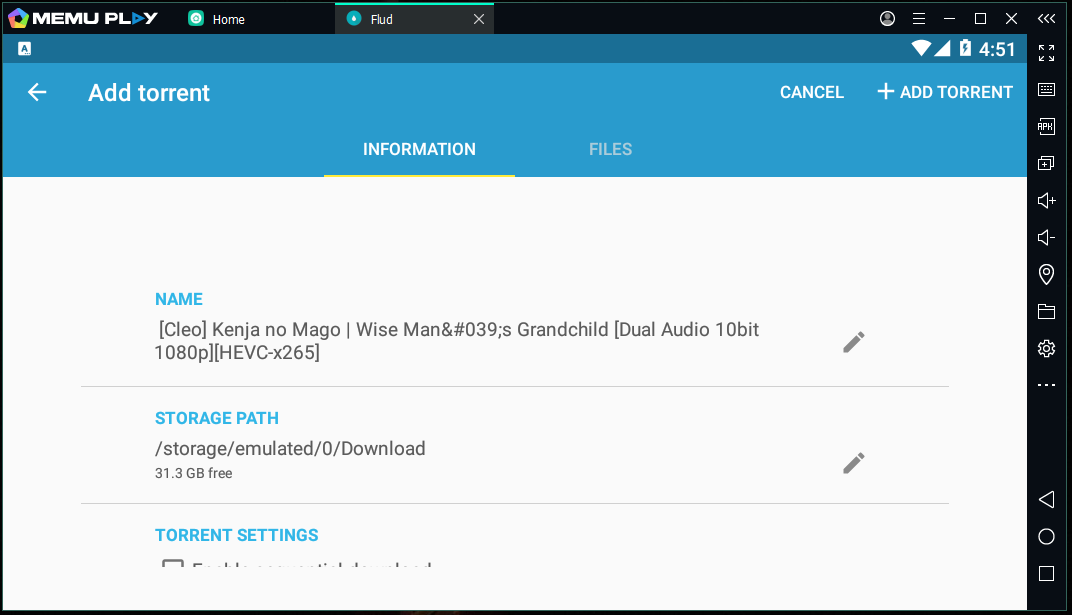 Step 5: The download will begin and you can monitor the status in real-time.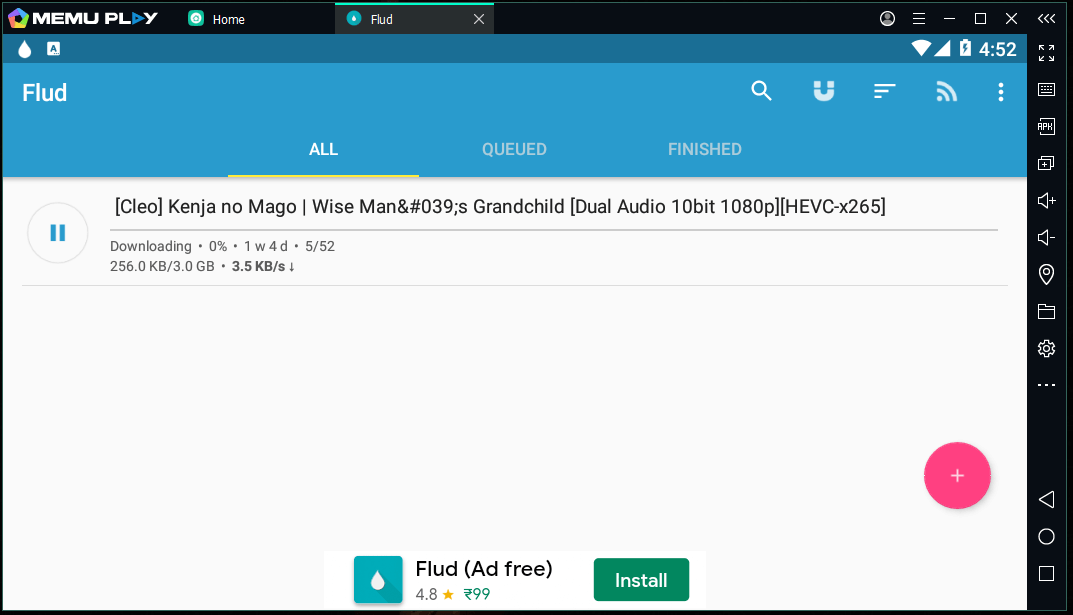 The platform is not advertisement free, but the Flud team monetization method is safe as it is coming from the Google Ads platform. No need to worry about sketchy advertisements and suspicious background services.
Bottom Line
I want to remind the readers that Flud Torrent Downloader works perfectly, and if you want to save the files in the highest download speeds as possible, then choose a server that is close to your location. Do not blame the Flud for slower download speeds because it isn't the fault of the app. Let us know what do you think about Flud Torrent Downloader for PC and installation on Windows 10 in the comment section below.