Just like iOS mobile platform, Apple's Mac system also offers a bunch of animations to make the user interface smoother. Each animation is associated with a particular task to make the UI faster. The animations are indeed good and look fancy, but they are not always good for some people.
Animations directly affect on the system's performance. It will reduce the performance of your system and you will experience overheating and many other issues on your system. Some users have been experiencing issues with their health by using the animations as they make you unwell with constant use.
You can keep the animations well balanced so that you can improve the overall performance of your system without affecting on your health. It is essential for you to keep things sorted out to make a happy web surfing. Here, we have listed down some of the easiest ways to disable animations on a Mac system. Go through the list and disable the ones which are of no use to you.
How to disable Most of the Animations on Mac?
Opening and Closing Windows and Popovers
A Popover is a view that pops up as a new small window over the words. When you click a Control button and view it, you will see more details about that particular word. You can set it up the way you want just by clicking on to it. Many Mac users use this animation to see a small amount of information or functionality. To disable this animation, here's a command that you need to enter into the Terminal Window of your Mac system.
"defaults write -g NSAutomaticWindowAnimationsEnabled -bool false"

Smooth Scrolling makes your scrolling smooth and faster. If you are a web surfer and surf multiple websites, then this feature will give your scrolling feature a boost and makes everything super smoother. If you have already enabled this feature and want to disable it, then here's a command to do so.
defaults write -g NSScrollAnimationEnabled -bool false

Opening and closing the Quick Look window
Quick Look Windows is a useful feature on a Mac system that lets you use different applications quickly. You can use this Quick Look Window to see the available apps' icons. You can select the icon and can start using that application from the same Window. You can disable this animation by using the following command.
defaults write -g QLPanelAnimationDuration -float 0

This is a very useful animation that lets you quickly access the toolbar and menu bar. This will present you the toolbar and menu bar in full screen so that you can easily view and access all the useful sections. Let's see how this can be disabled.
defaults write -g NSToolbarFullScreenAnimationDuration -float 0

Mac's default file manager, Finder has a Column Views option to view the files and folders in column. You can use the Scrolling Column Views to quickly access all the files and folders on the system. This will allow you to find the desired file or folder. If you don't want this scrolling feature on your Macintosh, you can simply turn it off by applying the following command.
defaults write -g NSBrowserColumnAnimationSpeedMultiplier -float 0

These are some of the most common and by default enabled animations on a Macintosh system which you can disable by following the given commands using the Terminal Window on a Mac.
Apart from the Terminal Window, you can also reduce most animations on a Macintosh system by using the Accessibility app. Here are the steps to disable most animations on Macintosh using the Reduce Motion.
Step 1:
Go to the Apple icon and pull down the Menu, click the System Preferences option from there.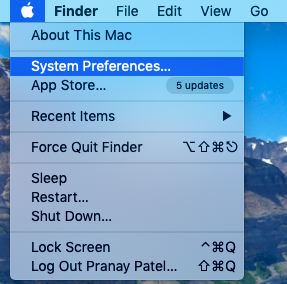 Step 2:
Now, go to the Accessibility from the Preferences panel.
Step 3:
From the Left-side, select the Display option.
Step 4:
At the right side, you will see different options of the display which you can customize as per your needs. From here, you need to select Reduce Motion option.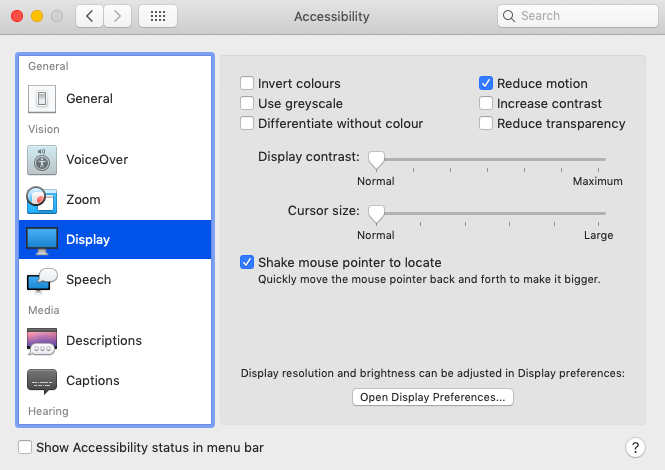 By enabling this option, most of the animations of your Macintosh system will be reduced. Your Mac system will become smoother and you will notice that the performance of the system is also boosted.