Nowadays, offices are considering PDF as their universal file format. PDFs are being used everywhere, files are now shared in the form of PDFs, from schools to big MNCs, PDFs are used. But sometimes it may happen that your PDF file may contain some errors, so to rectify those errors you will have to convert your PDF file into a Word document. Converting your PDF file in a Word document helps you to bring changes in the file. It simplifies the editing process as a PDF file can't be edited easily.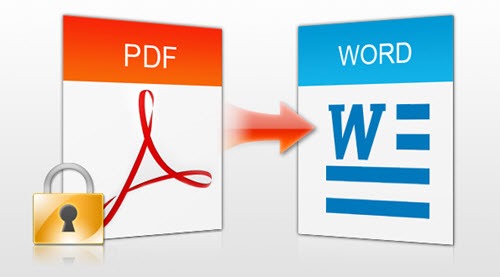 The PDF format is designed in such a way that it displays the documents precisely in spite of what device is used to view. One of the characteristics of the Portable Document Format is that it is difficult to edit a PDF file. However, Adobe Acrobat has every single tool to chalk up the PDFs and it can also lock down the PDFs to prevent alteration. But it is important to convert PDFs into Word document in order to edit the PDFs directly.
In order to convert PDF files into docx/doc, it is important to understand the two basic types of PDFs, that are-
PDF created from a web browser or an Office program:
It is a PDF that you create using Internet Explorer or Word. In this, you first write the content and then convert the file into PDF format. You can highlight words or can search words in these PDFs. These PDFs are editable and can be converted into a docx/doc easily.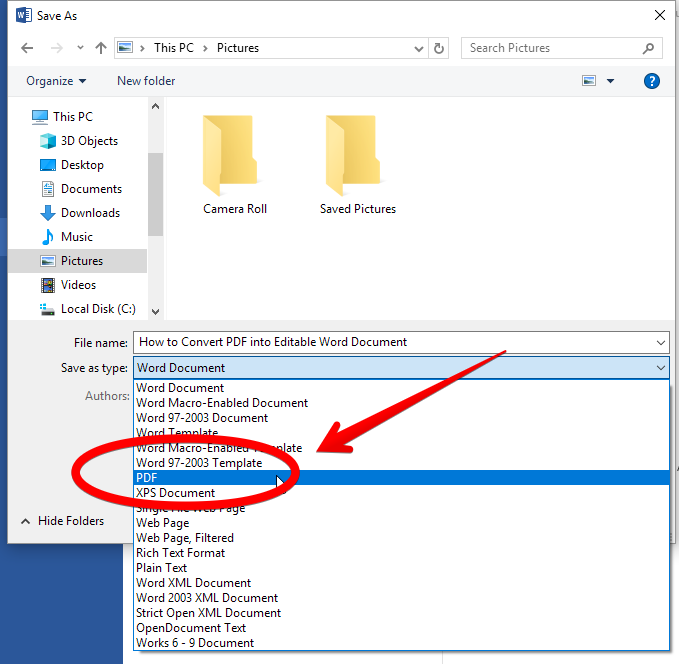 PDF created from a scanner:
Whenever a document is scanned, the scanner takes a picture of the page and your computer has no idea of what is written on the page. It could be a word or an image or something else. These types of PDFs can't be edited easily, for such PDFs Optical Character Recognition (OCR) is required. It recognizes the word written on the scanned picture. If written neatly, the OCR results are accurate otherwise they can be awful. If we want to convert a scanned PDF into a docx/doc, best OCR software is a must.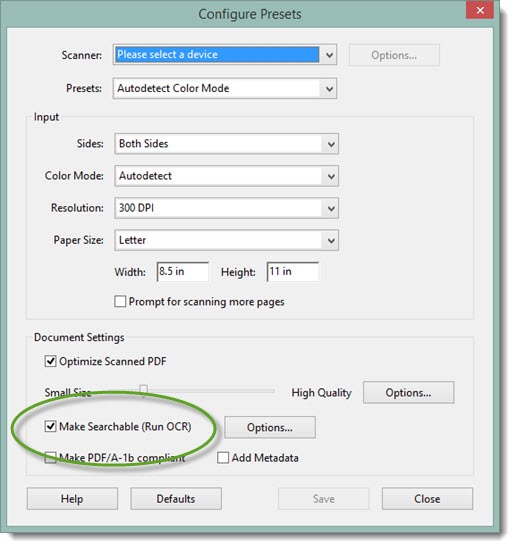 Ways to Convert PDF files into a Word Document
Using Adobe Acrobat: Converting PDF to a docx/doc using Adobe Acrobat requires a full version of Adobe; the Free Adobe Reader will not do the job.
If you want to use Adobe Acrobat for the conversion, these are the steps you need to follow-
The first step is to open the file in Acrobat XI.
After opening the file, click on the "Tools" button and select "Content Editing". Once you click on "Content Editing", a pop-up box will appear where you will have to choose the file you want to export to docx/doc.
If the document that you want to export is scanned, click on the "Settings" button and turn on the OCR (Optical Character Recognition).
Once it is done, your PDF file will open in a docx/doc file, you can name the word file and can save it to the desired location.
Convert Files with Adobe ExportPDF
If you don't have the Adobe full version and have to convert files regularly then Adobe has an alternative option for you. You can sign-up for Adobe's web-based ExportPDF ( download link : https://acrobat.adobe.com/us/en/acrobat/export-pdf-online-pricing.html ) service with a cost of $21 per year. In this, you can upload the PDF files and can download the converted docx/doc directly. In this, the OCR is done automatically by Adobe and it tries to preserve the layout as much as possible. It also allows the conversion of PDF tables and spreadsheets into Excel.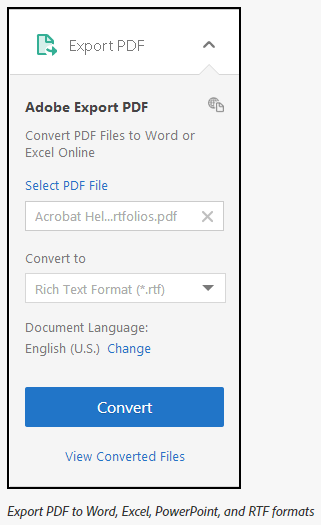 Convert Files with Word 2013 or above versions
Using Microsoft Word 2013 is the easiest way you can convert your PDF into docx/doc. The current version of docx/doc has an inbuilt feature known as "PDF Reflow" that converts editable PDFs into editable Word document. Microsoft Word 2013 is better than Adobe Acrobat at replicating the formatting and page layout from the PDF. However, it works only with Word 2013 available with Office 365 ProPlus and Office 365 Home Premium.
To convert your PDF file into a docx/doc you just need to follow one step. Open your PDF file using Word 2013, it will automatically open it in a docx/doc.

But Word 2013 does not provide you with the facility of OCR and cannot open a scanned PDF file in a docx/doc. You will first have to do OCR on the file and then you can use Word 2013 for the conversion.
Convert Files with Word Online
A few months ago, Word Online which is accessible from your OneDrive ( https://onedrive.live.com/ ) files or from Office.com came up with a feature that will help you convert your PDF files to a Word document in your web browser. However, no Office Online programs are free as long as you log in with your free Microsoft account.
To convert your file using Word Online, open Word Online and click on the "Edit in Word" button present in the upper left of the screen.
Once you click on the "Edit in Word" button, a pop-up will appear displaying the message: "File Conversion- Word Online will make a copy of your PDF and convert it to a docx/doc for you to edit." Click on the "Convert" button to start the processing.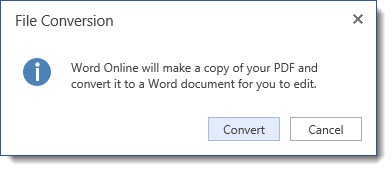 Just like Word 2013, Word Online also doesn't perform OCR so, if the file is non-editable, Word Online will convert it into a collection of page-sized pictures. The software is more successful with editable PDFs created from online Office programs.