Apple is offering its own Apple iTunes Media Player as the default media player for the users of Macbook Air and other Mac systems. ITunes is indeed one of the best media players in the world; however, it doesn't let you play and explore the local music. For that, you have to install an external music player which can play all types of music on a MacBook Air. Here, we have compiled a list of the best Music Players for MacBook Air. Go through the list and pick the suitable Music Player now!
Best Music Players for MacBook Air
If you need a simple Music Player that can play all types of music files on a MacBook Air, then Vox is the best option for you on the market. This one serves a decent user interface which lets you play all types of music from your Mac system.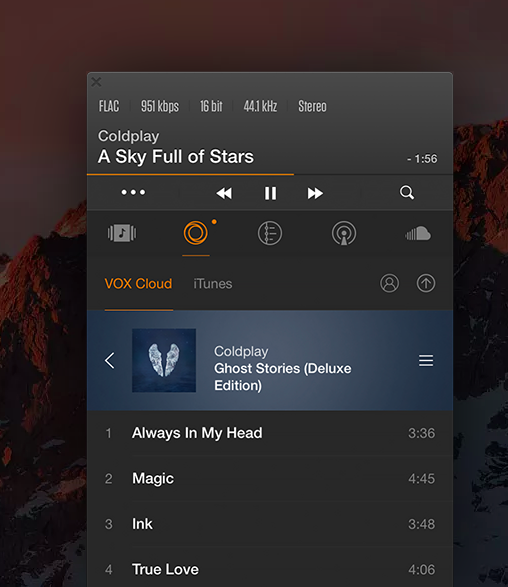 This app offers unlimited cloud storage where users can store their own music over the cloud. It is there for the music freaks who want to listen to high-res audio files. With the advanced technology, this music player can play high-res audio files at ease. You can grab this app for free now.
Key Features:
Simple yet an impressive User Interface
Can play all types of music files with different file formats
Offers unlimited cloud storage
Compatible with iOS devices and Mac systems
Rich graphical interface
Install Vox from this link : https://vox.rocks/
VLC Music Player is undoubtedly the most popular player and video Player app available for both, Mac and Windows PC systems. This software is an open source one and can play all types of music files on a MacBook Air. Apart from Music files of different formats, the same player can play video files as well. So yes, you will get a combined media software for your MacBook Air.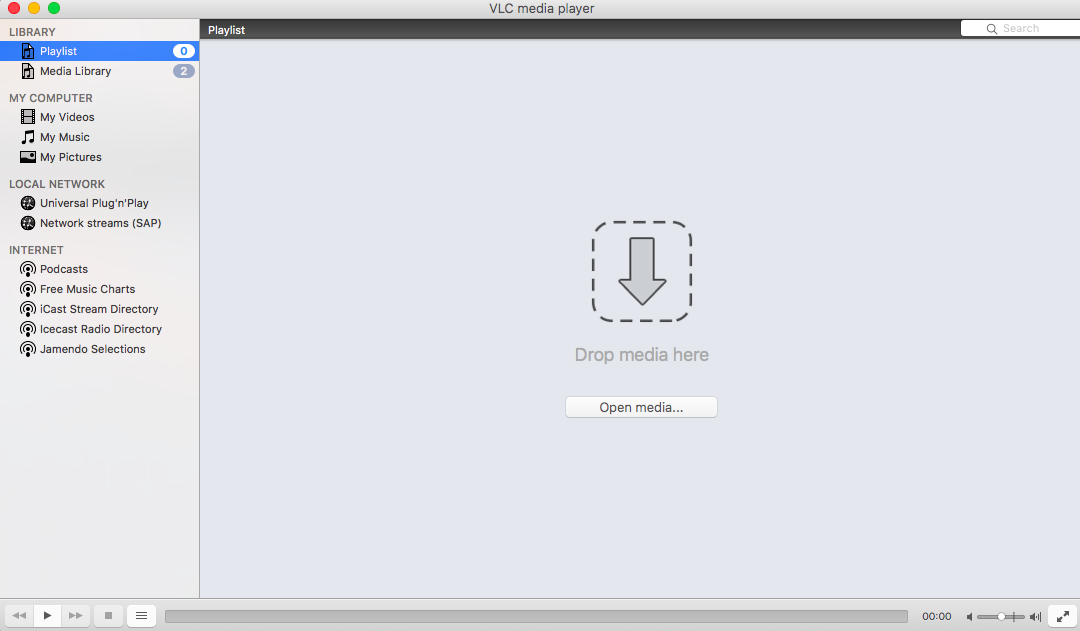 Key Features:
Open Source tool available for free
Compatible with all types of PC and Mobile systems
Can play different types of Music files
Able to play Video files as well
Lightweight tool runs smoothly on a MacBook Air
Install VLC from this link : https://www.videolan.org/vlc/download-macosx.html
If you are addicted to music and love to listen to different types of music with different file formats, then 5K Music Player should be the best option for you. This one is specially designed for the Mac users who can switch their existing player iTunes with an advanced one, 5K Music Player for a seamless music experience. View some bluetooth speaker under $100 to play music in stereo sound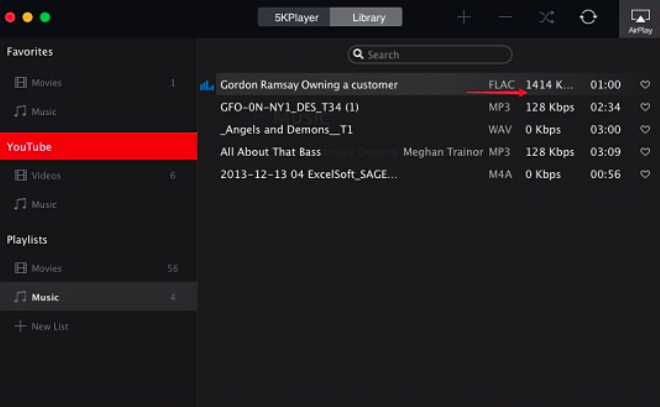 Key Features:
Supports MP3, AAC, AC3, WMA, FLAC, ALAC and other formats
Easy to use user-interface with a simple design
Let's you create your own music playlists
Wireless Music Play option through AirPlay with Wi-Fi connection
Runs smoothly without any lags
Install 5K from this link : https://www.5kplayer.com/video-music-player/best-free-music-player.htm
Fidelia is an innovative one which offers a set of unique features to the users. It serves rich-interface with a stunning black background. This high-definition digital audio-player takes care of your favorite music and lets you offer a complete user-friendly environment to stream out what you love on a Mac system. Being an advanced player, this player lets you customize and re-create music files.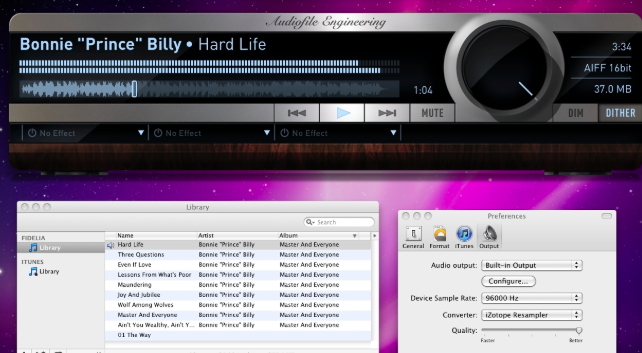 This app is packed with a number of useful tools to enhance your music experience by changing the original tracks and adding more vocals to it. Moreover, it supports multiple file formats allowing users to listen to any type of music on it.
Key Features:
Advanced Audio Player for Mac users
Serves rich interface
Packed with a number of audio tools
Supports different types of file formats
Supports Airplay
Gives you full control to your music
Install Fidelia from this link : http://www.audiofile-engineering.com/fidelia/
Clementine Music Player is a modern software for the Mac systems. It is top-rated one by the MacBook Air users as it runs smoothly and gives users what they want. It serves fast and easy-to-use interface allowing users to load the music and start listening to them easily. The app comes with a dedicated search bar which lets you search and play music easily.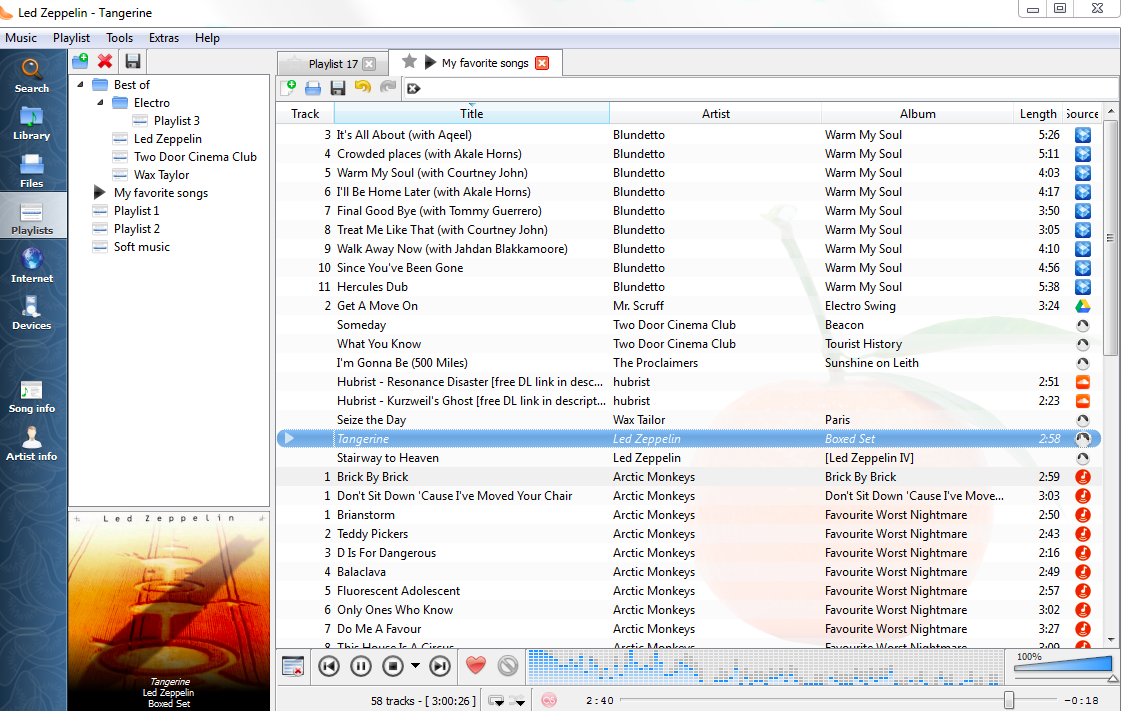 Moreover, it also supports different online Internet Radio Channels. Users can integrate their account with world's popular Internet Radio services. It also fetches music stored on Cloud platform such as Dropbox, Drive One etc.
Key Features:
Serves decent user-interface for everyone
Supports all types of audio files with different formats
Can play Internet Radios easily
Fetches audio files from Drive One, Dropbox and other cloud storage platforms
Comes with a set of advanced tools for easy music experience
Install Clementine app from this link : https://www.clementine-player.org/
Conclusion:
We have included the best and most-rated Music Players for MacBook Air. If you love listening to different types of music then you must try out these best Music Players now which are available for free.