Travel Insurance should be among the first things to arrange when planning a trip. Most travellers have some kind of travel insurance in place, but it's especially important for those who travel more frequently. With reliable travel insurance, you can easily make a claim if something goes wrong during your trip. Globelink brings you its new Globelink Travel Insurance app for iOS users. We will show you how to get the best from this Travel Insurance app in the review section.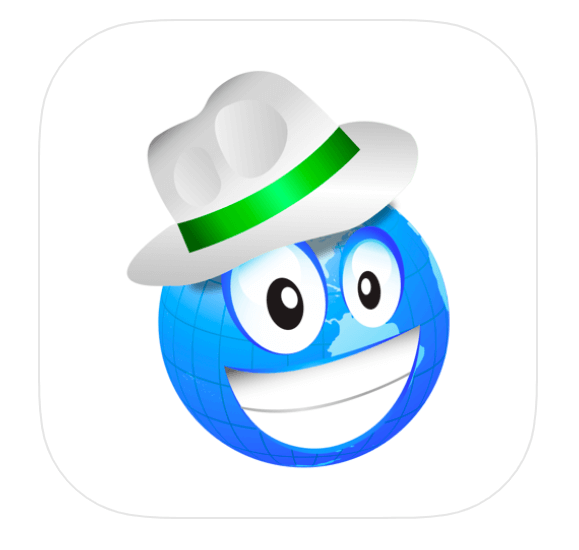 Globelink Travel Insurance is one of the most trusted travel insurance companies providing insurance for the residents of the United Kingdom and European countries. Unlike many other insurance companies, Globelink makes it easy to book insurance for your trip. The company has recently released its iOS app that lets users buy insurance. And where necessary, they can make a claim right from their mobile phone.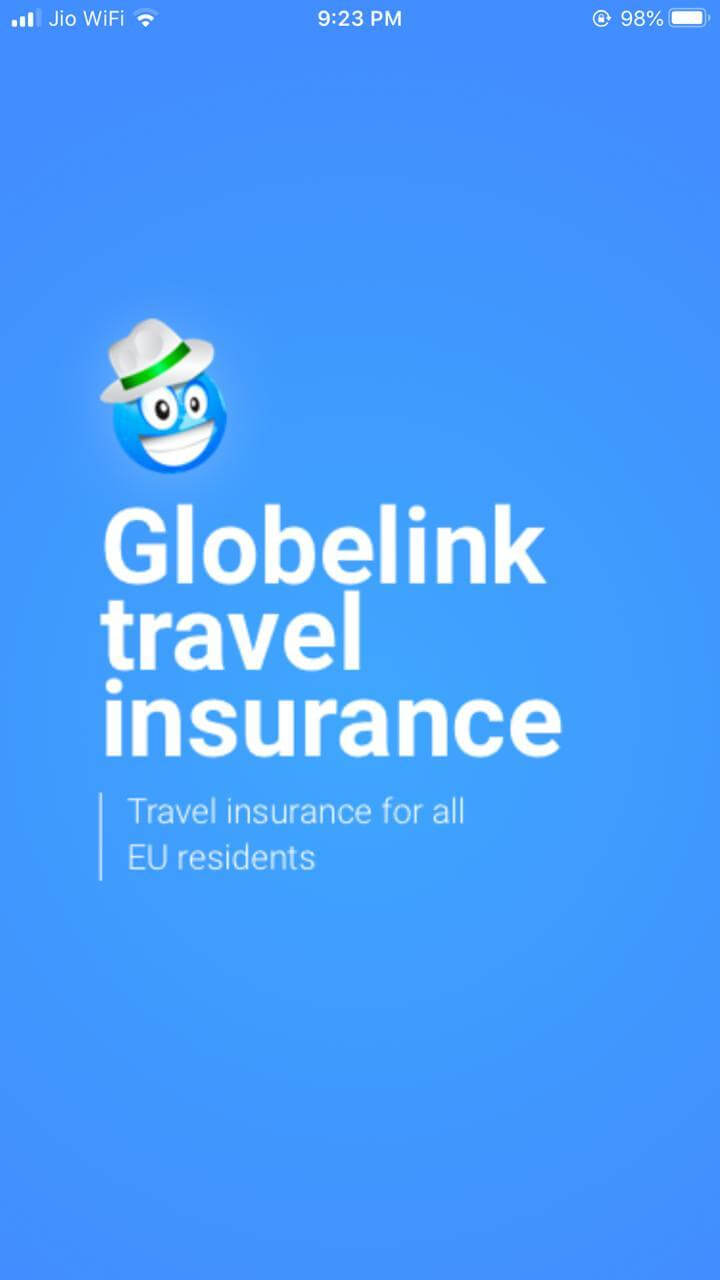 Intuitive User-Interface
Globelink Travel Insurance app for iOSprovides an easy interface that lets you quickly explore the different Travel Insurance options available. Your profile stores any Globelink policy previously purchased via the app. You can make a new purchase, or make a claim via the app. The app is designed with easy navigation and quick access to options.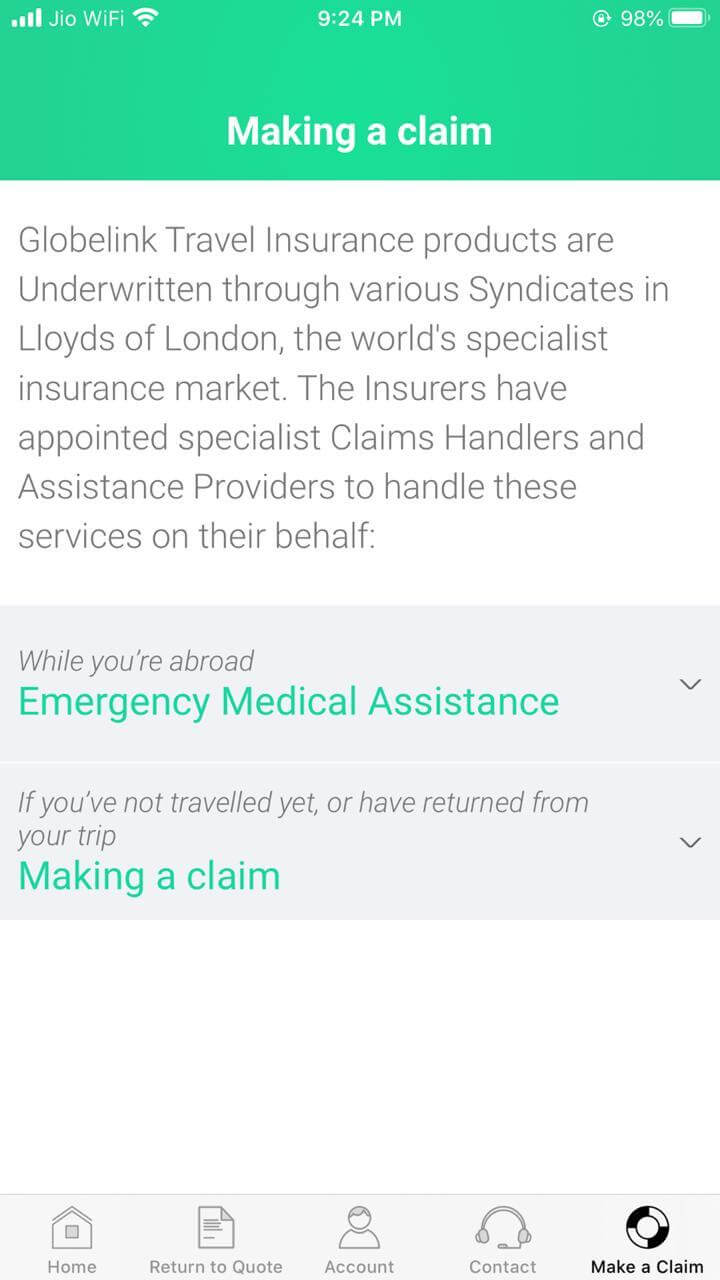 Unique Application
The app is designed for travellers with different needs. Whether you are a senior traveller looking for comprehensive insurance to cover a cruise trip, or a teenager on a gap year, purchasing insurance from Globelink has never been easier and faster.
Coverage
The app provides travel insurance for travellers up to age 89. Travellers can choose from a variety of options, from basic Economy cover to Comprehensive cover for travellers wanting extra peace of mind. Options include Single Trip cover for those travelling just once or twice a year and plenty of Annual Multi Trip options for more frequent travellers who take a trip twice or more a year.
Personalization
The app offers a number of useful add-on Extras so you can customize the cover to suit your needs. You can access your policy and can get the details from the mobile app.
All-in-one App
No matter whether you have just one policy or multiple policies for the entire family, you can have all the policies stored in your mobile phone from this app. You can keep all the policies stored in one single place so that you can easily access them for filing a claim etc.
Quick Help
This advanced app has got your back whenever needed. You can quickly get assistance from the experts with the 24/7 helpline. You can make a call using the mobile app by visiting the Contact Us section. It's easier to make a quick claim just by selecting the Making a claim option from the app.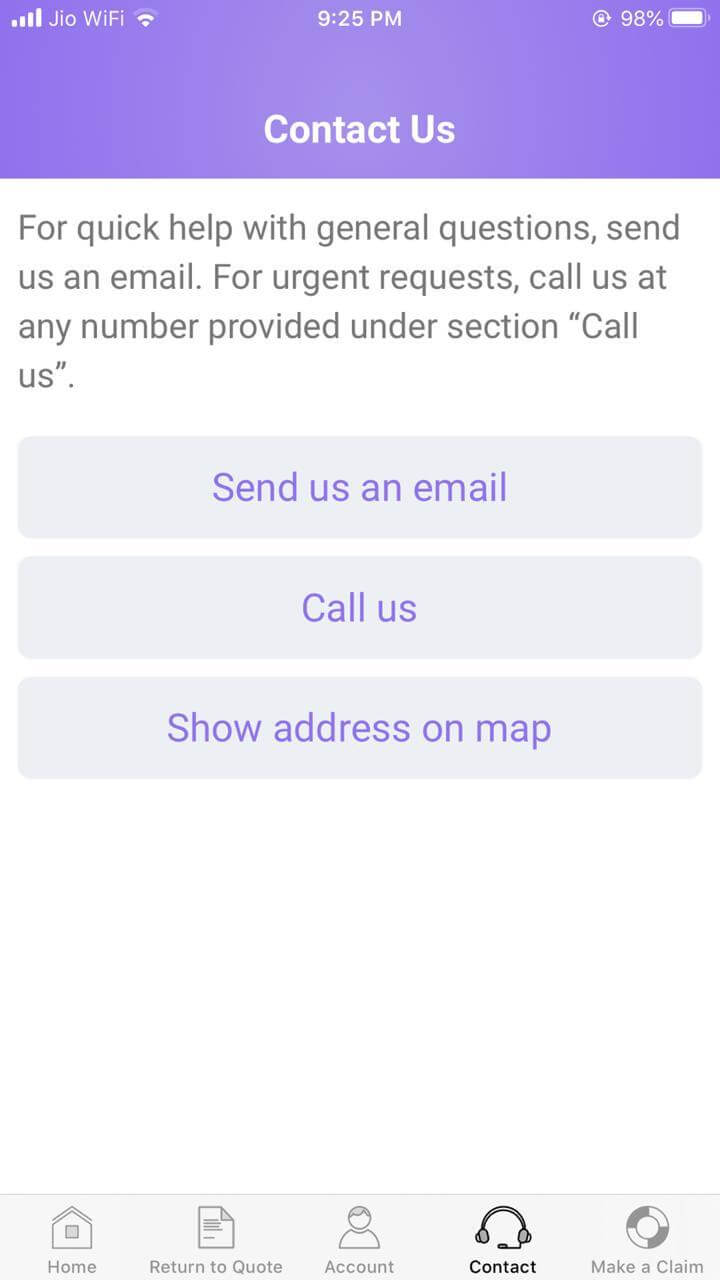 How does Globelink Travel Insurance App Work?
The app is exclusively available for iOS users. You can get it installed from the official App Store to the respective iOS device.
Upon launching the app, you will be presented with four different options I.e. Get a Quote, Make a Claim, My Account and Contact Us.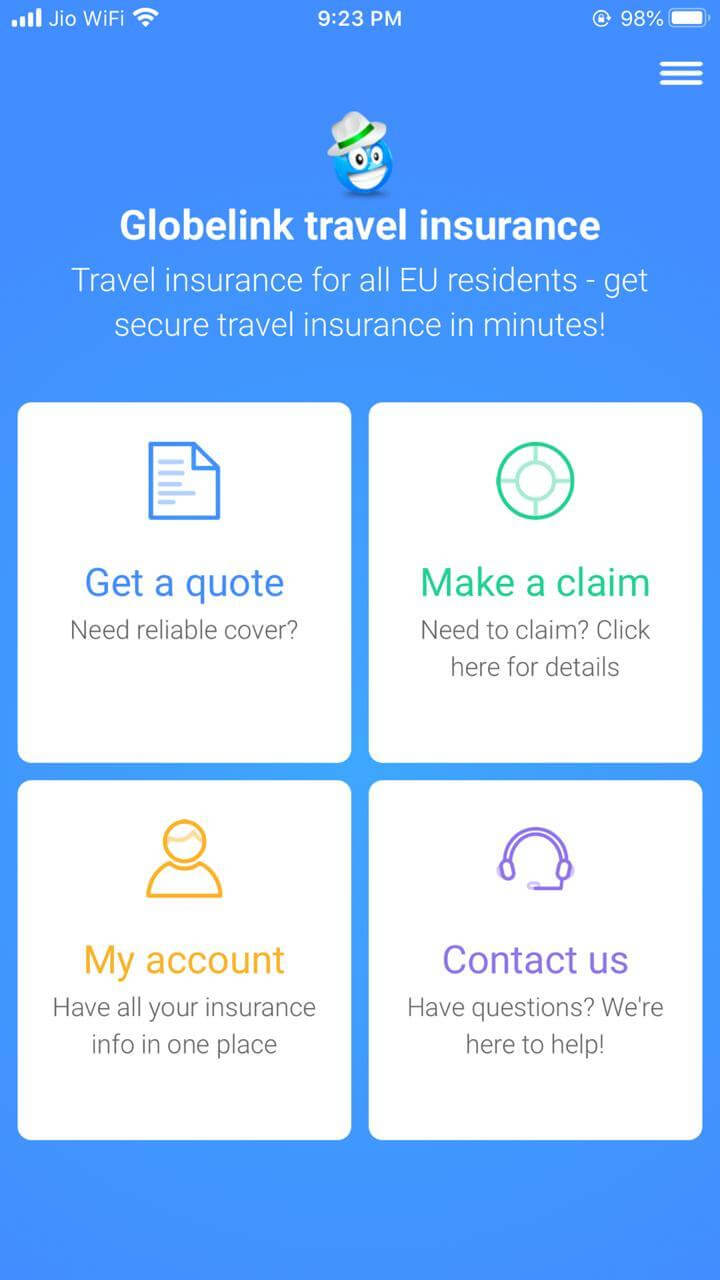 If you want to get a quote for the trip, select the Get a Quote option from the main page. Just fill in the given spaces on the page and you will be able to get a quote for your travel trip. Enter a type of policy, travelling information, trip duration etc. and hit the Get Quote button to see the quotation for your travel trip.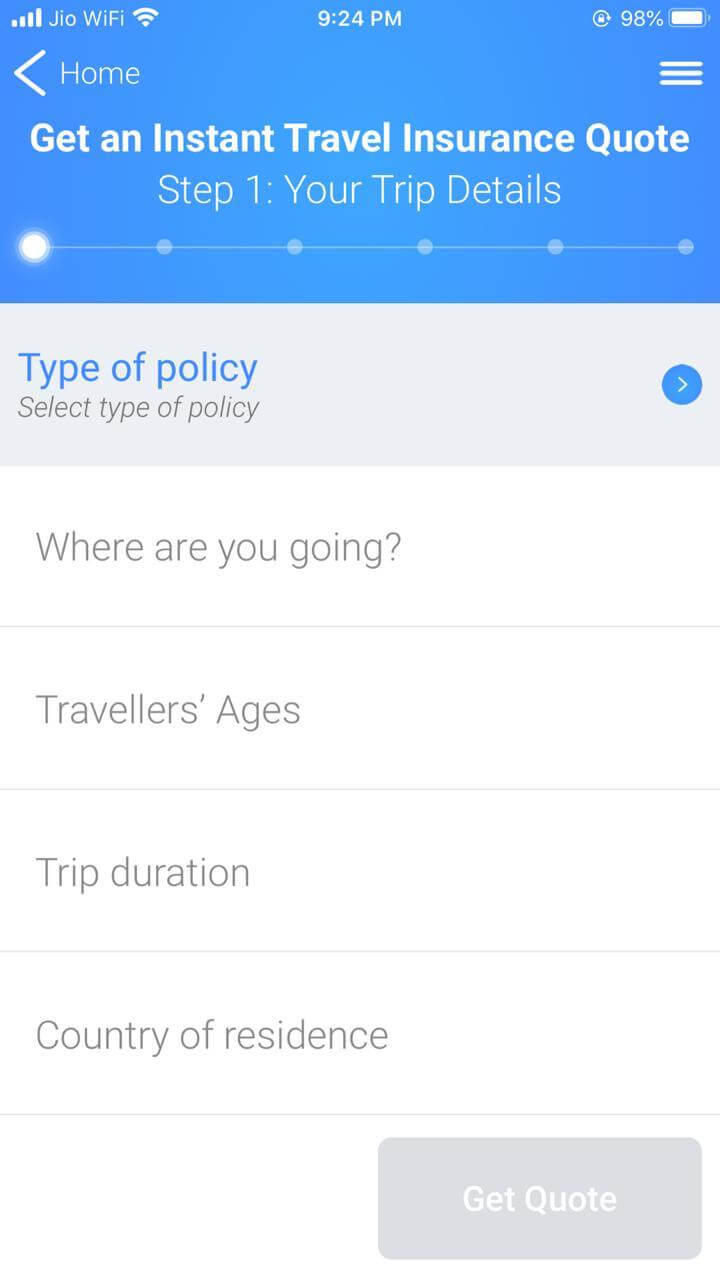 Once you get the satisfied quote for your next trip, you can proceed further to book the insurance by completing the payment.
You can also access your profile by entering the password if you have already booked insurance using this app. You can access multiple policies and book new policies using the same app.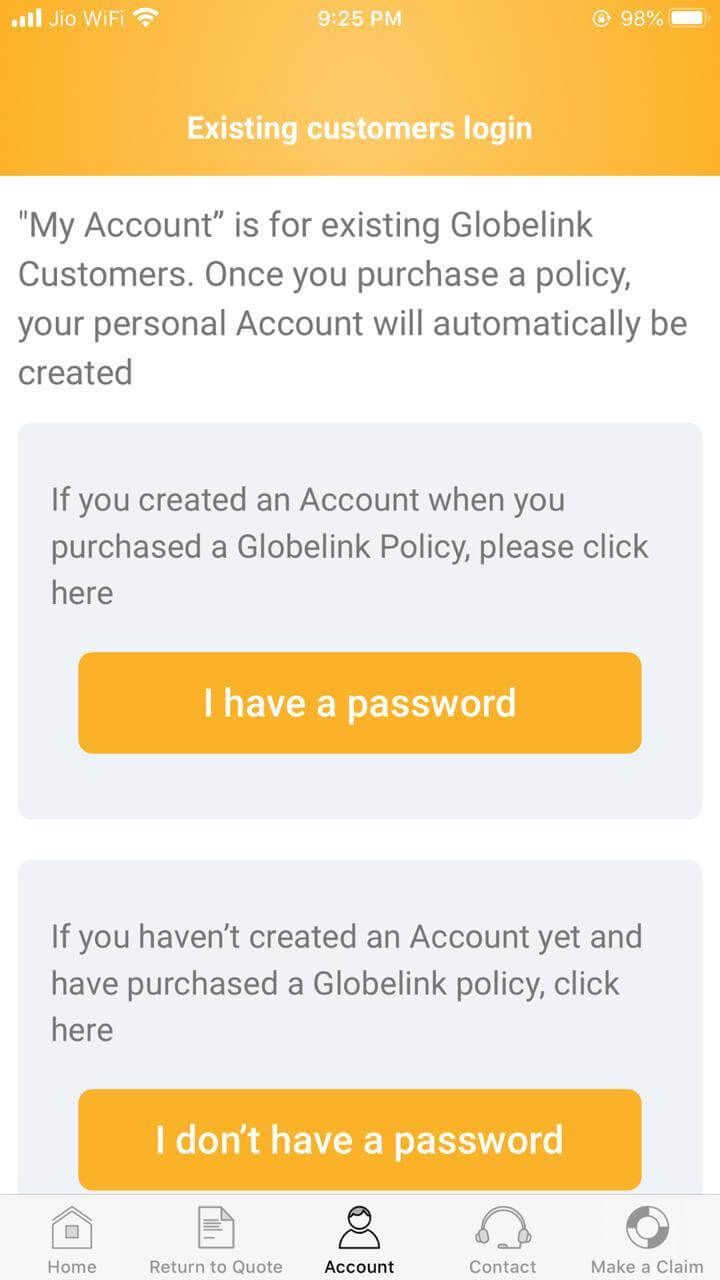 For any assistance, you can use the Contact Us option. You can contact their customer care team via Email, Voice Call or visiting the nearby Office.
Final Words:
Globelink Travel Insurance gives you peace of mind when you travel. The iOS app is designed for frequent travellers who travel more often. The app has the ability to book travel insurance for a specific period. You can customize the insurance plan as per your needs using the mobile app.
It's a very good platform for travellers. If you travel a lot, then you should not forget to check out this app. Install the app, get a quote for your next trip and have a memorable trip with the back of Globelink Travel Insurance.