Windows Media Player and the Groove Music app are incapable of playing many popular file formats and also lack the tools that power users crave for. Audiophiles are always in need of something more to access a wealth of features by choosing quality third-party music players for Windows.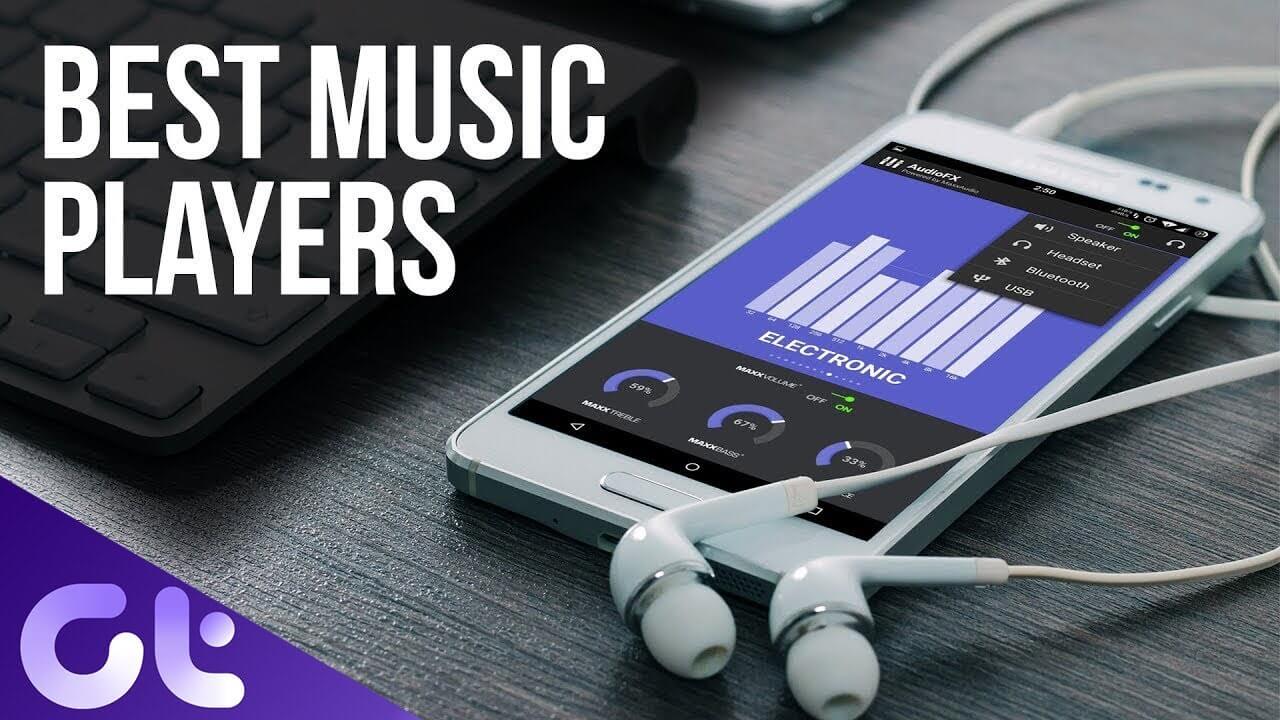 Here we have mentioned the best music players for Windows 10 OS :

Easy to navigate
Settings can be customized according to choice
Supports a number of formats MP4, WMA, OGG, FLAC, M4A, AAC, WAV, APE, and OPUS
Offers a nifty lyrics download tool – allows users to add lyrics to their song collection from sources like MetroLyrics, LyricWiki, etc.
Last.fm integration, automatic meta tagging, displaying lyrics in real-time
Supported by Windows 10, 8 and 7
Download link : http://www.digimezzo.com/software/dopamine/

It's USP is its interface which is even more minimalist and clean-looking than Dopamine
has ReplayGain tool and  DSP manager, FTP and media server tools
Play a range of audio formats, including MP3, MP4, AAC, WMA, OGG, FLAC, WAV, Opus, Speex, CD Audio, Vorbis, etc.
advanced search feature
Automatic library monitoring system manages the audio file elements like cover photos, lyrics, artist photo, etc.
automatic meta import, CD ripping possible, compressed archives like ZIP, GZIP, 7z, etc. can be assessed
Supported by Windows 10, iOS, and Android
Download link : https://www.foobar2000.org/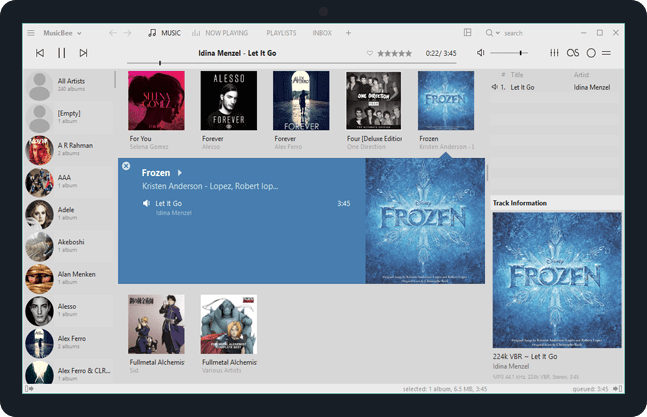 the most feature-laden music player app
core music library management, automatic file organization, in-depth playback controls and aesthetic tools are few of its features
people can easily import their iTunes and Music library
Supports various audio formats, including MP3, AAC, WMA, WAV, M4A, FLAC, OGG, APE, TAK, etc.
can be customized with a number of skins and plugins (also supports some Winamp plugins)
Supports 15-band equalizer, DSP effects, CD ripping, automatic metadata import, etc.
audio interfaces like WASAPI and ASIO for high-end audio cards are supported
also available as a portable version, UWP version of the music player is also available in Store
brings the convenience of enjoying radio shows, podcasts, locally stored songs in one slick-looking app
tag update feature automatically identifies tracks with missing tags and updates them
Supported by Windows 10, 8 and 7
Download link :  https://getmusicbee.com/

Good looking interface for organizing song library, creating custom and smart playlists, rips CDs, manage Meta tags, change player skins, etc.
comes with an 18-band equalizer and a variety of sound effects to listen to the music as you like
Supports almost every popular audio format, has a built-in audio converter, sleep timer, and an alarm clock feature which even wakes a PC from sleep mode.
Audio CD Grabber allows users to copy music files from an audio CD
detachable playlist section and theme can be changed with a single click
the advanced tag editor  supports standards like  ID3v1, ID3v2, APE, and WMA to name a few
support formats like CDA, AAC, AC3, APE, DTS, and FLAC
output support for DirectSound, ASIO, and WASAPI
Supported by Windows 10, 8.1, 8, 7 and Vista
Download link : http://www.aimp.ru/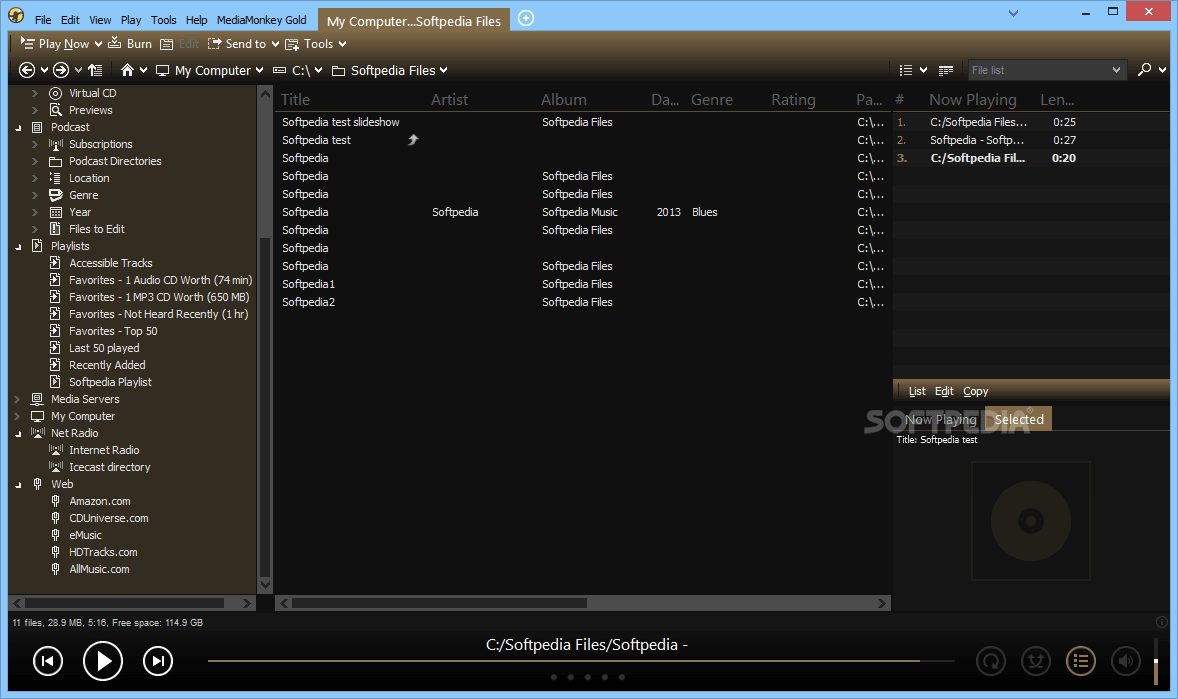 tailor-made for those who like every detail of their music collection right on the home screen
The automatic organization algorithm systematically arranges the audio files into folders based on artists, albums, series number, etc. and sync it with Android and iOS devices.
the CD burner feature allows users to import songs from a CD, while its Podcatcher functionality lets users download podcasts
supports a wide array of audio playback formats such as MP3, AAC (M4A), OGG, WMA, and FLAC among others
media sharing possible with TVs and other devices over UPnP and DLNA
Its jukebox mode is a neat addition which automatically plays tracks of a particular genre to uplift your mood or keep the party going
The premium version MediaMonkey Gold gives extra set of features
Supported by Windows 10, 8, 7 and Android
Download link : https://www.mediamonkey.com/

can easily handle over 100,000+ audio files
a dedicated radio section to let you tune in to your favorite shows on air and enjoy music from various genre
'Smartlist' feature' automatically creates playlists (25 Most Played, 5 Random Albums, etc.) for an added dash of convenience
audio files of various formats (WMA, M4A, MP3, OGG, MPC, APE, FLAC, etc.) can be played
audio output in standards like WASAPI and ASIO is supported
can import song lyrics from the web
Equipped with an efficient tag editor.
Supported by Windows 10, 8, 7, and Vista
Download link : https://winyl-player.github.io/

versatile and simplistic interface (looks ancient compared to the design of other)
possess the widest array of online connectivity tools and music streaming options
you can enjoy songs from services like Spotify, Grooveshark, SomaFM, etc
able to play songs stored on the cloud (Dropbox, Google Drive, and OneDrive )
play audio files of various formats (FLAC, MP3, and AAC)
can transcode songs into codecs such as MP3, OGG Vorbis, OGG Speex and FLAC
can be controlled remotely with Android smartphones via a companion app
Excellent library management algorithm and can update the songs that are missing album cover art details by downloading them automatically from the web.
Supported by Windows, Linux, and macOS
Download now : https://www.clementine-player.org/

free, open source music player for Windows
eye-catching design
support a wide array of audio codecs viz. MP3, M4A, FLAC
unlike other music player app, it automatically retrieves local audio files, therefore, you don't need to manually search for audio files and add them to the library
the synced lyrics support and automatic download feature fetches missing artist details of a track
Supported by Windows 10
Download now : https://www.microsoft.com/en-us/p/bread-player/9nblggh42srx

two decades old and has continuously been refined over the years by the addition of new features
Support contemporary as well as specialized audio formats such as MP3, AAC, FLAC, WAV, and OGG Vorbis etc.
music files can be imported from local folders, iTunes as well as audio CDs
streaming via podcasts, Internet radio and a couple of other media is supported
Gapless audio playback provides uninterrupted music listening experience
Supported by Windows 10, 8, 7 and Vista
Download now : https://www.winamp.com/

simple design and clean UI
possess effects like Crystalizer, LADSPA Host and Voice Removal to artist detail retrieval feature
audio bit depth control feature, ReplayGain, stream record functionality and also support plug-ins
supports audio formats such as FLAC, WMA, AAC, WAV, and OGG
can tweak the software's interface to look like Winamp Classic's and also enable proxy usage from its network settings section
Supported by Windows 10, 8, 7, Vista, XP and Linux
Download now : https://audacious-media-player.org/
Make the Best Choice!
Go through the details and choose the one which suits your requirements. If you want a clutter-free design and minimalist appeal, then Dopamine, Bread Player, and Winyl are your best options. However, if you like to play with tools and want a deep level of customization controls at your disposal, then AIMP, MusicBee, and MediaMonkey will be a great choice.