We often face times where we need to copy files from internal storage to some external source. Small files are easy to copy/transfer using Windows 10 inbuilt file copying procedure, but what about the big files? The moment we start copying big files, computer either starts lagging or stops. It takes a lot of time to transfer large files because files are not always sequentially arranged and the mechanical sector keeps on looking for a right sector which consumes too much time.
All of us have a lot of work and cannot afford to wait so long for the files being transferred; hence sometimes it gets really irritating while copying large files. What to do? Here we are introducing to you, the best file transfer software of 2018 that will boost up the complete process and save a lot of time and energy.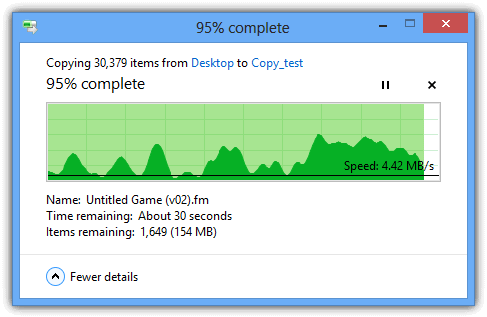 Usually, a file can be transfered in two ways. First, drag and drop feature where you can hold a file and drop it in required field. Second, the simple copy and paste method in context menu where you just need to copy a file and paste it in the required field. Continuous improvisation in Windows is making things better than they used to be, but even then, copying files can still be boosted up as compared to the traditional system in Windows 10. These third party tools are really helpful.
Why do we need best file copying software?
Hard drives are devouring more space with the advancement of generations. All of us have huge collection of photos, video and various other files and hence backing up files leads to a time taking process.
Best Free File Copy Utility for Windows 10
Need to boost your system's copying process? You're at the right place! If you're still into old Microsoft operating systems like Windows XP, 7, 8 then copying issues must be a real problem. It's an important process, therefore, all the operating systems have inbuilt copy-paste function in them. But above all, third party software can work far better than the inbuilt one.
We've gathered and listed below the best software(s) of 2018, and most of them do not charge a penny!
1). FastCopy ( https://ipmsg.org/tools/fastcopy.html.en )
FastCopy claims to offer a really fast transfer of files between drives and file copying within the same drive (location needed), it automatically chooses from either DiffHDD mode or Same HDD mode.  It doesn't need any external support and can run as a free standing application or can even be combined into Window Shell.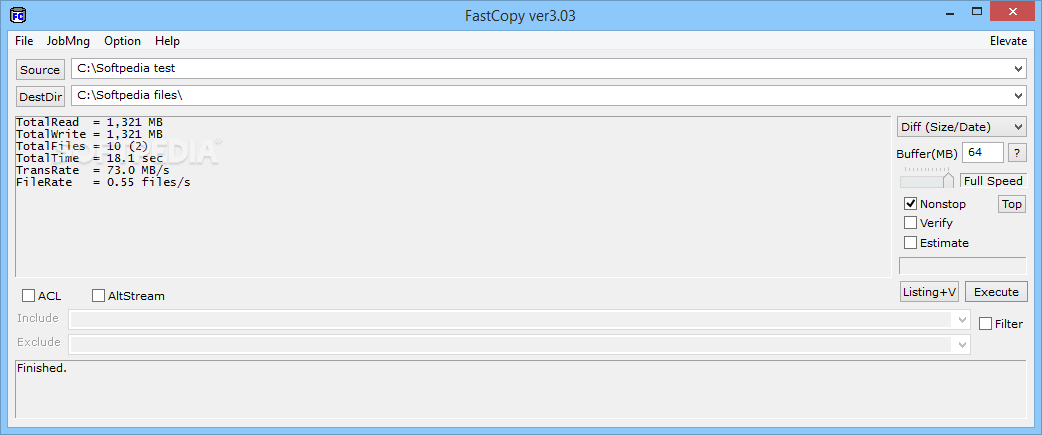 FastCopy is not only used for copying or transferring files, but it can also be used for deletion of files and folders. It does not affect your system during the procedure and proves itself to be a great file transferring software.
Compatible Platform: Windows XP, Windows Vista, Windows 7/8/10.
Price: Free & Pro
2). TeraCopy ( https://filehippo.com/download_teracopy/ )
It is one of the popular file copying software that works with an incredible speed. There are two versions of TeraCopy available, a free one and a paid one. Its free version works in a fast rate. When installation process is complete, you can either drag or copy a file to computer's external or internal drive and a window will pop up in order to copy the file with TeraCopy and your file will be transferred in no time. Along with copying files, you can also pause or resume the process in case if a file transfer breaks.

Compatible Platform: Windows XP, Windows Vista, Windows 7/8/10.
Price: Free & Pro
3). CopyHandler ( https://filehippo.com/download_copyhandler/ )
CopyHandler is open source file copy software that helps your files to transfer 5x faster than Windows copier. It has complete control over copy and move operations using several functionalities like pause, resume, cancel and restart. Files are used just once and it does not befoul Windows file cache.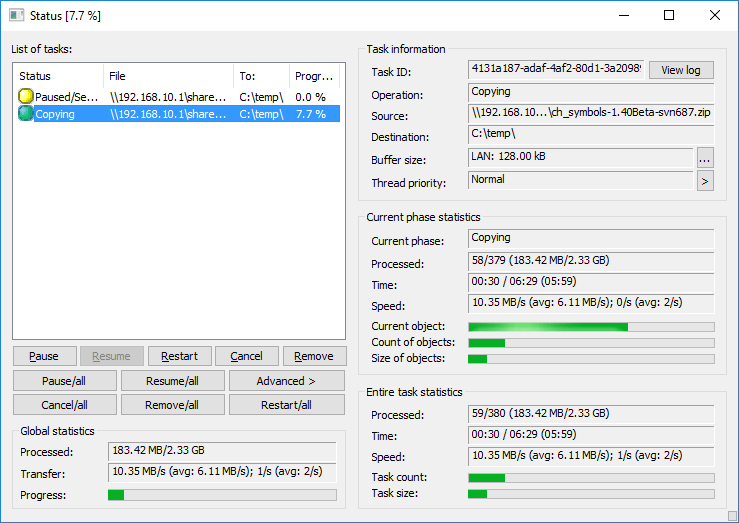 This software carries multiple languages and adds extra commands to context menus; it can manipulate various tasks simultaneously without troubling the computer system.
Compatible Platform: Windows XP, Windows Vista, Windows 7/8/10.
Price: Free & Open source
4). Unstoppable Copier ( http://www.roadkil.net/program.php/P29/Unstoppable%20Copier )
Unstoppable Copier is under the best file copy software for Windows specifically for stability and usability. It not only helps transferring of files but can also recover partial files from media that is corrupted. It tries recovering every possible data from system's storage. It is comparatively slow in terms of copying or transferring data because of its reliability.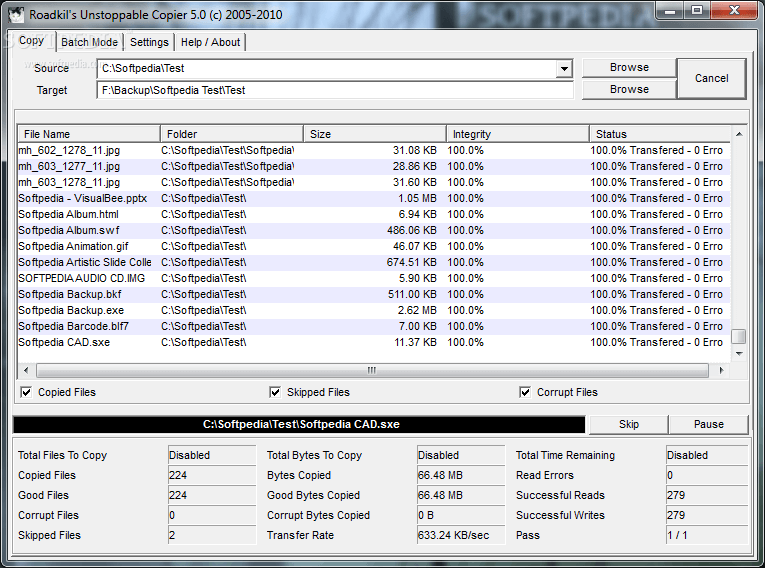 This program can be operated as a daily backup system using its batch mode functions. Several transfers can be saved to a file and then run from command line to perform the same batch of transfers on a daily basis; use of the GUI interface is not required.
Compatible Platform: Windows XP, Windows Vista, Windows 7/8/10 and Linux.
Price: Free
5). NiceCopier ( https://sourceforge.net/projects/nicecopier/ )
Just like its name, NiceCopier is a good software for copying files. Its main goal is to simplify the GUI interface and improvement of speed of a file transfer in an organized way. File copying task can be paused or resumed according to your needs.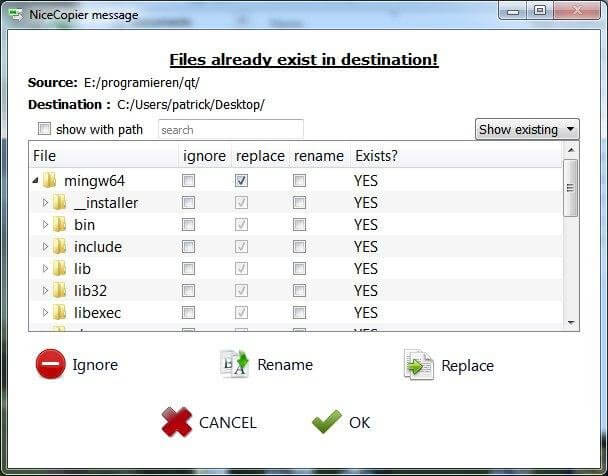 NiceCopier runs in the systray while copying or moving files. Its other features involves verification of files after it has been copied and the shutdown automatically once the task is completed which makes it a clean and stable tool.
Compatible Platform: Windows XP, Windows Vista, Windows 7/8/10.
Price: Free
6). ExtremeCopy ( http://www.easersoft.com/product.html )
ExtremeCopy is software developed by Easersoft, it is a high-speed file copy software. It is simple, user-friendly and quite similar to the Windows default file copier but can increase the speed of process from 20% up to 120%.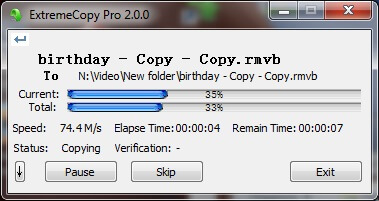 It can copy files to multiple destinations in a single task; lets you customize task easily and records failed files that can be recovered.
ExtremeCopy is available in Professional and standard version; also offers 30 days trial version. It's really close to the speed of FastCopy and beats TeraCopy.
Compatible Platform: Windows XP, Windows Vista, Windows 7/8/10.
Price: Free & Pro.