fFirst of all, we all know that the new iPhone 8 and iPhone X has been released and everybody is absolutely hyped about it. Along with these two new handsets, a new version of the iOS– the iOS 11 was also released. However, with every update regarding the handset or the OS comes a very important question: What do I do to my precious photos, videos, music and the e-books before the update and where do I back it up? The obvious answer would be none other than iTunes but is that the only way to go? Absolutely not. iTunes is not your only option. MacX MediaTrans allows you to backup iPhone to Mac whenever you need to free up storage on iPhone to update it to iOS 11. This backup prevents any data loss and you can use it instead of iCloud storage.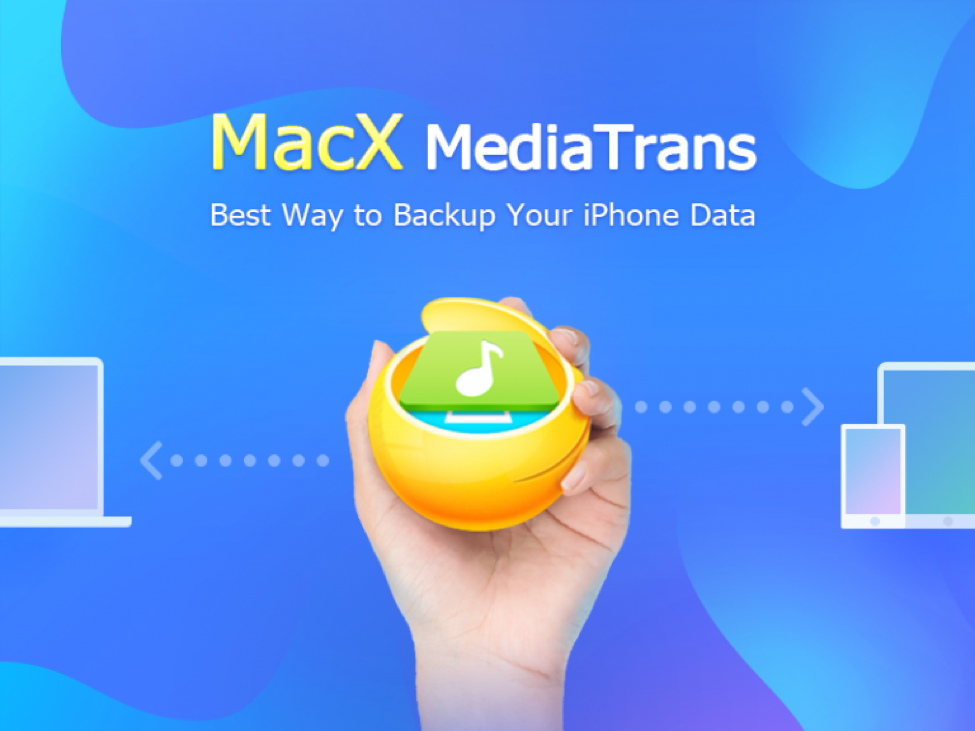 So if you have updated your iPhone from 6/7 to 8 and you still want your important files, using MacX Media Trans to backup iPhone to Mac is the best option, because there is no possibility that any data loss will happen. And without any doubt, this is the best iTunes alternative for Mac.
Moreover, there is a time Limited chance to download the trial version of the MacX Media Trans which is fully functional. And this offer is provided only to make people use this application first, before buying it, for 15 days. It is called the trial edition but the same things you can do with the 15 day trial version is the same thing you can do with the full version for a lifetime. It is a must have if you are already thinking about updating your old iPhone to iOS 11 or buying the new iPhone 8.
What's more, Digiarty is offering an exclusive 50%discount on a lifetime license, which allows lifetime upgrade to future versions and 2 Macs usage.
Transfer photos from iPhone to Mac in high speed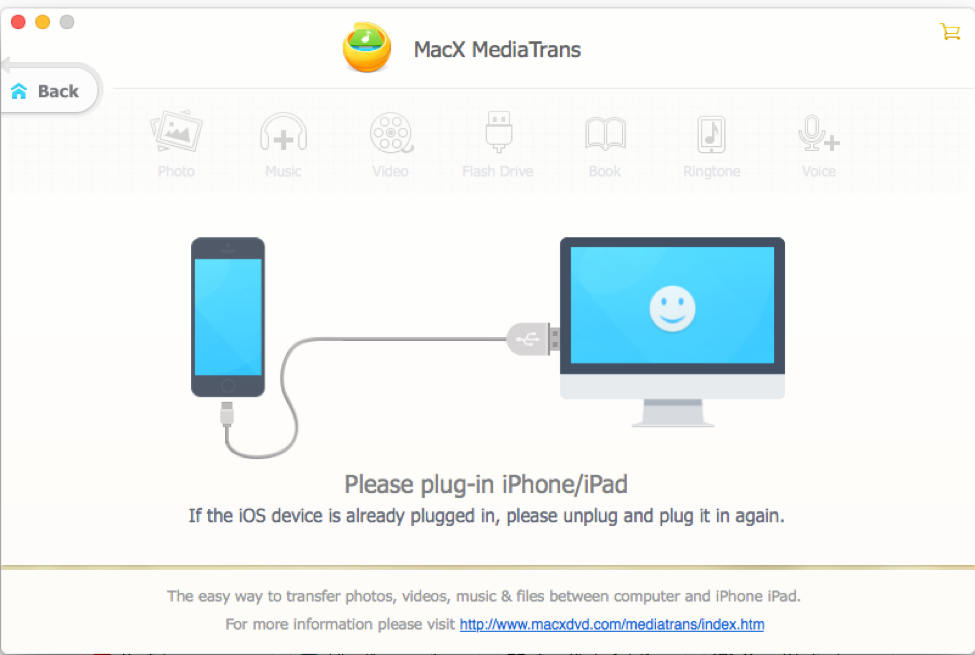 Are you tired of your bulky 4K live photos eating up your storage space but yet, they are so good that you can't delete them? Well, you back them up i.e. you can transfer photos from iPhone to Mac in very high speed and it just takes 8 seconds for backing up 100 4K photos. It also has a very unique feature allowing you to delete any photo from your iPhone camera roll and photo library and you can also group them by categories. This will help you keep track of your photos even more easily.
Transfer videos from iPhone to Mac and vice versa as well
You can import as well as export your 4K/HD/SD iPhone videos which are valuable to you. Once you have backed up your iPhone videos to your Mac device, you can download them back again to watch it offline. Delete the unwanted videos which are filling up your iPhone storage. MacX Media Trans is known for being the best iTunes alternative for Mac but moreover, it is also one of the very few softwares which auto convert MKV, AVI videos for playback on iPhone. It can also automatically rotate slideways videos and make it the right way up according to proportions. Compressing the videos is also one of the features of this application. It compresses them to 50% without any quality loss whatsoever.
Transfer music from iPhone to Mac and Two-Way-Sync
You can two-way sync purchased as well as non purchased iPhone music at super fast speed and also manage your iPhone music without iTunes limits. Another great feature of this app is that it allows you to create exclusive ringtone from your iPhone music and lets you manage your tracks, albums and genres without any limitations.
Transfer eBooks, iTunes U, PDS etc from your iPhone to Mac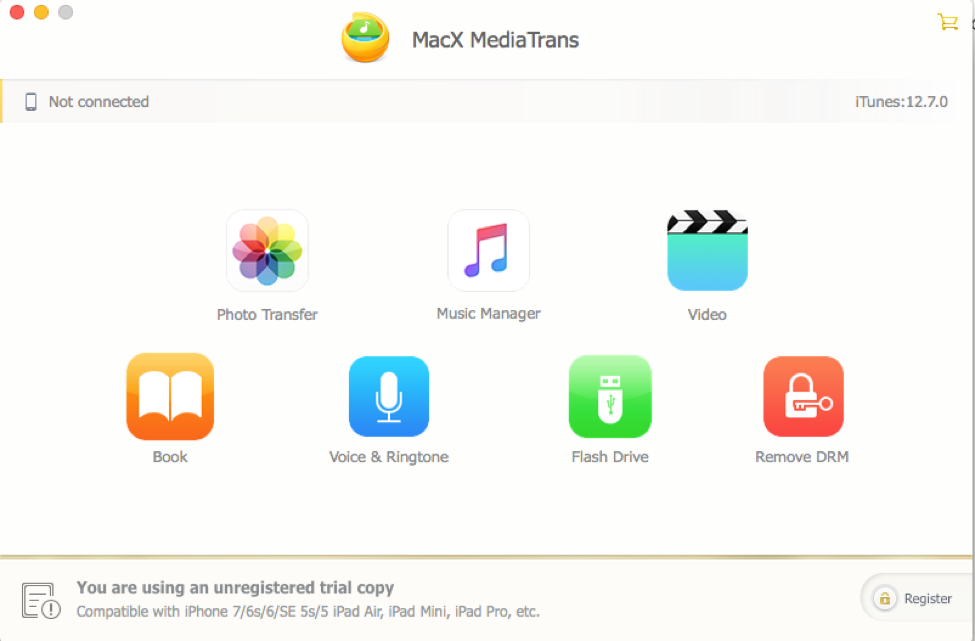 You can move all your eBooks, voice memos etc from your iPhone to Mac and then delete the unwanted ones and download back the the favourite ones to your iPhone.
Mount iPhone as an external hard drive
Saving your private Word, Excel, PDF and other such files make your iPhone an external hard drive.
How to transfer photos from iPhone to Mac using MacX MediaTrans?
Step 1: After downloading the MacX MediaTrans, open the application on your iPhone after connecting the iOS phone to the Mac computer. A pop up window will appear first to set iTunes lest your iOS device data will get lost. Follow the prompts to set iTunes first and then you will be able to transfer those files from iPhone to Mac
Step 2: Click on the "photo" icon to get the photos from iPhone Camera Roll and export it. Choose the photos from your iPhone and transfer it to your MAC by simply dragging and dropping.
You can also feature those photos in categories so that you can find them later, to import, very easily. The import button in that page itself, will let you transfer photos from Mac to iPhone.
Comparison between iTunes, iCloud, MacX MediaTrans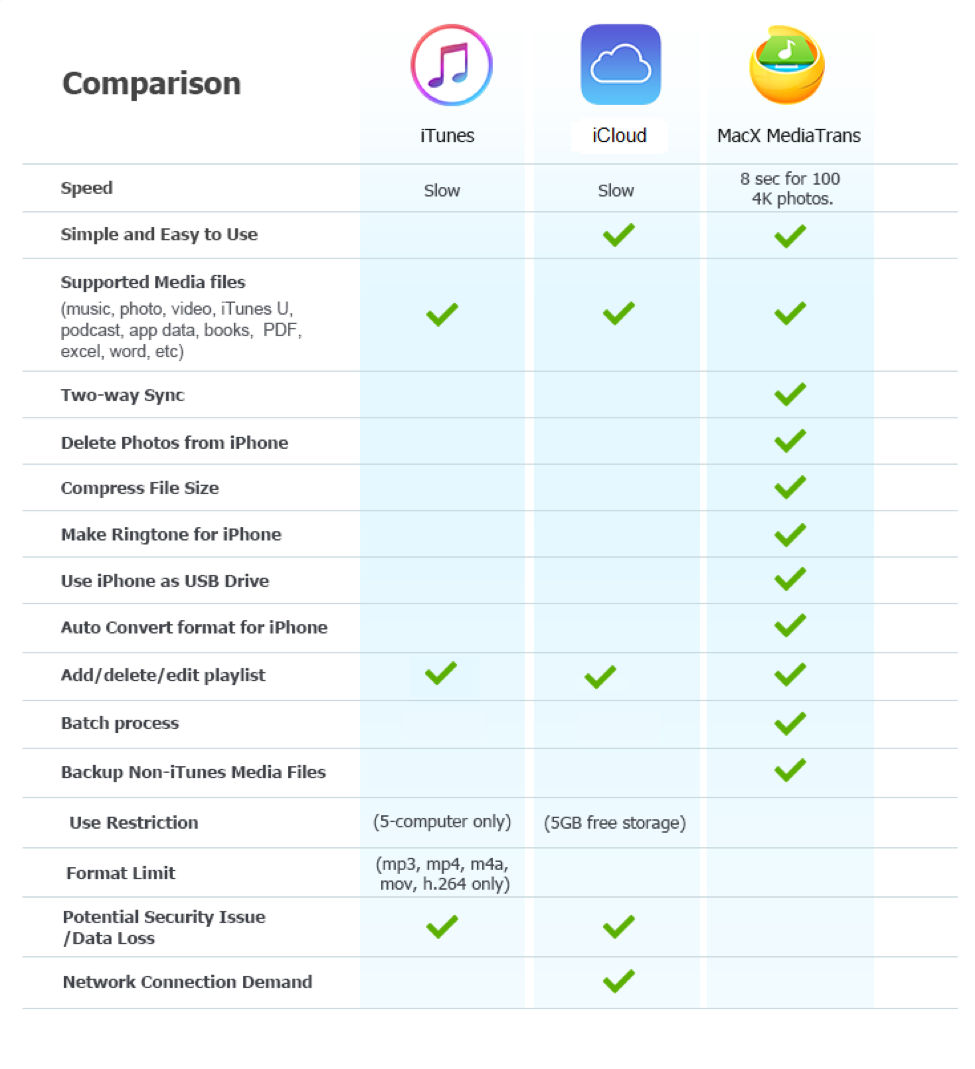 From the above comparison picture we can see that MacX MediaTrans is faster than both iTunes and iCloud and it transfers 100 4K photos in just 8 seconds which is very fast. MacX MediaTrans and iCloud are much more simpler to use than the iTunes. Two-Way-Sync, compressing file size, making ringtone for your iPhone, deleting photos directly from iPhone, using iPhone as a USB drive and auto converting video format for iPhone are the special features only available in MacX MediaTrans and neither in iTunes, nor in iCloud. Adding, deleting and editing playlist is a feature in all three apps but batch process and backing up non iTunes media files are unique ones of MacX. There are also no restrictions on the MacX MediaTrans regarding storage as well as file format. You can export any file format for backing it up later. There are also no potential security issue or chances of data loss if you are using MediaTrans for backup. The best part also, is the fact that it does not demand any network connection unlike iCloud. iTunes doesn't require network connection too and MacX MediaTrans is the best iTunes alternative with no doubt.
Again, MacX MediaTrans fully functional 15-day trial version is available for a limited time and you could try it as soon as possible. You can use this it in your MAC device and transfer files from your iPhone to MAC.The trial version is absolutely free and that is the best part about it.
If you like it, you purchase it.The full version will let you export your valuable possessions from your iPhone to Mac for a period of lifetime and even more.
In addition, there is another amazing video player which can give you a better viewing experience. It is 5K player, a mixture of free MKV and HD video player, music player, AirPlay media streamer and an online video downloader as well.