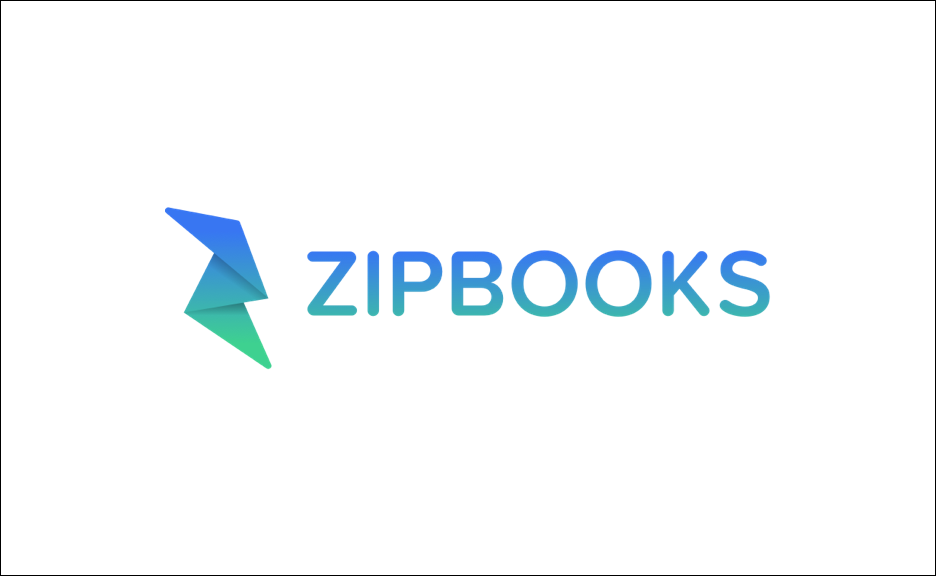 There are a lot of Fintech startups challenging institutional structures of finance out there, but none are putting out high quality apps like ZipBooks. ZipBooks started by providing a web app without the traditional subscription-based business model that most companies charge for accounting software. They just put out a native accounting iPhone app and we are excited to talk about it!
This is the first screen that you see after you log into the app. This is a great way to get a quick overview of the health of your business.
On the menu at the bottom, you can access your invoices, customers, a time tracking tool, or dive deeper into the menu.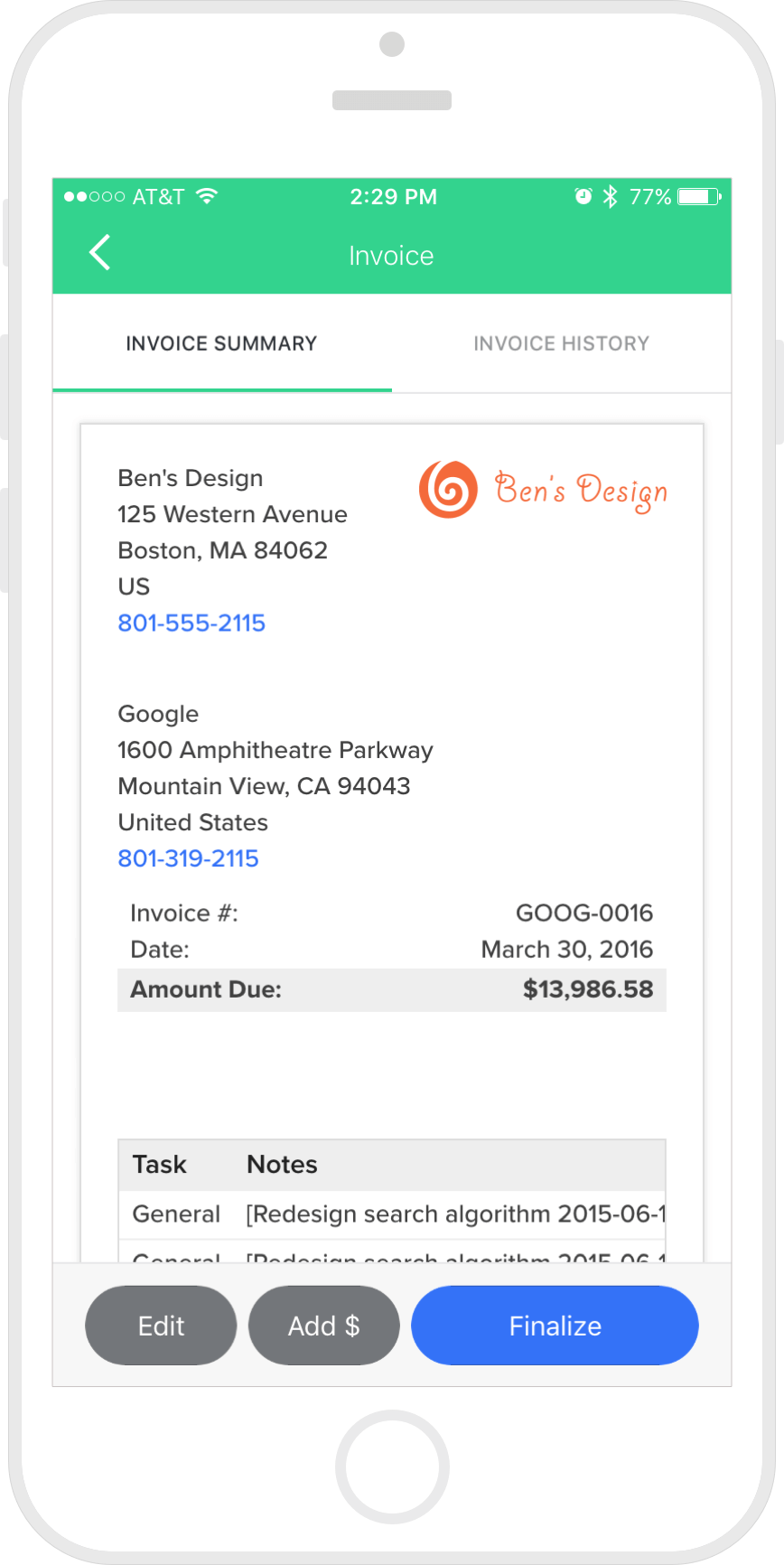 With ZipBooks invoicing you can bill customers very easily. Whether you need to create, edit and send invoices an invoice on the go, you can do that with the ZipBooks iPhone app.
Once you navigate to the invoice section of the app, you will see a list view of the invoices.
To create a new invoice, tap on the plus button in the upper right corner. You'll be taken to a new screen where can start making a new invoice right away. You can also edit an existing invoice by clicking any of the invoices in the list view.
ZipBooks even lets you preview an invoice! Just tap on it from the invoice list view. The first screen you will see is the same invoice view that your customer will see when you email them an invoice.
ZipBooks makes it easy to process credit cards if you are in a country that allows you to create a Stripe account, but anyone can accept payment by cash or check and record that payment manually.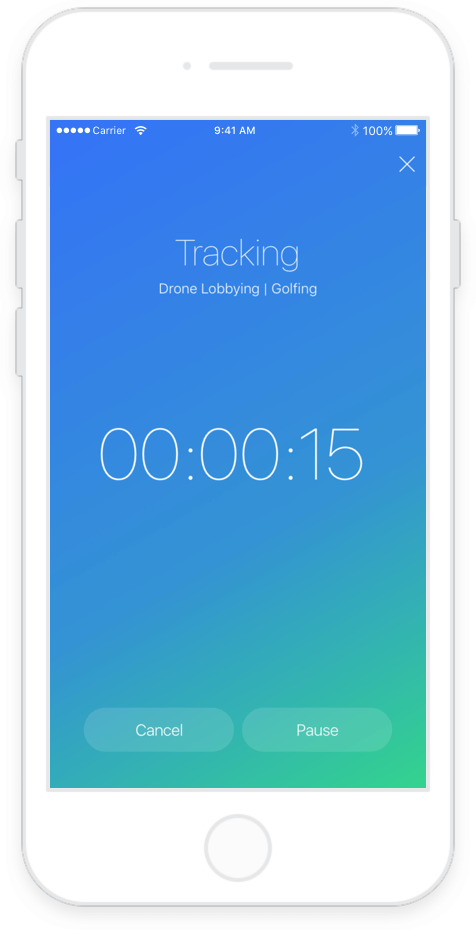 Many freelancers and consultants use time trackers to track their work and now you can do it on the same app where you do your invoicing!
To use the time tracker, select a project and task and time and click the start button. The timer will run until you pause or stop it, even if you navigate away from the screen or close the app. Choose pause at any time while you are taking a break in your work. Then choose resume when you are reading to start again.
You cannot edit entries that you have added to the time tracker. You will need to delete and recreate them manually instead. To delete a time entry, swipe left on it and then tap delete.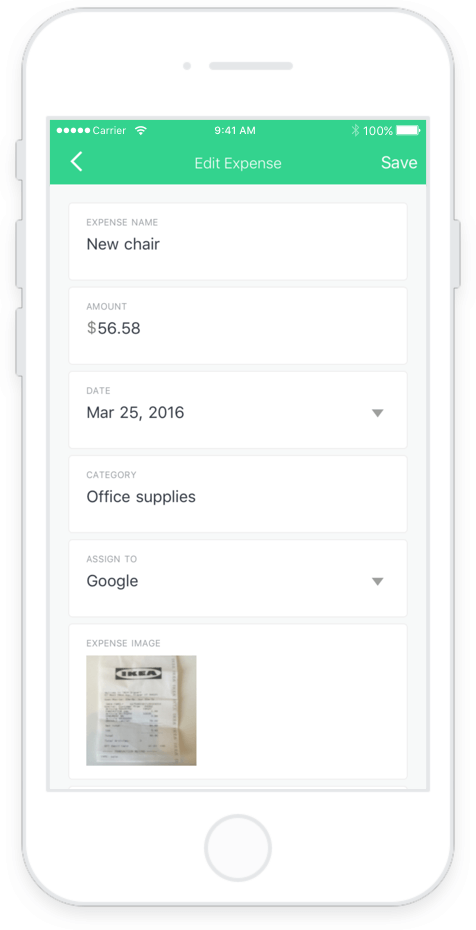 Save receipts on the go. No more paper!
If you dive deeper into menu, you will find the Expenses menu item. From the expense list view, you can see any expenses you have previously recorded, arranged by date. To create a new expense, tap on the plus button in the upper right hand of the list view screen. Enter the expense name, the date, and the category of expense. Then choose a customer from the drop down menu. You can even upload a receipt to get rid of all those loose pieces of paper. Scroll all the way down and then tap on "Upload an expense receipt". This lets you upload a photo stored on your phone or capture it with your camera.
ZipBooks is the first accounting program to send and finance an invoice in a single click. ZipBooks really delivered on its promise to provide bookkeeping, invoicing, time tracking, and credit card processing inside a single iPhone app.