In case you are contemplating to sell your outdated iPhone and purchase a new one, it would be better to erase the data from the old device to prevent the other person from getting your private information. You would not want to part with your private info at any cost. In the following paragraphs, we have discussed three surefire ways to erase data from iPhone.
Suggestion 1: Factory Reset iPhone
This 100% free method is immensely popular amongst iPhone users nowadays. Below, we have mentioned the important steps to achieve this:
Step 1: At first, you need to tap into "Settings" button on the home screen of the iPhone.
Step 2: Next, select "General Option" after scrolling down the list.
Step 3: Lastly, click "Erase All Content and Settings" after clicking on "Reset" button.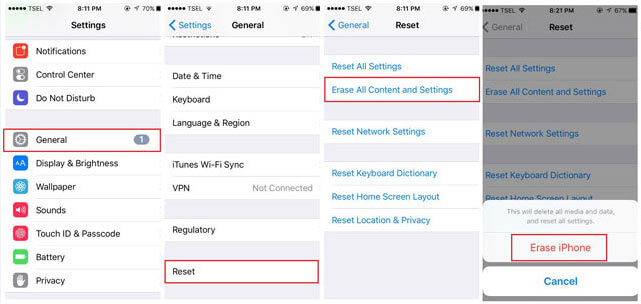 However, this method has got its own demerits since you will not be able to recover data by using this method.
Suggestion 2: Erase iPhone Data Manually
Overwriting the original content is perhaps the best way to delete all the data within an iOS system. However, it is not very easy to accomplish the job successfully and one must have adequate knowledge regarding iPhone. Below, we have provided a guide for deleting iPhone data manually.
Step 1. Initially, you need to change all the passwords for the mail accounts that are synced to the phone.
Step 2. Following this, ensure that the phone is not able to open any mail account.
Step 3. After this, take the help of another computer to either erase or restore all the data in the iPhone.
Step 4. Next, sync all the videos or songs to the newly restored gadget. Stuff the iPhone with data (videos and songs).
Step 5. When the iPhone has been filled up, perform one more erase or restore.
Step 6. The previous two steps must be repeated with different content and erased or restore once again. Try to do this multiple times since more data will be wiped out in the process and there will be less chance of any recovery.
Suggestion 3: Using SafeWiper for iOS
Finally, we will talk about an application named SafeWiper for accomplishing the task of getting information from iPhone. First, we will mention the reasons why we should use SafeWiper: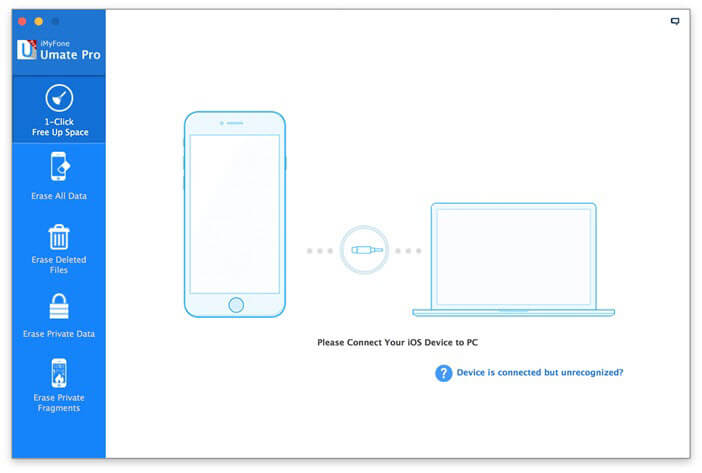 Removes Deleted Files Permanently
You might want to permanently erase particular files on the iPhone. SafeWiper for iOS will allow you to do just that. Sometimes it is possible to retrieve some deleted files and this can cause you lots of headache in the long run. Fortunately, this problem can be solved effectively using the application mentioned here.
Powerful Data Erasing Algorithms
SafeWiper is 100% efficient in terms of formatting your iPhone completely. It will permanently erase all types of data including contacts, messages from iPhone, and other important information such as keyboard cache and applications. In fact, SafeWiper is the number one option when you want to erase all data from your iPhone permanently.
100% Risk-Free
You require a very safe tool for protecting your privacy while deleting messages from the iPhone. SafeWiper will surely live up to your expectations by providing you with top-notch services and safeguarding any personal as well as financial information. It will do this with an enhanced fraud protection plus a full encryption. You simply need to download the application and enjoy a trial period of 15 days.
Frees up Space in One Click
The application will also help you to clear all junk files from the iPhone thus creating a lot of free space. Consequently, your iPhone speed is going to be enhanced when all the junk files become erased.
How to Erase Data Using SafeWiper for iOS:
Step 1: Go to SafeWiper.com and install the application on a computer. It offers you 4 eraser settings and you need to select the appropriate option.
Step 2: Here you may select "Erase Deleted Files".
3rd step: Now, the app is going to analyze and scan all the deleted files automatically in the iPhone gadget. The whole procedure should take only a few minutes till all the deleted files are displayed in a panel.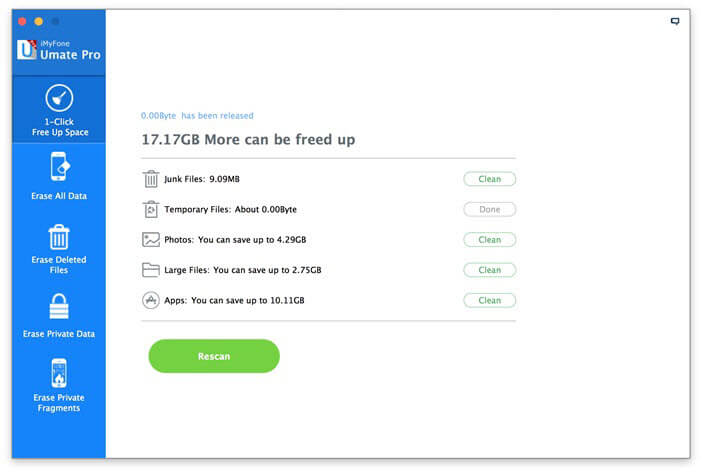 Step 3: At this stage, SafeWiper will start to erase your iPhone contacts officially along with other files. When the process is finished, your iPhone should start afresh and all the old files will be gone forever.