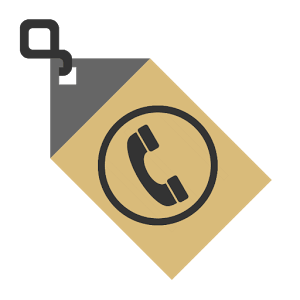 Qcktag is one of the new android app that lets you to save the unknown numbers for a temporary time and helps to keep up the numbers that are only need for a long time in your phone contact list. After reading the above we know that some of you have still not got it. Consider you have a call from the courier person for the online purchase that you have made, some of you may save it in your phone contact list and if you are going to add numbers like this you know how big your list would after a year or so.
To get the idea clear we are attaching a screen-shot below
Qcktag temporary contacts android app review and features
After installation from the Google PlayStore Qcktag will start to check the numbers for tagging the unknown ones that you get in the form of incoming / outgoing calls, incoming /outgoing sms
Note : You should try to call from a number that's not in your contact list or go to preference and un mark the "unknown numbers only"
Unlike many other free apps this doesn't come packed up with ads in the free version, the only limitation is that the tags are restricted to 6. You can upgrade to the premium version by just paying small amount of $2
One click backup and restore of the saved tags without browsing where it's stored
Search option at the top helps you to find the desired tag swiftly if are using more 6 tags
You may also like : Bebo messenger android app
Notifies you from the notification bar according to the settings that you have saved in the preference
Support android wear
Ignore list is the latest addition in the package with which you can add the numbers so that the application won't ask you to add a tag. This feature requires you to have Kitkat and above
Qcktag android app in action
Concern
The only one we found was that the tagging pop-up wasn't coming on tapping the number in our ice cream sandwich powered device.
Resource usage
Phone used for testing : Xperia Ray with ice cream sandwich
The apk package which is 2 MB unpack to 3 MB as shown in the picture below
Other info
Version : 1.4
Requires : 2.2 and above
Pro version : Yes
Try it from the link below
Final Thought
This one seems to be pretty good and get thumbs up from our review team