CRIS( Centre for Railway Information Systems) has rolled out NTES or National Train Enquiry System mobile app for the device running android operating system and its available free of cost from Google PlayStore for the device running Ginger bread and above.
NTES android app features

Out of all the features 'Spot Your Train' just stands out as it tells you details of any train with details like scheduled date and time both for arrival and departure with delay information if that's there. It also tells you how much distance that it has to travel (in KM) to reach its destination
The second feature called 'Live Station' with which you can enter your current station and your destination. The NTES android app then shows up a list with information of the trains leaving to your destination within few hours.
Train schedule : which gives detailed information on particular train timing
You may also like : Locker master a beautiful locker app
It also lets you to find out the trains running between two station
Other handy features
Cancelled Trains
Rescheduled Trains
Diverted Trains
More information about the package
Version 1.1
Apk package size : 1.7 MB
You can grab it from the link below
Download now
Note: The app is also available for Windows Phone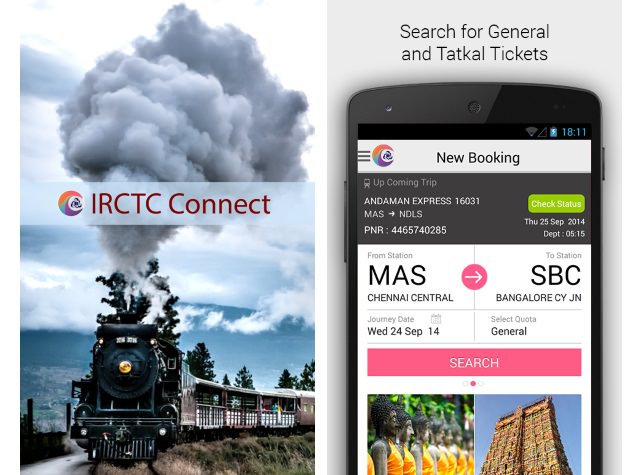 IRCTC android app, the official version has been rolled out now and its available free of cost from the Google PlayStore. Its also to be noted that IRCTC app is also available for BlackBerry from Aug 2014 and Windows Phone from 2013 in their respective stores for free.
IRCTC android app features
Like app available for other platforms the features are some almost same, but are adding it below
The existing users users can quickly login
Its also possible to register if you are a new user
Possible to view and cancel tickets right from your device
Users can make ticket booking from your device throughout the day, except during 8 am to 12 pm, which means you have to go for traditional ways to book it.
Rail ticketing now made simpler just by SWIPE and SHUFFLE, SELECT and BOOK. Install the newly launched IRCTC android app and book a railway ticket anywhere in India at your fingertips, as said in the app store listing.
IRCTC android app other info
Sadly it requires android version 4.1 or above to run it.
The package is packed at only 12MB which is fair.
Interested in trying it? Link to store attached below
Download IRCTC Connect
Hope to see more features soon in the app as it offers a great relief for those who travel in train regularly.
Start booking the train tickets right from your smart phones.