Hello folks we are back with another game review and now it is turn of Pocket Family: My Fun Dream House by Kooapps. It is a house building or we can say house customization package having some cute characters.
Exploring Pocket Family iPhone/iPad game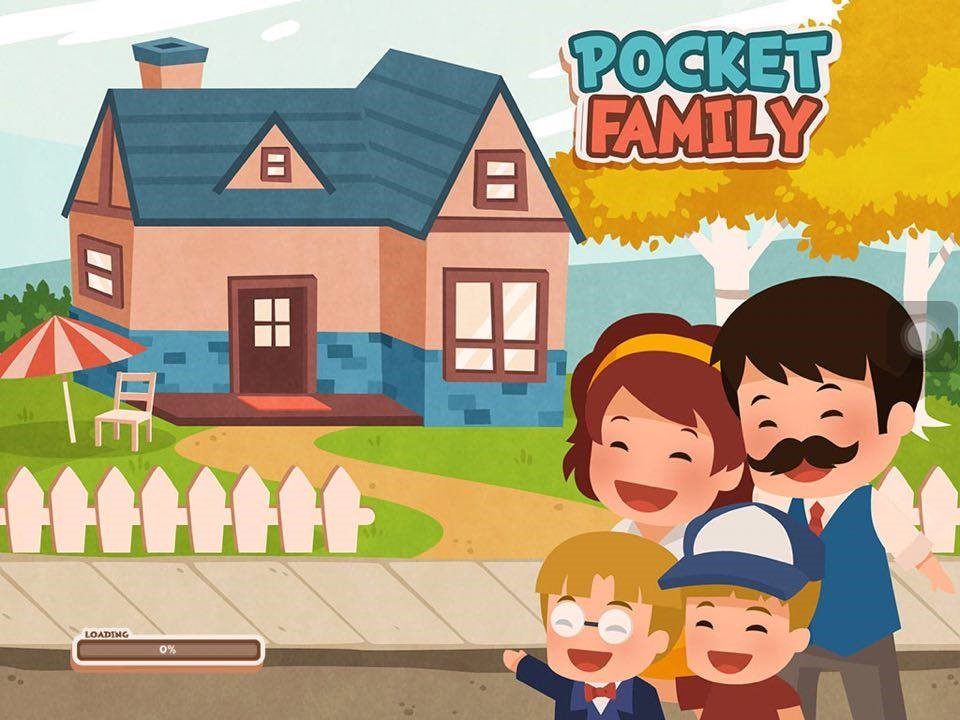 Basically, it is a house building or a customization visual simulation game available for various platforms (we are reviewing iOS (iPad)). It is a free one with some in app purchases so just we have a detailed view of the game.
In this one we have to build, customize and design our house for our family members. We can choose different rooms like for bathroom, laundry room, foyer etc for our house. We can even choose garden, circus and lot more. We can also customize furnishing too for each and every room like we can add a computer to a room or adding an extra toilet seat to a bathroom . We can also customize and design each room like we can change floor, wallpaper and background.
Story Line and Task
As like other games, this one too has levels and some tasks associated with each level for some idea have a look below.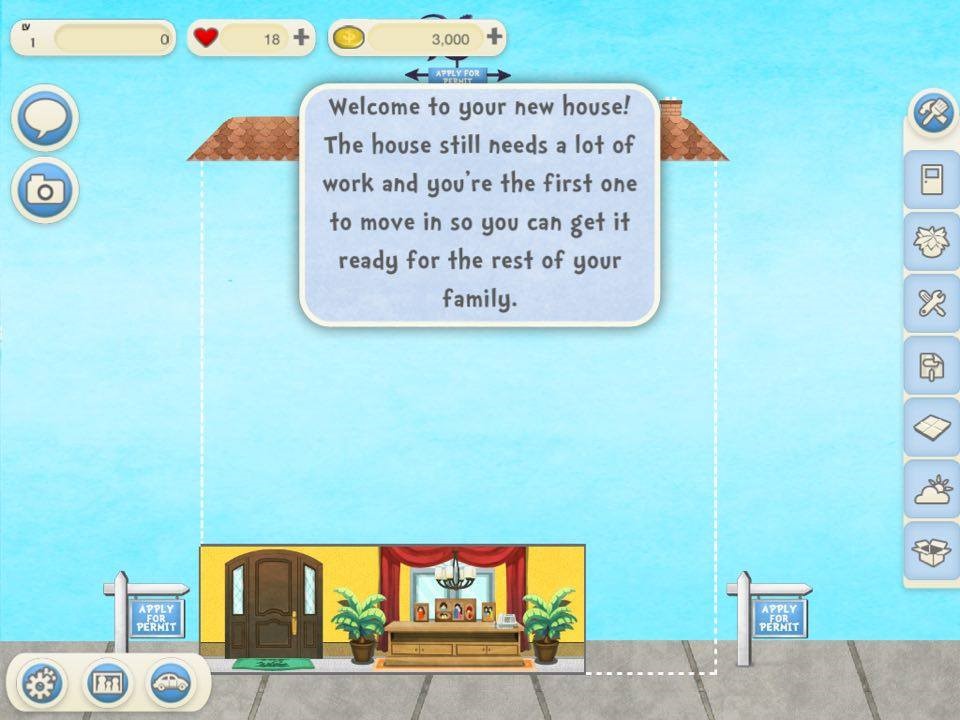 We have to interact with each family member to build their room and to customize their room according to their need. We get some coins and hearts for each task we complete. With completion of each task for each family member he/she will start living in your house with each level we are joined by some cute and funny family members.
We do have some cute and funny characters like twins Dewey and Elory, Great Uncle Oscar etc. We have to interact with each members and perform customization according to make them happy and to gain some extra coins and hearts.
Features
Before writing this review, we played this game for several days and also go through different users reviews, so we are just highlighting some key features of the it: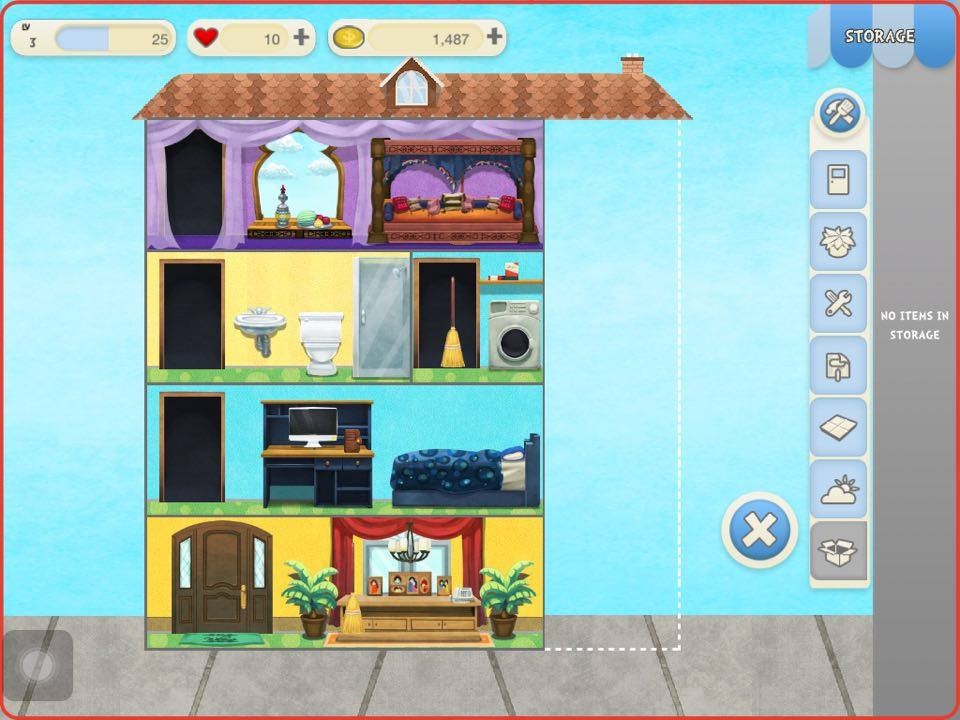 1) Unlike other simulating ones available in the store, it is quiet simple to understand ie only few minutes are enough to understand the concept of the it.
2) Simple with some super graphics and pleasant sound. Cute animation characters are making this one more engaging.
3) Different story line which is quite different from other games of same concept.
4) We can customize each room like we can change wallpapers, floors etc. According to our need so we can design our own house according to ourselves.
5) Excellent customer service provided with it like forum so we can go to official site for any type of discussion or help.
6) It is also updated with regular interval with different themes, making more interesting and engaging.
7) As mentioned earlier is a simple and so even small children can play it easily and children will also love cute animation characters.
Final Verdicts
Coming up to the final verdicts, we will like to tell you all guys that this game is simple yet interesting game which will surely win your heart. We are getting some exciting and some extraordinary features from this game as mentioned above. Now let us tell you about some pros and cons about this which we noticed while playing this it.
Pros
I) Different storyline.
II) Only 81mbs for iOS (ipad).
III) Cute animated characters.
IV) Smooth user experience.
V) Screenshot features just take a snap share it directly with your friends.
VI) Easy to play so even small children can play it very easily without any problem.
VII) Customization of room according to user is a feature which makes this game different from other game of same type
Cons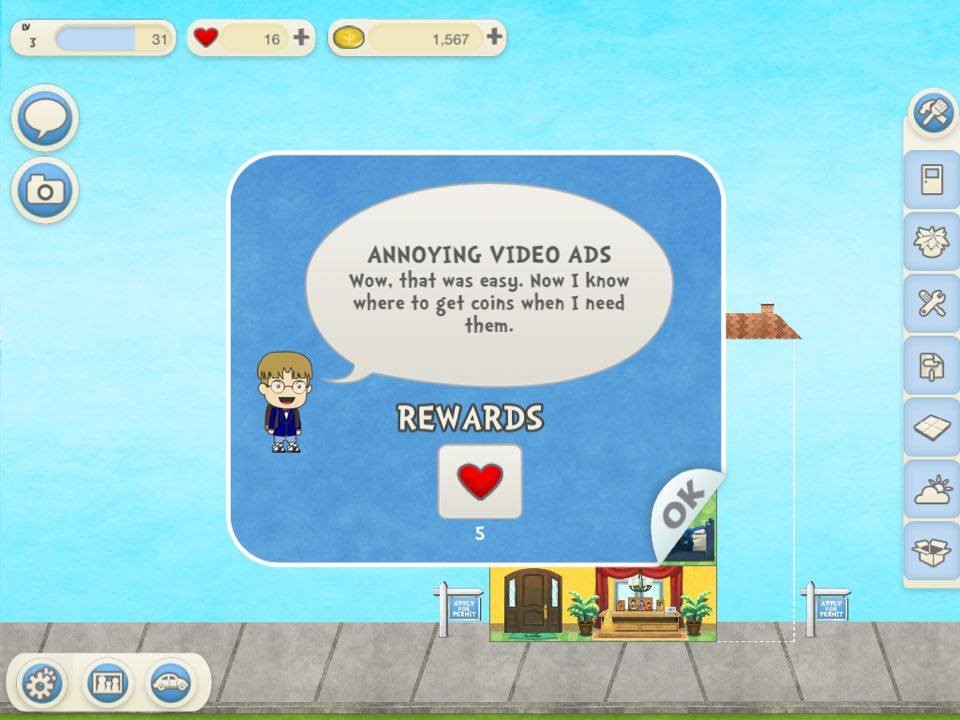 i) Limited hearts and coins so we have to buy coins and hearts or we have to see some ads to get some hearts and coin which is really annoying.
Note : Package is free but have some in app purchases, like others in the market
At last this Pocket Family is highly recommended by us, as it is a free you can just try it once and its only occupies 81MB of memories. We are sure you will love this power pack. Please feel free to share your thoughts with us.