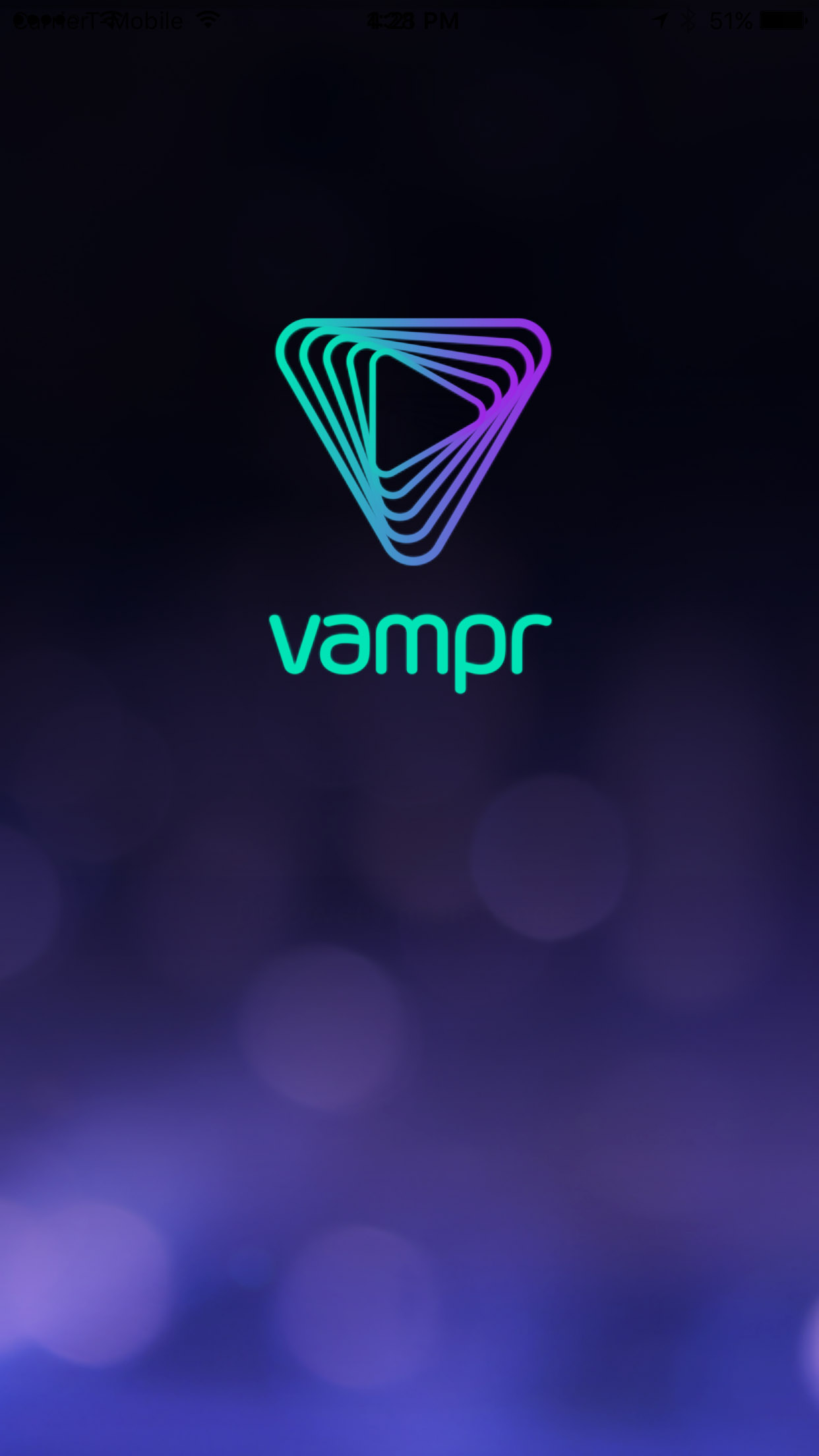 Hi, music lovers out there this post is completely dedicated to you – in this post we will tell you about a platform where you can take your passion for music to the next level. The app in question is called Vampr. Vampr completely justifies the statement that talent has no boundaries. As through Vampr, any musician can discover any other musician. This app gives its users a chance to connect or collaborate with other music lovers all over the globe. Vampr is available for iOS and  Android (in beta now) devices.
Exploring more about Vampr App
Vampr is swipe left-right social media platform (just like Tinder) which allows one musician to connect with another. As a user I can check various things about other musicians like featured songs from YouTube and SoundCloud. Let's explore:
1) Vampr makes it easy for musicians to connect with one another. Musicians create an account on it and fill in their details (I will discuss specifics in a moment).
2) A quick and easy YouTube and SoundCloud integration option is available which allows the user to show his/her skills to other musicians all over the world in a few quick taps.
3) This free app also enables chat between users who choose to connect. This makes it incredibly easy to start chatting with talented new musicians or people you disocver.
Working of Vampr
Vampr works similar to Tinder, although the big difference here is instant connections, so both users don't have to discover each other to start a conversation. In this part we will explain how it works with the help of some snaps.
1) Firstly, users have to create an account. Creating an account is an easy task thanks to the Login with Facebook option.
2) After that, you will get the following screen describing how the app works.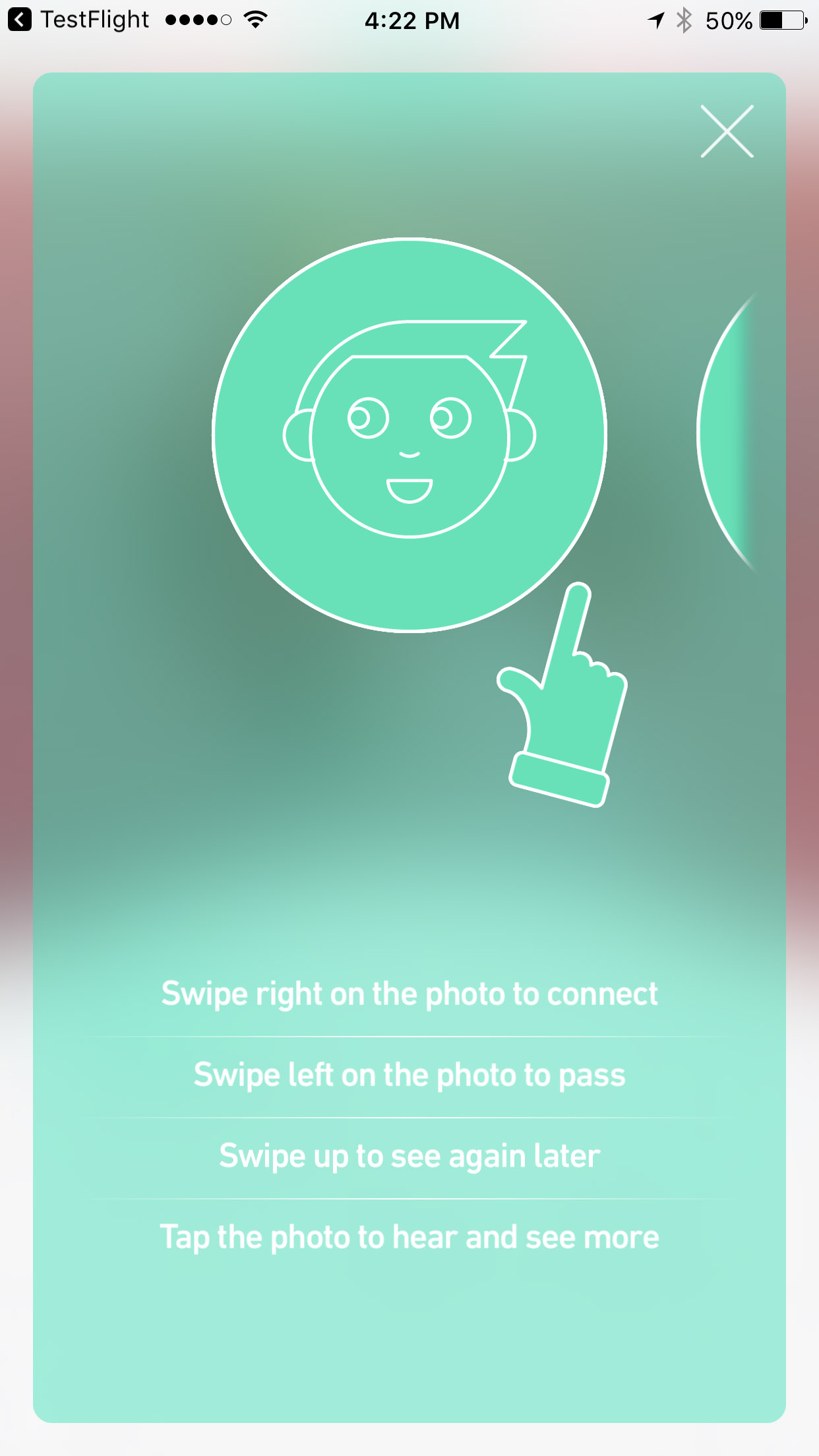 3) Here is the snap of our first musician who appears to be a violinist, in a band, and a guitarist.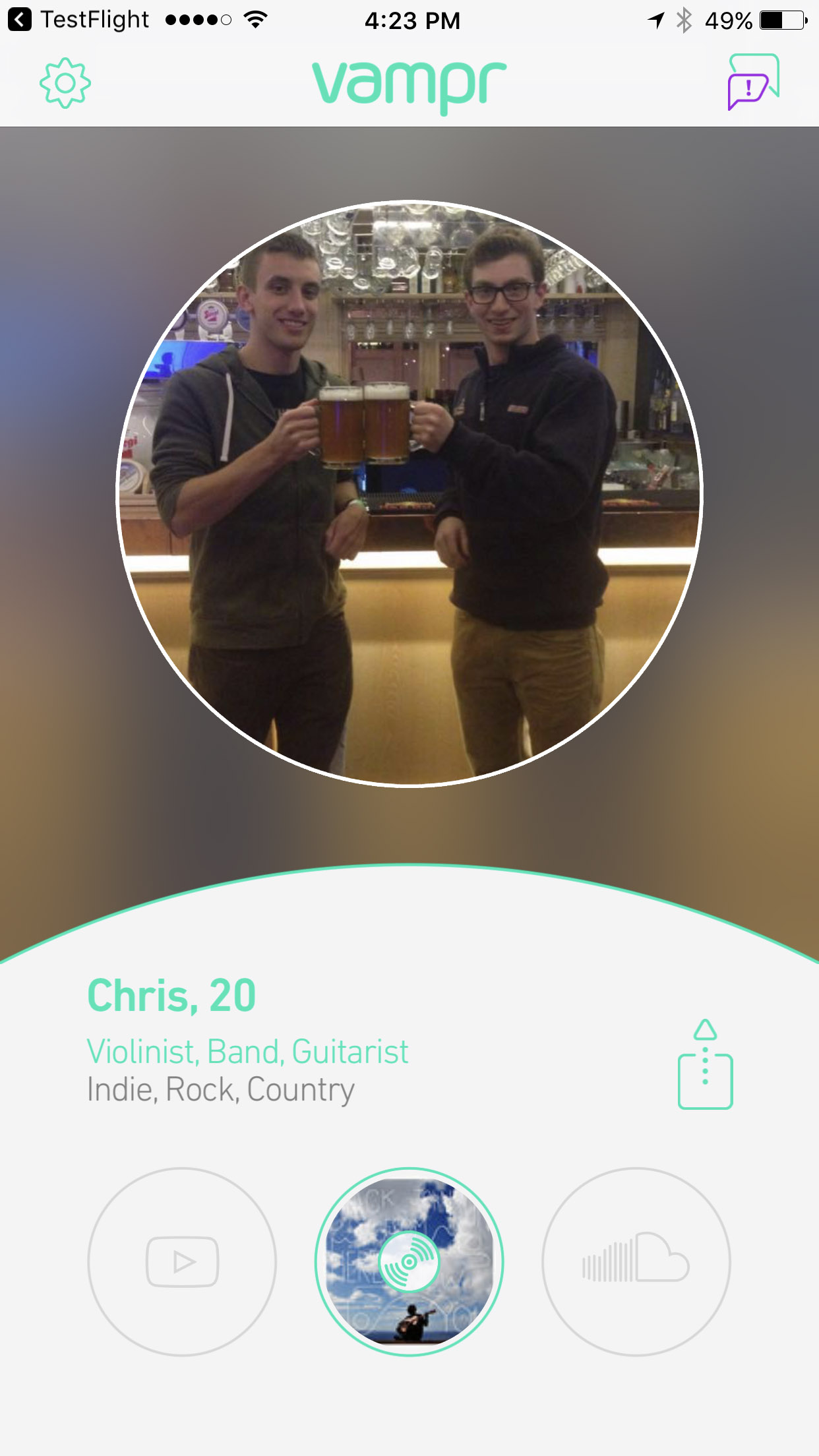 4) Swipe right to connect.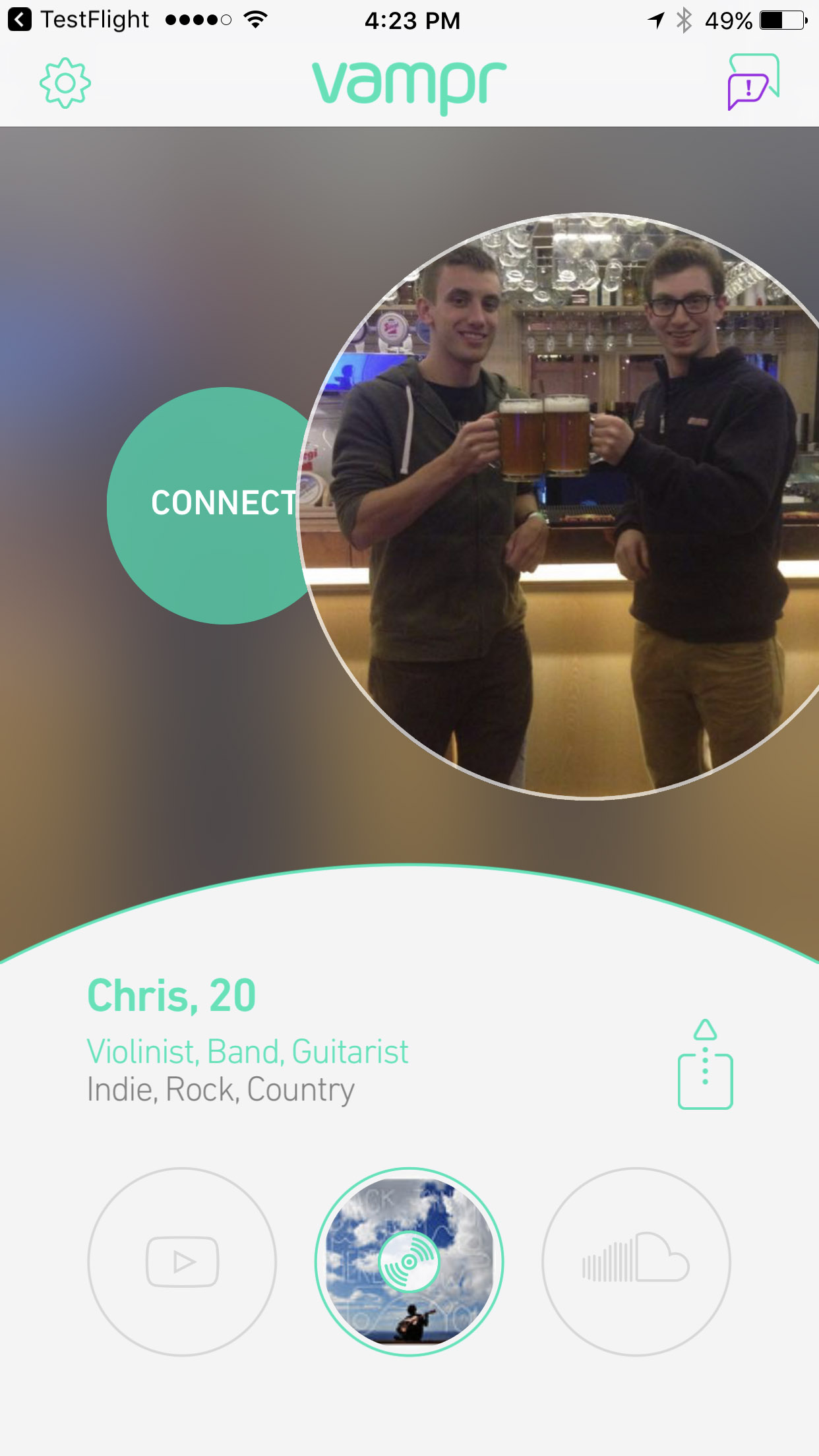 5) Swipe left to pass ( i.e., ignore). This is permanent!
6) Swipe up to Save for later.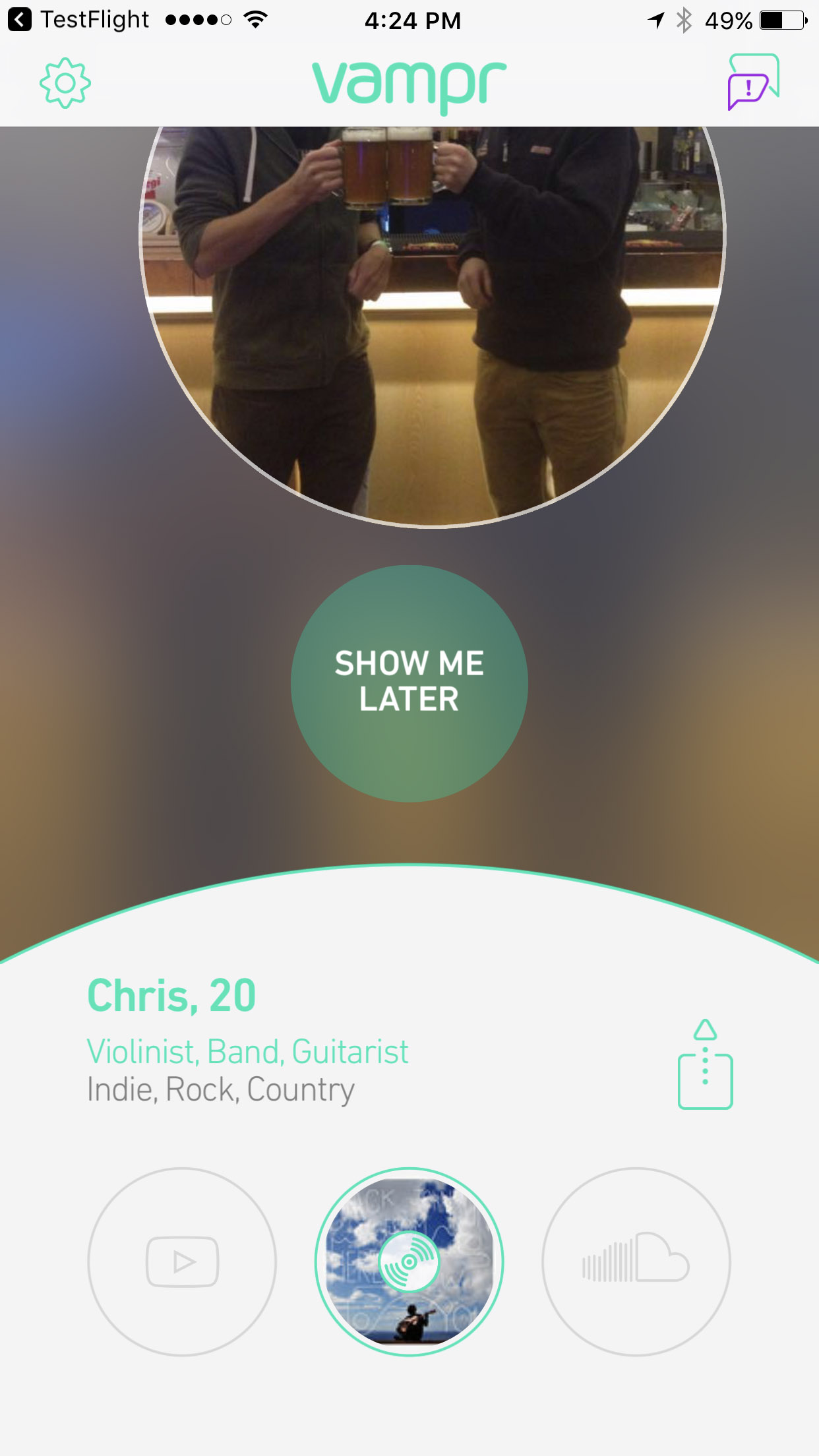 7) Tap on the image to see more of the musician in question.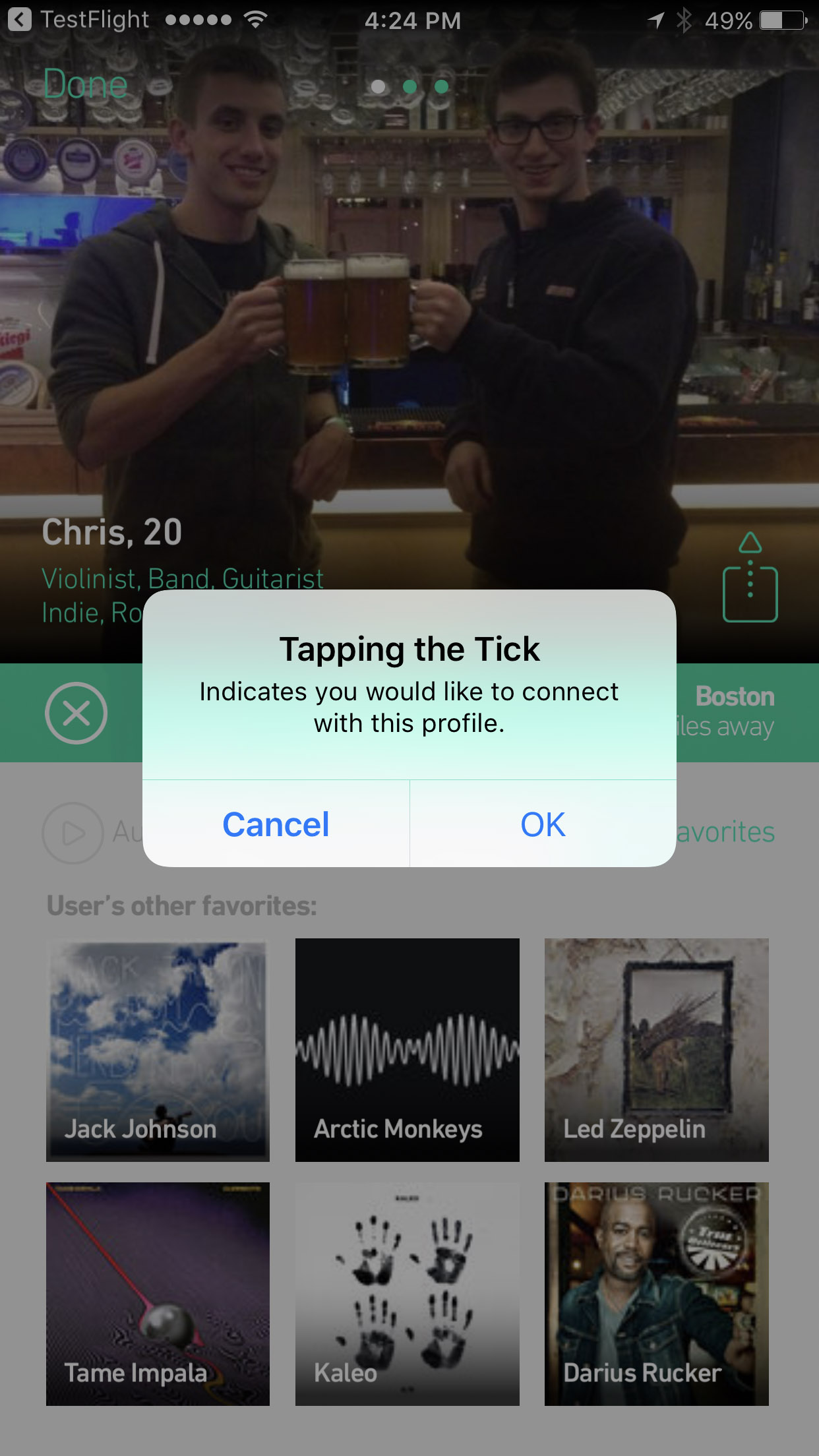 8) Or you can also click on the Audition tab – this is where I can preview a user's YouTube and SoundCloud media and really assess their work.
9) And if you want to connect just click on the tick and start chatting.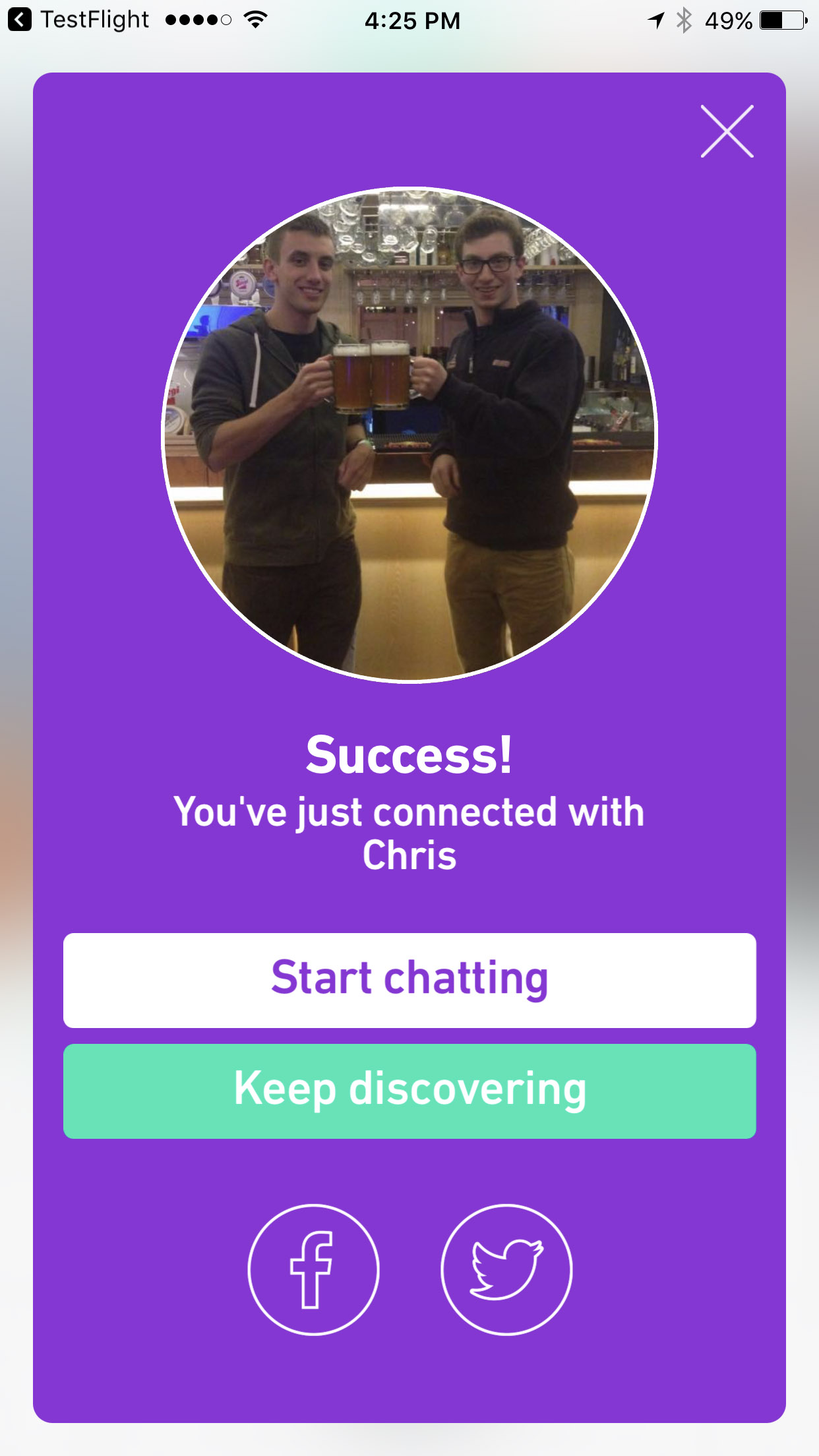 10) In the settings menu, you will find options like Edit Media, My Information, Discovery Preferences and App Settings. (I have blurred my image to preserve privacy)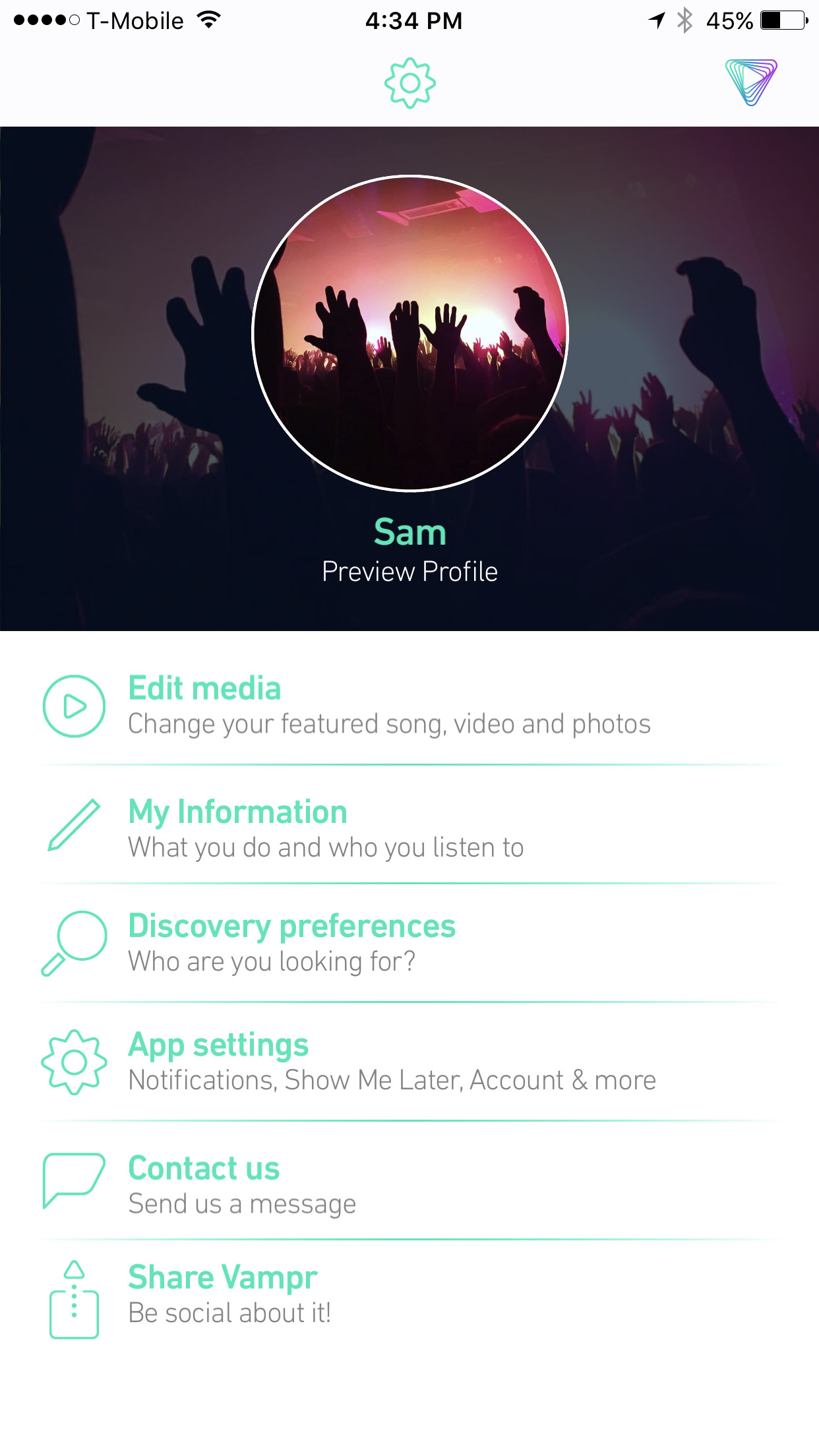 11) In Edit Media you can modify your profile pics and can add your media from YouTube and SoundCloud for people viewing your profile.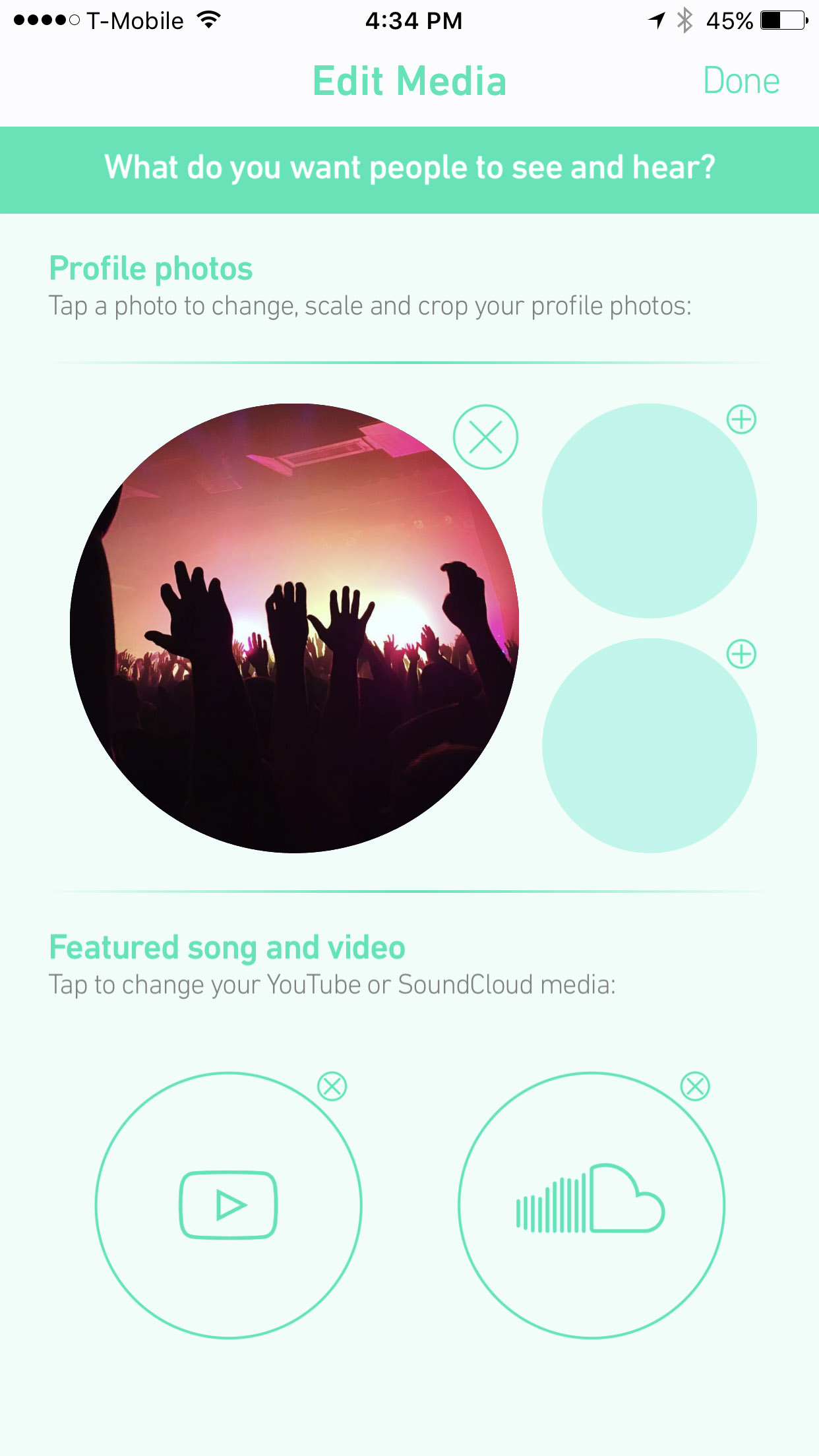 12) In My information, you can edit the following fields to round out your profile.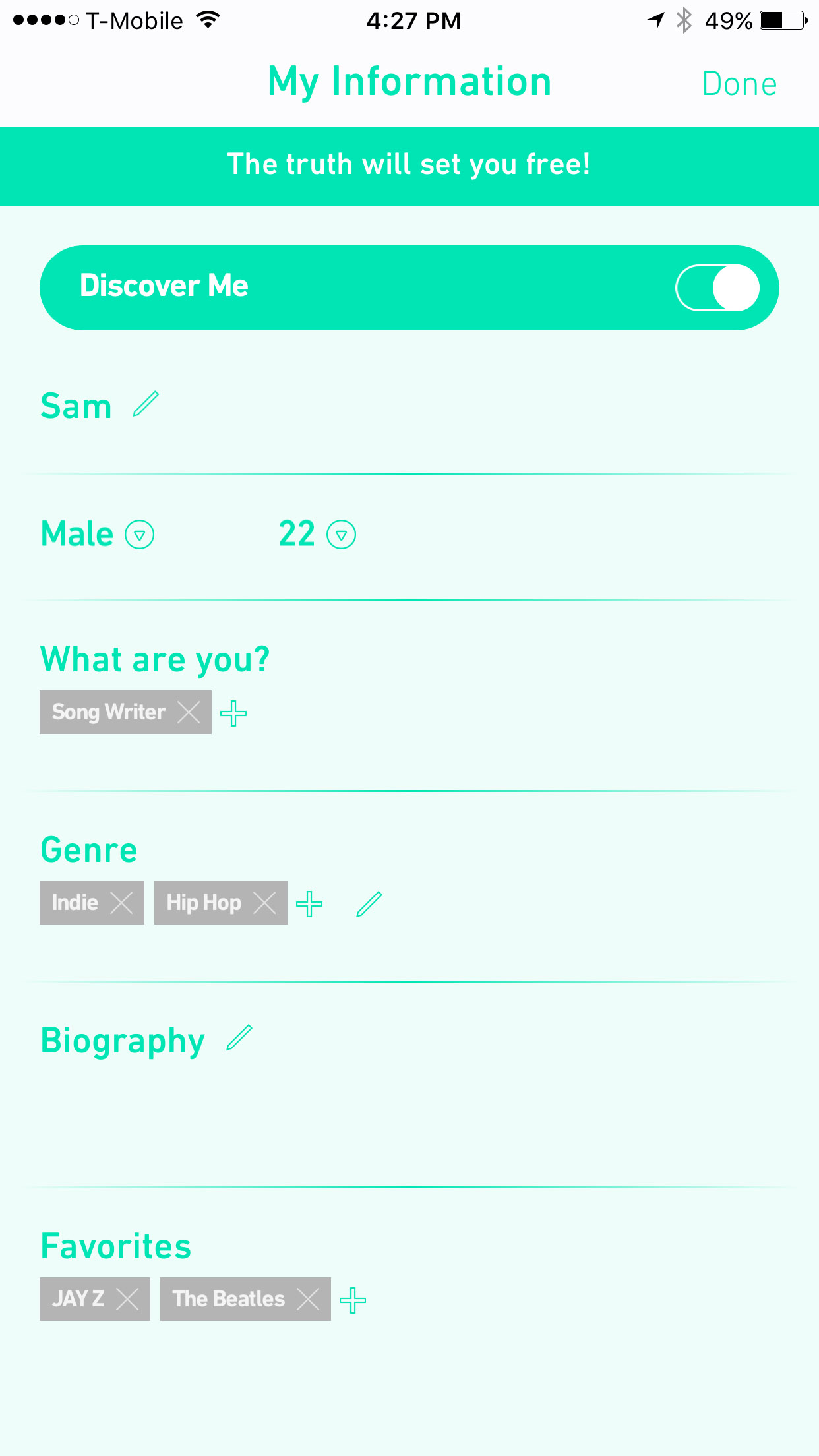 13) In Discovery Preferences you can set the age, distance, location, etc of the musicians you are seeking out.
14) Clicking 'What are you looking for?' reveals a high variety of catagories such as backing singer, band, bassist, etc. The more detail you put into this page, the better your results will be.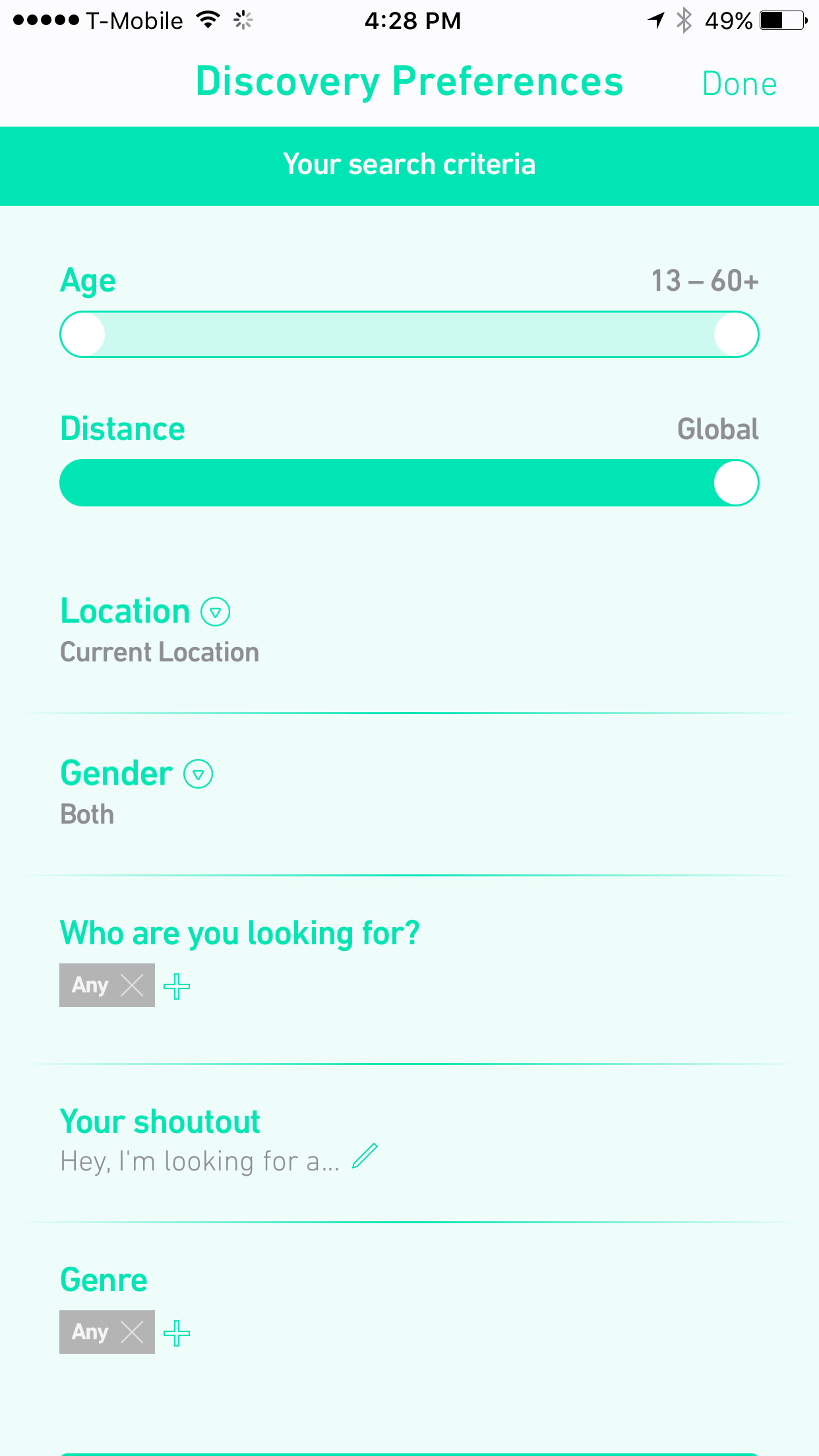 Final Words
Now we know how Vampr works, let's discuss some of the pros and cons with the app.
Pros
1) The concept of the Vampr is very good. Being able to add media from YouTube and SoundCloud dramatically speeds up the time it takes to get started and helps with judging the talent of a potential contact.
2) The Interface or UI of the app is very responsive, and it is very easy to use. Anyone can pick it up easily within first use.
3) The effective Discovery Preferences page gives Vampr its edge over competition. These settings and options ensure that the user gets the result they're after.
4) Customer care support is also very responsive and helpful.
Cons
The only con is that it is not available as a web app. Their developers should think about launching an online version of Vampr so that users can enjoy it on a bigger screen and of course with a better sound system.
If you are a music lover and are looking for another musician to connect with then go for it without a seconds hesitation. Vampr is a free platform to use and its size is less than 22 MBs. I'd encourage y'all to give it a try and share your thoughts with your friends and us also.