Update: Recently LG rolled out Web OS 5.3 for all LG Smart TV and for updating it from WebOS 4.0 just connect it to the Internet and navigate to all settings>General>About TV
Recently a new update was rolled out by LG and still there is no log of this update that tells what tweaks or improvements are made to the OS.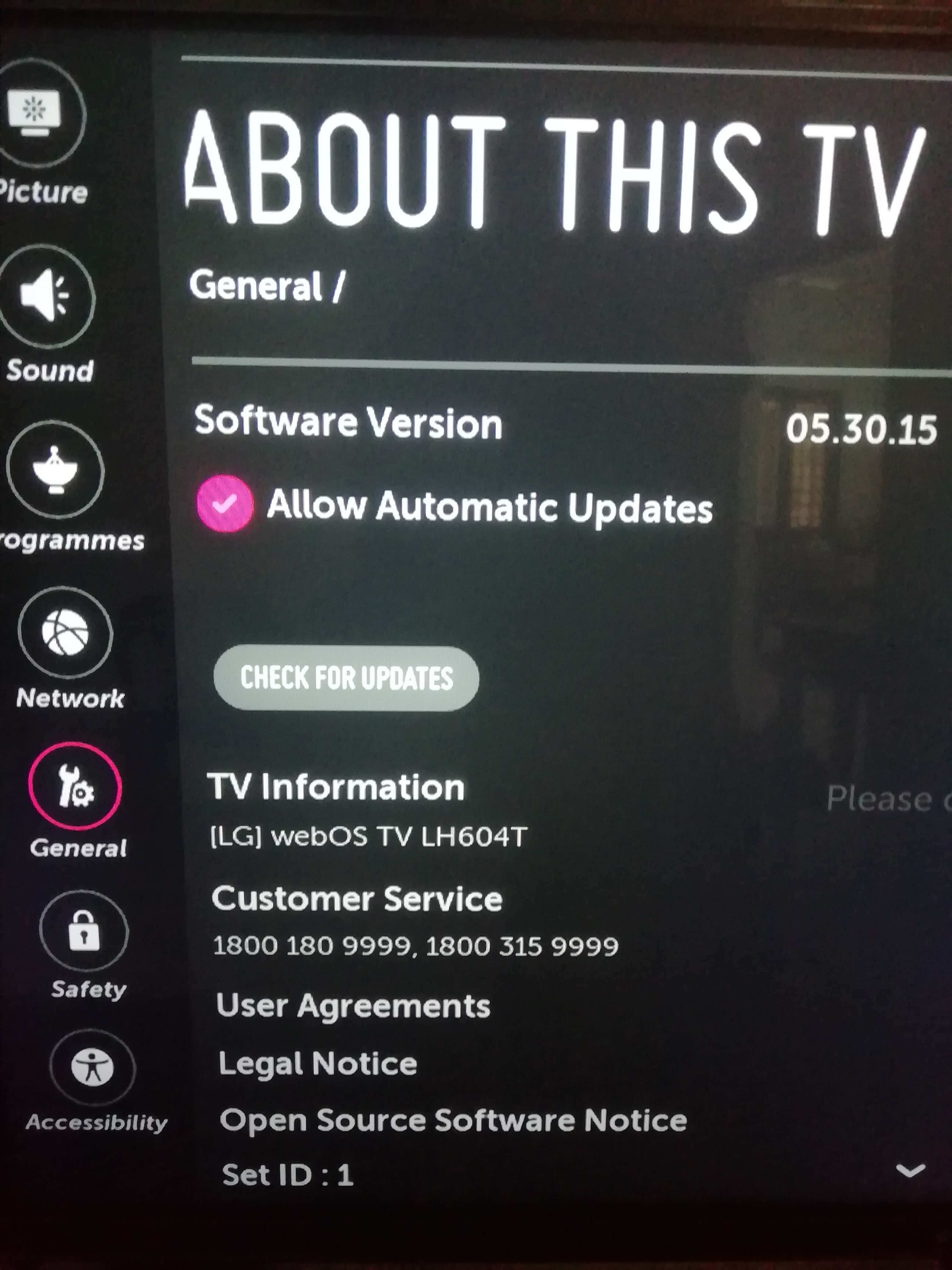 Note : You can't directly go from WebOS 3.5 to WebOS 5.3, total file download size from 3.5 to 5.3 is around 3GB .
We got some comments asking if this is the software version or OS version ?
I do remember when the service person came, he reseted the TV and in the about TV it was showing 3.5 and it exactly match with the WebOS version number written on the TV box!
So 5.3 is WebOS version number.
Also LG don't provide any change log file! So we don't exactly know what comes in the 5.3 version
My experience after using LG LH 604 T Full HD Version review after using it for 4 months.
What did we checked before switching or buying this Television ?
The picture quality, price, Miracast to mirror my laptop screen and ability to stream 1080p videos without any problem.
Is there a non FHD version ?
Yes and the price is lower and all the specs same as that of FHD version.
Every thing in short after my 4 months of experience.
Pros
Super sharp display (FHD, IPS Panel) and viewing angles
Cheaper than other bands
Dust won't settle on your screen, but on other parts dust may settle if you are living a dusty region
WebOS frequently updated with patches
Eye comfort mode
Good sound quality
Supports almost all video and audio formats like MKV, AVI, DiviX, AAC etc
Inbuilt apps for Netflix, YouTube, Amazon Prime Video and some country specific apps
Support for Miracast or screen sharing or Inter WiDi. Note WiDi is used only in old laptops models
Screen can be turned off, when playing only music.
Remote with pointer mouse, so you can type songs or movie names quickly in YouTube, Netflix etc on the on screen keyboard. Also when you connect or mirror your laptop screen to this TV, remote pointer can be used as mouse and there is scroller on the remote. But only double click supported, no right nor left clicks
Subtitles in the video is supported
2 Years LG warranty (Note this is country specific, so do ask your seller about this)
Very less power consumption, screen consumes 4% of power, speakers consumes (20 Watt) 3% of total power input
Cons
TV lags
Sound mode can't be changed quickly like picture mode
HDMI ARC seems to be buggy with Sony 5.1 Home Theater System, neither LG nor Sony don't know how to solve this issue. But the home theater will work with this LG TV and all you have to do is turn ON home theater with Sony remote and CEC seems to be waste for this TV. Sony home theater should automatically turn ON once the TV is turned ON.
No support for wireless headphones
Web browser closes after we viewed around 15 1080p YouTube videos, it says out of memory and during restart of the browser the crashed web page is shown for us to continue playing videos
In built YouTube app settings has no option to set resolution of video to play only 1080p videos
Universal remote costs around $75 if you need to buy a new one, note : till now there are no probs with my universal which I clubbed with my set top box (CISCO one) and all functions are supported
During Miracast laptop mouse lags and still now I don't know how to solve this issue.
Documents like docx,PDF can't be opened from flash drive or hard drive, but from Miracast its possible.
4K playing ?
By default this TV don't support 4K video files but you can play the file in your laptop and select the projection option in your Windows 10/ Windows 8.1 laptop and then play the file to TV via Screen mirroring option provided in the TV. Do note playing 4K won't improve the picture quality!
MKV format issue ! 
TV was able to play almost 99% of MKV formats that I threw, but didn't play a file and I need to Miracast that media file from my laptop.
Does it support USB mode of android mobiles ?
My Sony Xperia USB mode supported but my lenovo USB mode not supported and this is weird!
Final Thought
For this price and with this much features loaded, we say its a good go one.
If you need any info or clarify any doubts about this model, just drop a comment and I will answer that for you in a working day.