When it comes to saving audio files, mp3 is the format you should choose. In fact, it is highly used in music tracks for smartphones, PCs, Tablets, microSD cards, etc. People don't want to lose their favorite tracks from their devices. However, most of them lose these files due to malware attack and corruptions in data. Many people accidentally delete their files, and they don't become aware of it. If you want to restore or recover deleted MP3 file from your computer, here we have prepared a tutorial for you.
Following steps help you to recover deleted mp3 file quickly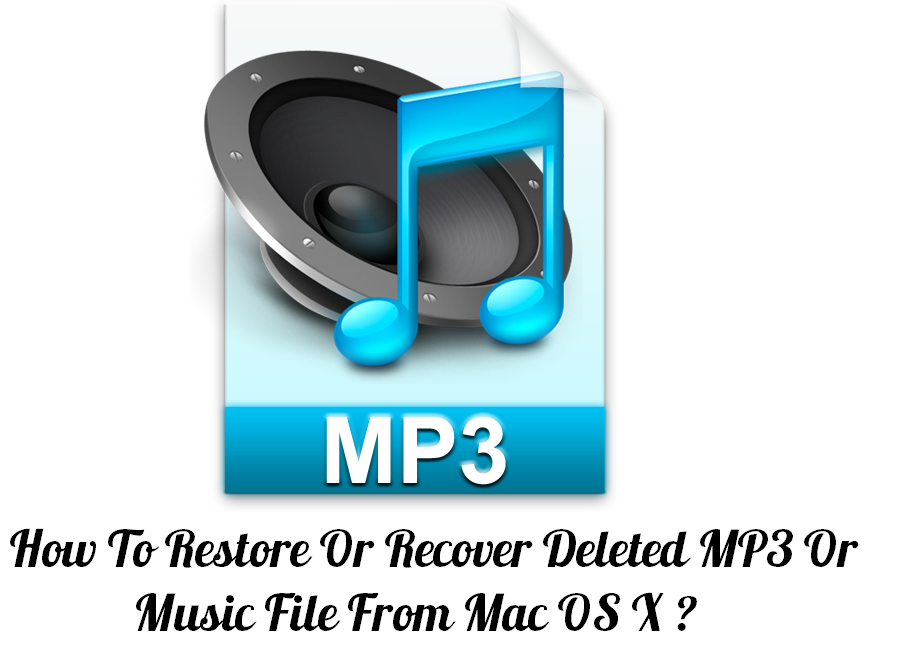 Expansion in Technology has brought many innovations, and now, you can quickly restore deleted files from your computer. There are many recovery tools, or we can say, software available for your Windows and Mac systems from which you can quickly restore the deleted files.
RecoverIt is one of the most reliable recovery software available for your PC and Mac systems. This tool lets you access all the lost files from your system. It serves as a simple recovery method and has a decent user interface which enables you easily get your lost files in moments. Fortunately, this tool is available with a trial version which you can get from their official website.
Before we jump on to the installation process, let's see the list of useful features of this tool. Follow the list of its features which will give you more idea about this software and what it can do for you.
Features of RecoverIt Software
Instantly recover lost or deleted files from the PC
User can recover MP3 files, photos, audio, music, emails
Recover lost or deleted files from any devices
Data recovery from hard drive, microSD cards, digital camera, recycle bin, etc.
Files recovery from corrupt files, virus attack, system crack and bug issues
Moreover, the software works smoothly on your system, and It just takes a few seconds to set up on the PC. Fortunately, for testing purpose, you can go with its trial version for free. Let's get on to the installation tutorial now.
Following guidelines help you to recover or restore deleted files from the system with the help of RecoverIt software.
How to Restore or Recover Deleted Mp3 Files?
Note: RecoverIt software is available for both, Windows 10 and Mac systems. Following guidelines were prepared on a Mac system. The installation process of this software is a bit different from Windows systems. If you have a Windows system, you can follow the original installation process on a Windows system.
Step 1:
RecoverIt software or recovery tool is available for Windows and Mac systems. You can download it from the following links for a respective PC system.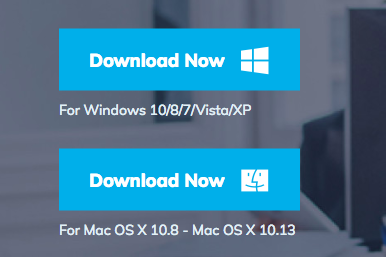 Download RecoverIt for Windows : http://download.wondershare.com/recoverit_full4134.exe
Download RecoverIt for Mac : http://download.wondershare.com/recoverit_full4138.dmg
Step 2:
Once you hit the Download link, the downloading process of the software will itself take place. Downloading process will take a few seconds, and soon, you will see the Setup file of this tool downloaded on your desktop.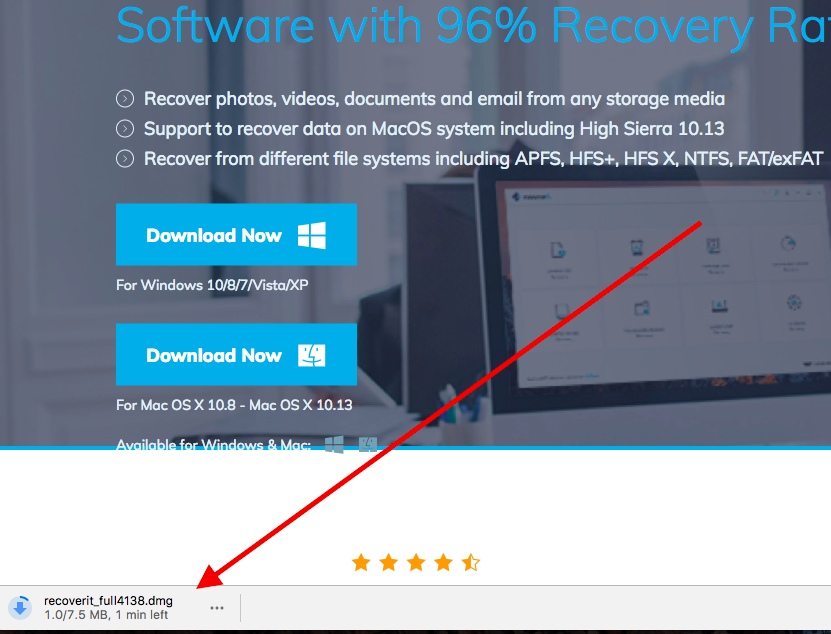 Step 3:
Double click on to the Downloaded set up file and you will be presented a new Window asking for your permission.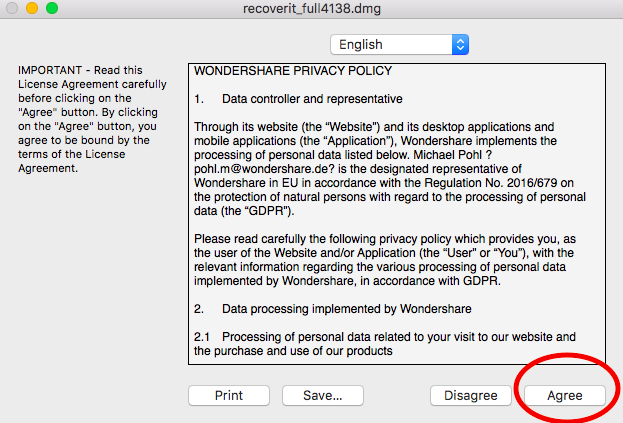 Step 4:
Now, you need to drag the icon of RecoverIt tool to the Applications folder. Just click on to the RecoverIt's icon and drag it out.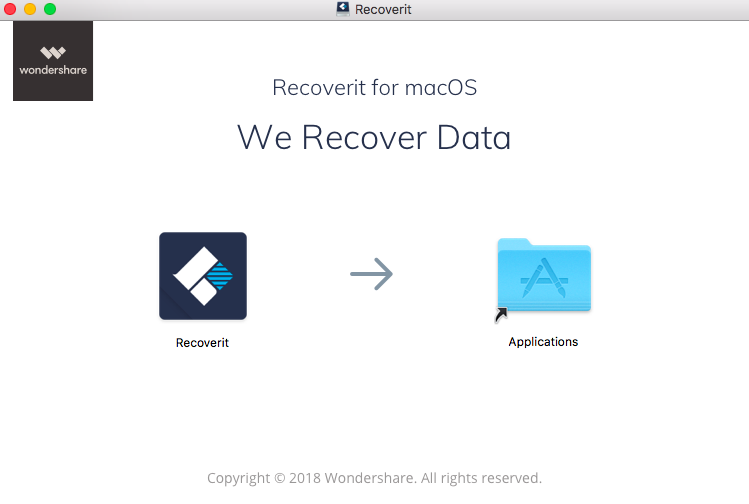 Step 5:
Once you dragged the icon, go to the Applications folder from the System, and you could see the icon of RecoverIt tool there. Click it out and launch it on the system.
Step 6:
Since you are going to use this new tool for the first time on your Mac system, you will have to permit by entering your PC's password. Once you enter the Password of the system, you would be able to get the details of your hard drive and other partitions.
Step 7:
On the desktop, you could see the partitions to your system including the Hard drive. You are good to go with the recovery software now.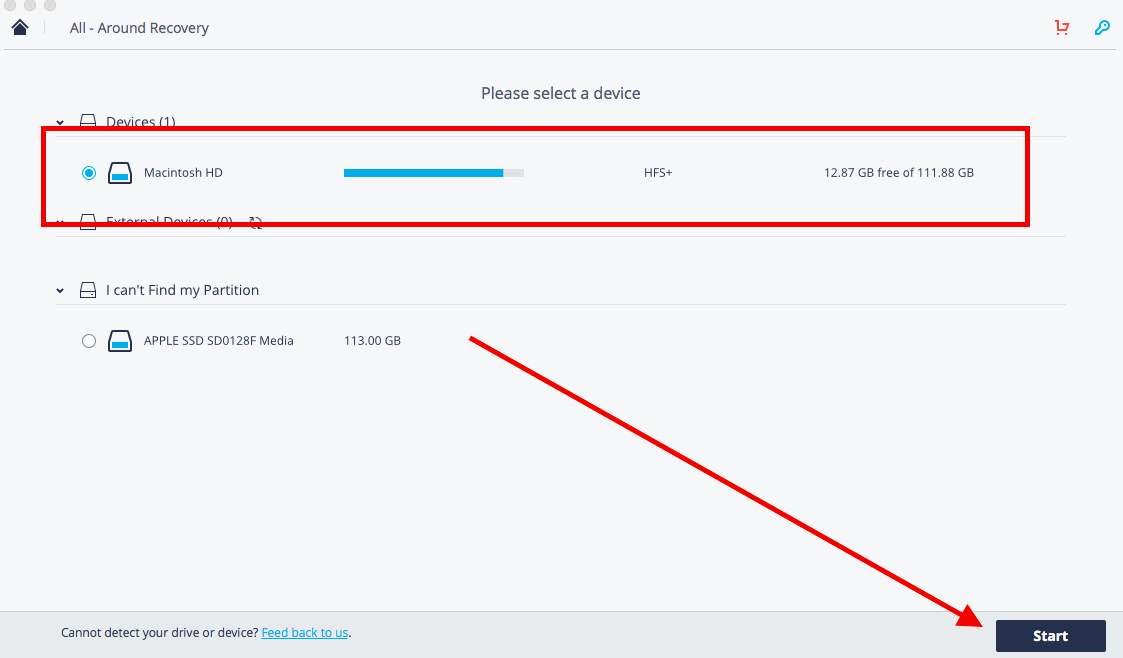 To recover or restore the deleted and lost files from the computer, you need to select an appropriate option from the system. Once you choose the drive option, click the Start button and the recovery process of the files will begin itself. It will take a few minutes to fetch the deleted data from the drives; soon, the software will show you all the files which were deleted accidentally. You can restore them quickly from the same page.