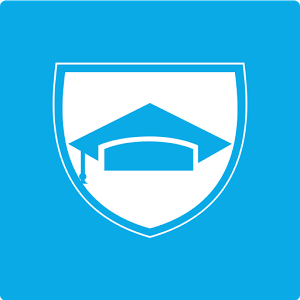 Welcome folks to the review of Course Hero a great platform to learn online to get high grades. In this post, we are reviewing their newly launched Android app. However, the app is available is also available for other platform like iOS (iPhone and iPad). Through Course Hero users can access study material and flash card 24 X 7.
Let us have a detailed review of their android version. Read below points carefully as it will help you to understand features of the app.
Exploring Course Hero
It is an educational platform to learn online as user can use the official website or can use the app to access his/her account from anywhere.
Here are some snaps which we took while using the app.
1. Installing the app for the for the first time, user have to create an account. However, an easy login option is available like login via Facebook. The user can also continue without login-in, to have a look( I liked the no login feature)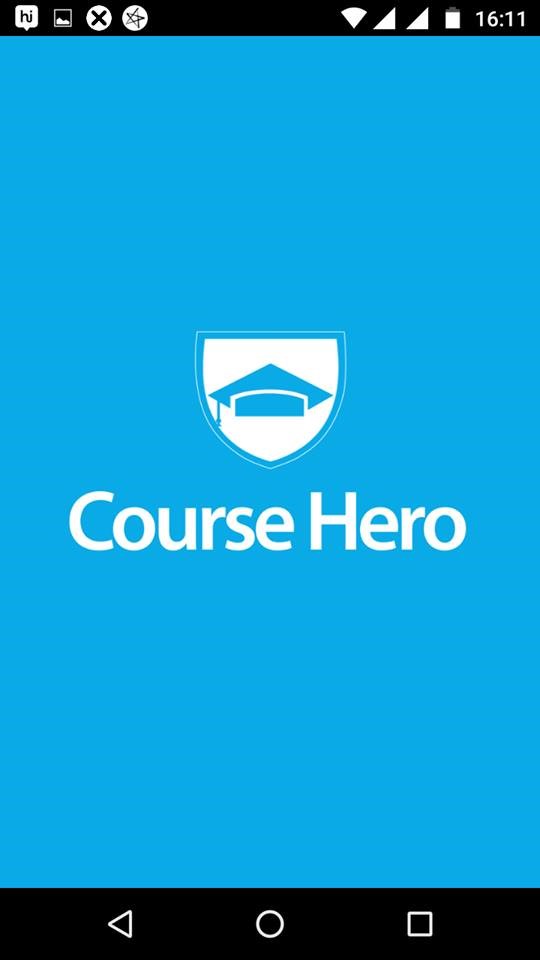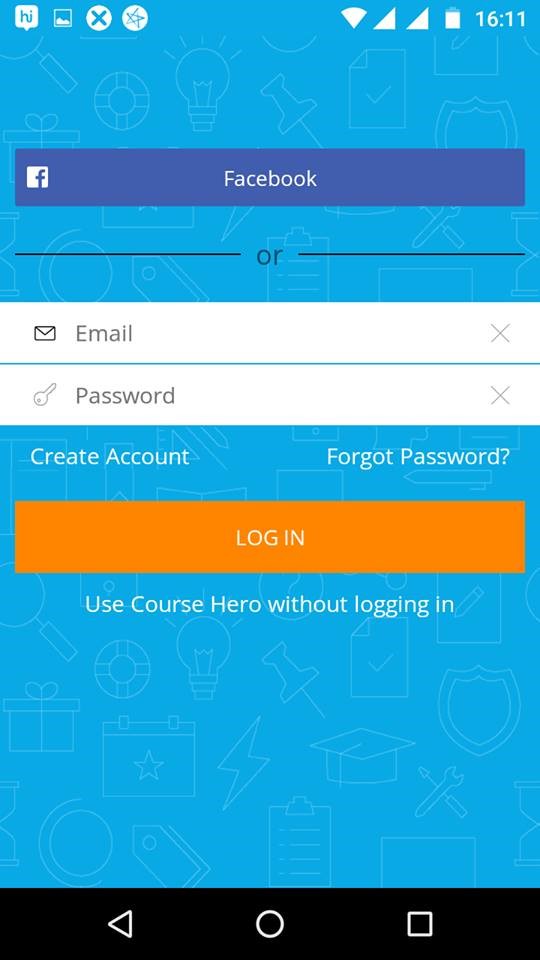 2. Just after signup user will get home screen like as shown below: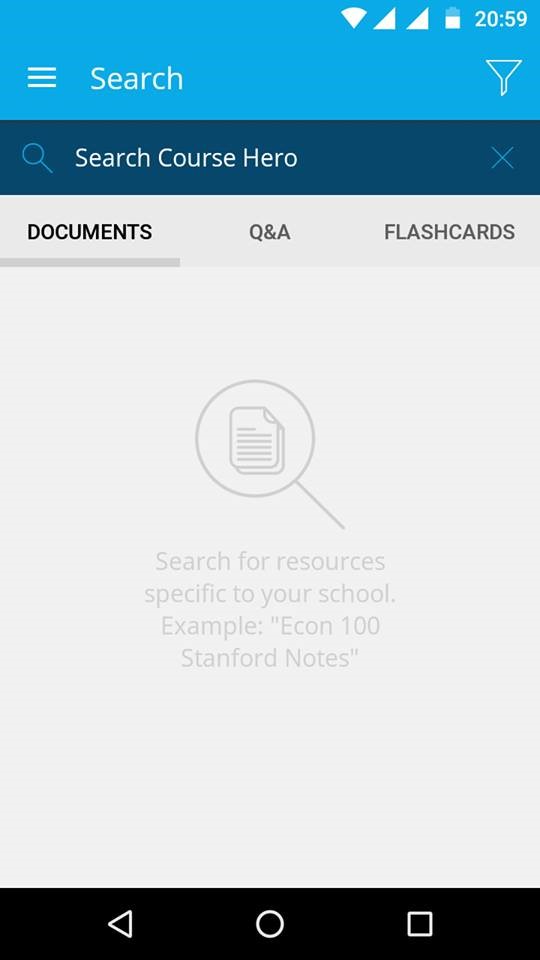 3. As shown in the above picture user can access Documents, Questions and Answer and Flashcards.
4. In search option user can search for study materials and flashcards.
5. For example we have searched for "economy" and the application came up with "161000 results" from their database.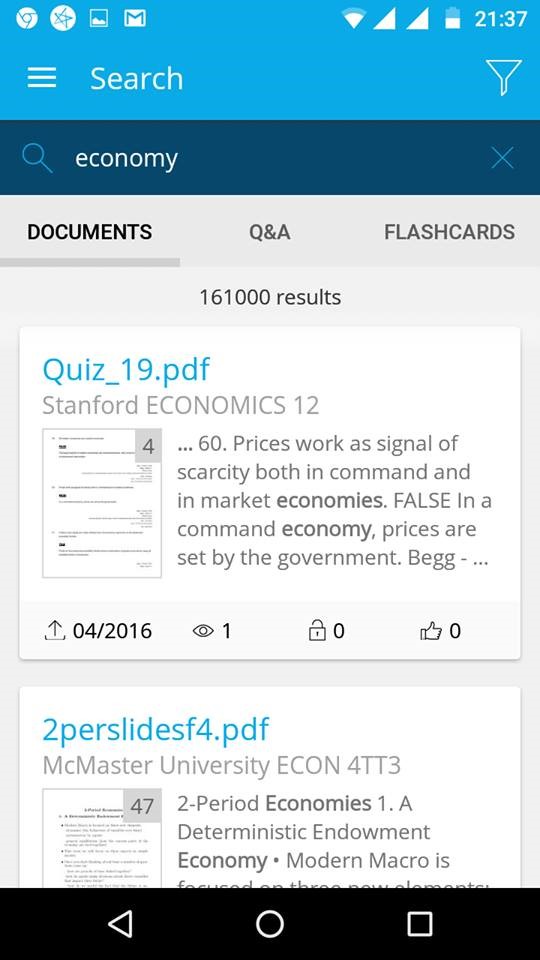 6. Select the document you want to view. Click onto right-hand side corner to add the document to the library.
7. The user can also select "Questions and Answers" and can also add them to the library as shown below. Liking or unlike the question is even possible.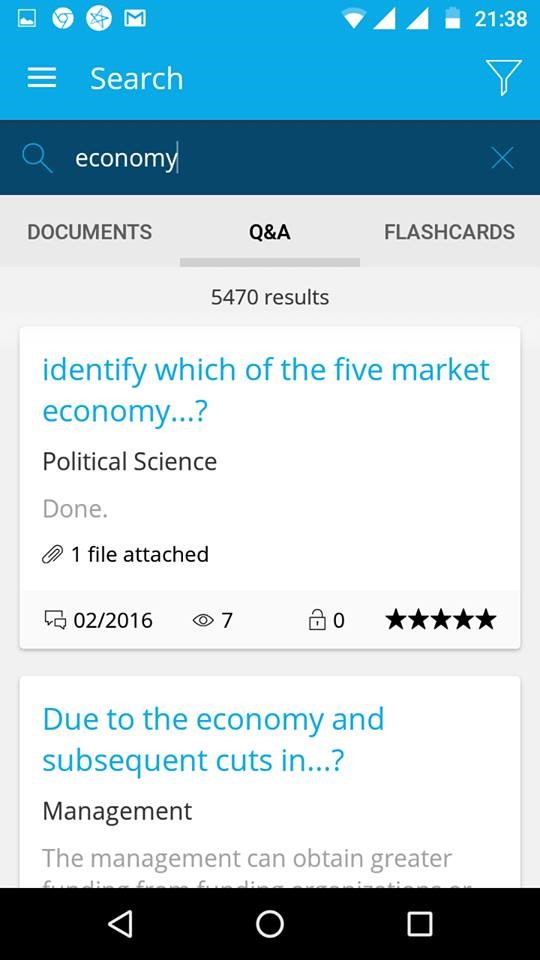 8. You can also select flashcards and can save them for later use or he/she can create their own flashcards.
9. However the user can apply filters to the search, like sort by popularity, views, etc. or user can filter the result by school, department, course, and subject.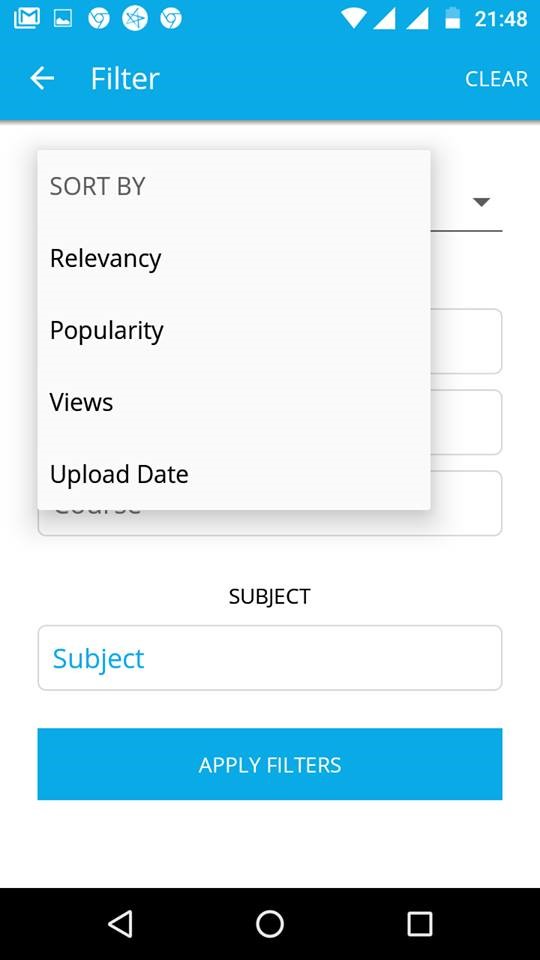 10. In setting options you can see various options like account up-gradation, unlocked services and from there you can also invite his/ her friends use this application.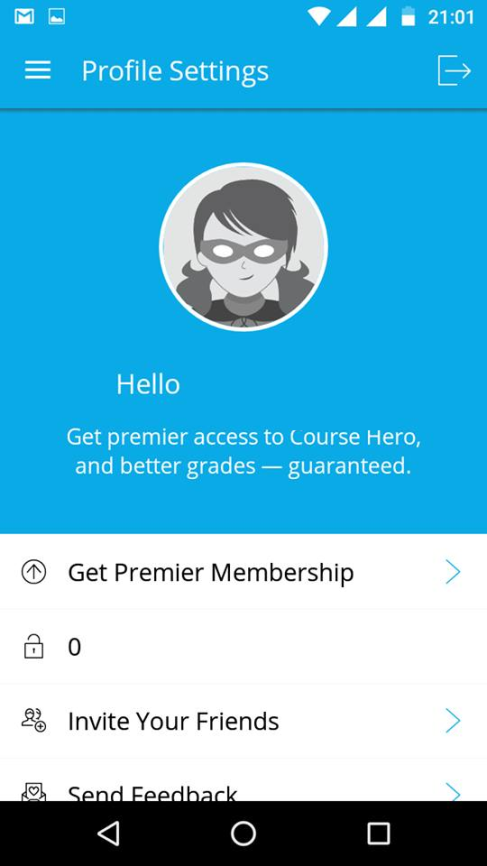 Downloading the app and creating the account on the application is free but to use the study material user have to pay.
Here are some list of plan from which user can select.
1. Monthly plan: It will cost $39.99 per month, and it will allow maximum 30 unlocks per month.
2. Quarterly plan: It will cost $59.85 for three months and it will allow maximum 30 unlocks per month.
3. Yearly plan: It will cost $119.40 for twelve months, and it will allow maximum 30 unlocks per month.
Final Words
We are ending this post here by sharing some pros and cons of the app have a look at below points. These points will surely help you to understand whether this educational app suits you or not.
Pros:
Before discussing the cons let us discuss the pros of the Course Hero for android.
• It is an educational platform providing large numbers of study material. The database is huge with millions of educational documents, questions and answers and flashcards.
• It's not limited to the android app but their is also a website and iPhone application for them which provides easy ways to access millions of educational documents.
• The application is very responsive and works smoothly. The user interface of the app is also neat and clean.
Cons:
There are some cons too associated with the app have a look:
• Not available for Windows phone making it out of the reach of Windows Phone users.
• A trial should be available so that user can experience for what they are paying.
So, we hope you read all the above points carefully. If you are looking for something like this and if you are owning iOS or Android based device then you should blindly go with the app, and it is advised to buy quarterly plan instead of monthly one as you can see there is not much difference. So just go with the Course Hero and study anytime anywhere. Did you liked this review? Please share your thoughts with us through like comments and share.